Simply Red by BUNDY BUNDY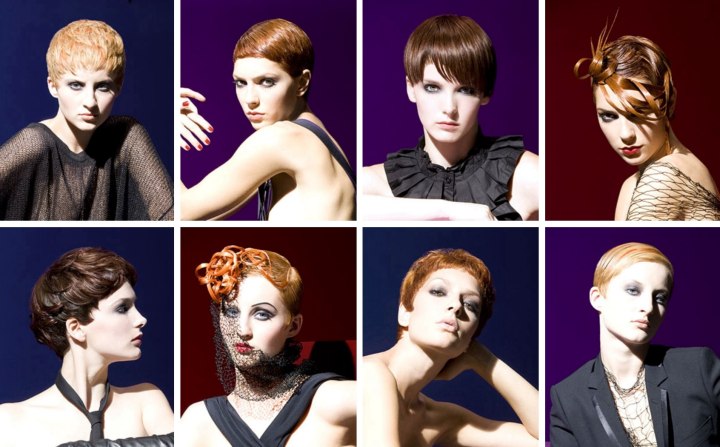 Scroll down for more photos ↓

BUNDY BUNDY is sending a trendy message:

Short-haired icons of style of the past such as Coco Chanel, Twiggy and Sharon Stone have inspired this year's BUNDY BUNDY look for the future. In a time where women increasingly score points with a combination of success, dedication and beauty, the garçon cut has become very fashionable.

Playing with masculine elements while emphasizing the classical female beauty has never been so tempting. BUNDY BUNDY's artistic team chose the signal color red, which will soon be seen in the fall collections by Dior, Valentino and Dolce&Gabbana, to stress this trendy message.



BUNDY BUNDY's trend hair colors:

BUNDY BUNDY's artistic team achieved a never before seen breakthrough by creating its trend colors for the fall/winter season. In addition to the conventional highlighting technique, BUNDY BUNDY artists developed a new technique called "Luxury shades". Like artists using water color they use different colors and shades to create a whole picture of fantastic, ever-changing colors.

Until now, this splendid feast of colors had been regarded as almost unachievable on short hair. After having studied the upcoming prêt-à-porter collections, the team selected reddish-gold, copper-red and reddish chestnut as its trend colors.

BUNDY BUNDY's new fashionable short cuts:

For the fall/winter season, BUNDY BUNDY's artistic team decided to revolutionize garçon haircuts. For the first time ever, these short haircuts feature soft waves and feminine lines instead of sharp contours. Thanks to slightly longer upper hair, even short haircuts allow for a minimum of three different hairstyles, which is yet another novelty.

At BUNDY BUNDY hair salons, haircuts are an art in their own right. Stylists at BUNDY BUNDY use millimeter haircutting precision to choose the exact proportions for the haircut to fit the customer's facial features. Yet another innovation by BUNDY BUNDY: by using hairpieces dyed in a matching color, the garçon haircut can be turned into an artistic high-fashion hairstyle in no time at all.


Heavy Fringe Haircut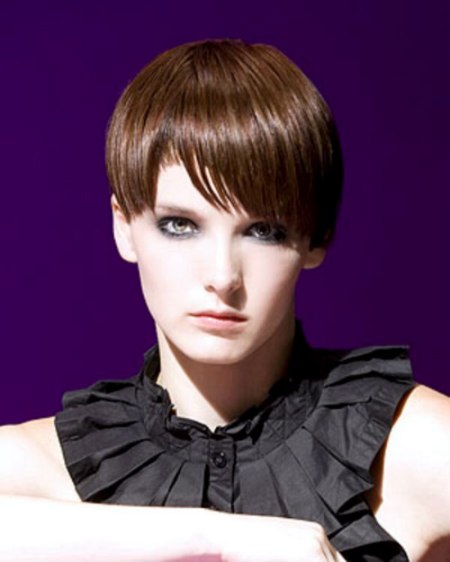 This sleek, straight fringe-heavy cut features super-short sides and a notched fringe with textured ends that brushes the tops of the eyes in a sideward sweep.

The warm, rich brown color is exceptional in its glossy shine and depth.

The styling works best with blow-drying to maintain the smooth, glossy finish and the short hair can be passed through a flat iron to ensure the sleek finish.


Hair Sculpted into Ribbons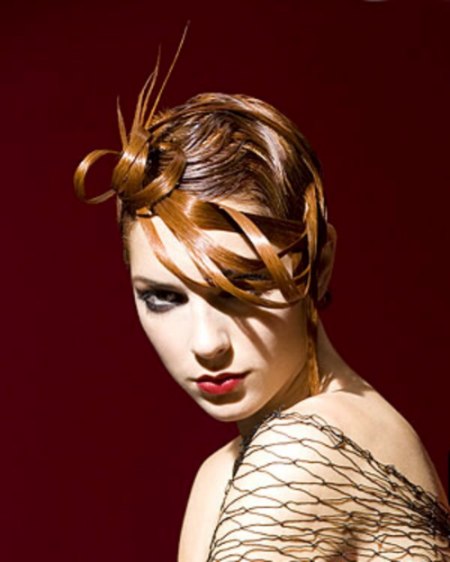 To create this hairstyle, we begin with a head full of fine, straight hair that is cut with razor-textured ends for a light finish. The hair color depth ranges from a base of rich brown to a caramel highlight.

The hair is then sectioned off and swept into knotted twists and sculpted into ribbons that are coiled and draped across the face as desired.

Achieving this look requires the use of strong-hold styling gel in order to sculpt and form the shapes needed.

Allowing these shapes to set (dry in the arranged formations) results in a long-lasting style that makes a dramatic statement.


Hair for a Professional Woman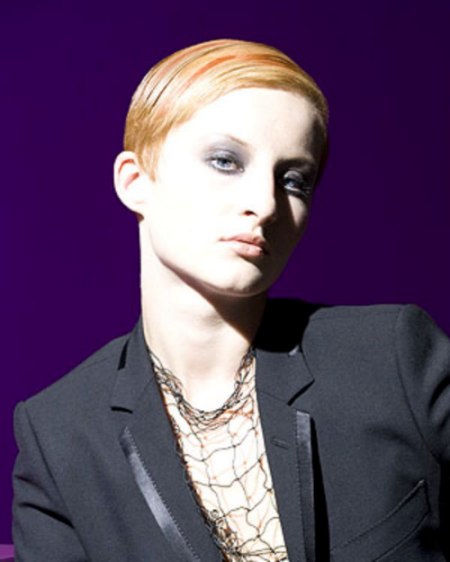 Gamine styling rules in this golden-strawberry blonde color. The short haircut features a wedge over the ear and tapered layering with smooth styling of the fine, straight hair.

The angle-cut fringe is textured and styled to follow the forward hairline closely.

The smooth, straight styling enhances the highlighting in the hair with its stripes of golden and rich red color.

The overall look is somewhat severe, but the hairstyle would be well suited to a professional woman who can wear the hair less stridently styled during the day and can sleek it up in the evening.


Simply Red Hairstyle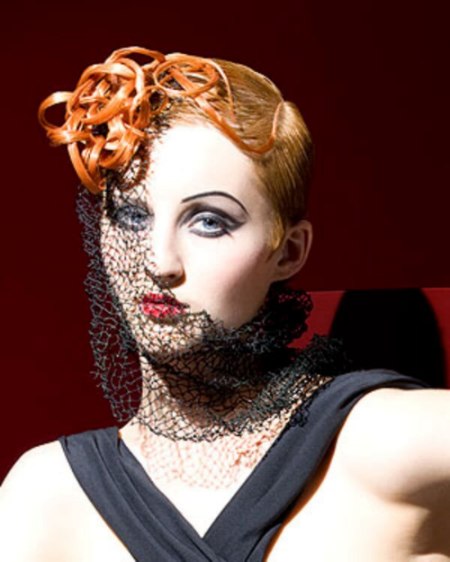 Here's a red hairstyle that features closely groomed sides and back and carefully sculpted ribbons of length in the fringe area.



From appearances, the hair is sectioned and the sides and back are gathered at the nape while the crown and top sections are smoothed to the forward corner and secured, then sculpted into a series of ribbon-like lengths that make the hair itself into an accessory.


Layered Pixie Cut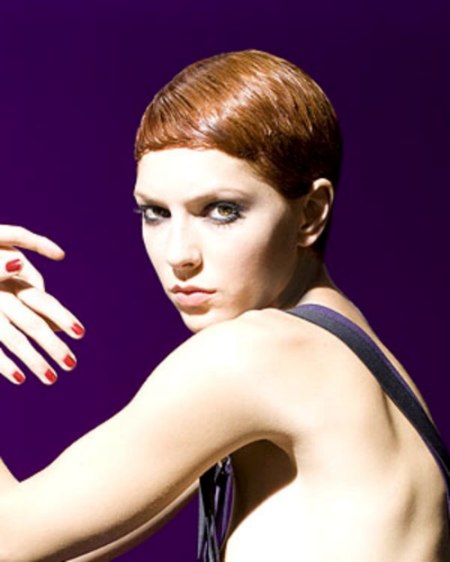 In another gamine cut, we see a warm auburn, layered pixie cut with a super-short fringe and smooth styling to create a minimalist silhouette.

The haircut is boyish, but tempered by the glossy finish and subtle highlights.

The end result is more an androgyny than a mannish look and is suited to those women who prefer a simpler-to-care-for and easier-to-craft style.


Short Layered Pixie Cut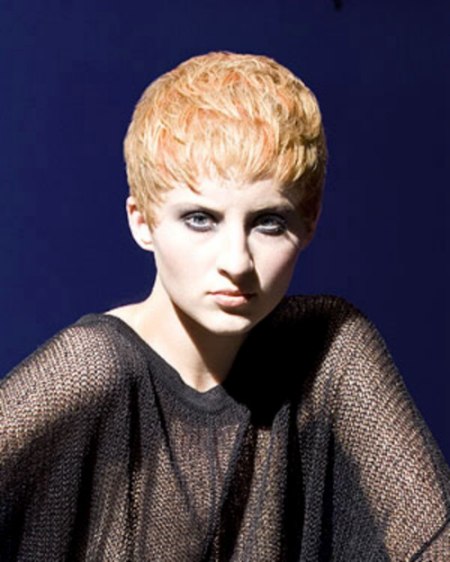 The short layered pixie cut gets a super-textured finish as the wavy hair creates an extremely defined and feathery finish.

Styling is best accomplished using a diffused dryer and a wax-based mousse or styling gel with pomade to create definition and texture in the look.

The light vanilla and orange color blend into a beautiful interplay giving the hair a look of confection rather than a hairstyle.


Square Nape Cut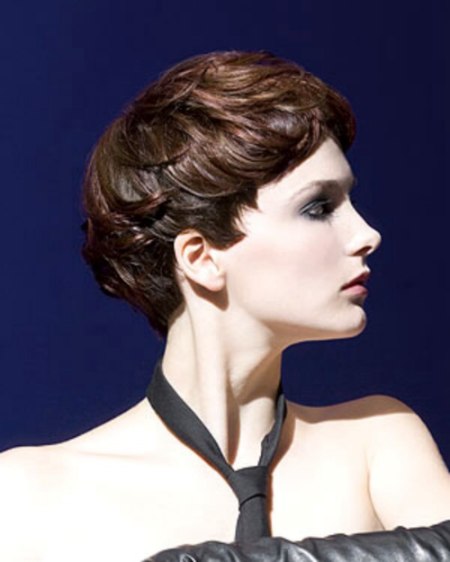 The dark brown with chestnut tones is the darkest end of the auburn spectrum.

The short haircut is a modernized rendition of the classic bowl cut. The perimeter follows a traditional line with a sideburn and outline around the ears with a squared nape area.

The hair is undercut slightly to give extra movement, and the layering is rounded to create a weight line that follows the parietal ridge.

Styling is accomplished using a blow-dryer and round brush to create a gentle bend in the hair with a dab of product after styling to give some definition to the locks.


No-Nonsense Short Haircut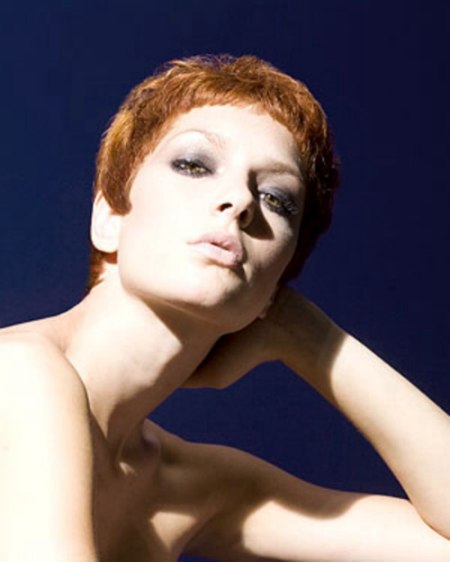 Our last gamine cut is another straight short hairstyle. The cleanly defined lines of the haircut curve around the ears and across the brow, creating a coppery crowning glory with plenty of shimmer and light. The defining element of the style is color and shine.

The hair is lightly textured to offer uniform, but not heavy, lines along the perimeter of the hair.

The style is no-nonsense and professional looking, suited to a no-nonsense kind of woman.

Hairstyles: BUNDY BUNDY Artistic Team

See also: Short hairstyles | Up styles