Electra by Sanrizz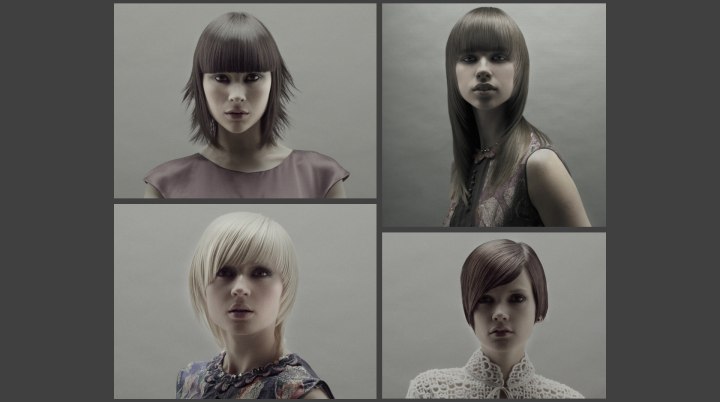 Scroll down for more photos ↓

When we look at the "Electra" Collection from British Hairdressing Stars, Sanrizz International, we see sleek styling and smooth finishes in cuts with clean lines and softened edges.

Color is rich and deep with a multi-layered dimension and is used as a back-drop for the details of the styles presented. The overall looks are clean and chic, perfect for nearly any setting and walk-of-life where a contemporary style is desired.


Neck-Length Bob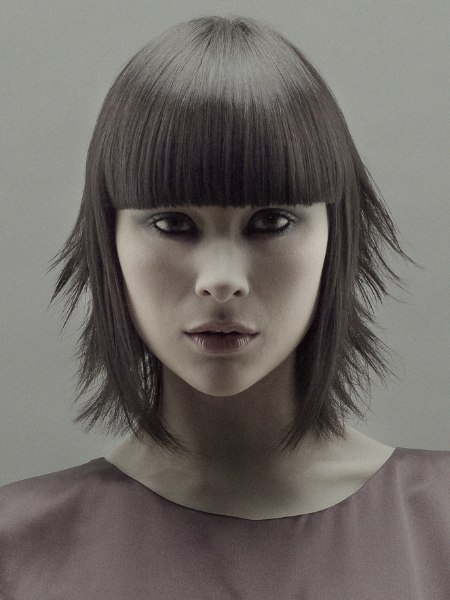 Rich, multi-tonal browns in warm, natural shades create the medium for this stylish cut. With a blunt horizontal fringe and razor-cut box-layering in a neck-length bob the stylist creates a combination of hard, clean lines and solid weight in the upper sections of the head and soft, energetic layers in the lower portions.

The styling is equally dualistic: smooth, glassy finish in the top, crown and fringe, with flared ends in the layered sections of the lower half of the style, likely created with a blow-dryer and brush to give the hair a slight outward bend.


Increased Nape Length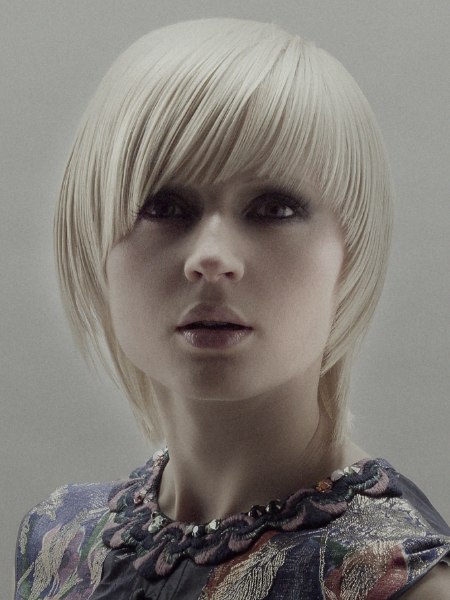 Super-cool is the best way to describe the icy, platinum blonde canvas upon which this short hairstyle is created. The cut is a modified circle cut that follows organic lines, contouring along the perimeter of the haircut to create a subtle asymmetry. The fringe is curved and softened with deep razor-cut texture, as is the sides and back.

The nape length is slightly increased to caress the swan-like neck while the styling is designed to give a cradling effect to the head. The hair is smoothly directed at a soft angle and with smooth, curved lines to create a flattering finish.


Bob with a Long Fringe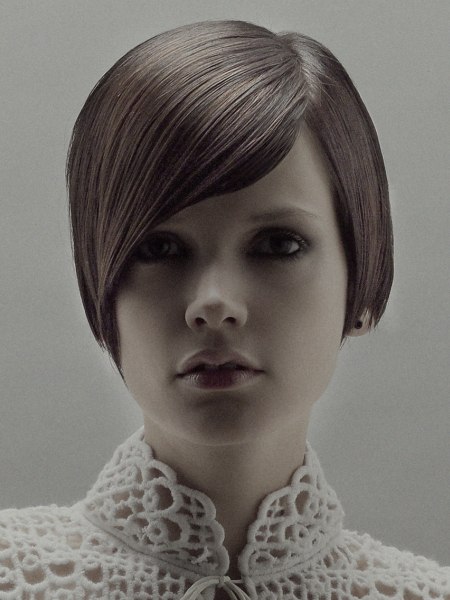 This short asymmetrical bob cut is crafted on a head of warm, dark-auburn hair. The sides are beveled, the back slightly stacked, and the fringe area is kept long and swept across with a side-parting to create a framing angle. The hair is softly textured to balance the bulk of the hair.

Again, the styling is smooth and sleek, creating a neatly tailored finish to the style. The hair is blown-out smooth and sleeked using a smoothing serum to control fly-away strands and give a hint of definition.


Long Hair with Curved Sides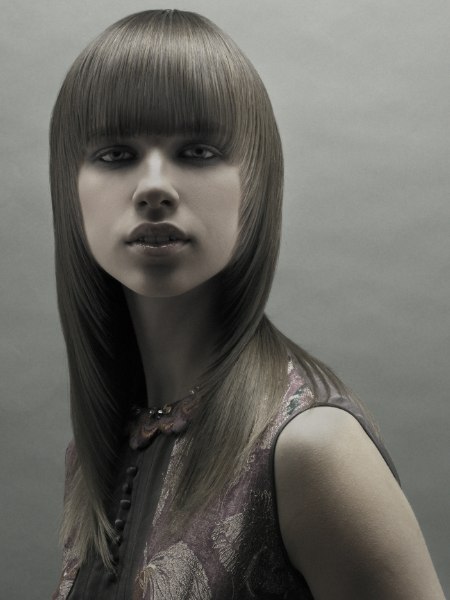 This long haircut features a blunt cut, curved fringe and forward edge layering to create a clean, smooth frame around the face. The color is a medium, neutral brown with lots of subtle highlights, in finely dispersed strands.

The hair is blown smooth and likely ironed to a sleek, glossy finish to create the gentle curve on the sides and the clean silhouette. The use of a soft-hold mousse or gel, and a smoothing serum helps to give the look a lasting finish.

Hair: Leonardo Rizzo for Sanrizz International
Photography: Roberto Aguilar
Styling: Donnie Diamond
Make up: Ginni Bogado

See also: Short hairstyles | Medium hairstyles | Long hairstyles