Over-Processed Hair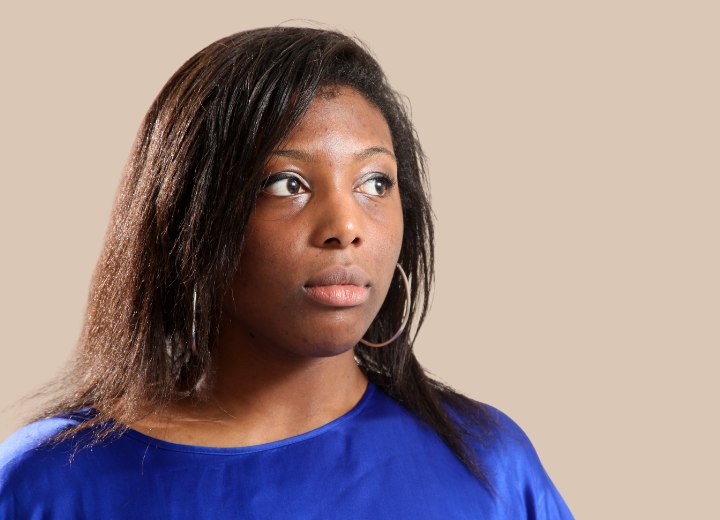 Q: I am an African-American female. I have been getting the wave nouveau curls for about 15 years or so. From time to time my hair seems to get over processed. I never blowdry, color, or straighten with heat. Just recently I went to a new salon. My curls didn't take. She took the rods out, and my hair was completely straight. She says it may be over-processed. A couple of days later it starts shedding excessively.

I am very concerned, and I don't know how to stop it. I'm wondering if she used a relaxer strength that was too strong for my hair. I usually use a medium, and she didn't ask. So, I don't know what strength she used or if she didn't rinse it out properly. As she was rolling, she noticed relaxer cream on my scalp and she had to re-rinse that spot. Maybe this is causing breakage. Is there anything I can do to stop it, like neutralizing it again or deep conditioning?



A: It sounds as though you have, indeed, had your hair over-processed. The simple fact that the stylist discovered relaxer cream on your scalp after the point in which she was supposed to have shampooed the hair to remove the relaxer and neutralize the hair for the stage two processing indicates that she failed to perform some portion of the procedure appropriately. I'm also concerned that she obviously didn't discuss with you some of the particulars of previous processes you have had.

If the relaxer product isn't properly removed and neutralized, severe damage to the hair and breakage of the same can result. The problem with trying to offer solutions in this format is that once the hair has been over-processed to the point of being unable to hold curl, the only recourse is to try and minimize the damage and keep the hair "holding on" as long as possible until you can regrow the hair.

However, I cannot say without being able to physically examine and test the hair, how severely damaged the hair is. My best recommendation is for you to contact a salon that you trust and have a stylist you know is competent to evaluate the damage that has been done. In the meantime, conditioning is never a bad thing.

Pending the evaluation (and confirmation of damage) of the separate stylist, you may want to contact the salon/stylist where the process that damaged your hair was done and discuss with them reparations for the harm that was done to your hair.

©Hairfinder.com
Photo: Sam DCruz/Shutterstock

See also:

What are the symptoms of damaged hair follicles?

My hair doesn't take to the relaxer. Is it over-processed?

My hair is breaking after a perm. What should I do?

The perm processing time has not been respected and now my hair won't curl.