Sarah Hyland's Ombre Hair

Here's Sarah Hyland at the 2014 Glamour Women Of The Year Awards in London on the 3rd of June, 2014. Her naturally dark brown hair is colored in a soft blonde ombre to soften her features and lend her a sense of maturity and style.

To imitate this look at home, follow the ensuing tips. Apply blow-dry lotion and a heat-protection product to wet hair before blow-drying it 80% dry. Then section the hair in six sections, and blow dry the hair until 100% dry with a large blow-dry brush, working from the back to the front, creating flipped waves by curling the length of the hair around the brush while blow-drying it. This will form the large waves that Sarah is wearing here. Note that Sarah's hair is parted in the middle of her head and the waves curl backwards away from her face.

If your hair is especially fine and straight, you could roll the blow-dried hair into large Velcro rollers and leave it in while you do your make-up. This gives the hair time to cool and set in curls. When you're finished with the blow-drying, throw your head back and forth a few times and gently comb your fingers through your hair to create that slightly messy look. Spray your hair with a low-hold shine hairspray to add shine and block out humidity.

Sarah's hair color is a natural medium brown that evenly graduates to a light honey blonde ombre. This is a color and cut that will suit almost anyone, but it is especially flattering on Sarah, complementing her hazel-green eyes and strikingly beautiful facial features.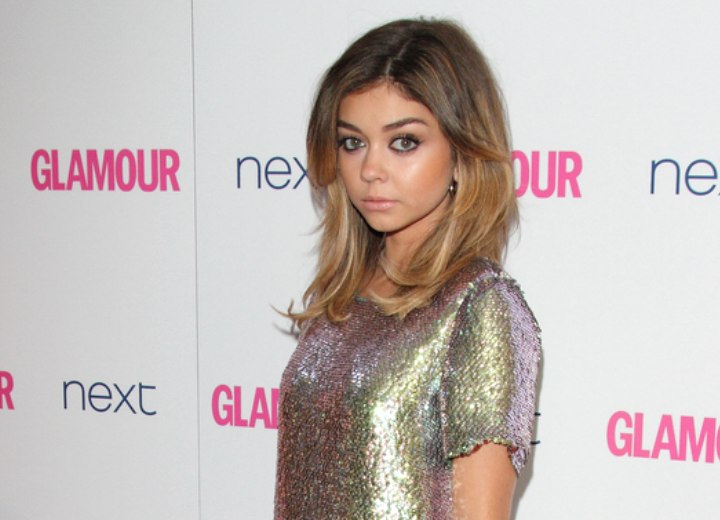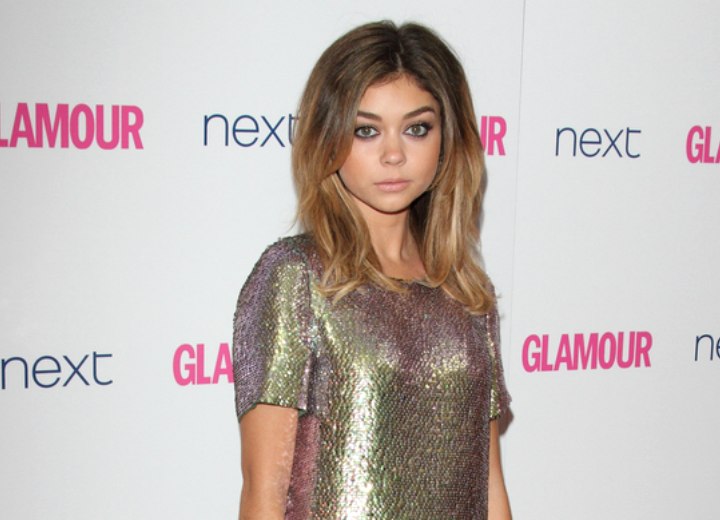 More Sarah Hyland hairstyles