Patricia Arquette's Short Bob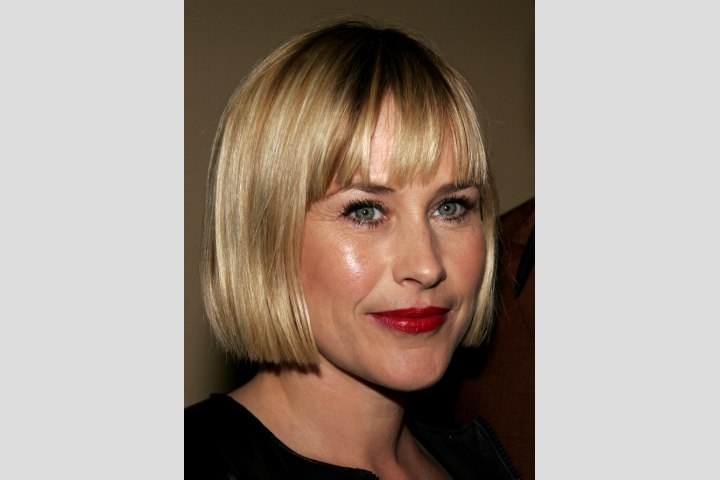 Ever since gaining notice in 1987 in the third installment of Wes Craven's "A Nightmare on Elm Street" series (her second film), Patricia Arquette has developed a fan base that is as loyal as they are diverse. Taking on roles in projects that seem to alternate between independent cult films and mainstream blockbusters, Ms. Arquette is a remarkably talented woman who always looks lovely.

In the photo above, the Emmy winner is wearing her hair in a classic bob-with-bangs style. This is a style that is easy to maintain and can work well for a variety of face shapes. In Ms. Arquette's case, her face is long and her slim nose and small mouth exacerbate the problem. This style flatters by having the overall length fall about a half-inch above the point of her chin, while the bangs mask her high forehead.



The horizontal lines created by the cut line at the chin and across the forehead give an illusion of width that balances the narrow line of her face. The style works wonderfully with Ms. Arquette's fine-textured, straight hair.

The Cut:

This carefully-executed geometric style is created by lowering the hair in sections and cutting the hair at zero degrees of elevation. The sectioning is especially important in cutting this style for someone who has very thick or coarse hair.

The hair needs to be kept damp at all times, and must be held - again, at zero elevation - with no tension when cutting. Keeping it damp will help you to keep control of the hair (especially with fine or wavy hair) and help ensure that the ends are cut evenly.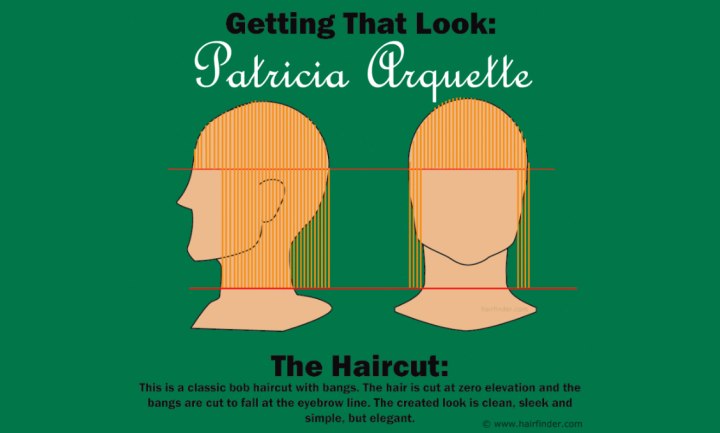 After your initial cuts on the perimeter and lowest section, the hair should be let down one-half of a section at a time and the original cuts should be used as a guide to which the upper sections should be cut. Be sure to hold your scissors perfectly flat as you make the cuts, since angling them will result in unevenness in the finished hairstyle.

In some cases, the hair can be cut slightly shorter on the lower sections and the length increased by millimeters as you cut the upper sections to create an inner "bevel" which will allow the ends of the hair to curve inward slightly. This is good for coarser hair types.

Styling:

After shampooing and conditioning the hair - preferably using a shampoo and conditioner formulated for smooth and sleek hairstyles - the hair should be treated with a leave-in conditioner and an anti-frizz serum and blown dry using a round brush. For those individuals with thicker hair, it works best to section off the hair so that you can work with smaller portions at a time.

Once the hair is fully dry, it can be finished off with a light mist of hairspray to give some hold to the style and left with a softly-straightened look. However, if desired, you can always further smooth the hair by using a flat iron. Simply mist the hair lightly with hairspray, allow the spray to dry and pass the hair through the iron in thin slices.

Be sure to test the heat of the iron before allowing it to come in contact with your hair. You should be able to press a damp piece of tissue between the plates of the iron for 5-10 seconds and not encounter any scorching or smoking. If there is any visible smoke, smell of smoke or discoloration of the tissue then you need to adjust the temperature of the flat iron downward.

After the hair has been finally styled as desired, you can use a light misting of hairspray to give some hold to the style. If you wish, you can also use a light, spray laminator to add some extra shine to the hair.

Stacy - Hair Stylist ©Hairfinder.com

See also:

Patricia Arquette hairstyles

How to cut a bob

The low risk bob haircut

How to choose the right bob for your own face shape