Celebrity Trends toward Shorter Hair (2)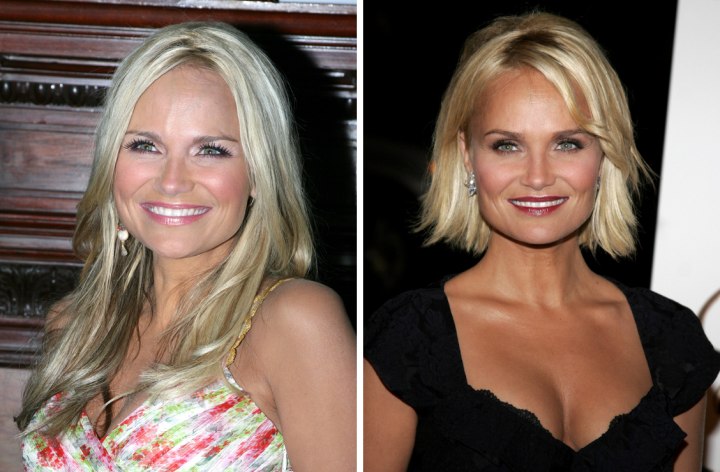 Previous Page

Let's look at blonde beauty, Kristin Chenoweth with short hair. We first look at her long white blonde hair that has the darker strands that were foiled with the contrast of darker hair underneath matching her new growth. Her hair has been given an irregular zigzag part in the center and straightened and laying smoothly below her shoulders with her. Her pale long hair matches her skin.



Now let's move to the shorter style that is chopped just below her upper jaw line. Look at the color of her hair. It is more golden blonde and foiled with a light brown that presents her lovely tan as well. Her eyes seem to stand out more with the shorter cut. Yes, a simple haircut can change your whole appearance for the good. The results can rock your world.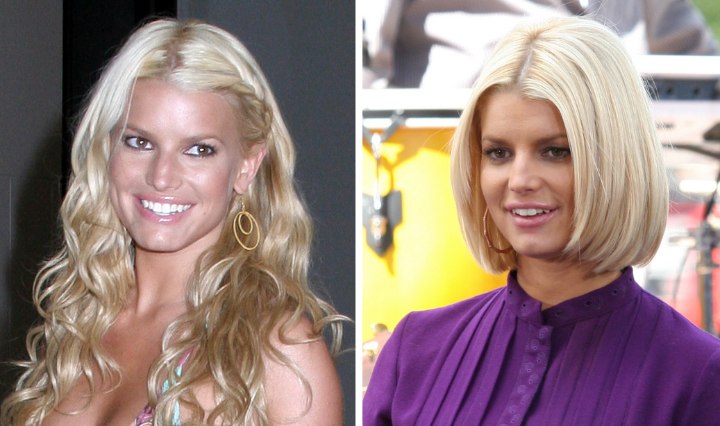 Famous Jessica Simpson wears short hair too. How can Jessica get anymore beautiful with longer or shorter hair? Let's face it, she has the smile, she has the face and she has the hair. As we look at her long wavy thick blonde golden hair she looks just like the all American California girl, all tanned and quite healthy looking.

Then, we look at the shorter smooth bob that lies just midway below her jaw and see a more determined Jessica. If I didn't know better I would say she is a young blonde Jacqueline Kennedy and Jackie always looked not just attractive, but also very proper and ladylike.

How can one hairstyle do this much for a person? A haircut is everything, even more than a color. You will discover that a haircut will be your most valuable asset for your career, confidence, your self-esteem and your love life. The most important thing you can do for yourself is to ask around for a hairstylist who has a good reputation. When you find him/her ask them a lot of questions about what are the best ways you can improve your looks. Ask them about the upkeep and about what color would look best for you too.

Tell your stylist you want something that will make you look younger, slimmer and put a dance in your prance. Ask yourself "what is my best feature?" That is what you want to bring out. If it is your eyes, you want a style that will bring out those eyes, not hide them. When someone looks at you, you want them to admire your eyes; not just see them. If your smile is radiantly beautiful, you want that to be seen even more so. If you have a good figure, a haircut will show off your best curves.

Whatever your decision, whether to go for long or short, do yourself a big favor and be honest with yourself. If you do not know what your best asset is, ask your friends and family what they see in you. Ask someone who will be painfully honest with you and then, go from there. Remember one thing, a good hairstylist loves challenges and relishes complete makeovers. You absolutely cannot lose by trying.

©Hairfinder.com

See also: Short haircuts