Rosario Dawson's Half Shaved Head

This hairstyle is certainly not for the faint of heart! Rosario Dawson shaved the side of her head for a totally buzz-worthy haircut (June 11th, 2013). Her long locks are simply stunning in contrast to the short shaved side of her head. Hair is parted very deeply and pulled to the side for an extreme asymmetrical hairstyle.

The sun hits her hair and makes the color shine. Rosario's strands are a warm, dark brown and almost match her eyes perfectly. The long strands of hair on her head are curled to perfection and then broken up to create a wavy finish. The texture is kept soft and smooth and totally frizz free.

Though this is an extreme cut, the nice thing is that it can be camouflaged somewhat. Since hair is parted so extremely to one side you can change the part to the opposite side and cover up the shaved side for a more low-key hairstyle. Changing the part to the opposite side is also a good idea for when the time comes to start growing out the shaved side.

The versatility is what makes this haircut fun and fresh. Even though Rosario's head is shaved she still looks classy and elegant. Change up the clothes and styling and she could look like a rocker chick in no time! The only downside to this hairstyle is that certain updos and ponytails would be a challenge.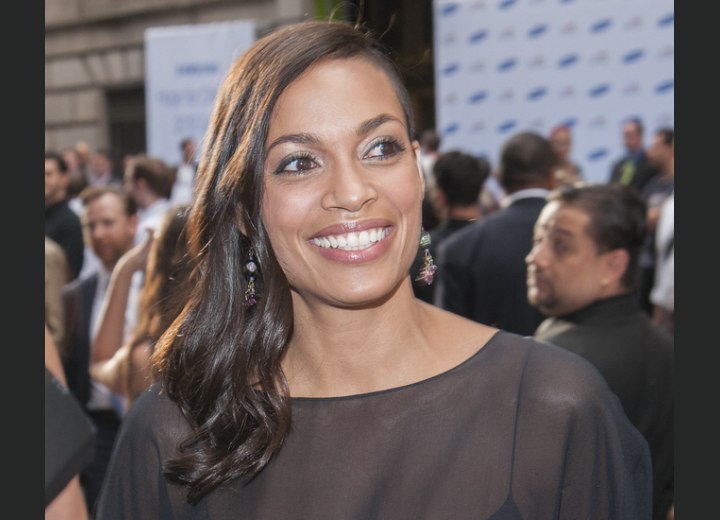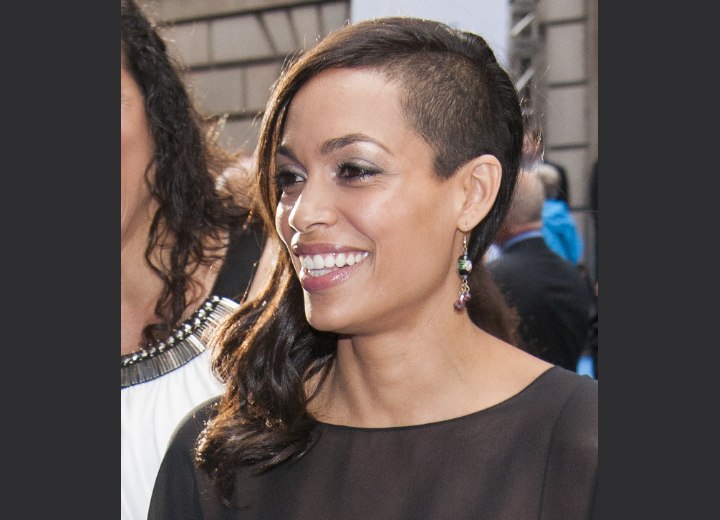 Related Post:
More Rosario Dawson hairstyles