Naya Rivera's Updo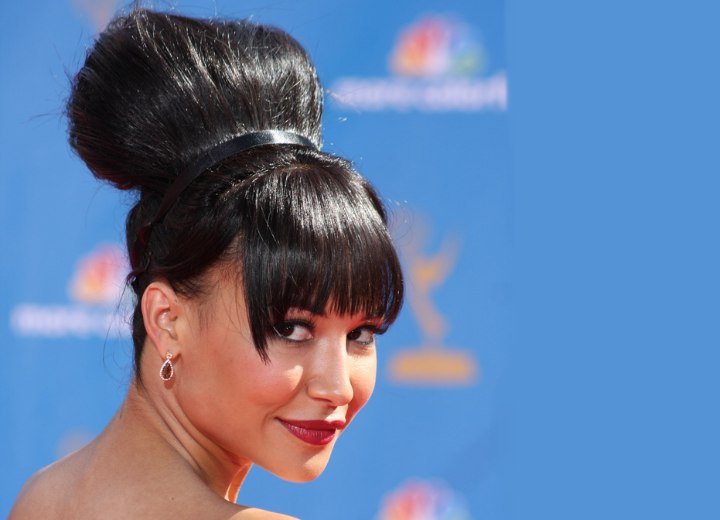 Click to enlarge

Naya Rivera dared to pop the paparazzi and be different when she wore her black hair way up into a large high fashion bulbous sculpture on the top of her head with a hair band secured over the front at the 2010 Primetime Emmy Awards in Los Angeles on August 29, 2010.

Her bangs were cut lightly and tipped over her eyebrows with an angle upon the temples.

Her makeup is quite heavy with thick eyeliner and thick eyebrows, lashes and mascara, blush and a muted rose colored lip tint. The lip tint is the perfect shade of rose for Naya's coloring. Her whole picture is accented with small tear drop earrings.

Tip: you can have the most glamorous and creative hairstyle in the whole room, but unless you have some color on your face to match the perfection on your head, it will all fall apart. Naya has wonderful color on her face and she tips the scale with her high bouffant hairstyle.

A small jeweled necklace around her neck would have given her even more color, dressiness and the feminine allure that seems to beckon from Naya. I can even see her with a colorful satin wrap around her shoulders and neckline to present a frame of dazzling hues and sophistication.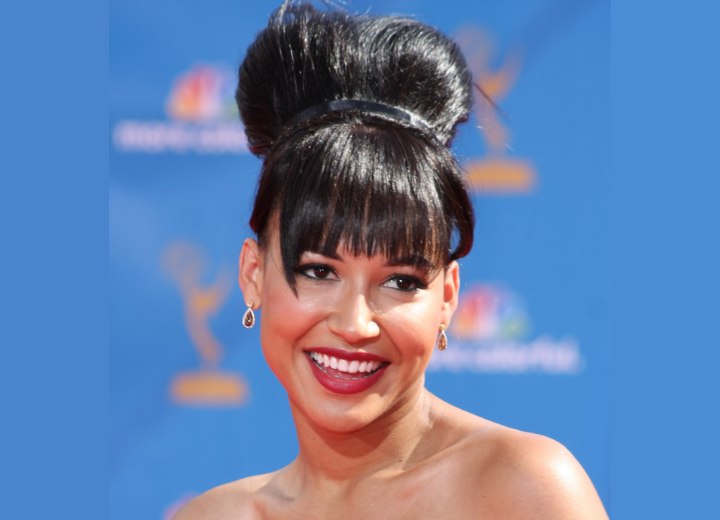 More Naya Rivera Hairstyles