Chic Short Hairstyle

Maria Bello's chic short hairstyle wows those at the 10th Annual Critic's Choice Awards in Los Angeles, California on January 10, 2005.

Maria gives a smashing expose of her short chic hairstyle that is parted on the one side and severely combed sleekly over the top of her head and over her ears. What is so dramatic about her hairstyle is how good she looks with the severity of a flat hairstyle. I suspect she was growing her hair out into a bob and part of the ingenuity is discovering ways to hide the small ends that bother you while you are in the waiting mode. I cannot imagine looking as good as her while my hair is growing out.

We can see the glamorous tri-tones of blonde and browns that have been serviced on her hair and if we look closely we can even see a couple of silver strands. A good gel helps keep the hair styled and in place when trying out this hairstyle.

This hairstyle would be a good one to use when you are in between styles, however only if you have a good structured oval face like Maria's. If your face is round, the hairstyle would only make your round face look rounder. The majority of us need a little fluff around our face.

Maria's dewy skin could be the result of a natural moisturizing foundation with the golden tones. She keeps her eyebrows arched, a concealor in the creases, little shadow, mascara and bronzing around her face with her light tawny lip color.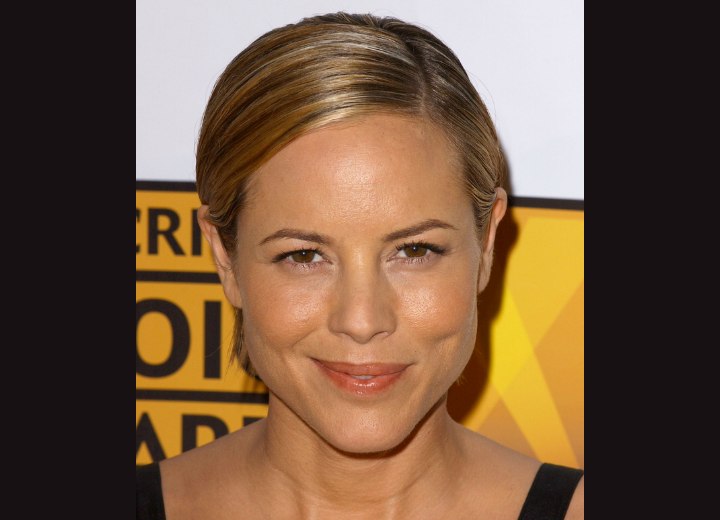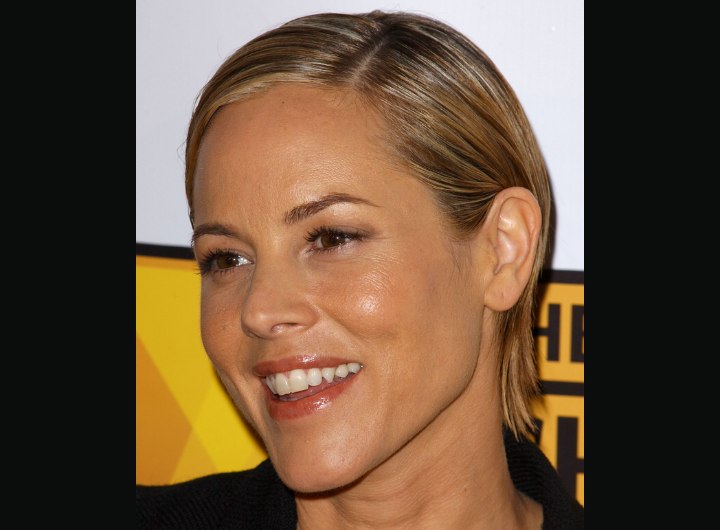 More Maria Bello Hairstyles