Kristen Wiig's Ballerina Knot

Kristen Wiig was very elegant and chic at the AFI Fest (November 13rd, 2013) ,"The Secret Life of Walter Mitty" Premiere. The 40 plus actress looks amazing! She seems to own her age and her confidence gives her an inner beauty that truly shines through. When people age gracefully like Kristen shows here, they look ever better than those who opt for plastic surgery and other nips, tucks, or lifts.

Wiig has dark brown hair that is pulled back into a cute ballerina knot right in the back, smack dab center of her head. Her hair was probably pulled into a ponytail first and then strands were twisted around the hair tie and then secured with bobby pins. Wiig's hair was parted to the side first and then pulled back to help create some interest and texture to the hairstyle. Though the hair is pulled back fairly sleek and flat, strands are roughed up slightly with fingers or a hair dryer to create a romantic tousled effect. Her hair appears soft and flirty this way.

This is a great style for when you are considering a pixie. Wearing your hair like this gives you an idea of the look and feel of a bare neck and ears. The only difference is that a pixie is even more comfortable than pulling your hair in a bun. Worried about other people's reactions if you decide to go short? Wear your hair like this a few weeks in a row before the haircut and your transformation from long to a pixie will be less shocking.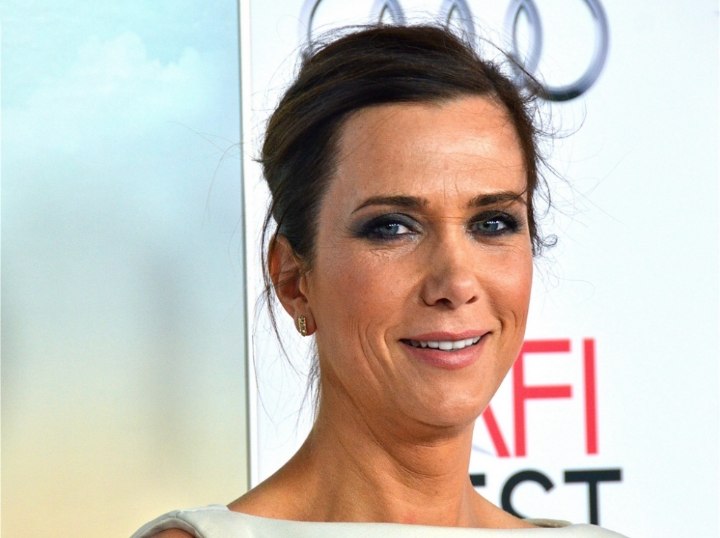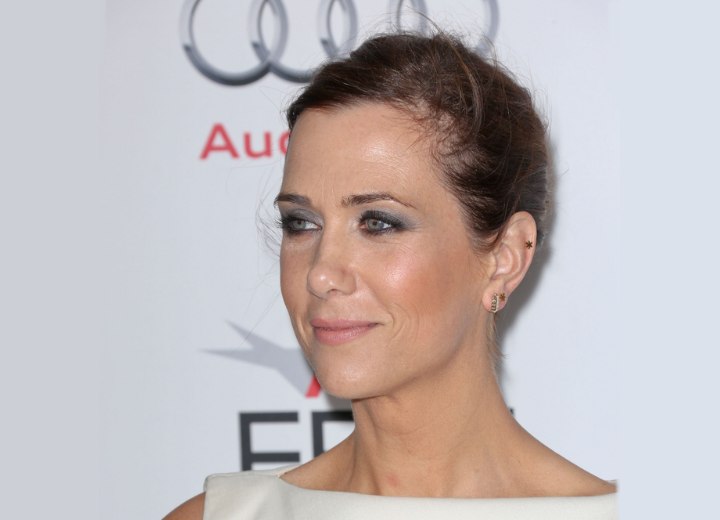 Related Post:
More Kristen Wiig hairstyles