Jaime Pressly's Shaved Hair

Love it or hate it? The shaved hair trend is definitely going strong and many stars are making the plunge to try out the edgy look. Though it may be gaining popularity and more clientele, the hairstyle is certainly polarizing. Jaime Pressly attended the Los Angeles Premiere of "The Nut Job" on January 11th, 2014. She seemed quite glam from the neck up and pretty casual from the neck down (minus the strappy heels).

It is important to mesh your hairstyle and wardrobe together to create a fun and cohesive look. Keep that in mind when styling yourself at home. Her platinum blonde locks were achieved with a full bleach out of her hair and a toner was probably used to beige out the color a little bit and keep it from looking yellowy. Light blonde strands always go great with cooler toned eyes like green or blue. Her eyebrows are slightly darker than her hair shade but the overall look goes well together.

Her hair is buzzed with a number one clipper guard and rounded out over both ears and tapered down to the neck as well. The hair is not blended and is separated from short to very long on top. Jaime opted for a sleek, wet look at this event and put a heavy gel on her strands and combed them over to one side. Though these shorter hairstyles are low maintenance as far as daily styling goes, they require frequent trips to the salon for trims and color as the roots grow in extremely quickly.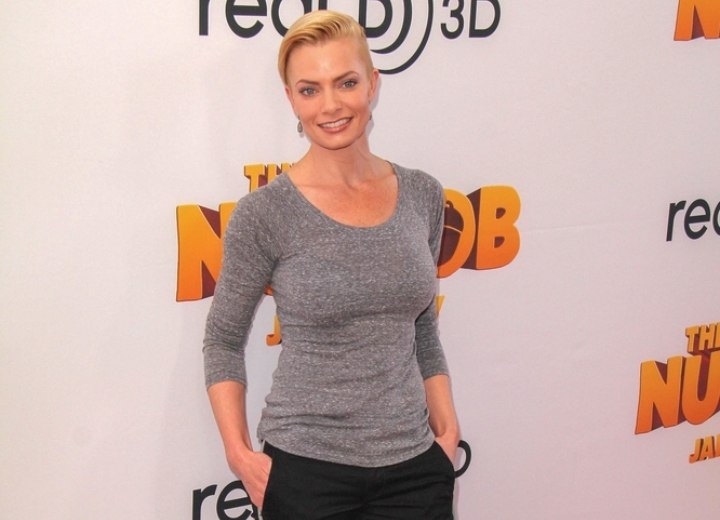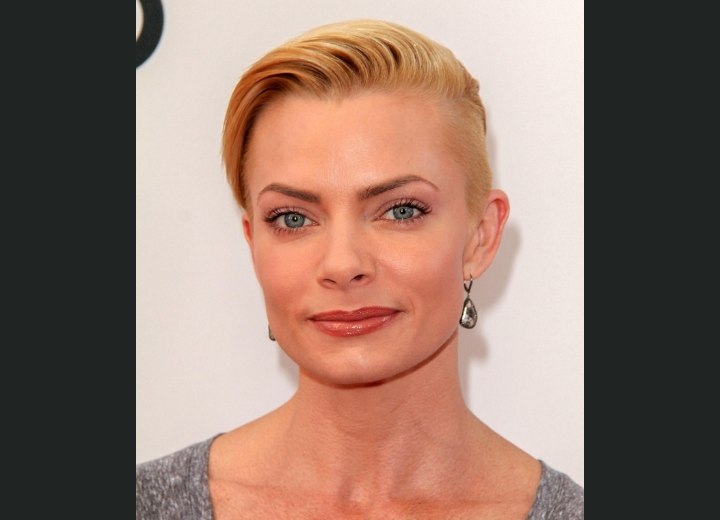 See also:
More Jaime Pressly hairstyles