Short Bob for Straight Hair
Christina Aguilera sported a new haircut when she hosted the New Years Eve at TAO and LAVO in Las Vegas, Ca with Nicole Richie on December 31, 2009.


We have to admit Ms. Aguilera looks quite different with her straight short bob that is bluntly edged just under her ears. The white platinum blonde color is the same and it looks like her bangs are being allowed to also grow out to be combed within the longer sections.

There are other ways to wear Christine's bob besides the conventional straight hairstyle. One of the ways is to roll with medium sized rollers and enjoy the burst of energetic waves that would be flushed all over the head. Another way is to wear the hair up in the crown secured with a band or fastener and place curls around the shorter fine edges along the cut.

When wearing this hairstyle down, you can always experiment and twist both sides to go back exposing the face leaving a few tendrils along the top. One could also blow dry the hairstyle into a rounder effect instead of the triangle shape that we see on Christine and bring an round under drift and tuck one side behind an ear as is trendy for today.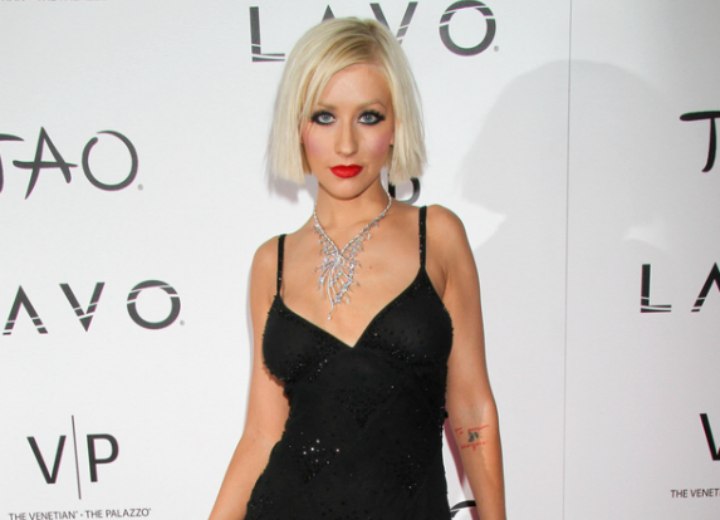 Christina has a milky complexion with a light toned foundation, keeping her eyebrows arched and light. Her eyes are heavily lined and accommodated with lashes and mascara. She is wearing light blush and bright red fire engine lip color. A true artist's delight!

Related Post: More Christina Aguilera hairstyles