Long Hair and Conservative Bangs

Bryce Dallas Howard was at "The Loss of a Teardrop Diamond" premiere in New York on 12/10/2009. One couldn't help but notice her attractive very long reddish oak colored hair with the conservatively cut straight bangs that touched her eyebrows and the long idle coils that hung below her shoulders.

Because of Bryce's long hair, wrapping the hair around your curling/coiling iron could get you a sore arm, unless you choose to use the coiling hot rollers or dry coiling rollers.

Naturally using the rollers would be a much simpler task. With this in mind, Bryce's hairstyle would probably be a fun hairdo for you, especially with the bangs. Not only can the bangs be worn down but rolled back with just a bit of fringe upon the forehead for the splash you need. Bangs equal youthfulness at any age.

Look at Bryce's face and the allure of energy that is presented within her bangs. They also grace her gorgeous sexy eyes and it doesn't get much better than that. She wouldn't look nearly as sexy or cute if her hair didn't have the bangs.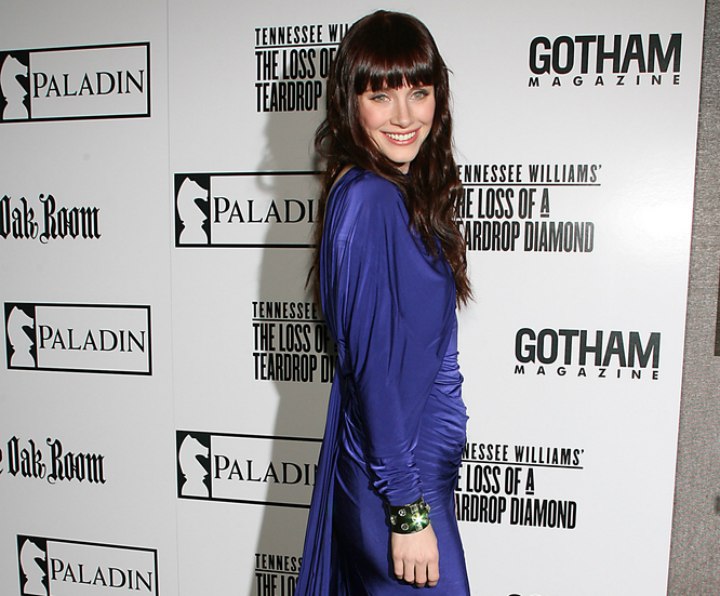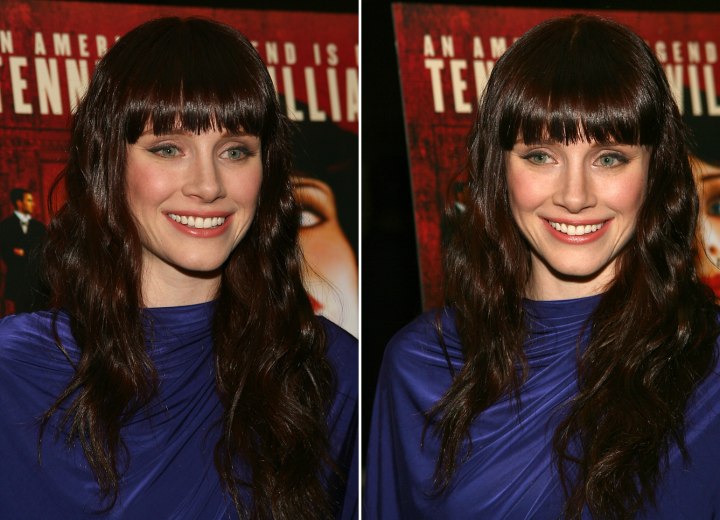 Bryce is wearing a medium/light foundation for her makeup and brushed in medium brown eyebrows. There is a subtle light brown shadow blended in with the lighter formation and has the thick Cleopatra eyeliner accenting her sexy halfway closed eyes.

Concealor is in the corners with pats of a lighter shadow. Just a touch of blush and a rose coral lip tone. Her shiny blue gathered dress was an excellent choice for her skin and hair tones. The right tone of blue will always bring favor upon the wearer.

Related Post: More Bryce Dallas Howard hairstyles