Short Hairstyle with Flips

Bryce Dallas Howard smiles for us at the 75th Diamond Jubilee Celebration for the USC School of Cinema Television on 09/26/2004. Bryce looks to be a natural redhead with thin strings of ash blonde around her head. Her hair is cut into a short shag with a longer top and crown that is normally not seen with the hairstyle.

The top has a high part with both sides combed over and behind the ears with only a small piece of hair that ducks down upon her forehead. The ends in the back flip up along her nape and midway upon her head giving high exposure to her layered hairstyle.

One of the first things to be noticed about Bryce's hairstyle is the structured severity of the straight hair around her face and then the soft flips in the back. This would be an easy hairstyle for anyone to keep as long as they have naturally straight hair and the product to keep it in place.

Curly headed women would have a much harder time keeping their hair in place like Bryce's. However, there are some products that claim to help calm natural curly hair such as Paul Mitchell's Straight Works.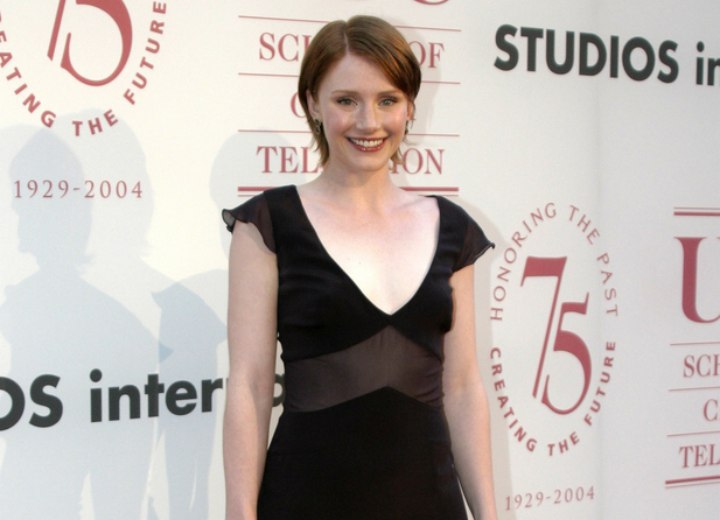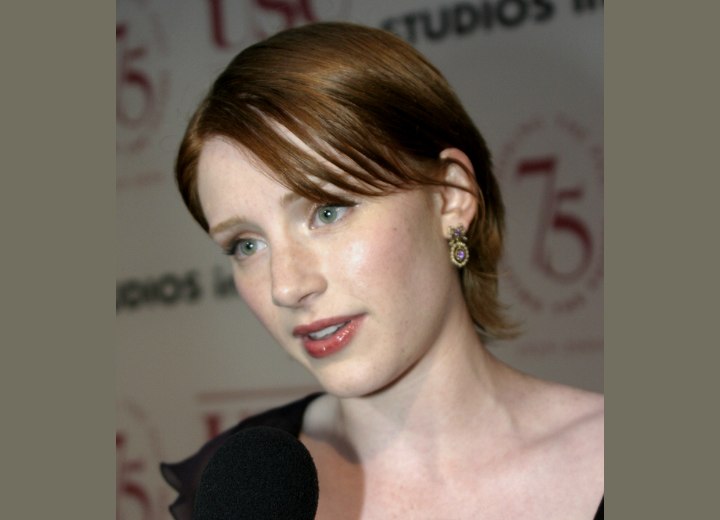 Bryce has a lovely charm to her makeup and when we look closer we can see some of her appealing freckles that she has no doubt tried to cover up with her foundation. There is medium structured brows that have been darkened just a little, concealor in the creases of her eyes and then a light shadow brushed over, a warm shadow on the bone of her eyes that extend out, eyeliner, and mascara. She is wearing a light pale pink blush and a tawny rose lip tint. Her delicate earrings lend a petite appearance with her short hair fashion.

Related Post: More Bryce Dallas Howard hairstyles