Mobile Hairdresser (2)
Previous Page

You get to become really friendly with some of your clients. I think it is because mobile hairdressing is a lot more personal than just someone coming into a salon to get their hair done. I have got really friendly with a lot of my clients and even invited them to my engagement party and they invite me to their special occasions such as weddings, birthdays etc. It is really nice when you get close to your clients, it makes working feel like just visiting your friends. Some times at the weekends or at the end of the day, my clients will offer me a glass of wine. Some clients offer to make my lunch or dinner and some have it ready for me arriving, which is really nice.

At Christmas time, I give my closest clients a gift voucher to spend on their hair, and quite often they give me something, which I find very nice. I got engagement presents from some as well when my boyfriend and I got engaged a few months ago. All these little things make working so much easier and it never feels like a chore.

There are some disadvantages to mobile hairdressing. For example, you really have to put the hours in. If you want to make a good business out of it and make good money, you really do have to work weekends and night times. When I first started my business, I worked seven days a week and every night was late. But it is what you have to do to make it work. Now that I have been in business for nearly two years, I have my regular clients, regular days and hours. I work Tuesday, Wednesday and Thursday until late at night, usually about 9pm (but it is sometimes later), Friday until 6pm and Saturday until 5pm. I take a Sunday and Monday off now.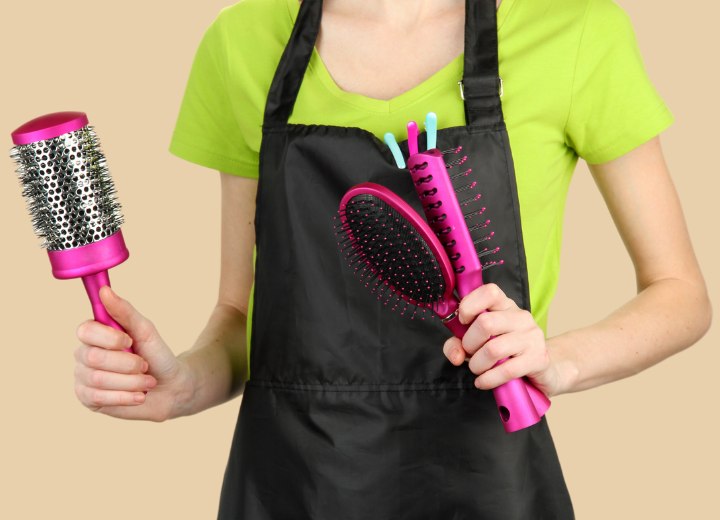 It is good to have a few days off as it can become really tiring. People forget that it's not just the hairdressing side you have to deal with; you have to do your entire book keeping, accounts, banking etc. Also you have to do stock takes etc. I used to go up town to the local hairdressing suppliers on my day off to buy more stock, tools and equipment etc, but now I just do it by mail order as it is much easier and not as much time consuming.

Another disadvantage of being a mobile hairdresser is that, if you have a complaining client, you can't just say 'I'll go and get my manager to deal with it', you have to deal with it yourself and rectify the problem. But if you take your time and be careful and listen to exactly what your client wants, there shouldn't be any problems, although some people are very hard to please, but you just have to learn how to deal with it. It is all about experience and being business minded.

But, don't let the disadvantages put you off, it pays off at the end of the week when you have a good wage and you feel as if you have achieved something. It is a good feeling.

Whether you are a client or a stylist, mobile hairdressing works for everybody. It is definitely the new way to get your hair done.

Remark: This article was written by a hairstylist in the United Kingdom. Check with your local board of cosmetologists to learn about possible rules and regulations for mobile hairdressing in your country or US state.

Sharon Gordon - Hairdresser - ©Hairfinder.com

Related posts:

Freelance hair jobs

About becoming a hairdresser

The pros and cons of being a hairdresser