Happy Hour by Top Model Coiffure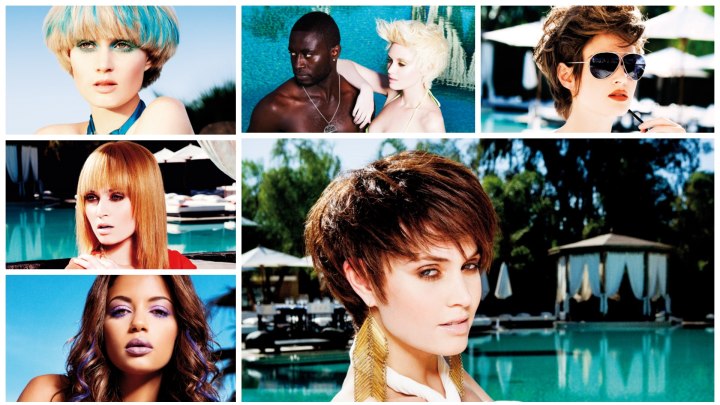 With these fun, colorful and charismatic hairstyles happy hour never ends. Hairstyles created to amaze are playful and innovative in their approach. They transform and transcend. They open new horizons of hair fashion with their daring combinations of cut and color, of vintage winks and modern design.

High quality cuts and exquisite stylings exude sexy elegance, a taste for the extraordinary and all of that even comes with the occasional burst of color. It is time again to be daring and expressive. Leave your shyness in the closet and step out into the sun with a new look that shows your true spirit and colors.


Blue over Blonde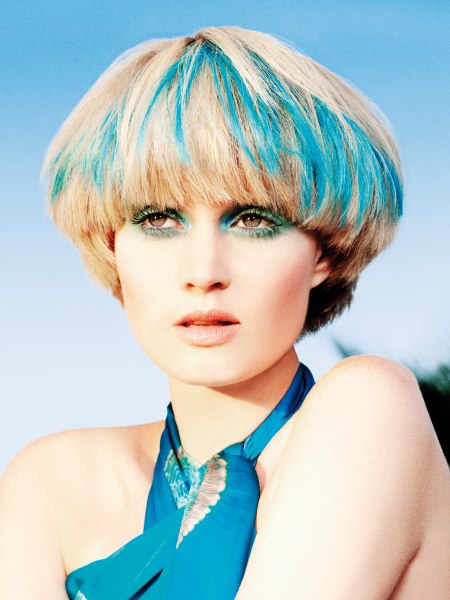 Chase away the winter blues with a layer of electric azure amidst beach blonde. The peekaboo effect is bright and intense and works so very well with the texture of this layered mushroom cut. Designed for volume and effect this short hairstyle changes its color pattern with different styling ideas and the direction of the hair.

Modern and bold but yet of a timeless quality and elegance, the bob that was taken out of its comfort zone promises to bring cheerful moments over and over and over again.


Asymmetrical Short Haircut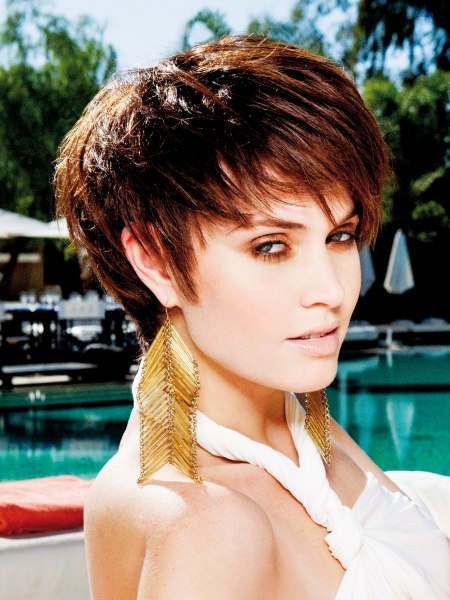 Not one side is like the other in this snazzy asymmetrical haircut. It is indeed a practical style, but who cares about ease of wear and low maintenance when a hairstyle looks this stunning. Sexy and refined with charisma from root to each very tip. The texture is immense, but full of harmony and tailored to fit the shape of her head and at the same time flatter her pretty face.

Softened contours and styling into the face with great momentum coming from the back, are a great combination to bring sparkles to a long and smoldering summer's day. Now, poolboy, where are those cocktails?


50s Flair with Sideburns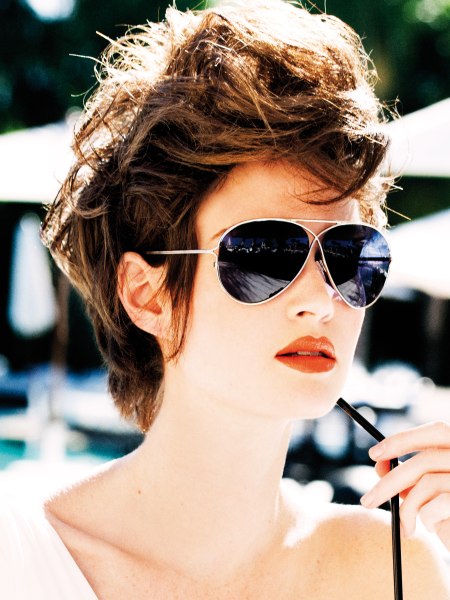 The King Lives! Elvis Presley and his contemporaries influenced music and also fashion to such an extent that we are still drawn to this signature style today. From sunglasses to hair and to attitude. Her short hair is layered and gives all the freedom she wants to style it, unstyle and restyle it over and over again.

For this alluring version the volume was increased with mousse, scrunching and bringing out the wave pattern in a sexy disheveled way. A couple of strands serve as sideburns to make a strong point about her playful approach to anything fashion. A mild brown with golden lights is a smooth and cool color for those endless afternoons by the cabana.


Flexible Short Hairstyle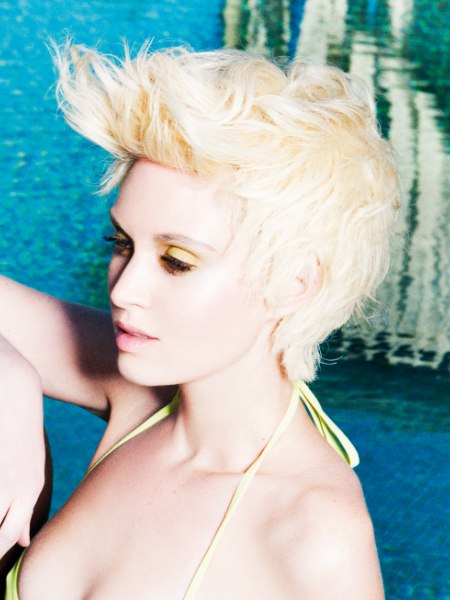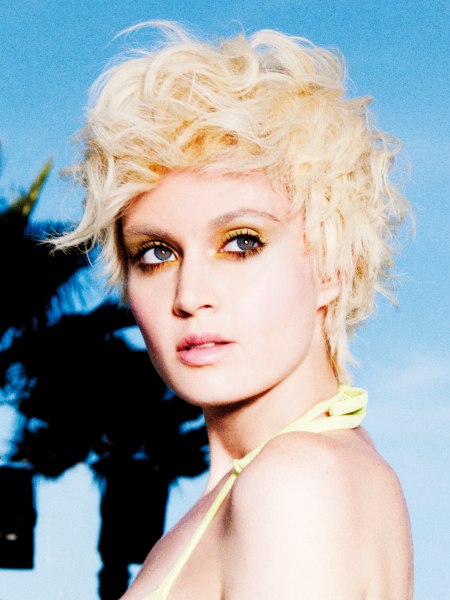 Razors are good for many things, including cutting a fresh style as sexy as this platinum blonde wonder. It is one cut that keeps on giving with two main styling options and numerous derivatives of these.



With such an electrifying look you can be daring. You should be. A short neck and very long, wavy fringe dominate the shape of this flexible short hairstyle.


Tapered Bob Kissed by the Sun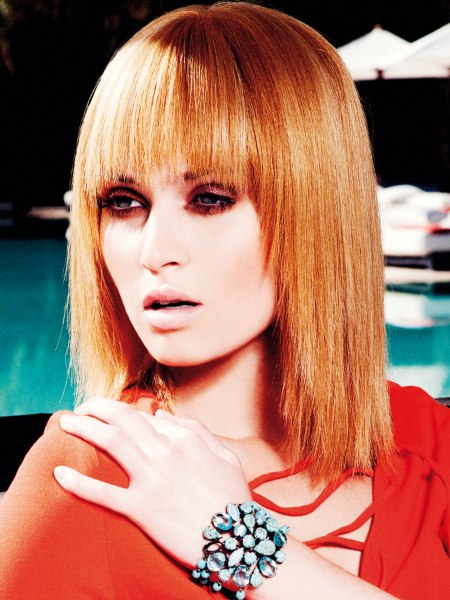 Round with an edge, all grown up, but ready to play. A long bob went through a major make over to get it ready and stylish for a very hot fashion summer. The frontal sides are now tapered and textured with the tip of the scissors to give them the soft and almost blurry edge.

Her hair color is a wonderful coppery blonde embellished with light blonde highlights, applied in alternating fine and wider strands. Hair that is more an experience than a mere style.


Splash of Blue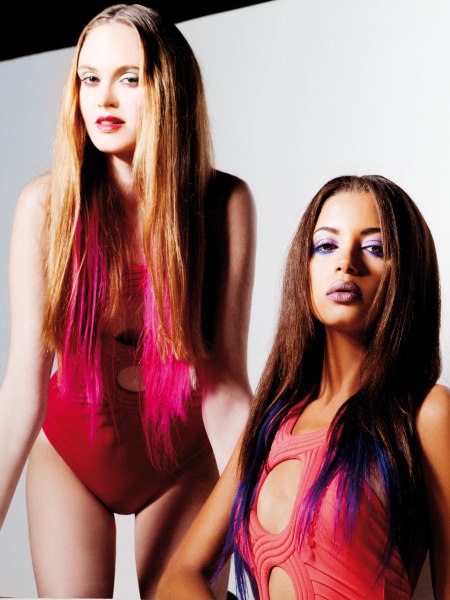 Long chocolate brown colored hair gets a refreshing shock with a little dip into an electric blue hue. The warm and sudden cold tones of color are like a perfect summer day with the sunshine and heat, then a cool pool for good balance.

With so much effect going on the cut and styling are best kept as simple as possible. A center part and sleek lengths are ideal. This way the exciting texture comes out much better as well.


Curls and Color


If you want to take it up another not, add luscious curls to the previous hairstyle and the result is pure glamour that wants to be taken out and showed off. The part of the long brown hair moved slightly to the side and the blue color effect in the lower quarter is really taking on an electrifying quality.

Hair: Top Model Coiffure
Photography: Anissa Si