Tchip - SS13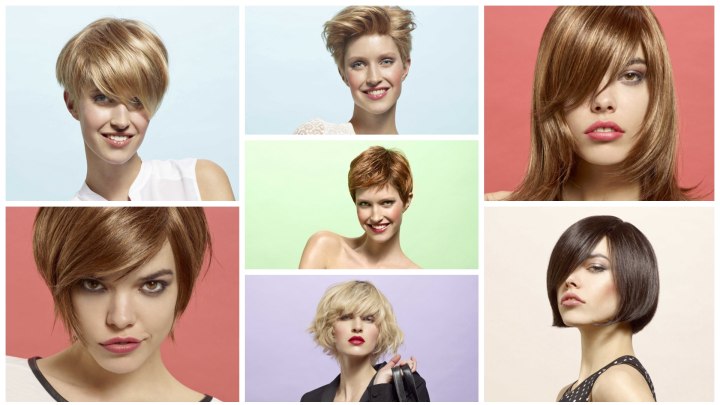 Tchip is known for the quality and the innovative approaches in their cuts and stylings. This spring and summer they will not disappoint once again and have created a beautiful collection of short hairstyles, made in France. Except for one shoulder long look the hair does not exceed the chin line.

Length in the top hair provides lively volume and a variety of styling options. Just imagine the possibilities! Movement is supported by layers and crafty volume and has a windblown, very beautiful effect with varying amounts of disheveling and the still trendy "undone look.



Casual sophistication with much flair comes in a range of beautiful and soft colors, ranging from a light toffee brown to brilliant blondes and one dark look just for the balance.


Shoulder Length with Outward Flip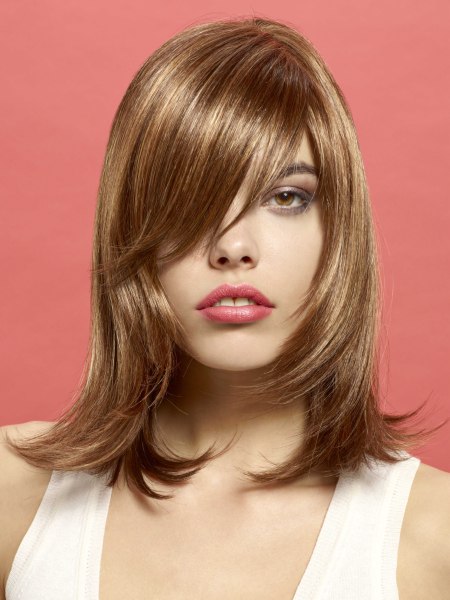 Swing into the new season with this much momentum. All of that movement is contagious and puts a new rhythm into life. A great hairstyle that has a light nostalgic flair but even more modern elements. The best of all worlds are combined to create one heartbreaking, breathtaking, infatuating and mesmerizing look.

A sleek body with shoulder length is structured with layering and tapering around the face, creating all of the motion and excitement. A long side fringe is draped flirtatiously across her right eye and gently curves out. The lower ends have a great outward flip, wispy and elegant.


Short, Round and Feisty Hair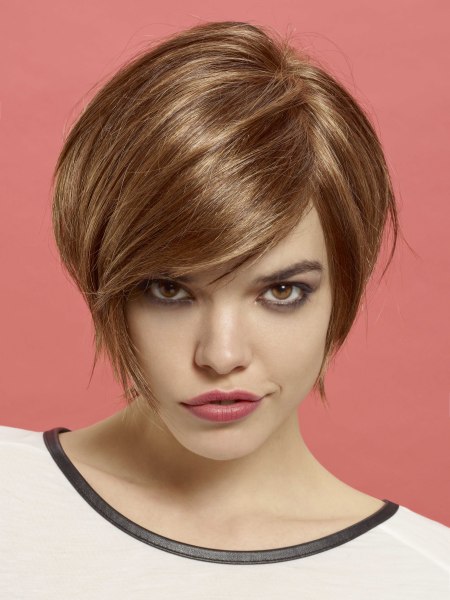 She has all the right to display a little attitude. With her hairstyle she gets away with everything, that is how cute it is. Cut for a round, sleek fit, the shape accentuates her face like no other. If frames her features with the jaw length curves and a deep, side fringe. Long top hair is shaped to a sassy bob with very textured tips.

Volume was created by giving some lift to the roots on the crown and inflate the top section of the look. Much light and dimension is developed with very subtle highlights on an already radiant hazelnut latte color.


Bangs as Focus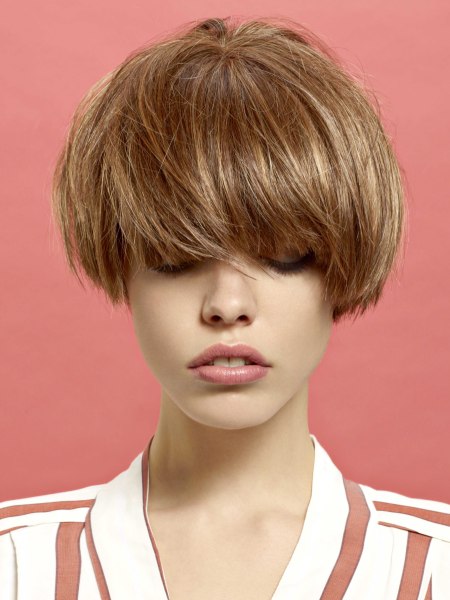 This bob is so short, that the sides are just a touch longer than the ears and the very deep and very full bangs. It is all about the fringe in this look and its rebellious, modern and very determined expression. There is no real partition on the crown, but instead a point from which the hair falls all around the head in a straight, but textured fashion.

The roots are lifted for lightness and volume and with highlights adding radiance and depth, it only takes a very light disheveling to give this adorable short hairstyle the finishing touch.


Blonde Temptation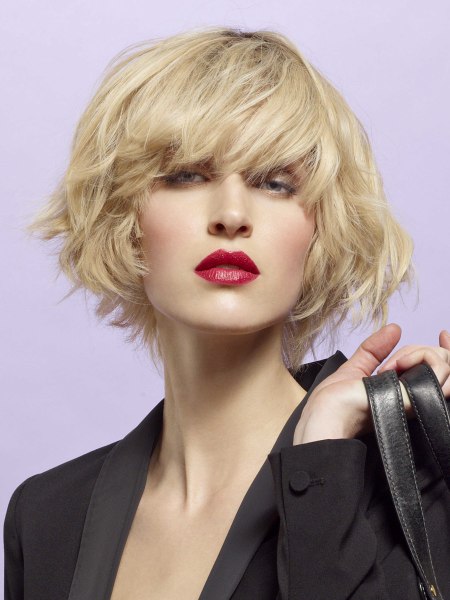 This is how sexy a short chin length bob can be. It is the color, but of course the layers and the texture are equally responsible for this most sizzling look of the season. Combined with a masculine outfit, its hypnotizing effect is even more intense. The slight undone styling stirs the senses and asks to be touched and ruffled even more.

Light layers allow for the movement to fully develop and keep the edges soft and wispy. The bangs are full and thick with a gentle movement to the side. The hair seems to refuse to behave and so does she. Rules are made to be broken and all of that round volume sweetens the ride.


Top Volume and Long Bangs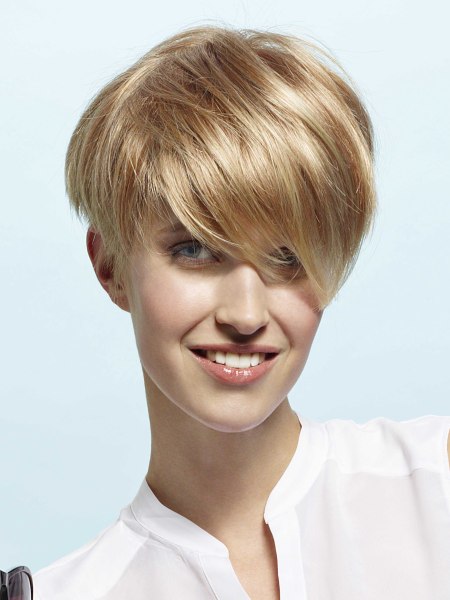 Round and round it goes, with a lot of top volume, generated by lifting the roots with a touch of product, a good brush and a blow dryer. By doing this the pixie will fall in an airy, light fullness that is the signature of all of the hairstyles in this collection.

This technique gives even simple or casual haircuts that special something, the effortless appearance of a truly sophisticated look. This short charmer barely reaches the ears on the side and as a contrast has great length in the veil like fringe. Much texture and a forward movement guarantee sassy expression and a place on the trend list.


Summer's Breeze with Volume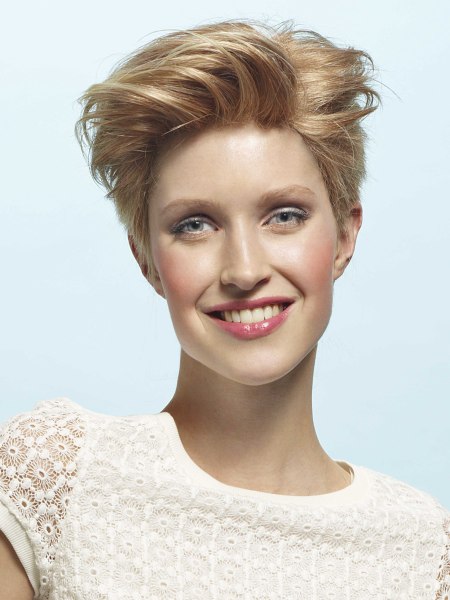 If you liked the last cut, you will like this hairstyle even better. It is based on the very same cut with ear length hair and a long fringe. With the new styling that feathers the hair up and back the fine graduation along the sides is revealed and not covered by the longer top hair.

The face is all exposed and her expression is fresh, stylish and invigorated by love, passion and the summer's air. Join her for a fashion infusion that is based on a versatile short cut and inspired styling.


Gamine with Golden Shine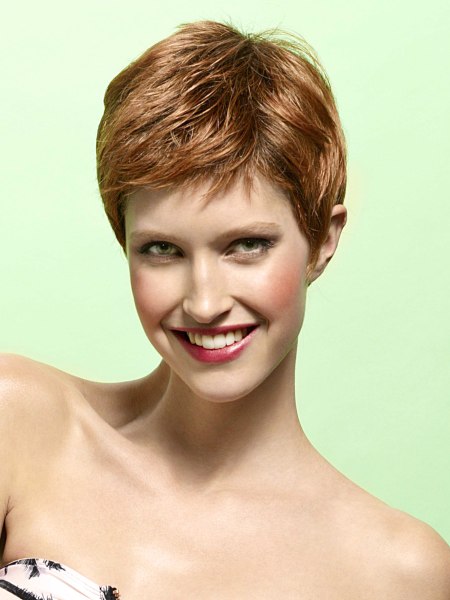 A little copper, a little gold and incredible shine take this tomboyish hairstyle from attractive and alluring to absolutely stunning and more than memorable. Do not pass on this great idea that is not only super sexy, but also very expressive and so versatile in all of its styling option.

If you go short, you might as well do it right and get these fine layers and texturing, cut in the shape of a more masculine look. Again a nice lift underneath gives the pixie its full fall and elegant flavor among all of the fun.


Soft Lines with a Curve


Ravishing and exciting in its simple elegance that oozes out of every strand. The gentle curve of the chin length bob tickles her chin and brings attention to her finely made up features. Femininity is the key and every element of the cut contributes to it.

A diagonal fringe shrouds half of her face in mystery and stylish glamour comes all by itself with so much help. This is the little black dress of the hairstyles and unsurpassed in its sultry, yet sophisticated expression.

Hairstyles: Tchip