Luis Kraemer - AW09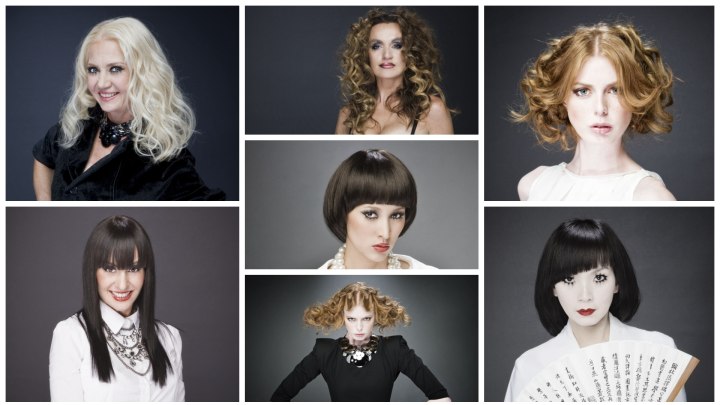 Women of all ages and types are represented in this collection by the French hair artists of Luis Kraemer.

Young, playful curls are on the palette just as big manes, sleek and demure cuts, classics with a twist, updos and eccentric asymmetry. The colors are natural and besides gentle highlights there are no harsh contrasts of hues on one head. The blacks are super shiny, browns are warm and the golden blondes and reds just smoldering.



Kraemer lets hair come alive and do what it is supposed to do - support and enhance the personality and individual beauty of a woman. Ageless, timeless and always feminine and outstanding.


Avantgarde Bob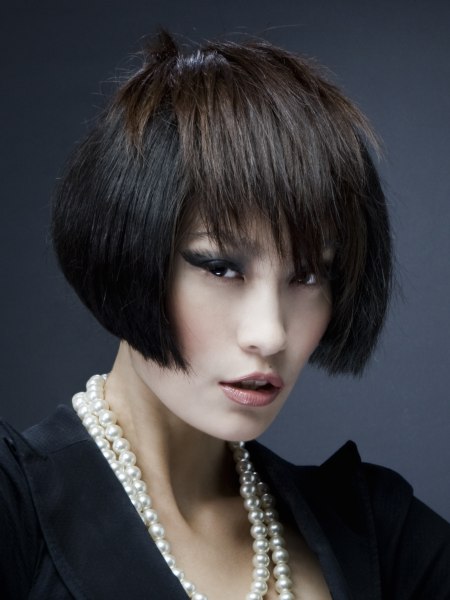 This bob haircut steps ahead of its time with a new deconstructed and re-invented shape. The base is a classic angled A-line cut, ending up in a titillating point right between the cheekbones and the corners of her lips.

On top a flow of textured and layered hair sweeps evenly across the head from the crown to the eyebrows, where it ends as strongly textured bangs. Two toned coloring in raven black and a warm, dark walnut tone, increases the effect.


Full Circle Round Cut


Mireille Mathieu has been among the famous supporters of a full circle round cut without any edges or angles at all. The hair is cut in a bowl shape around the face with an even line curving to an oval frame.

The bangs cover the eyebrows and the sides are long enough to cover the ears. Styling with a rounded brush and a blow dryer continues the round theme and adds a glistening shine to the silky surface.


Silken Wings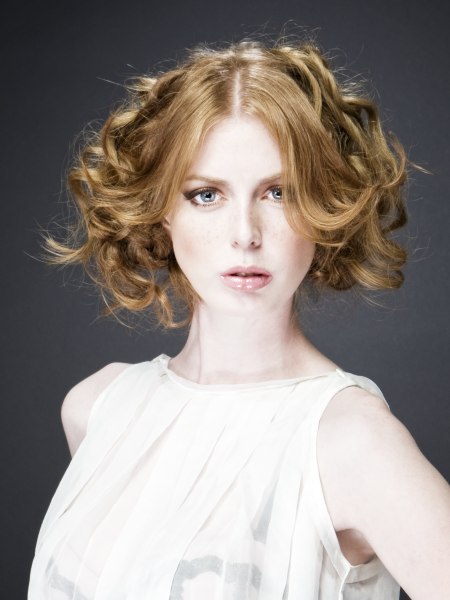 Curls as fresh as early morning dew caress the sides of her slightly blushed face. With a center part and wide curved bangs this style reminds of two curly wings. Large rollers make sure the curls are opulent and by arranging them with the fingers the look will stay well defined. It is a fun mix of retro elements, seduction and playfulness.


Centrifugal Pull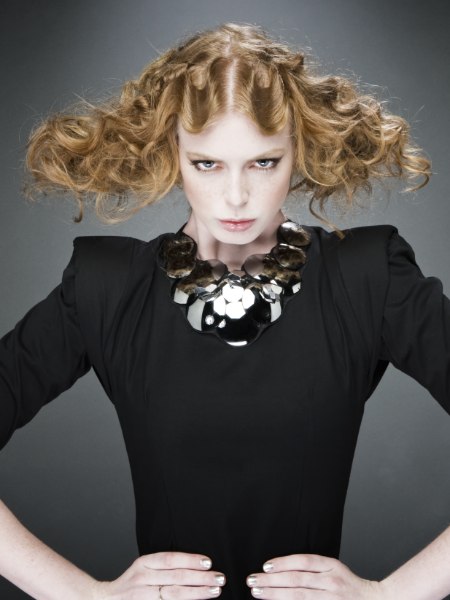 This intense lift requires a well-structured undercut and a stylist par excellence. A partition in the middle is the only element of simplicity in this extravagant style. She is spreading her wings extra wide to go on a smooth flight over the fashion landscape. Extreme waves weave their intense pattern to a festive crescendo of the inner music of her passionate soul.


Meow Locks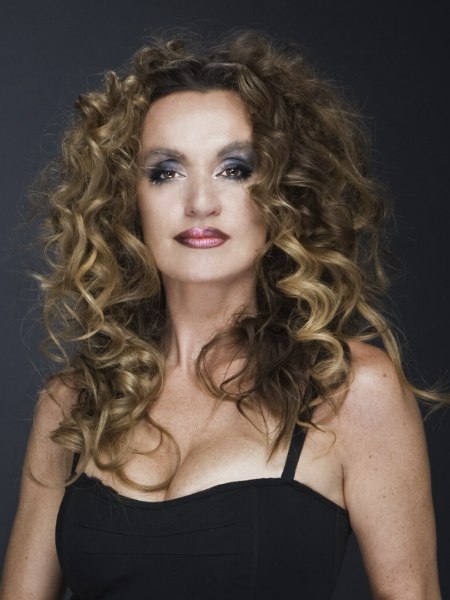 A feline mane is the style of choice for mature women who have been there and done everything else and now really know what they want. This precious bundle of curls cannot and should not be tamed; it comes undiluted and full of power.

Large spiral curls flow evenly to both sides of the center parted voluptuous mass. Color tones ranging from blonde to warm nutmeg add even more definition and emphasize the structure of the hair.


Silver Power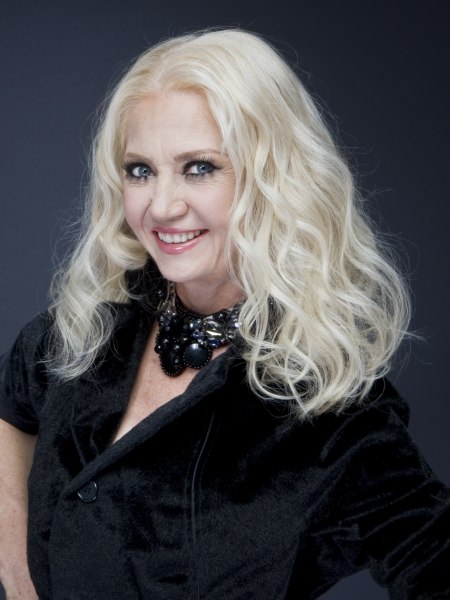 These long waves are made for women of all ages. The simplicity of the straight over the shoulder length cut and the center part does not distract from the gorgeous, large waves, the bodacious volume and the bright silver hue.

This luxurious hairstyle is full of glamour and offers the kind of versatility that older modern women need. It can be worn in its plain beauty as seen on the photo, or sculpted to a ravishing up style.


Vintage with a Bang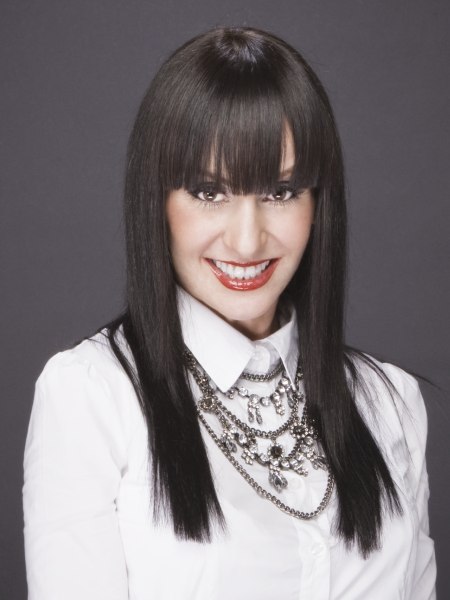 The lines are structured and linear. The spirit is free and inspired. A touch of the flower power 60s is undeniable, but also a nod to private school looks comes through. Long sides, sleek styling and straight bangs are ever so stylish and timeless.

The raven hair color has pizzazz and reminds us that you don't have to be a good girl to look like one.


Geisha Redesigned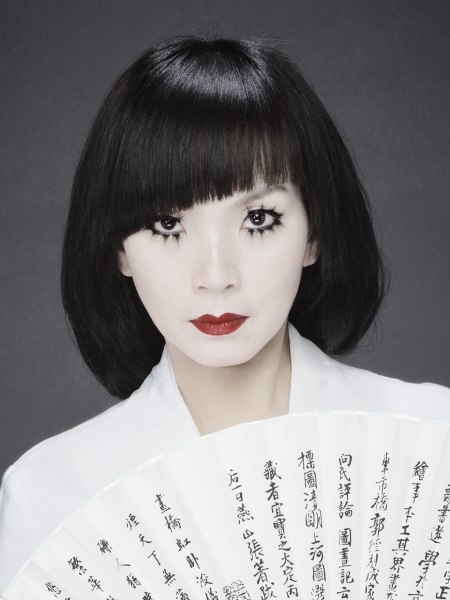 Made in France but filled with the charm of classic Japan. A round cut was given an asymmetric fringe that is anchored way back on the crown and separated by the two bouncy sides that were smoothly tapered and styled to full, rounded volume.

What a great and exotic twist on a classic. Seductive with the utmost of sophistication, class and tradition, but with a new a refreshing new twist.


Curly Tendrils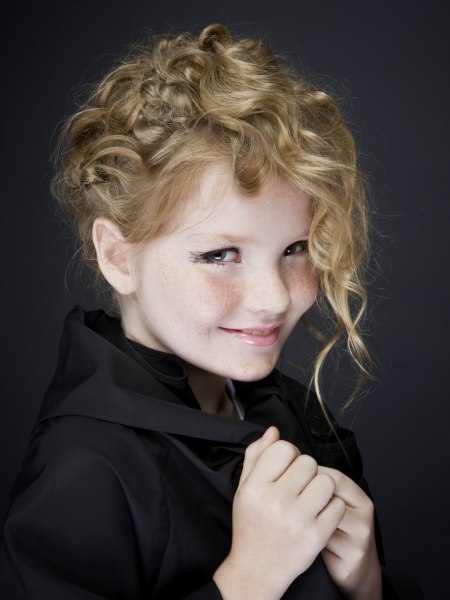 Even the young ones enjoy great style. A fun creation working with different lengths and textures is just the right look for this feisty fashion princess who clearly enjoys her curls. Pinned up in the back but blessed with chin length in front the defined curls and waves radiate happiness wherever she goes in a golden blonde hue.

Copyright: Luis Kraemer
Hairstyling: Kk, Anfernee, Gary (China), Xavier (Thailand)
Make-up: Tony
Photography & Styling: Ludovic Cazeba