Short Haircuts by Tchip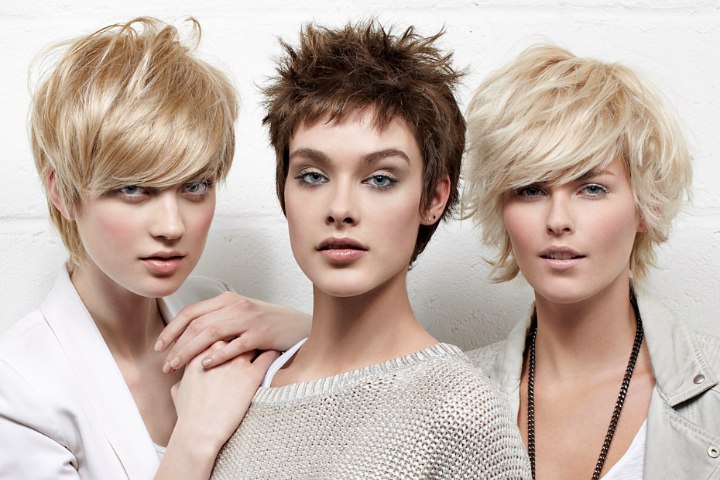 Scroll down for more photos ↓

It's always time for a fabulous new haircut, and Tchip might just have a dream hairstyle for you. The must have short hair looks are layered and full of movement with textured tips and a very dynamic styling. Individual strands are visible and either styled smooth or with a lot of spikes and wispy accents.

These haircuts, in bright blonde or spicy brown colors, are chic, refined and extremely trendy, but also carefree, playful and very sexy. The cuts offer high versatility and you don't have to fear any kind of hairy boredom to come creeping in. There is a ton of styling options and Tchip gives us some very alluring suggestions with these images.


Wrapped Tight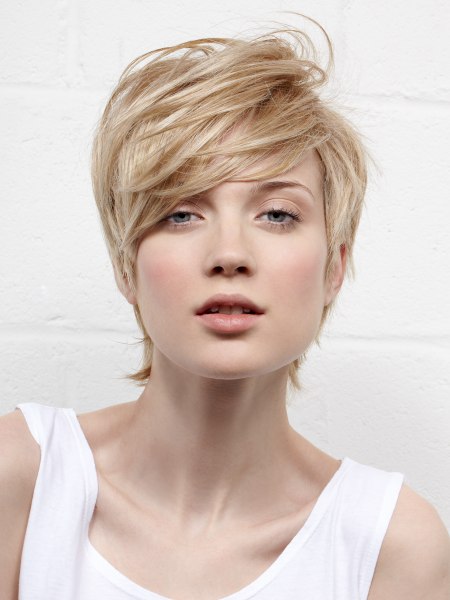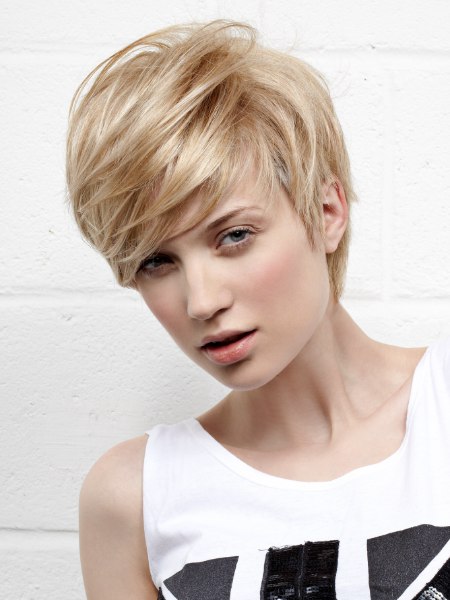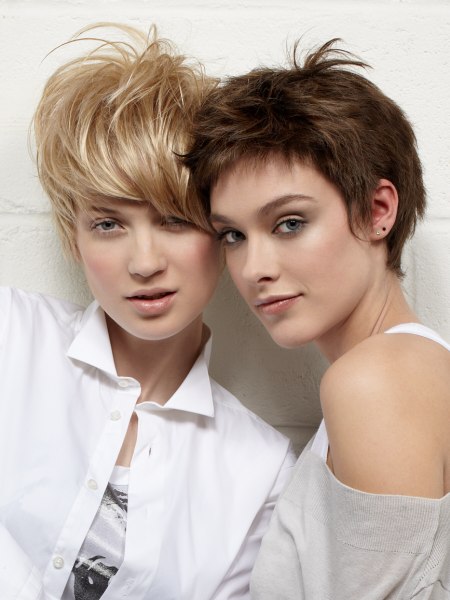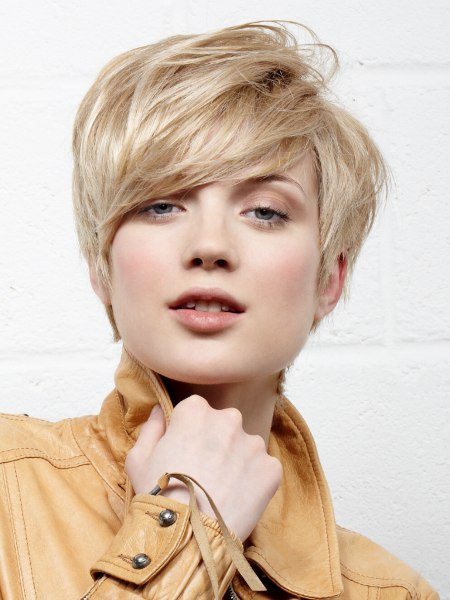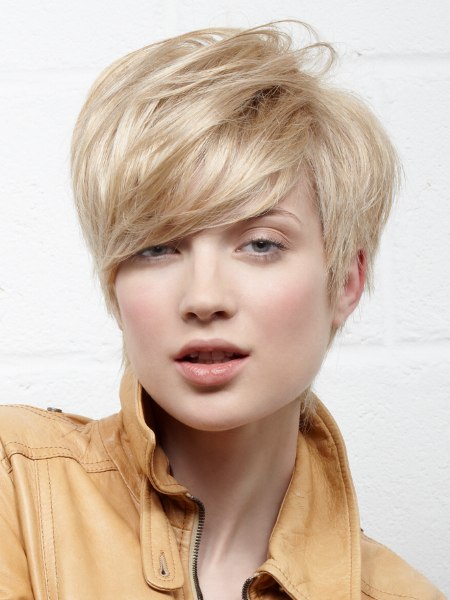 A lot of lift on the crown gives this short layered haircut a wonderful messy elegance and a hint of retro chic. Effortless appeal mixes with high fashion attitude. Styling takes the fringe on a dynamic, high velocity swoosh across her forehead, giving the entire look a wrapped feel.

The sides are styled straight down, with the exception of the elevated roots in the top sections. The neck hair almost reaches her shoulders and is gently flipped out. Super chic and super sexy for every day.


Maximum Volume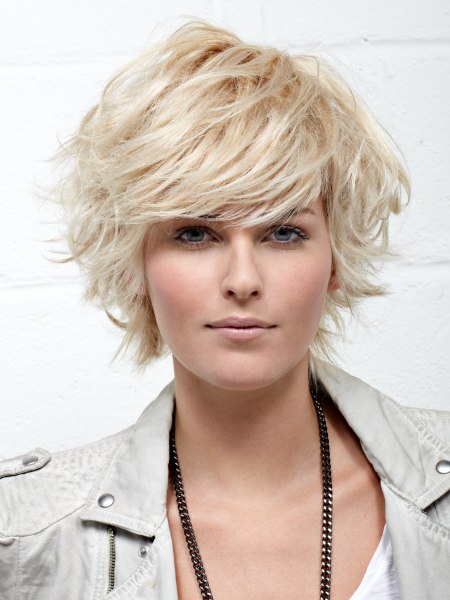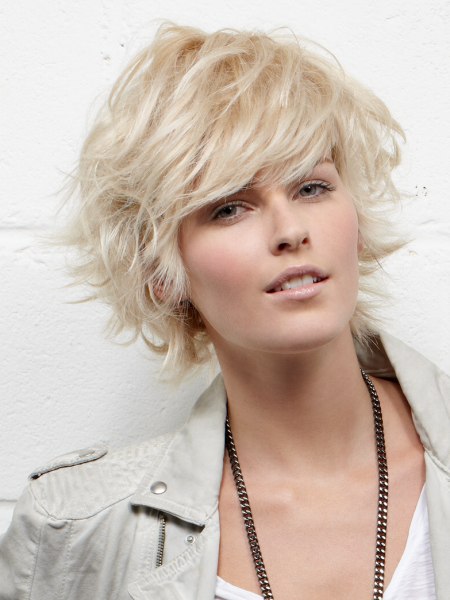 This is perhaps the most volume one can induce into a short haircut without giving it curls. The long layers are a bit longer on top than on the sides so that the cut gets its final, round shape and of course the fine texture in the tips is essential for the feathery and light look.

The hair was lifted at the roots and styled away from the head, mousse or other volume giving styling products come into play as well to achieve this head full of brilliantly designed gorgeousness. The fringe is curved to the side; the ends all around are flipped up and out. A bit of deconstruction and ruffling with the fingers gives it the final touch.


Short Mushroom Cut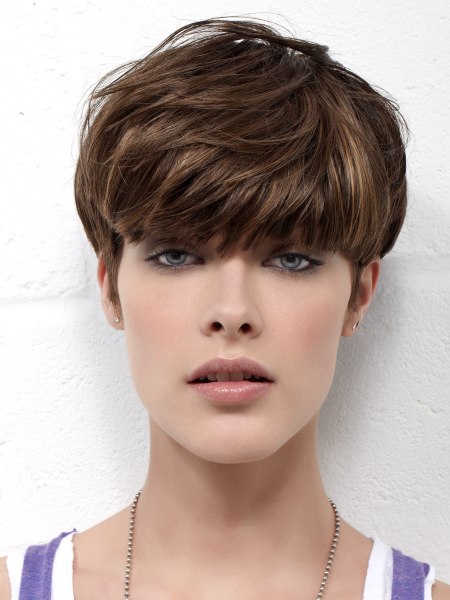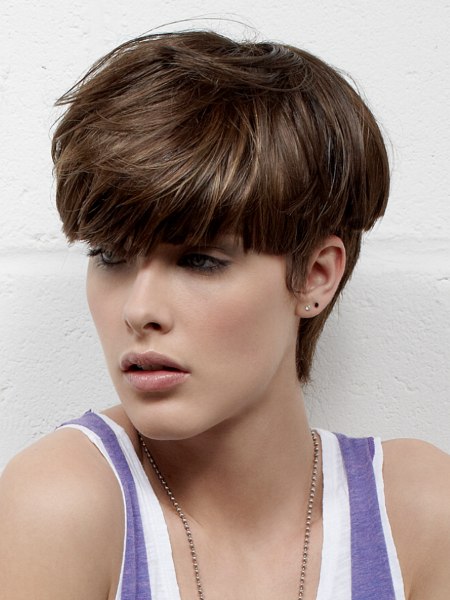 The famous mushroom haircut has been reinvented many times, but never as tempting as Tchip's interpretation. The dust of retro is blown away with a thick round brush and a dryer, both giving the hair its rounded volume on top. And top is about all there is. The design of the sides ends at the ears and the neck is supershort and graduated.



Character is developed by giving the bangs a sweeping curve while the rest is neatly rounded from top to bottom. A touch of smoothing lotions and some finger styling is the finishing touch. Another very attractive trick is the fine golden highlights on the chocolate background.


Pixie Cut with Soft Spikes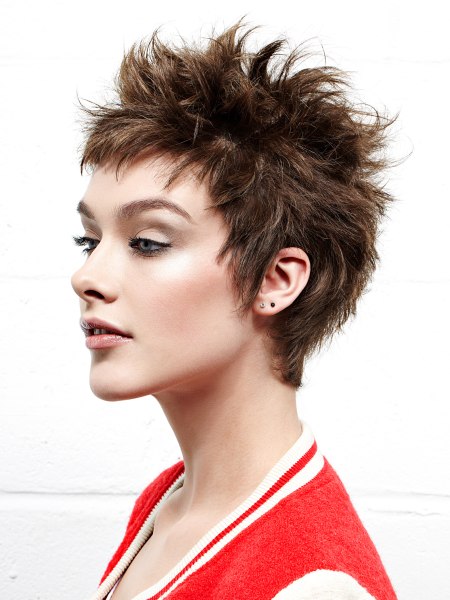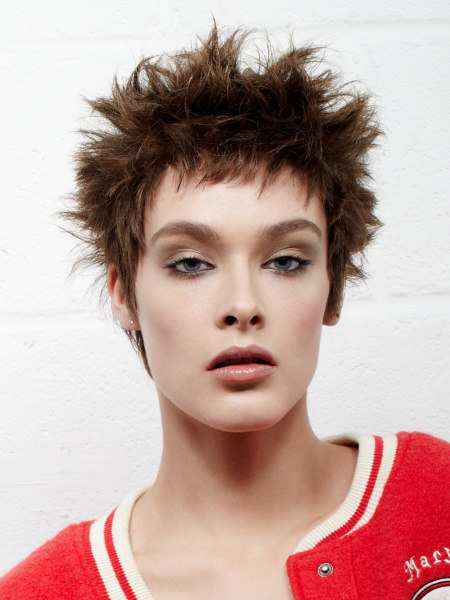 Inspired by punk but eons away from the starched, stiff weapons made out of hair, the new spiky haircuts are soft and flexible. A good cut with a lot of texture and a skilled play of lengths allows the individual strands of hair to support each other in its anti-gravity mode.

This playful pixie cut will definitely bring a lot of stylish fun into your day. Remarkable are also the very chick sideburns which complete the fluid and seamless outline that is also continued in the rounded neck.


Higher and Higher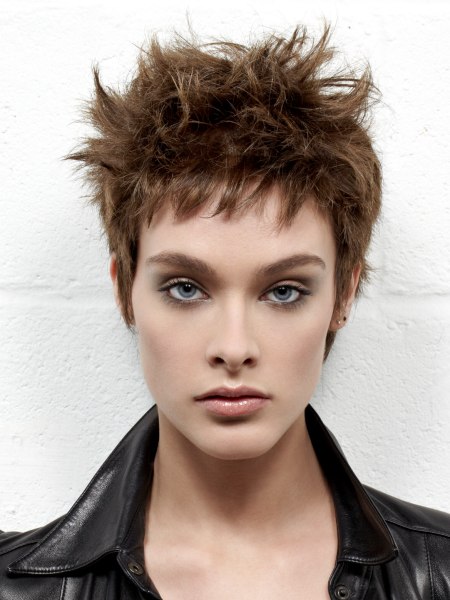 Lift it all up and show off your unconventional side. Finely textured and varying short lengths of hair are cut for the ultimate spike look, with a lot of soft tips but not sacrificing any of the edge and rebellious spirits that these haircuts are famous for.

With this sassy dynamo on your head, you will feel invigorated and invincible like when wearing a black leather jacket. A very short fringe is gently curved, adding some softness and sensuality into the equation.


Two in One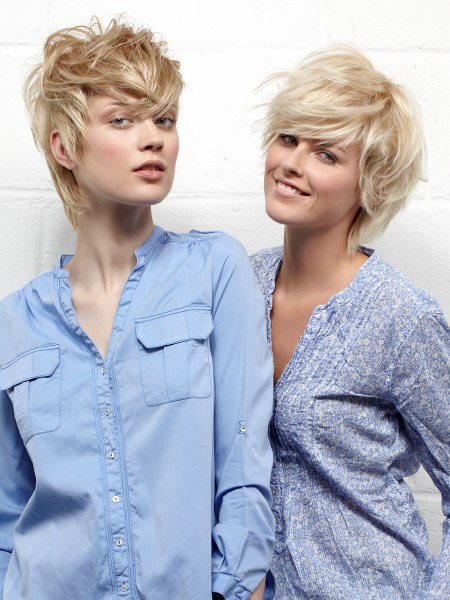 Versatility is the name of these short haircuts with long layers that can be styled in different ways. The two examples shown here give you an indication of how flexible this amazing cut is. You can turn it into a statement of your daily attitude, rebellious, gentle or sexy and it also has its sophisticated side. All depends on the styling of the textured strands.

Tchip puts much emphasis on motion in this collection, and any movement comes out better when the strands are well defined and the curves are big and bold. Each direction brings a new vibe. What makes these haircuts so tempting and sexy is the direct effect of fine strands caressing the neck, especially when worn with a collarless blouse or shirt.

Try it pulled into your face with an overlapping fringe, or full of volume and a happy go lucky wispiness in every tip.

Hair: Tchip

See also: Short hairstyles