Carpy Coiffeur
Hair Fashion Spring-Summer 11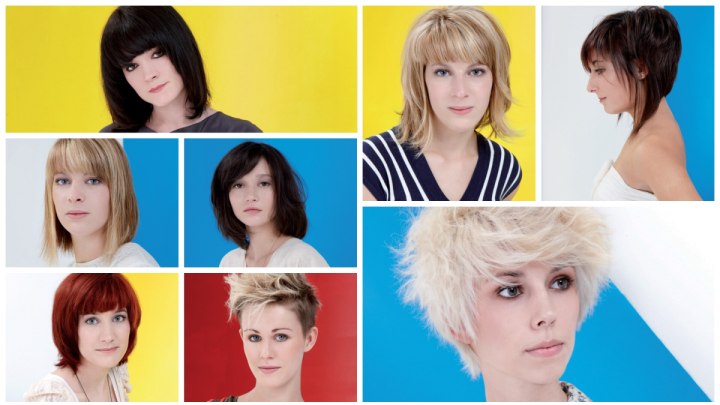 Scroll down for more photos ↓

Sixteen haircuts that will keep you cool all summer long come in many shapes and colors. Inspired by trends on runways and by the demands of women for chic and wearable hairstyles that have some sizzle and are unique, Carpy Coiffeur developed this delightful collection.

The cuts, which are based on the fashion favorite of all times, the bob, are either short or medium long and have strong emphasis on volume, texture and a lot of movement. Each one comes in two versions to show off its versatility and how to create more drama in your hair.



These dressy creations are made for everyday wear and are forgiving in their maintenance and styling requirements. Hair colors are basic but bright in a range of blondes, dark and medium browns and spicy red tones. Sporty, fresh and with all the elements of the current trends, these hairstyles are made to last for perhaps more than one season.


High End with Texture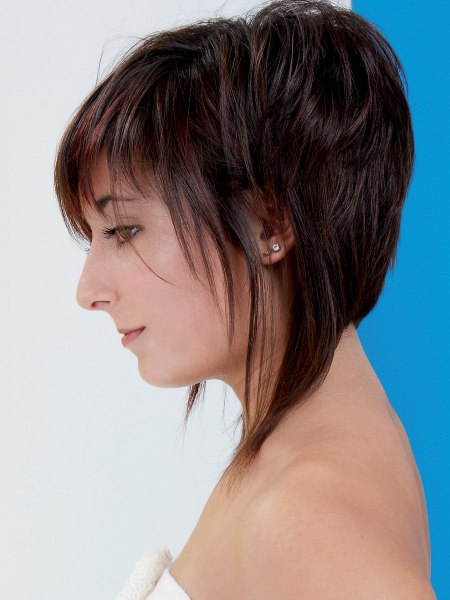 Favorite elements of several haircuts where put together to create this A-lined, textured look with the "best of all worlds". A high back gets its lift from fine texture and layers that lead to a smooth neck line. Longer sections are placed on the side, giving the famous A-line bob its shape before tapering towards a shorter, asymmetrical fringe.

The sides can be tugged behind the ears or let to hang freely. For a glam version, try to add some twists to them with your curling iron. A day to day look with a lot of edge and hot trends all in one.


Bob with Texture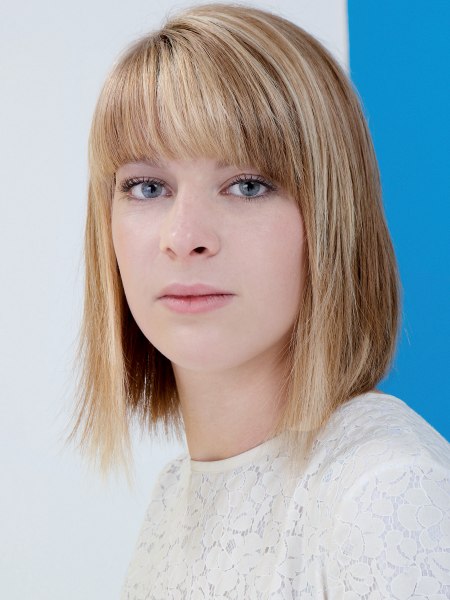 Take a classic and update it with a few trendy details and you get a flattering, timeless hairstyle that has a fresh attitude and will be your best fashion accessory. This bob was cut close to shoulder length and then textured with fine vertical point cuts along the perimeter. This provides lightness and softness to the edge.

The hair coloring is subtle but has a lot of special effects like a wide, lighter section in the fringe and fine strands along the sides to capture the sunshine. Styling is done with much smoothness in mind but also a tiny diagonal and asymmetrical touch, ever so subtle.


Bob Soufflé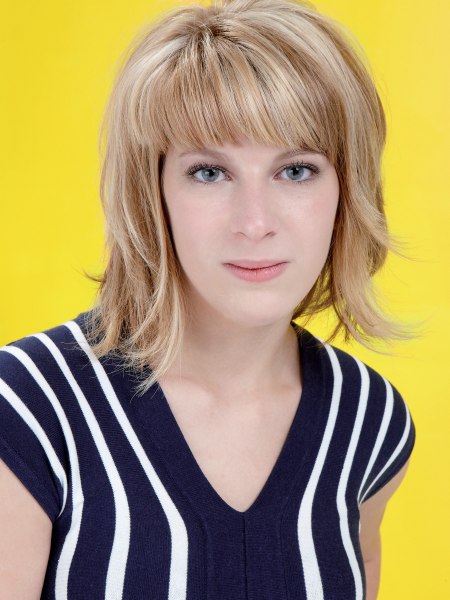 A lot of hair in the same haircut changes its appeal and vibe. Add more lift to the roots on the crown and you increase the stylishness and sophistication tremendously and quick. The sides were taken out of their neat rut and gently disordered, while they were also curved and flipped out.

With a round brush working on the fringe to give it a chic curve, you also reduce its length to a trendy above the eyebrow look. Playful, elegant and fun!


Curved In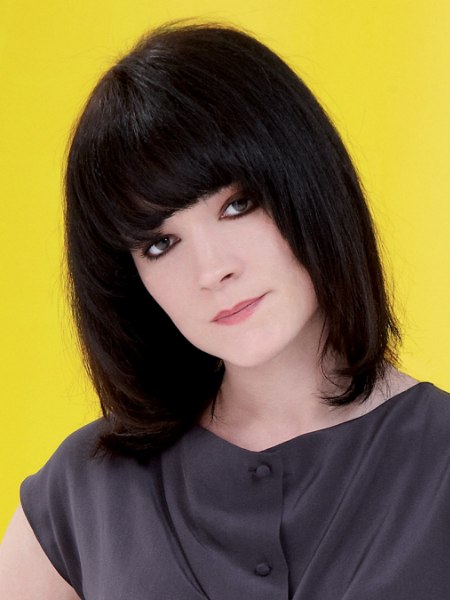 Smooth like hot chocolate and of a similar color, this long bob enchants with its round lines that are prevalent all around, in an under. The haircut puts emphasis on softness in line and texture, which presents itself with finely sculpted ends.

A tapered line frames the face from one side to the other, collarbone to collarbone. The ends of the perfectly cut hair were then styled with a beautiful inward roll that increases the curvy and gentle effect of the complete look. Perfect for the office and the cocktail party, this hairstyle has a lot to offer.


Exotic Flavors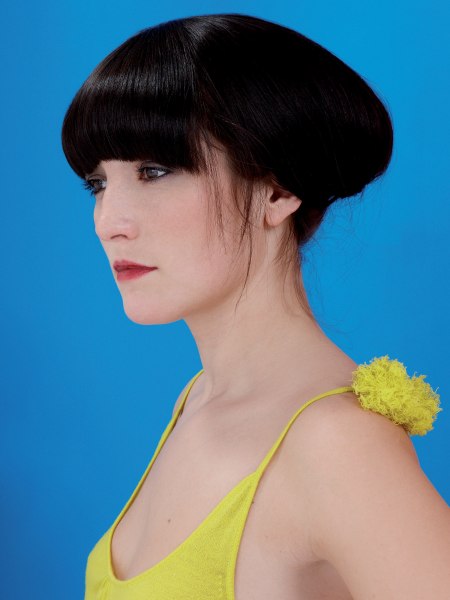 You won't need to speak Mandarin to enjoy this Asian inspired updo that is based on the previous haircut. Who would have thought that a long bob is the building material of this exotic do? The roundness that was already dominant in the base version of the cut, still comes through and is even increased with the element of weightlessness in the back.

The hair was gathered and pinned up while shaping a billowy round, soft sculpture of hair that becomes irresistible with a few free falling strands that charm her face along the side. The fringe is a key player and comes out best when sleek, shiny and just gently curved.


Sunshiny Day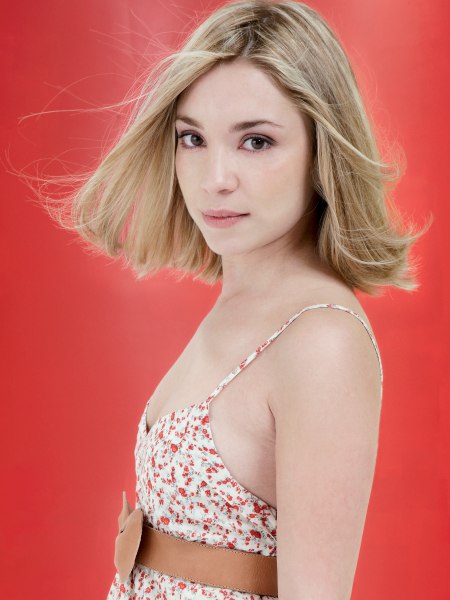 Keep the sun in your hair, even when it takes a few fine highlights to help with this. A long, swinging bob makes a great summer look with its versatility and unmatched style. It just looks good open, as a ponytail or as a chic upstyle.

This casual version features a lot of movement, created through large curves that were styled into the lower half of the haircut. Parted on the side and a long front it is simple, elegant and just beautiful.


Upward Streaks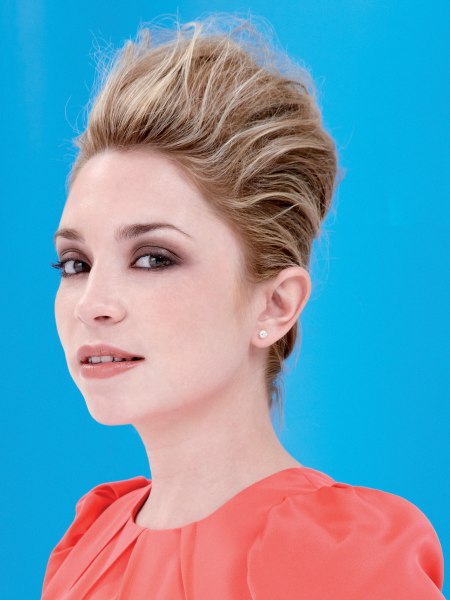 This high-flying up-style proves that you don't have to have very long hair to wear a trendy and glamorous updo. The bob from before was transformed into a sophisticated hairstyle, made for special moments.

Now the thin highlights take on a major role as they give direction and dimension to the upward movement that defines this look and as a side effect has a slimming, stretching effect on the features.


Redhead Bob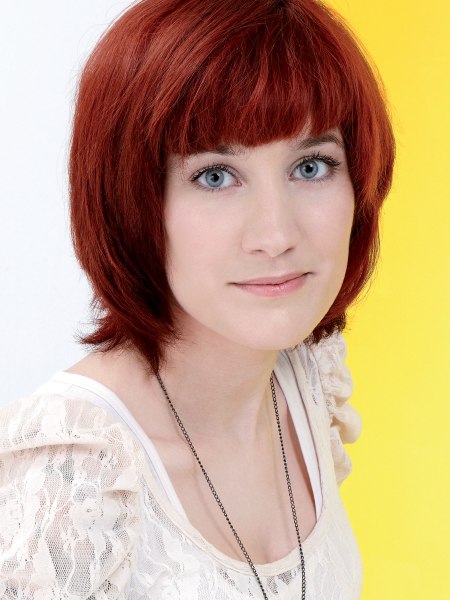 Redheads stand out and bring more sizzle into the world. If you are not afraid of getting a lot of attention, then spice up your life with a warm paprika tone. It will bring out the color of your eyes and be flattering to light skin tones. The bob is layered smoothly and cut with a lot of dynamic texture in the ends.



The fringe is super straight and blunt, making her eyes stand out. Styling keeps things rounded and smooth with a gentle drift towards the front to frame the face. A few turned out strands around the bottom add movement and energy.


Red Bubbly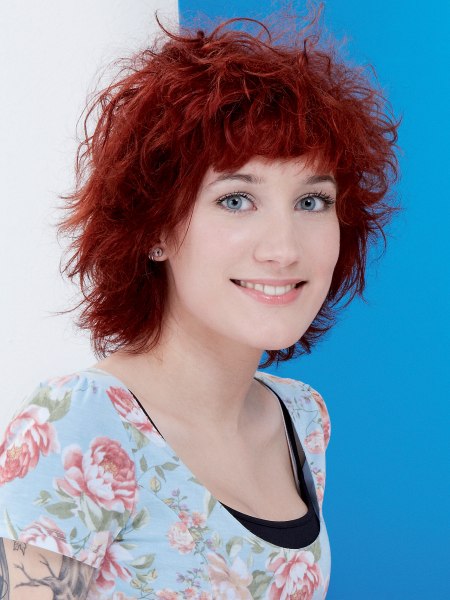 Go from nice to almost naughty in a jiffy with a handful of mousse and a lot of scrunched and mussed action in the layered bob. Now the layers are really visible and even the blunt cut fringe got a new lift and frolics along with all the other segments.

Bubbly and vivacious with a touch of unruliness flatters every woman and there is no age limit to be playful with your hair. Make it red, make it fun and show the world your secret powers.


Sweep it to the Side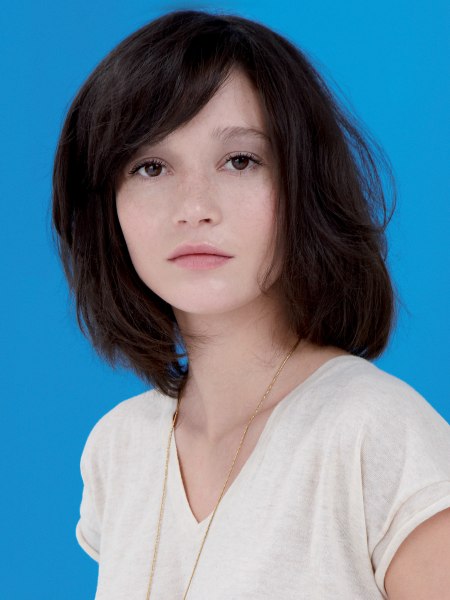 What to do with a long fringe? Sweep it over to one side. This adorable element is here part of a shoulder length haircut that bases its entire structure on big swooshes of hair that are styled along the face and curved to the back.

A tugged undercutting line created another level of curviness and texture throughout provided lightness and volume. A dark cocoa brown is warm and understated, yet it will not be overlooked.


Huffy Puffy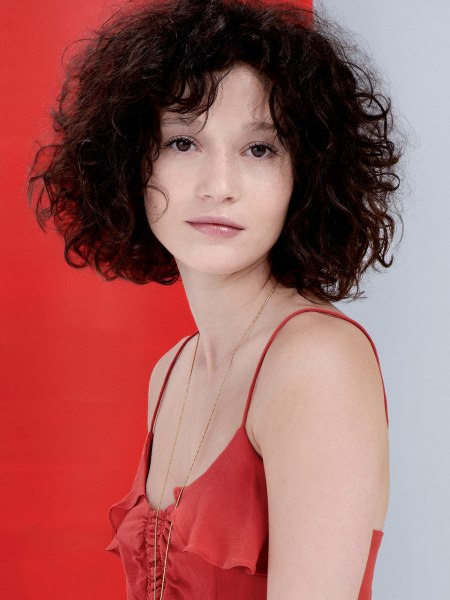 Dance all through the night and let your new curls do the talking. Show your carefree side and spruce up your daytime look with a heavy dose of curliness. Natural or with the help of rollers or even a perm, it does not matter as long as you enjoy it.

The medium length of the base cut seen in the previous picture is lifted now and the general appearance is much lighter and vivacious. More attractive vibe comes as a bonus.


Natural and Free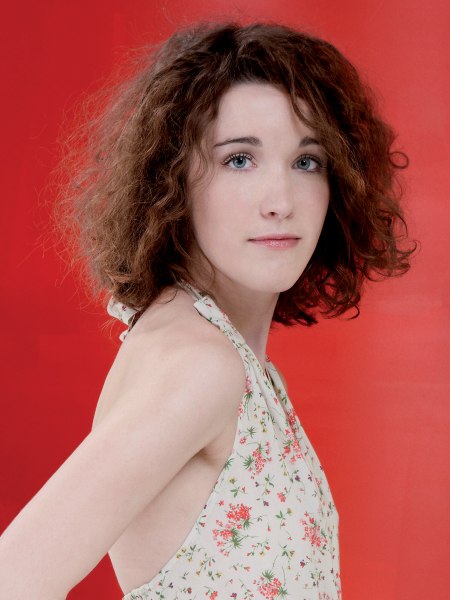 This hair does not need help to be voluminous. The natural-looking curl takes care of that and without layers the curls turn into small ripples of dynamic waves. The edge is cut round and there is just a bit of tapering going on at the side to have a smooth corner and transition.

The medium length hairstyle is parted on the side, a step that always adds a pinch of stylishness to a look. Simple, pretty and easy going, this haircut is made for active women live in their own rhythm.


Romance with some Tendrils Attached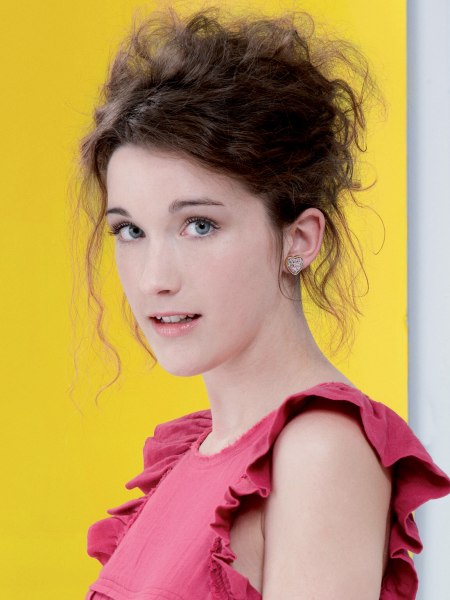 Wow them with a sweet updo that brings out the best of your features and puts you in a romantic light.

All of the hair is swept away around the head and to the back where it is fastened but not without allowing a bunch of loose ends to escape the hairpins. They spin their magic around the back and in front, where they always guide the eye to certain parts of your features that you want to accentuate.

Softness all over with a light and fluffy top makes this hairstyle one of the most adorable updos of this season.


Blonde Frosting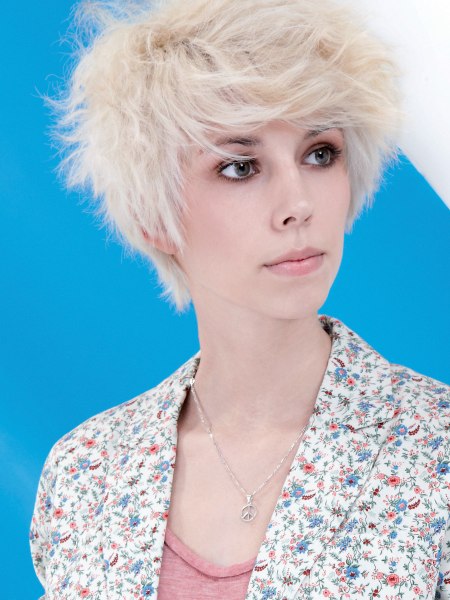 Add some sugar to your life. Save calories by making your short hair look like finespun candy in a delicious vanilla color. High texture and gentle movement all around make it possible.

The light blonde illuminates the face like no other color and the textured layers come together to shape this slightly top heavy look that is anything but ordinary.


Long over Short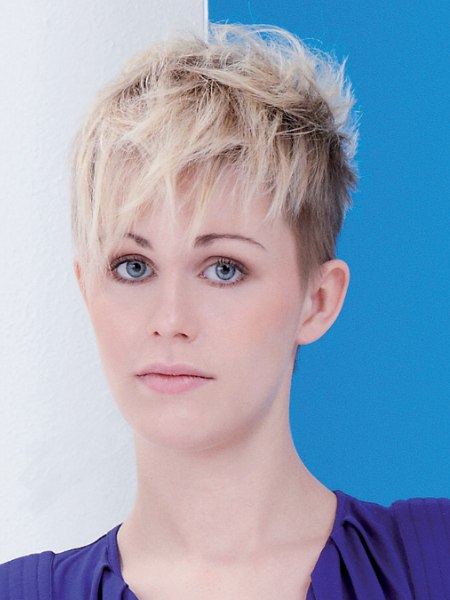 Edgy and punky as can be, short sides and longer tops always create an avant-garde feel. The extremely short sides are several steps darker than the sunny blonde top hair, thus making this stand out even more.

The length of the hair on top increases from the back to the front and it is very textured for a spiky, pointy feel. Styled into the face it creates a veil of a fringe and a lot of movement on top. A fun and punky haircut for high-energy women.


Curiosity Wins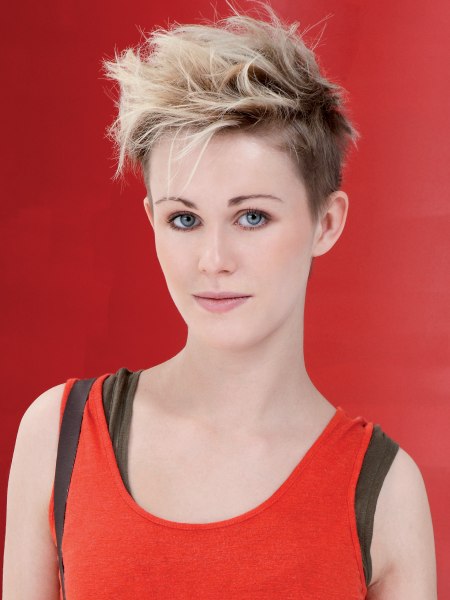 Explore your pixie cut look with different stylings. All you need to do for a change of mood is push the direction towards the side. The same very short haircut from the picture before now reveals a new side of itself with a wink.

The windswept effect looks casual and feisty but not without spreading the news that you are one of the most stylish, fun and confident women around.

Hair: Carpy Coiffeur
Photos: ©Filippe Darocha

See also: Short hairstyles | Medium hairstyles | Up styles