Dis-Go-Tek by Ken Picton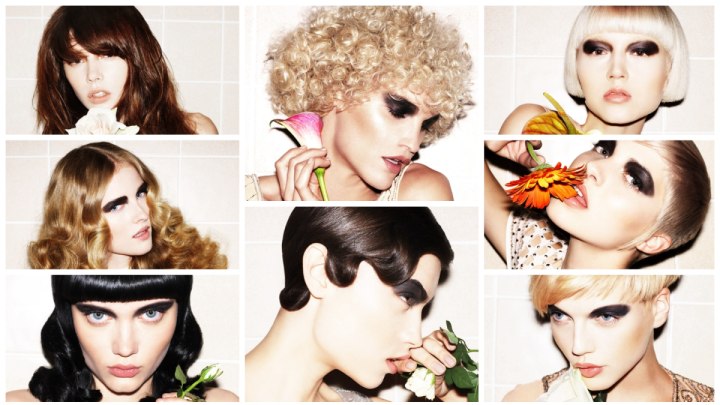 Scroll down for more photos ↓

Ken Picton does not mess around. There is nothing tame or toned down in this Dis-Go-Tek collection. Drama, expression and flamboyance are celebrated in short, long, sleek and curly hairstyles. These wonderfully eccentric inside are fairy tales come true and transform women into princesses, warrioresses, priestesses and temptresses of the night.

Lock the demure into the closet and indulge in artistic curls, sculptured looks and brilliant colors. The hues are as cool as the moonlight and come in black, blonde and brown. Finetuned for the highest level of intensity and luminescence, the hair colors appear to have a radiance that comes from way inside. Match the hairstyles with a smoky and heavy eye make-up, and the night will be yours.


Long Hair with Layers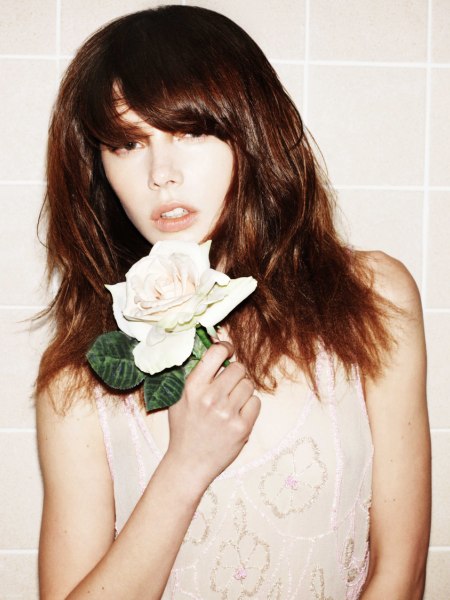 One of the best things that can happen to long hair is layers. Not only do they lighten the load, but they also increase the volume and make the hair appear much ticker instantly. Here the layers were cut in various angles, creating a very natural flow of the hair.

The tips are textured and the fringe is left full and long so that the eyes are halfway covered by the heavy curve. The layers frame the face with a lot of soft tresses, and the movement in this haircut is just amazing. She can shake it, ruffle it, dance all night and still look good. The hair color is a strong espresso color with a hint of gold.


Ripples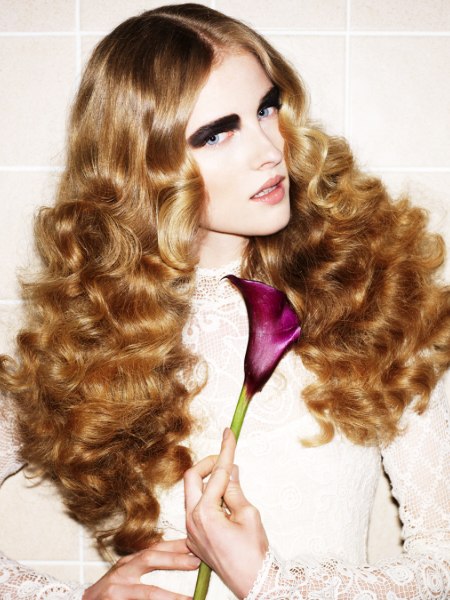 Ripples over ripples and an out of this world shine turn this mane of hair into a precious work of art. The epitome of feminine beauty, long wavy hair, is reinvented every year to adapt it to modern trends, yet the outcome always stuns with its invincible timeless beauty.

Elegant and playful at the same time these divine locks are extremely well defined and shaped to perfection with large rollers or, if you have the time, with a curling iron. A natural wave in the hair will help to make them last longer. A few layers distribute all of the wealth well and frame the face with long sides and a precious golden glow.


Retro with a Short Fringe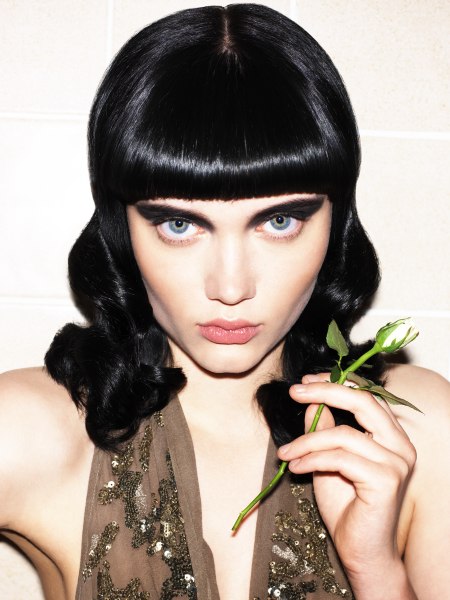 Create your own fairy tale and pick who you want to be. Snow White would go for this hairstyle today and enchant every prince on the way. A straight and short fringe fascinates with its retro flair and all of the attention it brings to her eyes. The line is just gently textured to make it softer.

Sides and back are long, below the shoulders, and they were styled by twisting wide strands over a curling iron and forming wide ribbons in large waves. Add some smoothing serum and gloss to you hair to increase the shine.


Mid-Neck Length Curls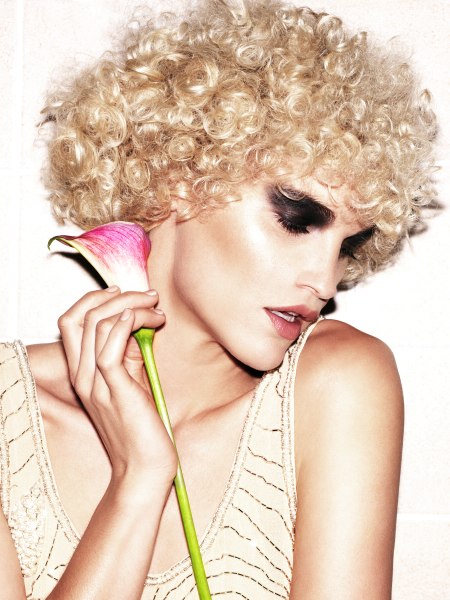 Cupid must be envious of those curls. The cherub like fine ringlets curl around her head in sculpted uniformity. Well-defined for a lot of surface texture, nothing is left up to chance here.



The general shape of the short haircut is round and evenly distributed around her head from about mid-neck. The color increases the effect of innocence and temptation at the same time and seduces with its warm blonde base and exhilarating bright highlights.


Short Bob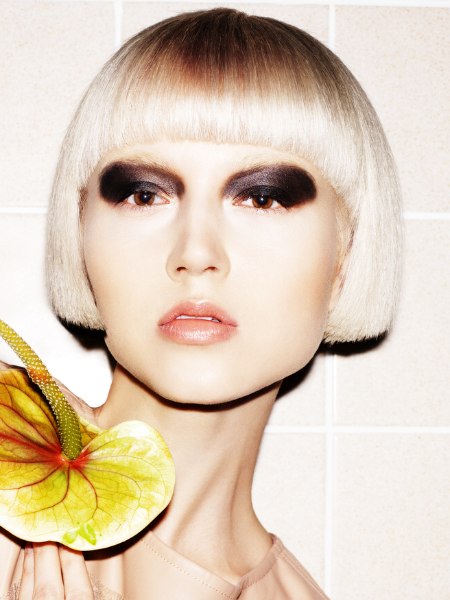 How can you make an exotic and classic haircut even more outstanding? Give it a new color. Short bobs like this look great in the classic black, but in a bright, iridescent blonde, they are absolutely knee buckling gorgeous.

The line of the fringe actually starts at the tip that curves into her jawline and is drawn in a big sweeping but meticulously cut frame for her face. A gently undercut and superfine texture keep the edge soft and give it a smooth fall. The edge along the side is angled and has rounded edges.


Short Retro Look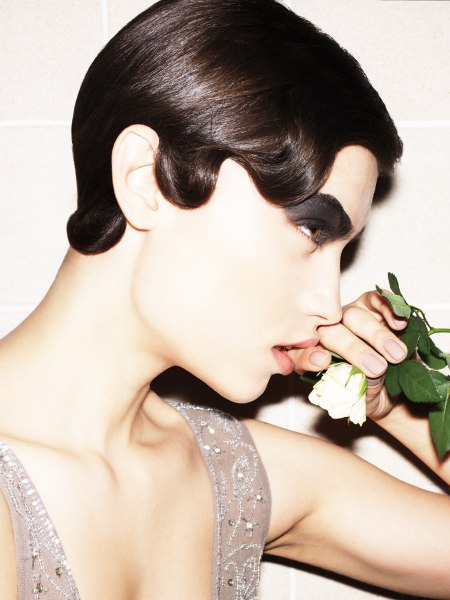 A famous short retro hairstyle combined with the lines of Kandinsky presents itself with three fluid curves that accentuate the shape of her face, her eyes, the cheekbones and then the attention is taken to the long and slender neck.

All lines seem to be painted on and as if they were still liquid. The hair is drenched in a smoothing and sculpting product and shaped with the vision of a sculptor. Artistic and sexy for a very special outing.


Pixie Cut for the Season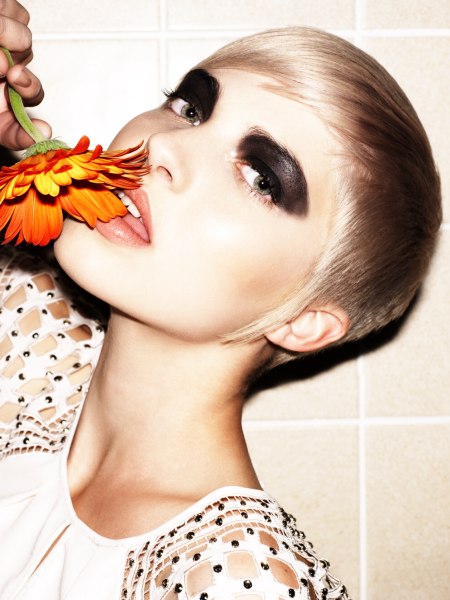 Sleek and metallic, it does not get any trendier. A pixie haircut has been textured and graduated so finely that there are hardly any visible transitions. All looks like a helmet of finely spun platinum, snug to her head and framing her face with diagonal points and an adorable longer strand right in front of her ears.

This look combines old and new with sci-fi color and is one of the sexiest looks of the season. Another bonus for this short cut are a multitude of styling options.


Expressive Short Hair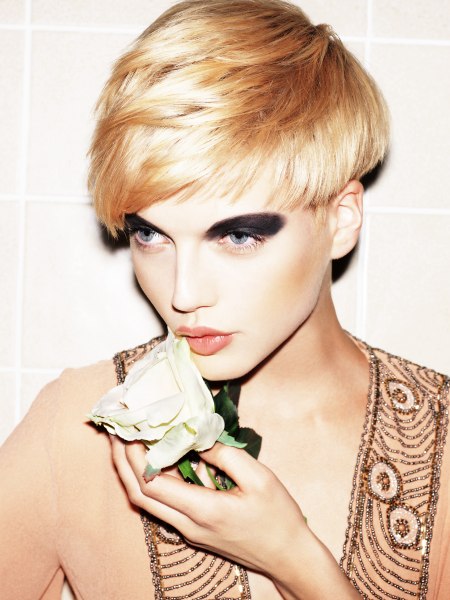 Short and expressive haircuts in shades of light blonde were not only a signature look for David Bowie and Andy Warhol. Modern divas of the glamorous nights also enjoy these sexy dos and the menu to pick the perfect one from is huge.

This specimen features longer top hair with fine layers, all styled towards the front in a slightly overlapping and casual way. The sides are cut above the ear and graduated. This creates a distinct edge, but with a soft outline. A bright gold makes this look as precious as it is supposed to be.

Hairstyles: Ken Picton

See also: Short hairstyles | Medium hairstyles | Long hairstyles