CHIC-ART
Hair by Felicitas - Barcelona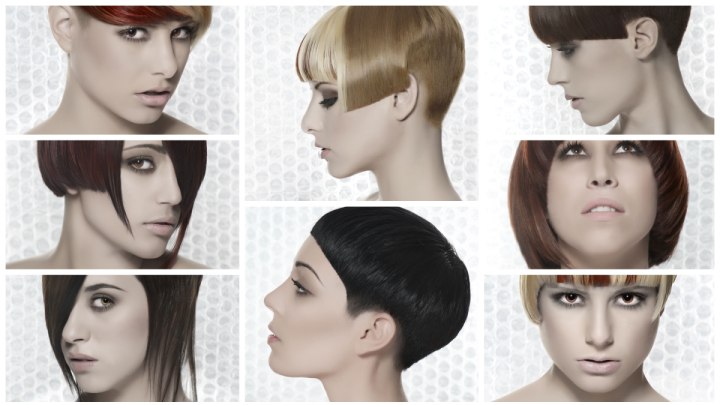 Scroll down for more photos ↓

Barcelona has been a Mecca for international artists and aficionados for many a decade and the fashion world in the Catalan capitol is booming like never before. Another metropolis inspired this collection: Chicago. Throw in the art, and conventional ideas of aesthetics are challenged.

Inspired by cubism with its rule-breaking lines, overlapping of elements, straight cuts and determined curves, these short haircuts play with our perception and at the same lift our senses like a sparkling Spanish cava champagne.



Refresh yourself with a touch of art in your hair! You don't even have to speak Spanish to do it...


Blushing Geometry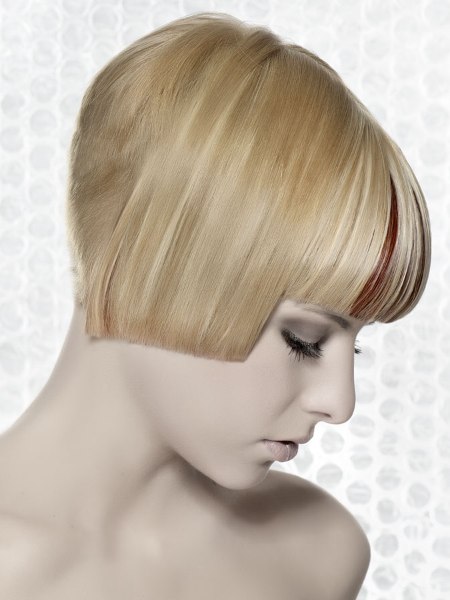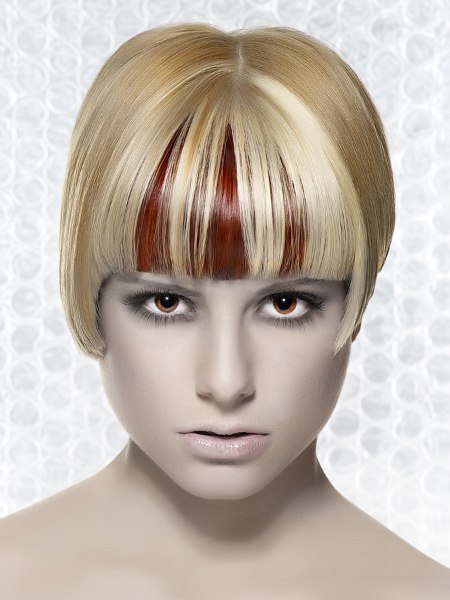 The unexpected, the controversial and unusual are always more exciting than predictable haircuts without a spirit. This geometric design with its fabulous play of lines, short buzzed nape, and hair colors will keep you from drowning in mediocrity.

Irregular streaks of various tones of beige blonde soften up the geometric lines which give this short haircut a very distinct and asymmetrical shape. When she turns her head an even deeper layer emerges with a bang. Literally. Underneath the few and fine blonde strands in front sits a blunt cut layer of bright red fringe. Surprise!


Surrealism in Three Tones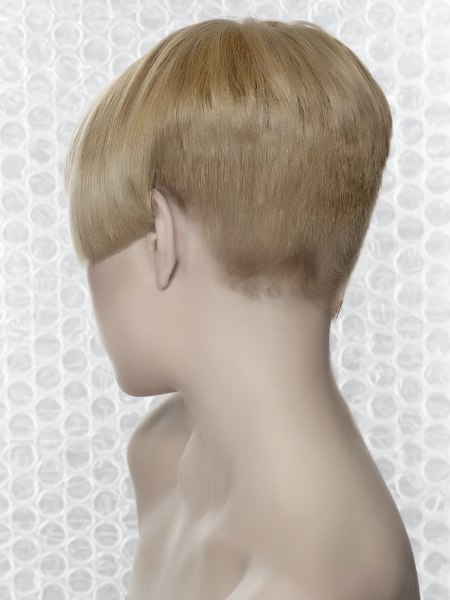 The red surprise under the fringe is only one of the striking and memorable elements of this very short haircut with buzzed nape. Each viewpoint opens up a new perspective and has its own surprises.

The left side is angled just as sharply as the right, but a few centimeters shorter in length and also in width. Right at the ear it transitions quickly into a section of soft but consequent nape graduation. The dominant colors here are a warm toffee tone and just a small area of light blonde in front.


Jagged Amethyst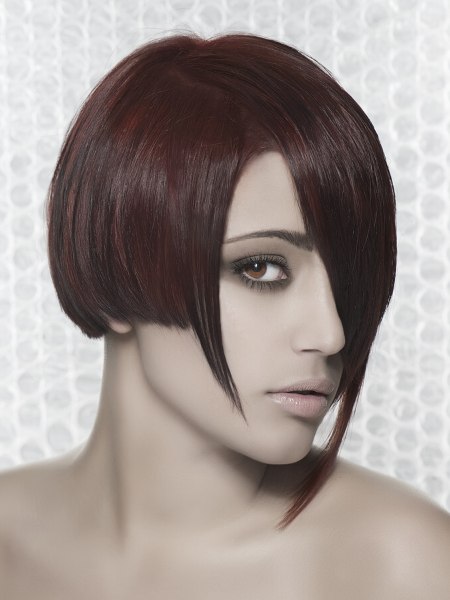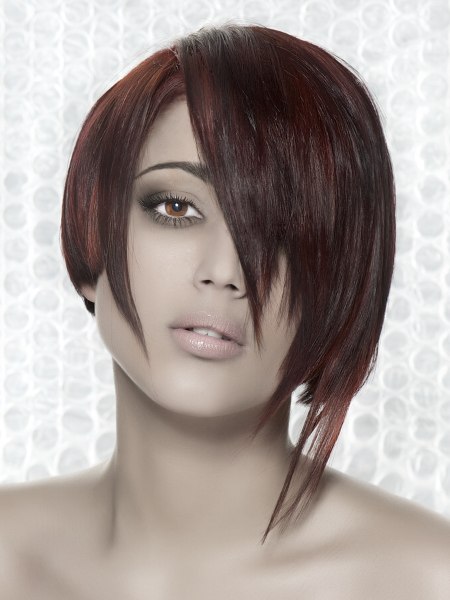 What could have been a short bob turned into a manifesto of geometric art of hair. Straight lines, blunt and direct, run into long, pointed and even razor textured points. A mix of lengths is not random at all, but created to challenge our perception and with that our senses.

An ounce of punk, a bit of Goth and a lot of creative harmony and high coiffure come together in a perfect haircut that stuns with its shades of dark amethyst and onyx.


Striking Lines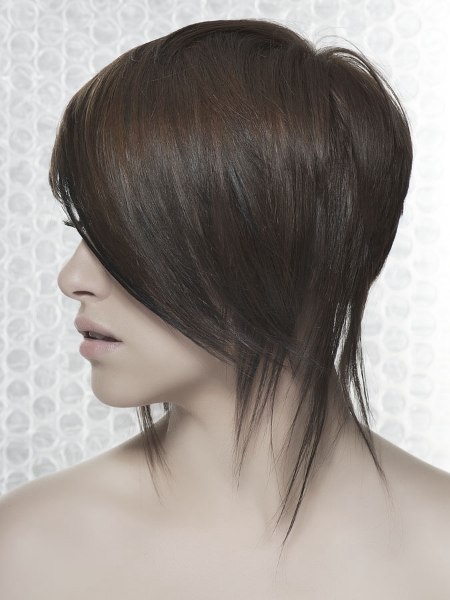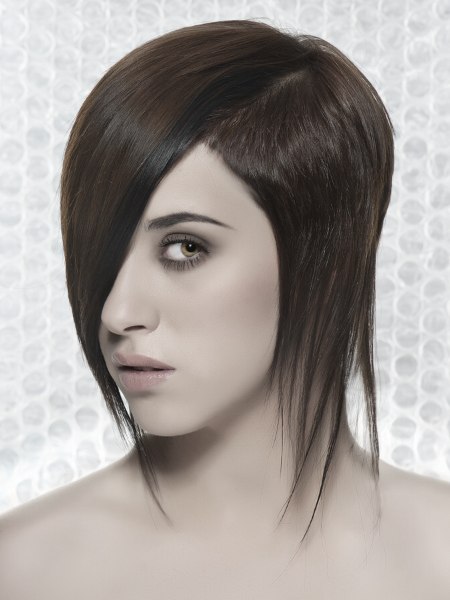 The power lies in the lines which are not all connected and might seem to have random direction, but nothing in this short haircut is a coincidence.



Drawn with the flow and vision of an artist, the streaks, elongated strands, the thick and thin accents of color all come together in a work of harmony and in a round, almost droplet shape. The high side part allows the long fringe to fall diagonally in an uninterrupted line.


Pierrot Style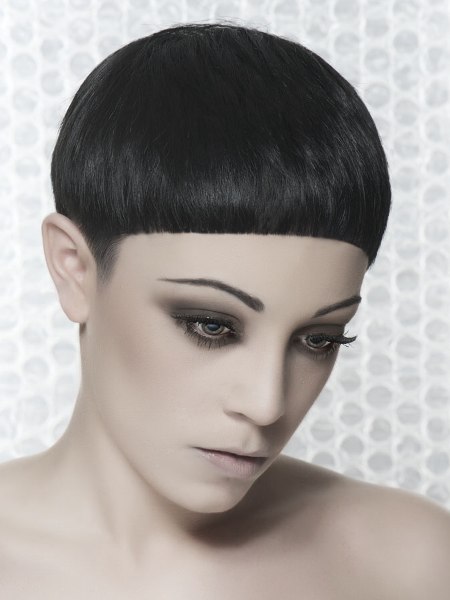 Her pale make-up together with the classic lines of her short hair conjures up the famous character of the Comedia dell'Arte and offers a great idea for a romantic an unusual look. The shape is remarkable in its tailored simplicity with a wide and very short fringe as the focal point.

The ears are free and the neck is softly tapered and cut to velvety shortness. The very short hair sits like a perfectly shaped cap on her head and is a picture of poetry with just a smidgeon of melancholy.


Triangulating the Round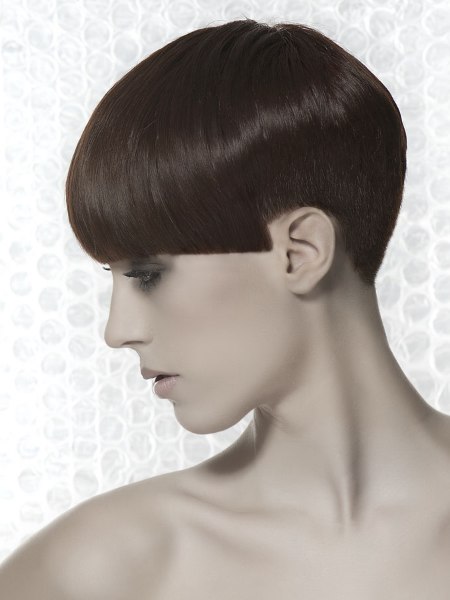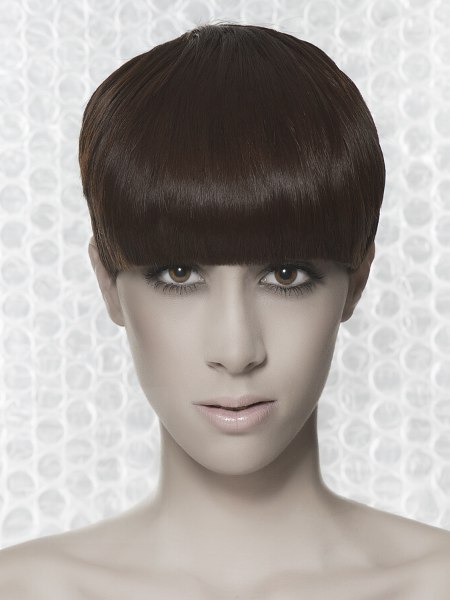 When everything is curved and round, a single corner with a distinct and clear line stands out. The short mushroom-like haircut thrills with its geometric perfection and the harmony in every tiny strand. Everything has its place and direction.

Round from deep fringe to steep neck the cut in corner teases and refreshes with its boldness. Precise cuts like this require regular shaping and sharpening of the lines, but it is worth it if you want to wear a masterpiece.


Spiked Classic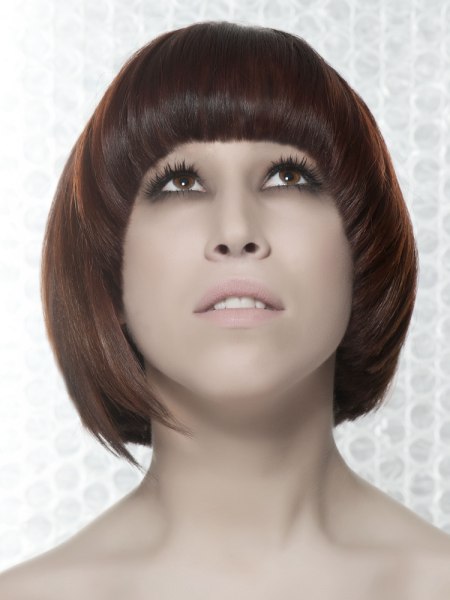 The face-framing roundness that we love about this classic haircut is taking a modern turn with a long and textured strand that juts out on one side to question standards and old habits.

A surprise for the eye and uplifting with its inspiration this look combines the familiar with the unexpected. This makes it a sizzling hot item for a new fashion season. A few well placed red color effects bring in luster and balance.

Haircuts: Felicitas & Team
Make-up: Trini F. Silva
Photography: Janusz Szpakowski

See also: Short hairstyles