Good Vibrations
Zentralverband des Deutschen Friseurhandwerks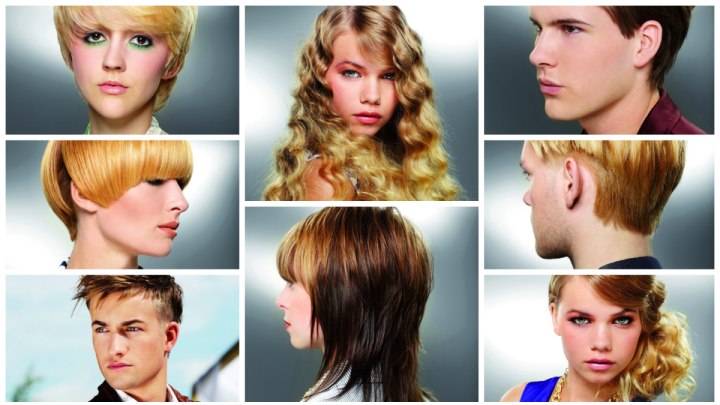 Let the Party begin! The Good Vibrations collection by the Zentralverband des Deutschen Friseurhandwerks spreads good mood just by looking at it. Now imagine to wear one of those fun hairstyles yourself. All lengths are invited.

Shorter haircuts feature geometric lines and interesting plays with color as well as texture. For longer looks, romance in curls and waves is the word and modern men can show their best sides with retro inspired looks, bold textures and playful, flexible cuts.


Short Blonde Haircut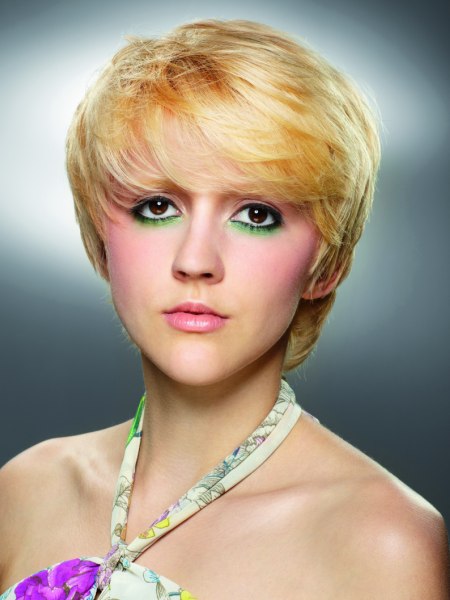 A head hugging short haircut with this much movement will look good on the dance floor, by the pool or wherever else this summer will take her. The outline is smooth and round starting from the lower part of her neck.



The longest hair is in the fringe and if it was not curved so stylishly to the side it would cover half of her eyes. The color is a radiant blonde that was in addition treated with a transparent layer of a bold marigold hue.


Punky Chic Hairstyle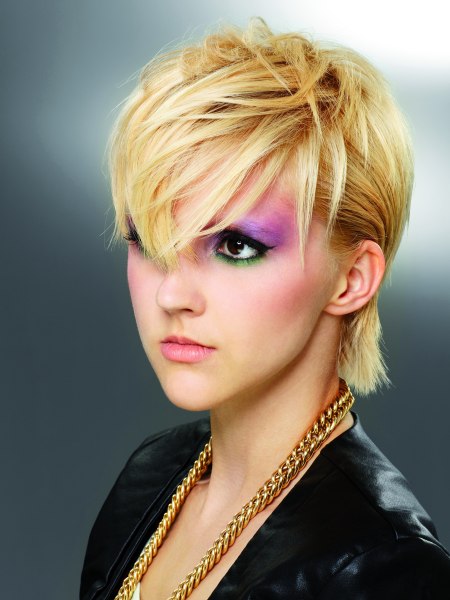 A more dramatic styling really brings out the girl power and the matching attitude. The roundness of the previous short hairstyle has been replaced with slicked back sides, that just slightly flip out behind her ears. The longer top hair is styled in two directions overlapping each other in thick, textured strands.

The fringe has a pointed tip that rests at the middle of her nose and there is enough room between the strands for her eyes to sparkle through. By the way... purple eyeshadow brings out the color in brown and green eyes.


Geometric Bowl Cut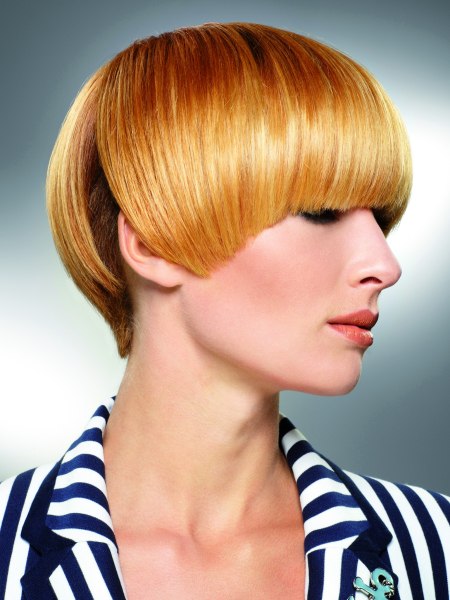 Geometry in school can give you headaches. The principles and shapes applied to the outside of your head can make you stunning. It is time to reacquaint yourself with perfectly shaped haircuts that have a neat outline and a fully controlled surface with no fuzz or fluff. The fringe sits so low that it throws a shadow over the eyes.

A special effect disrupts the uniformity of the round look in the shape of a pointy triangle right behind her ear, which is created by just drawing a line with a comb and spraying the hair for good hold. The darker color underneath adds amazing depth and a modern art feel to it.


Surprise Undercut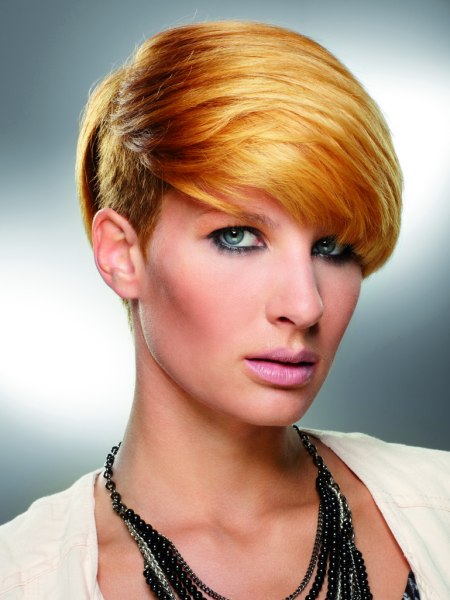 One brushing to the left and voila, a sassy little undercut reveals itself. The super short section under the long and sleek top hair has a velvety texture and is a nod to early 20th century fashion haircuts for men.

With all of these elements this adorable changeling of a cut carries several very trendy elements for this year - the undercut, a geometric base shape and a sparkling color. The sunflower gold color may not be natural, but it definitely brings some good vibrations.


Feathery Layers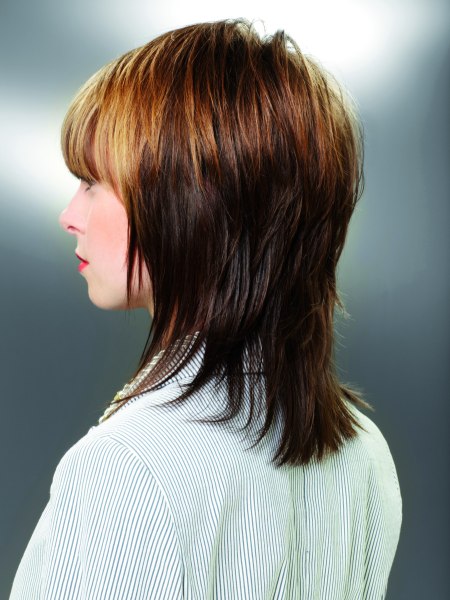 Reminiscent of the rock and roll styles of the 80's this layered medium long haircut comes with an easygoing and slightly rebellious feeling. The texture is plenty and very fine with soft ends throughout and the extreme layering gives the hair its unique shape that follows the shape of the head and then flares out at the shoulders.

A multi-tone hair color transitions from dark brown to a light fringe in extreme gold blonde and for blending purposes medium brown tones are worked into the back and the crown.


80s Hairstyle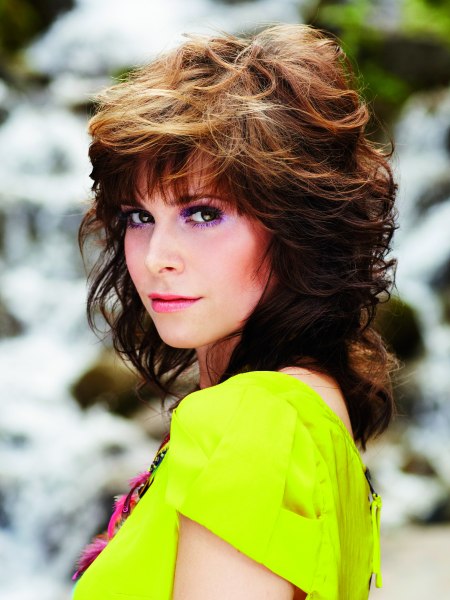 Feathered to the back the snazzy layers from before turn in to a big 1980s hairstyle that reminds us of shows like Dallas and of course of Farrah Fawcett. The transformation is easy and it only takes some mousse, a good round styling brush and a blow dryer. Volume and bounce come all by themselves.

With all of the movement the different colors appear to flow into each other seamlessly. With some extra tousling and scrunching one of the biggest trends of this year is met right on.


Flamboyant Waves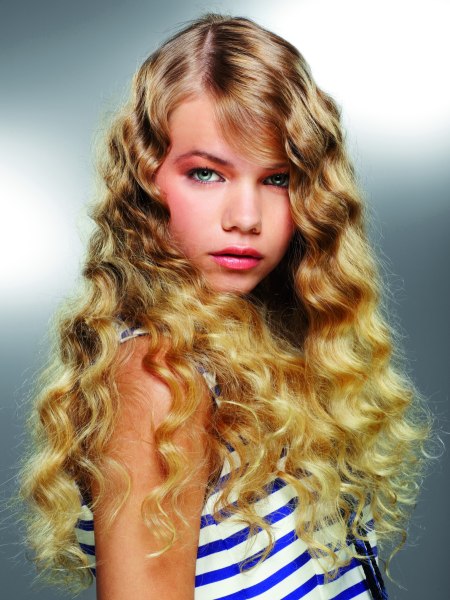 Put on a little pout, a striped dress and catch those sailors out there with siren's hair made in mermaid heaven. Large and uniformly shaped waves resemble heavy ripples on water and so much beauty can only mean trouble.

This long hairstyle is not holding anything back and pushes the envelope even further with an amazing blending of light gold to a darker blonde on the top third. It looks natural but too intense and thus plays with our senses. The hair is parted diagonally in a straight line creating a high forehead and posh asymmetry.


Updo for an Easy Evening Look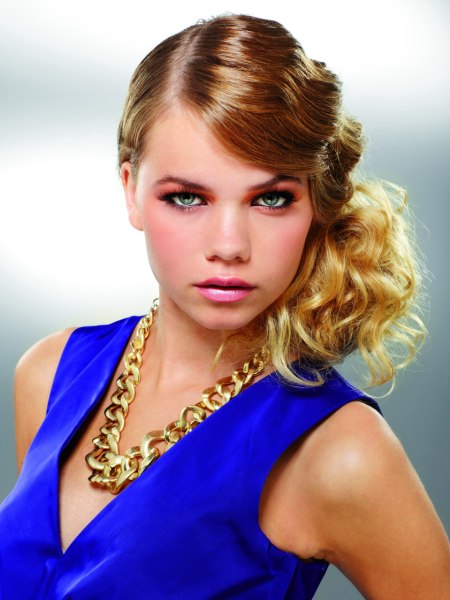 On the base of the ravishing water waves it is easy to create exciting hairstyles that will turn heads. A big pouf or very loose knot was bound and attached on the side that carries the most of her hair, which was separated by a side partition. The smaller side is combed around the head.



The key is to not pull anything too tight, so that the structure of the waves still remains intact. A few strands escaped the large chignon, adding a playful and flirtatious element. In this constellation the darkest and the lightest part of the hair are much closer together, which intensifies their contrast.


Elegant Ponytail on the Side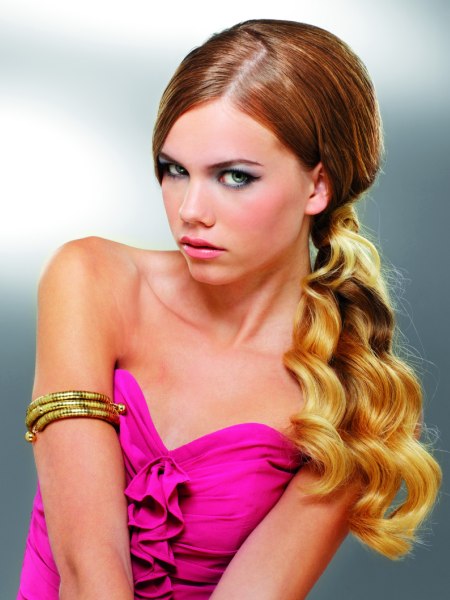 If you thought it can not get any better, well here is a third styling variation of the fabulous long wavy hair. A little teasing underneath gives the backside a good lift and hold for the elegant volume out of which erupts the titillating cascade of gold and toffee.

Seductive and sophisticated all at the same time this is a look that long haired girls should not go without this summer. You do not even need a weapon's permit for it.


Clipped Men's Hair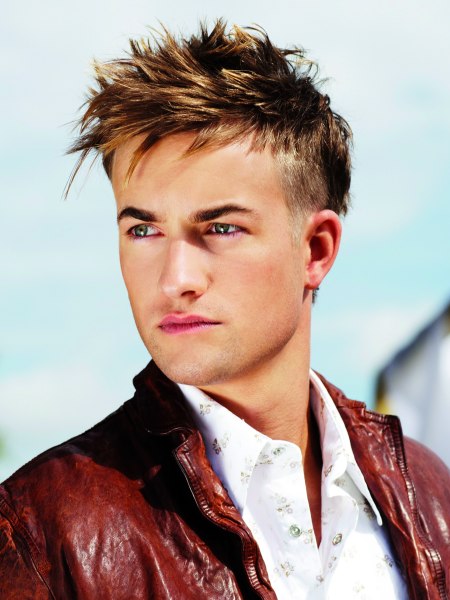 A cool combo of choppy texture and millimeter short clipped sections includes elements of punk, 30s looks and just a lot of out of the box thinking and cutting. The varying lengths actually do have a pattern and the chaos is under control especially with that feisty spiky styling.

This haircut needs regular maintenance and won't keep his ears warm, but it is summer and summer is the time to bare more skin and to play.


Golden Age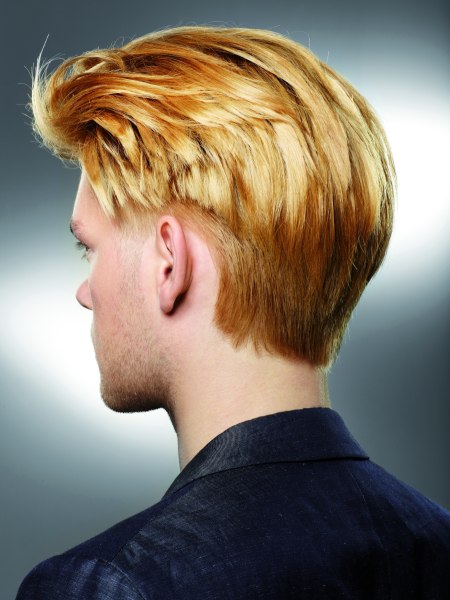 Long, choppy top hair, an undercut side section and a finely graduated neck make up this David Bowie style that has this nonchalant and irresistible boyish and yet sexy vibe.

The long fringe was styled to the back resembling little wings with its texture. With this flamboyant gold toning of his hair he surely will not get lost in a crowd.


Retro Styling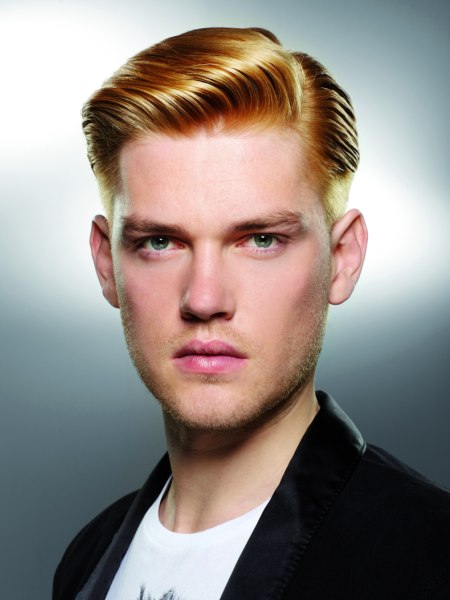 The 30s are back and with it a new celebration of the pomade! This trend did not just begin with a famous George Clooney movie and will not end with Michael Pitt wearing it in "Boardwalk Empire".

The undercut sides and long top section will be on mens' heads for a good time to come since it looks just hot and men do not change their fashion preferences as often as women. A bright and delightfully exaggerated gold color gives him an almost supernatural air.


Lifted Top Hair for Men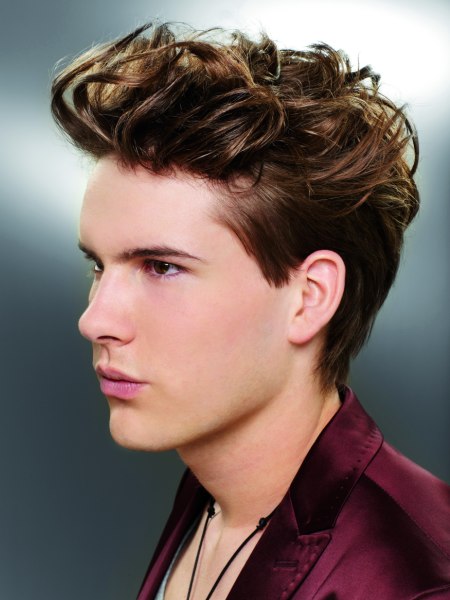 Inspiration from the 1950s and modern styling methods make good hairstyles for men even better. The famous James Dean and Elvis Presley hairstyles that already drove our grandmothers mad, are back and more handsome than ever.

Forget the sticky waxes from back then, modern styling products are friendlier to the touch and keep the hair lighter. Here the sides were combed down and close to the head, while the longer top hair is lifted, scrunched and all shook up ...


Poetic Fringe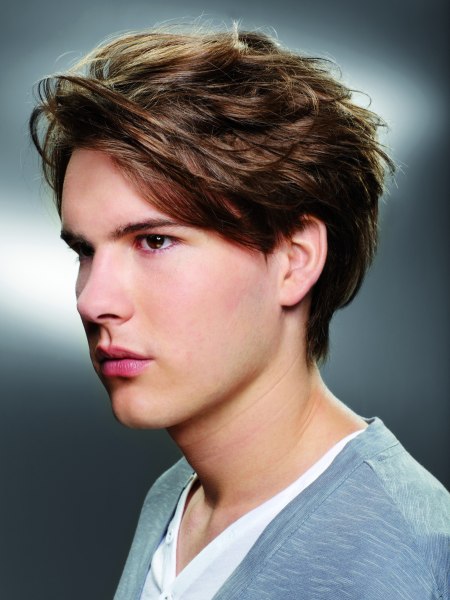 Fringes that have the tendency to fall into the eyes and can be flipped back with one move of the head might be annoying for some, but fact is, they do look good. They always spread an artistic and bohemian vibe and together with the short neck they are just scream out loud chic.

The hair is styled for fullness all around the head and the texture of the many layers is more evident in this styling. His color is a soft brown with a sweet golden glow.

Hair: Zentralverband des Deutschen Friseurhandwerks
Photography: Michael Petersohn, Berlin