Question de Style by Mod's Hair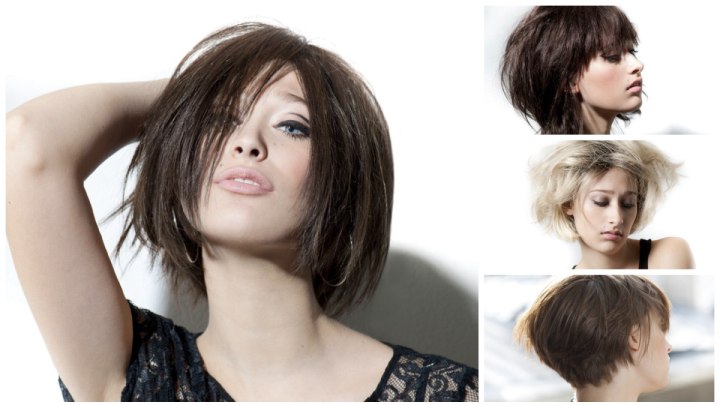 This collection of hairstyles by Mod's Hair brings up some fashion philosophy. The question of style wants to be answered. But do we really know what makes a woman stylish? Is it the cut of the hair, the clothes she is wearing, or a mix of both?

It is surely in the eye of the beholder, but Mod's Hair created four intriguing looks that are so expressive that they exude all the style you need. With or without clothes. Blonde and brown tones keep things earthy, the haircuts are classic and styling is very sexy with tousled textures and mussed volume.


Sassy Short Cut with a Thick Fringe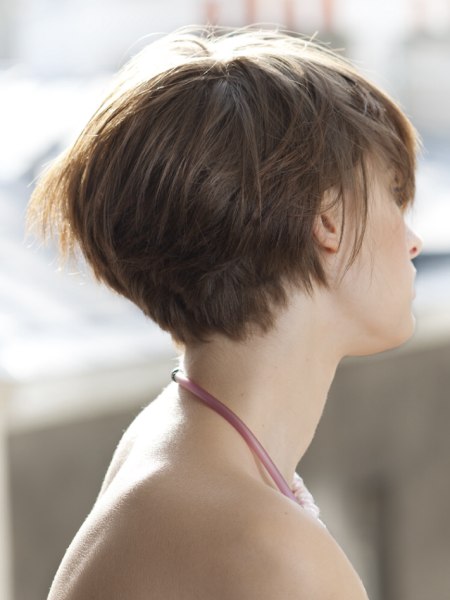 This short haircut is sassy without end and beautiful from every side you look at it. A fine graduation and layering in the back bring about this gorgeous round shape. The top hair is longer than the sides, where the longest section barely covers her ear. Looked at from the front the cut resembles more a bob style which is was indeed based upon.

The fringe is slightly angled, lusciously thick and, together with the entire crown, full of movement. After blow drying the hair over a round brush it is gently mussed with the fingers and some smoothing lotion. Her color is a warm, caramel tone.


Styled and Unstyled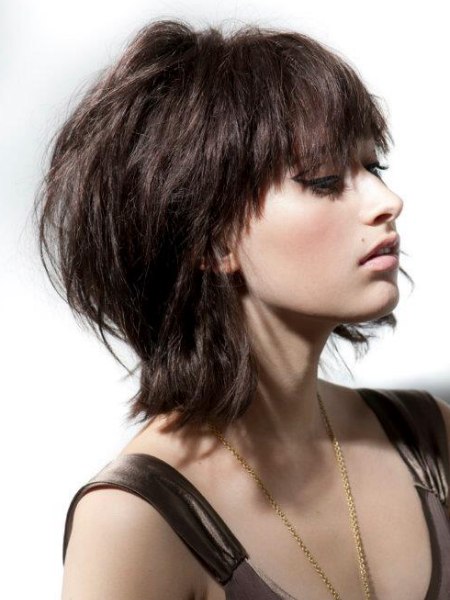 Volume, shape and the uncomplicated, sexy texture makes this medium length hairstyle one of the must haves for hair this season. It just has it all. It is based on a classic shape, but all elements were fashionably exaggerated. The length in the neck, a thick layer at - of the length to create the round shape, a fat and fuzzy fringe and then of course: texture, texture, texture. You find it in the haircut itself and in the mussed styling.

With this look it really does not matter what you wear, because everyone will only be looking at your hair. The color is a delicious dark chocolate brown, a great alternative to black, but less harsh and more flattering.


Bob in Motion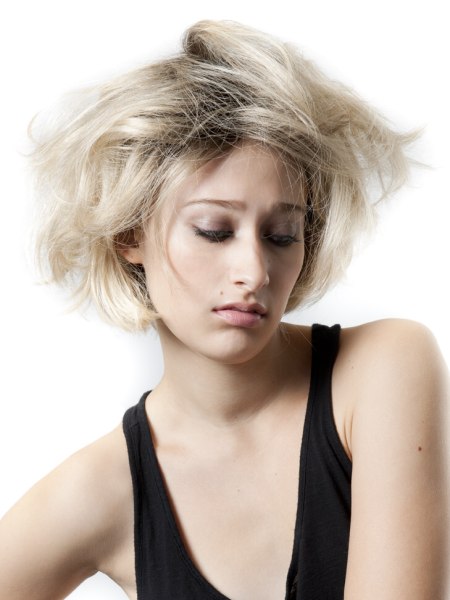 Get into the style groove and picture yourself with a fabulous new look, that is hot, trendy and has many styling options. The chin length bob seen here has just a couple of layers and a small amount of texture in the tips and it was styled to this "knock them of their feet" voluminous look. Once the roots were lifted well with a big round brush, wide strands of hair were styled in different directions, some partially overlapping on the crown.

The typical curved point into the face is a beloved remnant of the classic style and works great with this wild look too. The hair color is a summer wheat blonde with lightly darker roots for a more natural look.


Stringy, Strandy Bob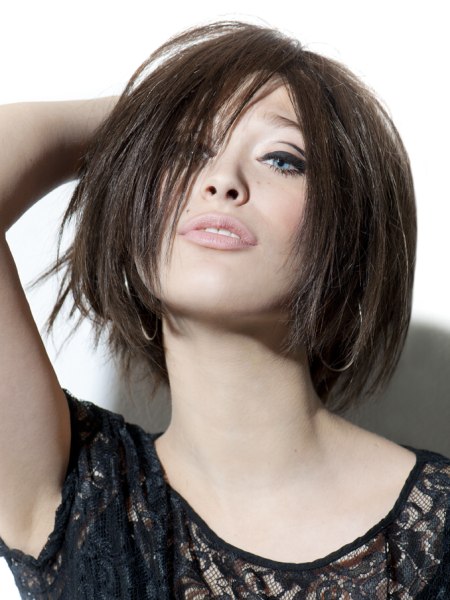 Oh how much fun short hair can be! The same lenght all around, with just a bit of softening texture along the cutting line opens a world of styling variations.

For this sexy hairstyle, the towel dry hair was treated with a nugget of mousse and then blow dried. When still damp just ruffle it all up with fingers and don't worry about deciding on a partition line. Just shake the hair and let it fall where it wants to be.

Hairstyles: Raynald for Mod's Hair
Make-up: Aline Schmitt
Photography: Guillaume Bérard