Carpy
Hairstyles Winter 11-12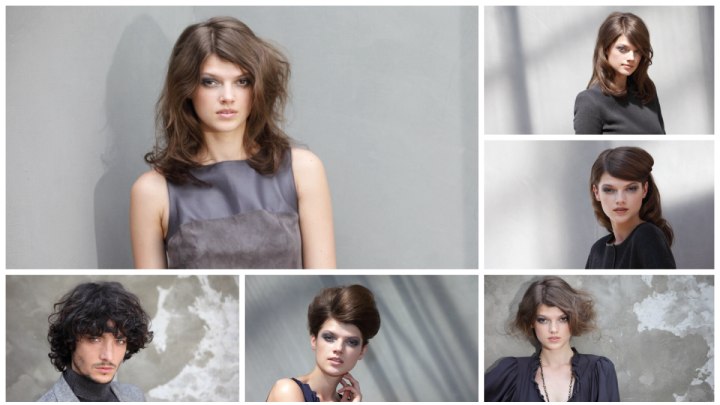 Carpy pushed beauty to new limits and redefines style for a new season. Extreme elegance and feminine expression are the main ingredients in this delectable collection, which also includes one hairstyle for men. The hair is long and styled to soft, curvy, exquisitely elegant styles. It is an evolution of various looks all based on the same cut. Tradition and modern ideas meet with the result of truly cosmopolitan hairstyles.

Understatement and simplicity are the seasonings that make these looks so rich and unforgettable. Color follows the understated theme and remain in demure, warm brown tones. As essential as the color is in a hairstyle, in this collection it takes a step back and allows the focus to be on the cut and shape of the hair and the woman or man who wears it.


Shoulder Length with a Sidepart


Low in front and high in the back of the head makes for a picture of sleek elegance. It is often the small things that can add a certain touch to hairstyle. Here it is the slightly curved line of the partition, which itself is rather short to allow a heightened rear of the crown.

A little lift, supported by a touch of product helps to keep this refined shape. The front plunges deep in a wide curve to the side and the subtle movement in the lengths makes this look especially soft and appealing. The color is a medium brown with a golden glow. Simple, intense and just beautiful.


Deconstructed Waves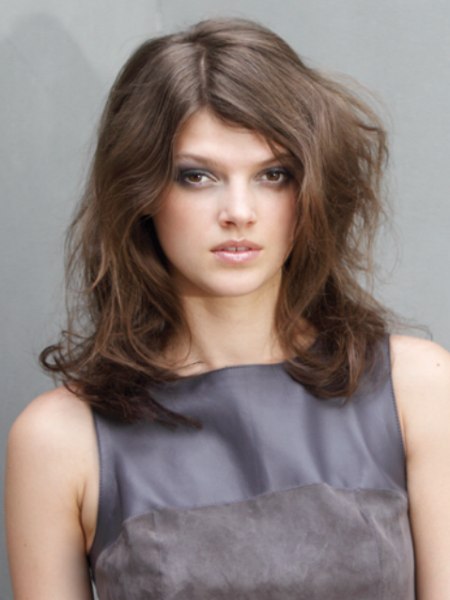 The same shoulder length hair is now ready for a chic night out. The lines are lifted and infused with more volume. With an emphasis on movement the waves still play a major role and are even enhanced and then gently deconstructed and ruffled. This puts the sexy into the elegance.

The high back together with the side part and long fringe have a trendy retro flavor and the swirling, curly tips that play around her shoulders are wonderfully playful. The key to this hairstyle it the perfect balance of shape, control and yet disheveling for a casual but sophisticated look.


Folded Fringe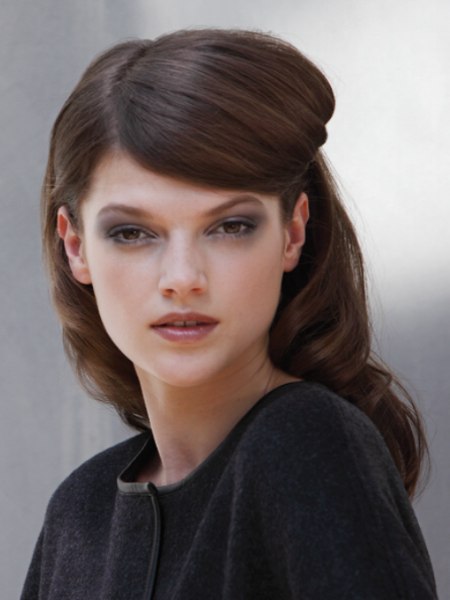 A beautiful way to make longer hair city chic! The unique look is styled in a vintage fashion with neatly rounded sides and a poufy fringe.

To get your long fringe to look like this, it simply has to be brushed well and then folded over to the side, rolled and tugged in and held by fine pins, best used in the color of the hair to make them as invisible as possible. Another small clip holds back the smaller side, so that no hair can fall into the face. Neat, stylish and feminine with a lovely retro flair.


Simple Upstyle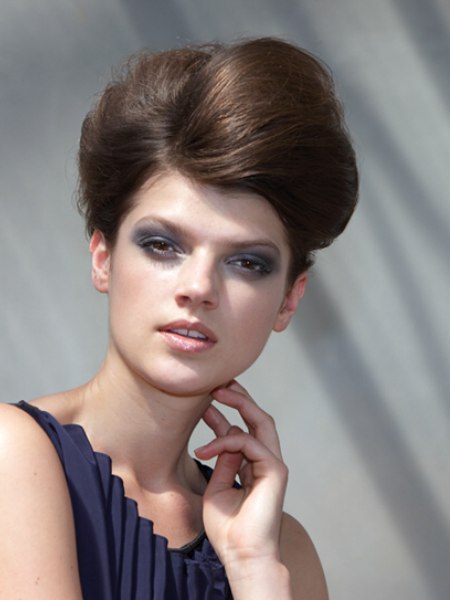 Volume and height are needed to be this stylish. A sophisticated and head turning upstyle is the best thing that can happen to hair for a special event. Here the hair was brushed for utter softness and then gently teased underneath to create enough body support. It was then slung back across the crown and up from sides and back.

This hairstyle is simple, elegant and looks very effortless, what makes it so appealing. No free flying hairs or strands are needed for effect. This style has a presence and class.


Casual Updo with Volume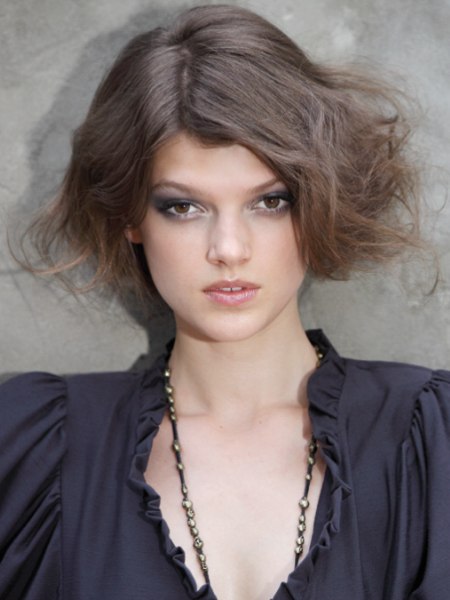 A more playful and romantic version features the same side part that we already admired in the other hairstyles. The hair is curved backwards with much room for movement and play and then attached.

Along the sides a veritable cloud of fine hair generates a most romantic impression. For this a part of the hair was gently teased and then treated with a hot iron to build up all of the fine curls, which are then again ruffled. A great style for garden parties, dinner dates or fine lunches with the ladies.


Curls for Men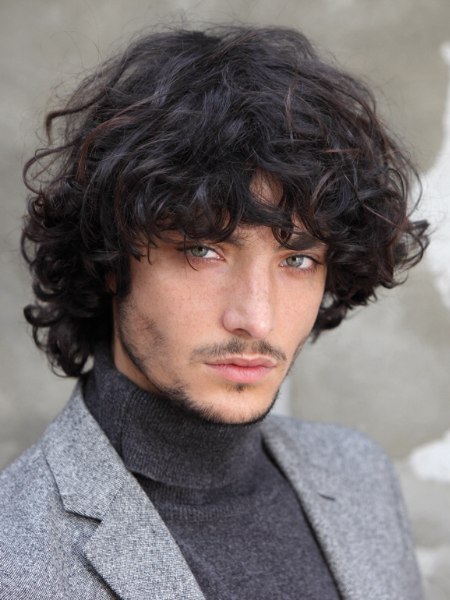 As women look great with masculine hairstyles, so can men make a lasting impression with feminine styles. His curly hair was layered and angled from the temples downward to make sure of that handsome shape with it long neck and deep bangs.

Once cut the rest just falls into place all by itself. All he needs to do is finger style the hair and avoid brushes if he does not want to walk around with bulky frizz on his head. Smoothing lotion helps to keep the wild curls under control.

Hairstyles: Carpy