Stadtamazonen by Arnoldy & Traub Friseure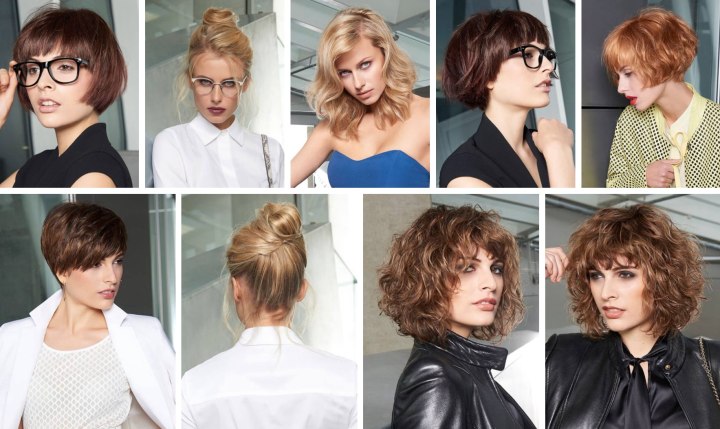 This collection is probably one of the most unapologetically feminine collaboration of images that you'll be able to find. These hairstyles combine mostly shorter lengths, layers, bangs and creative styling with clever make-up and classic clothing to achieve the most on-point end results.

Here we're putting the focus on the actual creative combination of clothing, make-up and different styles to tailor your business look perfectly. This collection is the perfect showcase to demonstrate how important it is to make your whole image work together.


Updo for a Business Look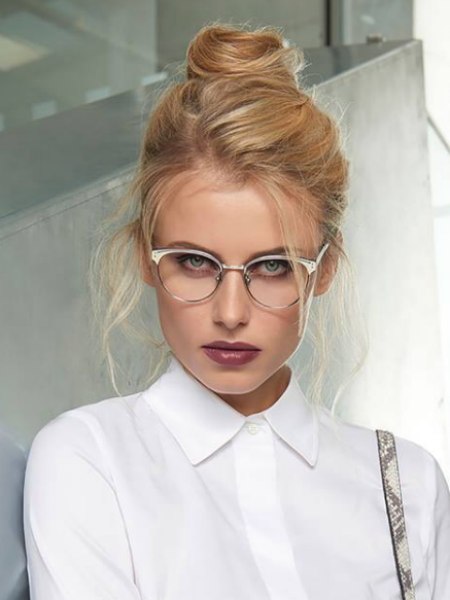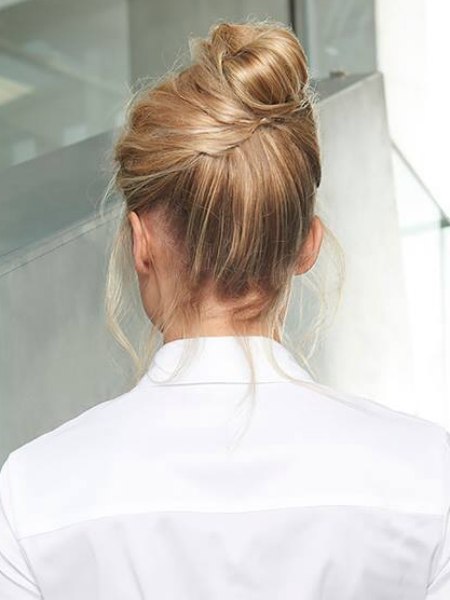 Here we have a classic French twist where wispy pieces of hair have been pulled out of the style to keep it from looking too "pulled back". The model has naturally slightly wavy hair, which makes the wispy parts look even more pretty. Hair that has a bit of a kink in it, is much easier to style into up-styles such as French twists, as the hair doesn't fall out of the style as easily as very straight hair.

Note how the model's corporate looking crisp white shirt and white-rimmed glasses fit the hairstyle perfectly. The focus of the model's make-up is on her deep rose tinted lips, while her foundation is filled with a subtle, gold pigmented bronzer to make her look like she's recently returned from a trip to a sun and fun filled place.


Hairstyle for an Evening Look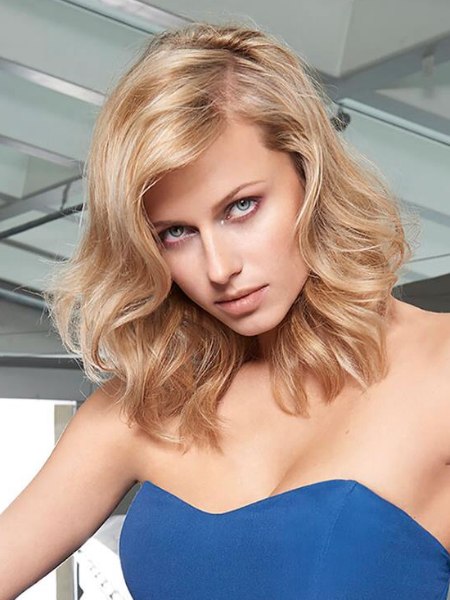 This is a perfect evening look, whether you're going out to dinner or to watch ballet.

The model's naturally blonde hair has been highlighted with light honey and pearl-ash highlights and dark blonde lowlights to give it a multi-dimensional color that looks natural yet perfectly groomed. Her just below the shoulders hair has been curled with a large-barrelled curling iron, which makes it look super voluminous and full.

Her make-up is done in a surprisingly light natural technique which actually works very well with her hair and evening gown. Her natural beauty would probably be able to pull most looks off. Note how well her blue, fitted-bodice gown compliments her light eyes and tanned skin.


Angled Bob with Curls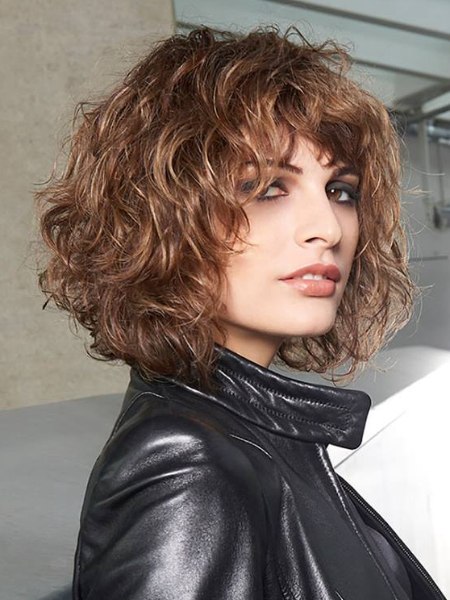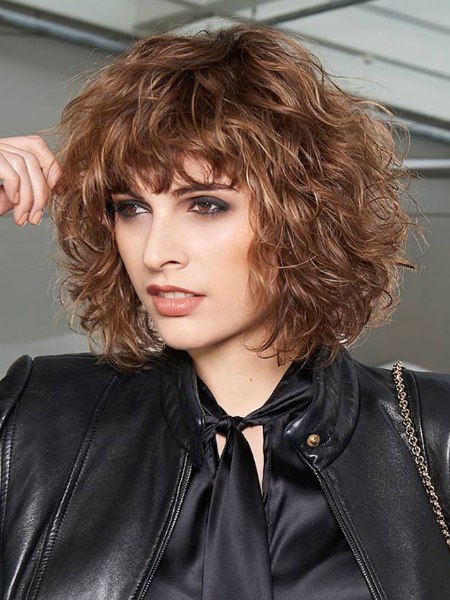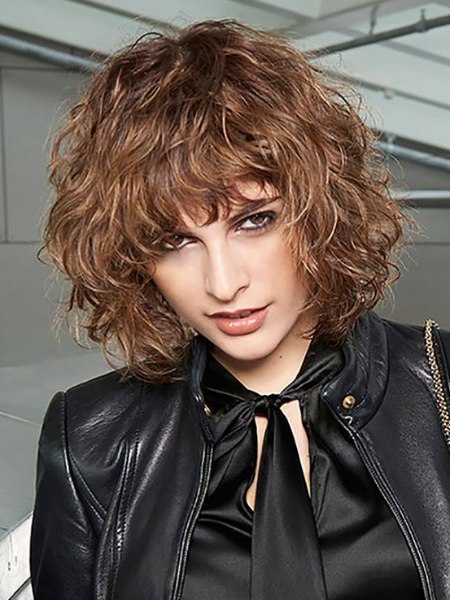 This look that was very popular in the 80s and 90s, yet still enjoys a very prominent position in the hairstyling and couture realm, even after all these years. The model's naturally dark brown hair has been highlighted with very fine golden blonde highlights to emulate sun streaks glinting in the afternoon sun. Her angled bob with layers and bangs has been styled to make the most of her naturally curly hair.



Achieving this look is relatively easy for those with curly hair. Merely apply curl enhancing mousse to your hair, and dry it with a diffuser attached to your hairdryer. Scrunch a small amount of dry look wax gently into the hair to keep the curls tight and springy.


Short Bob with Bangs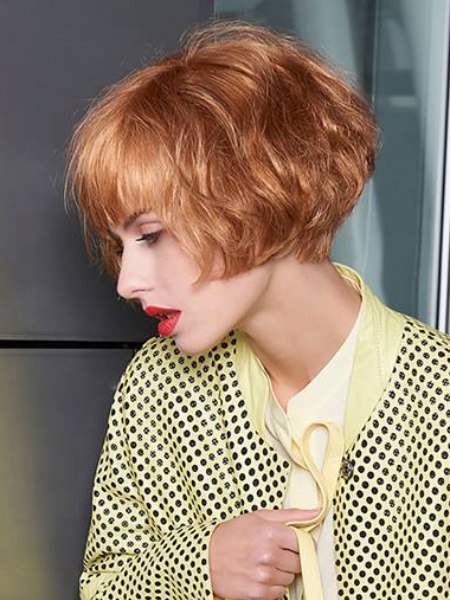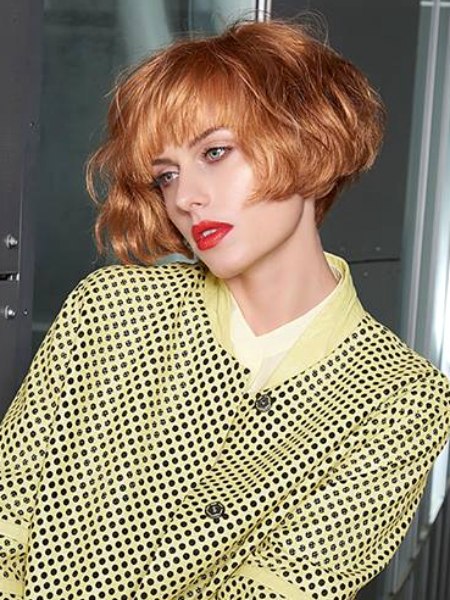 This is a perfect picture of a corporate woman in the 1980s. The model's short bob has been colored with a light copper-blonde tint, while the stylists decided to add fine golden blonde highlights to her long bangs and around her face.

Her red-orange tinted lipstick mirrors the warm tones of her hair, while this is also reflected by her light-yellow jacket and shirt. Note how the make-up artist darkened her eyebrows and used eyelash extensions to emulate a Madonna-like aura. If you are dressing up for an eighties party or just naturally quirky, this whole look should be right up your alley.


Bob Haircut and Glasses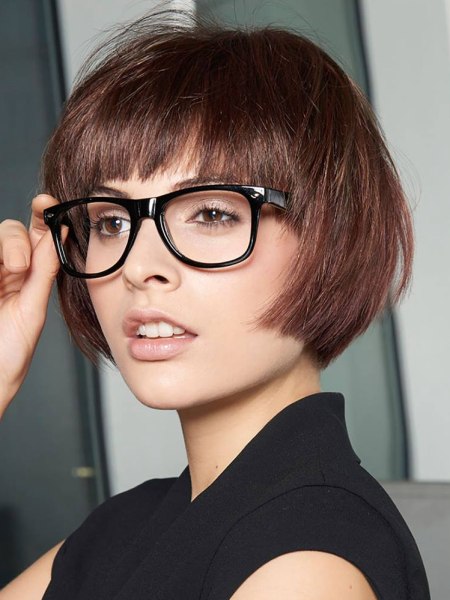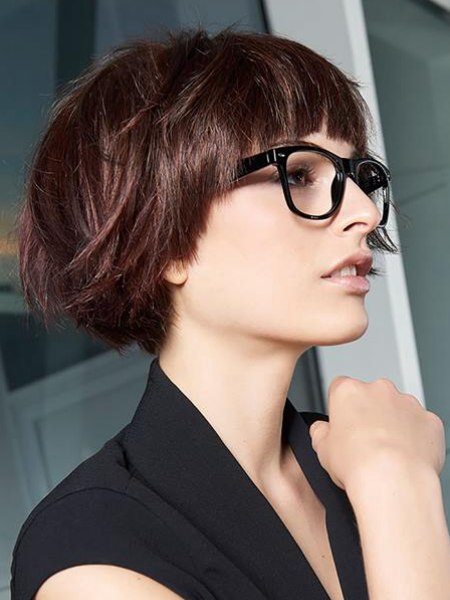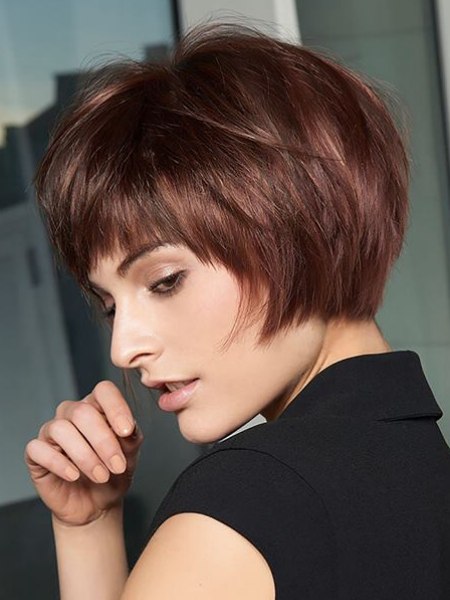 Here we have a very pretty take on the short and slightly layered bob with a wispy textured fringe. The model's naturally dark brown hair has been colored with a very natural brunette tint with a golden undertone to warm up her skin tone.

This hairstyle works very well as a wash and go style for those with very straight, fine hair. The model's heart shaped face works very well with the style, while oval and triangle shapes will work very well too. The fact that her bangs are left wispy means that it adds a beautiful frame-like feature to the style, making her face look soft and feminine.

The black-rimmed glasses add an original feeling to the whole image, which would fit in at virtually any setting, whether it be corporate offices or the creative department of Vogue or Cosmopolitan.


Pixie for Business Women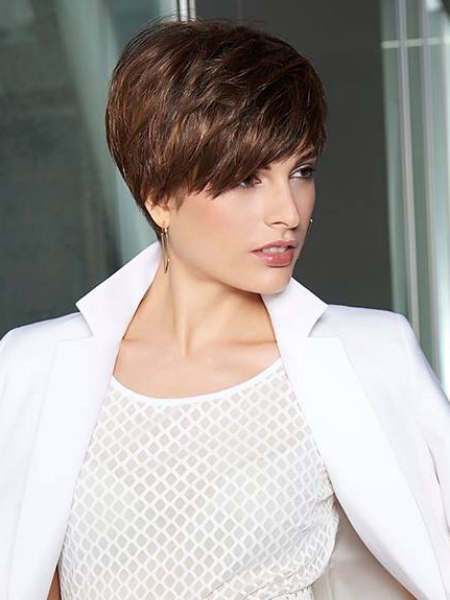 This look reminds us of a young and beautiful Alyssa Milano. This is probably one of the best hairstyles for busy business women, mothers or any woman who wants to look good on a daily basis but has a very busy lifestyle.

This short pixie hairstyle is super feminine irrespective of its very short length, thanks to the wispiness of the hair around the face, especially in the fringe area, the long bangs and the subtle sprinkling of golden-blonde highlights.

The bangs are cut diagonally across the model's forehead, which adds a cutting edge contemporary element to the style.

The neatness of the style makes it perfect for work, while the longer bangs can be styled into a more disheveled, fun way within minutes with the use of a little wax, when you're going out for drinks after work.

Hair: Arnoldy & Traub Friseure
Make-up: Renata Traupe with REVIDERM Skincare Inspired Make-up
Styling: Valérie Uckermann
Model: Kristina (PR Models/München)
Photography: Stefan Imielski