#MYCAMILLESTYLE by Camille Albane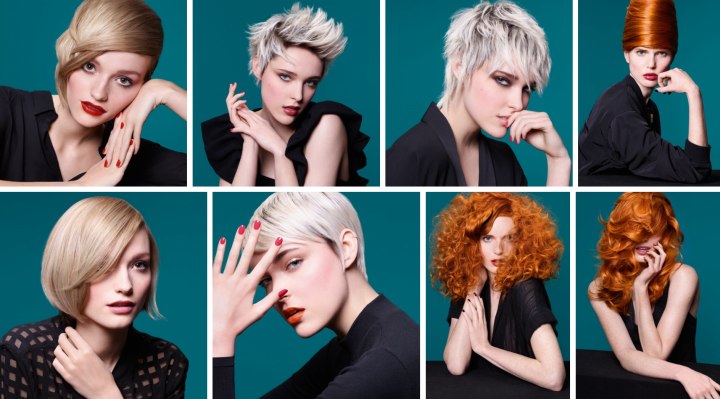 This collection is brimming over with originality, edginess and couture! From icy- and champagne blonde to fiery copper-reds, these looks were made to turn those heads and keep them looking back for a third or fourth time.

If you enjoy the limelight, have a yen for creativity and are yearning for a breath of fresh air regarding your hair-routine, sit back and feast your eyes on these stunningly innovative ideas, cuts and styles.



Bring you're a-game to the party or photo shoot when you decide to wear one of these hairstyles, as you can be sure that you're going to be garnering huge amounts of attention and compliments.


Smooth and Chic Bob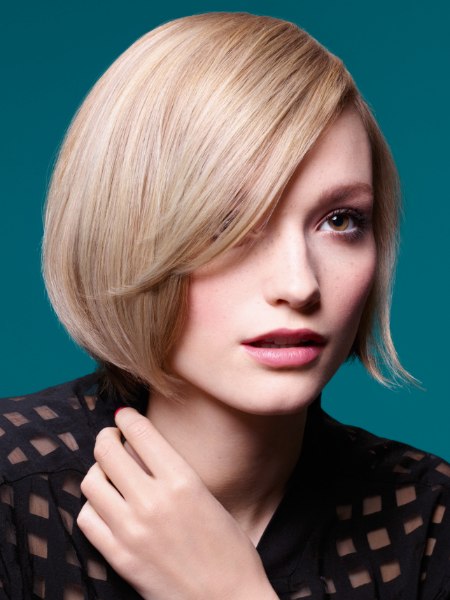 This is a super sophisticated haircut and style, which makes it perfect for especially the office and other work-related functions. The model's short point-cut bob has been blow dried in a super slick style with an inwards angle, framing her face beautifully.

This hairstyle works very well to soften the edges of especially angular face shapes such as triangular and rectangular. The feminine bangs give the cut an on-trend touch.

Her hair is a mix of ash-blonde and champagne-blonde highlights, which makes for a brilliant range of blonde dimension and color movement. The light color works well with her pale skin, and helps to illuminate her darker eyes.

Pro tip: Natural Pigma color optimizer shampoo will extend the color's shine!


Graphic Short Cut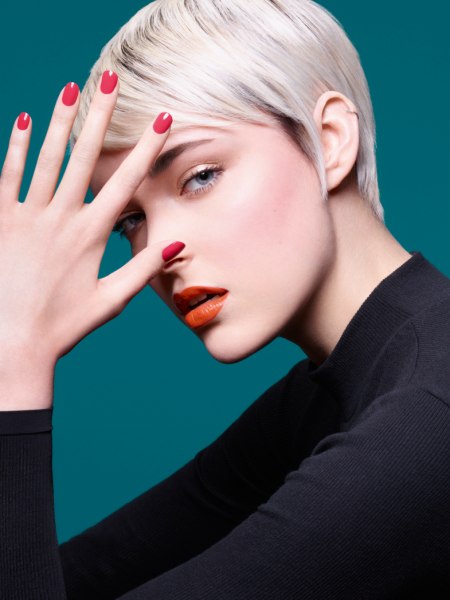 This is a super contemporary hairstyle that's been gaining immense momentum during the past few seasons. The haircut is fairly ordinary: a short layered style with a longer top and short sides and back. The bangs are swept across the forehead parallel to the line of the eyebrows, enhancing the eyes.

The stylist used a razor to create wispy bangs as well as the wispy sections in front of her ears. It is actually the clever incorporation of these wispy sections that make this style decidedly feminine and soft. The ice-blonde color also elevates this style into the cool-elite zone.

Pro tip: for a mirror finish or ultra-set effect, style the hair while it is wet using a detangling comb.


Sculpted Short Cut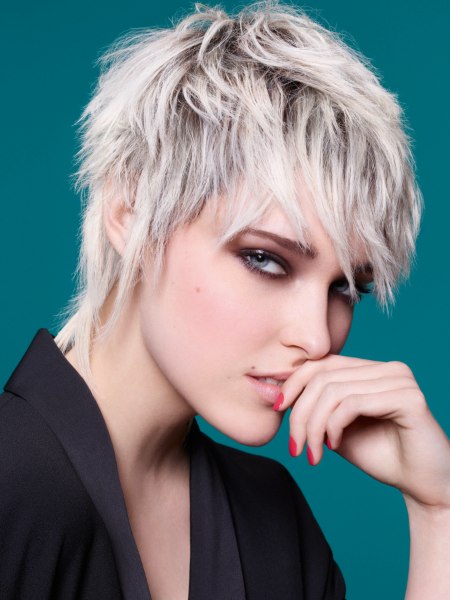 This is a seriously edgy mullet look that will fit those with an irrepressible sense of individual style and originality. The model's hair has been cut into a short layered style that has been razored along especially the tips, to give it that spiky and super wispy characteristic.

The stylist applied a heat protector to her hair and blow-dried it until dry. Then she/he applied a small amount of dry-look wax to the hair and styled it into different directions, concentrating on the wispy frame. The pearl blonde color fits this daring look especially well, while also working with the model's pale complexion and light eyes.

Pro tip: it is also possible to boost the mullet cut effect by using express self-adhesive extension bands for the evening.


Disheveled Short Cut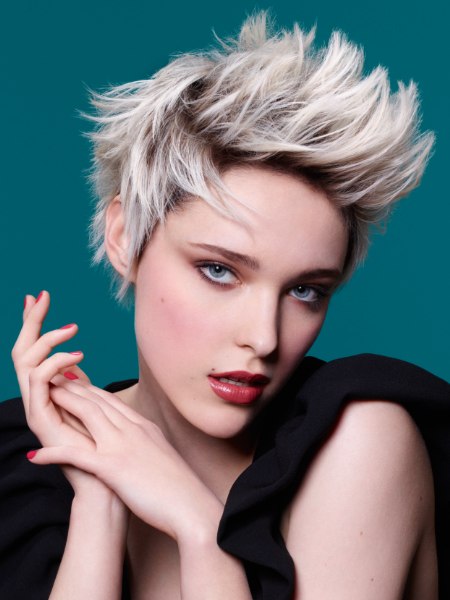 Here we have a relatively normal short haircut that has been styled in such a way that it looks really edgy and contemporary. The model's blonde hair is much longer on the top than on the sides and back, which makes it perfect for this "bangs in the air" style.

After using straightening irons, give free rein to your instinct. Tousle with the fingers and create airy movement with the palm of the hands in the natural direction of the hair.



The fact that her hair has been peroxided to this very light, pearl blonde makes hairstyles like this much easier to create. Note how well the color of her natural regrowth blends in with the pearl blonde color, as both these colors have a cool or ash undertone.

Pro tip: Texturizing powder is this cut's styling ally! Sprinkle the product into the palms of your hands. Rub all over the hair.


Interlaced Updo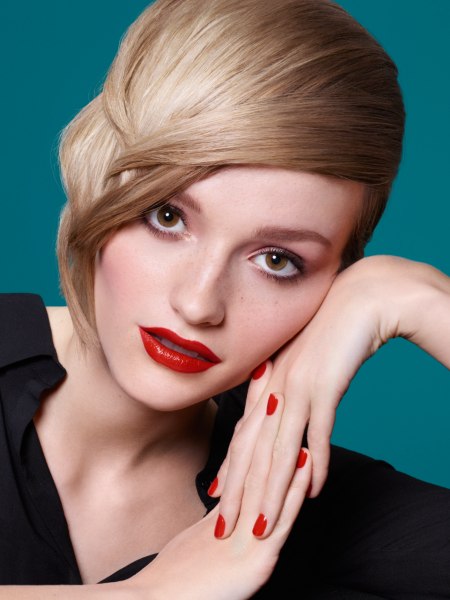 Believe it or not, this is a simple layered bob that's been cleverly styled to look this awesome. The model's hair has been blow dried to a sleek, side parted style. The stylist then applied dry-look wax all over to make it pliable and almost elastic.

The left side has been braided to get that cross-over effect. Because the hair is short, the tips of the sections splay out to the sides. This is a really cool idea for swanky occasions or even creative when your aim is to stand out while still looking super chic.

Pro tip: when braiding, it is a good idea to backcomb the hair to hold the strands together. This avoids having to use an elastic band and reinforces the style's Bohemian feel!


Fabulous Curls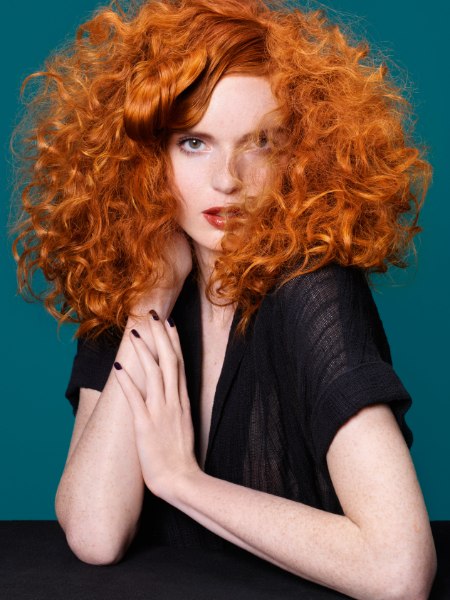 Here we have a hairstyle that's been cemented in the "best looks of all time" by the one and only Nicole Kidman, since her star has often been burning bright red across our silver screens for the past few decades.

The model's copper-red hair has been wrapped in small curlers to achieve these beautifully tight, springy curls. Her long, layered hair now looks super thick and voluminous, and reminds one of the robust and colorful era of the eighties.

The hair has been combed gently with a boar-bristle brush after the curlers were removed, fluffed and sprayed with an aerosol hairspray to achieve this full, "big-hair" look.

Pro tip: dampen these XXL curls every day to keep them beautiful for longer. Wet your hands, plunge them into the curls and set with Camille Albane Setting Spray.


Healthy Hair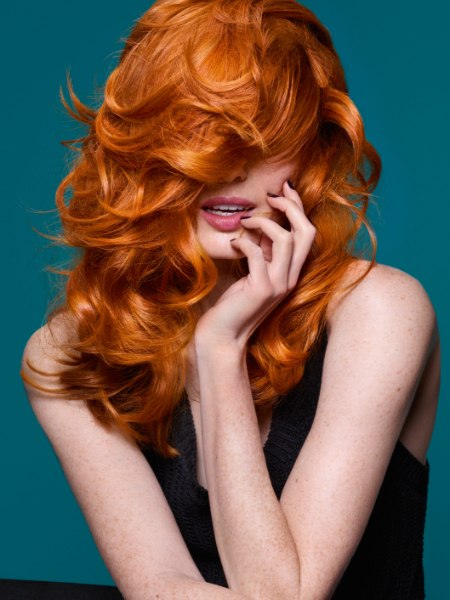 Here we have what I like to call those beautiful "Pantene curls," which refers to the Pantene adverts where the models shake out their almost impossibly gorgeous and lush curls.

The model's hair has been colored with a bright, copper red in a medium shade. Because of her pale complexion and green eyes, this almost seems like her natural hair color.

These tumbling locks shaped into a beautiful style intensify the silky, exquisite texture. The layering technique accentuates the hair's natural movement and reinforces the incredible textured effect.

Her hair has been curled with a large-barrelled tong, to create these flawless curls. The curls have been sprayed with a light aerosol hairspray to help preserve the bounce and tightness of the curl as long as possible.

Pro tip: for an even more supple and defined style, dry the hair with the head bent forward. Curl the ends around the fingers to maintain the bouncy effect.


Ultra Volume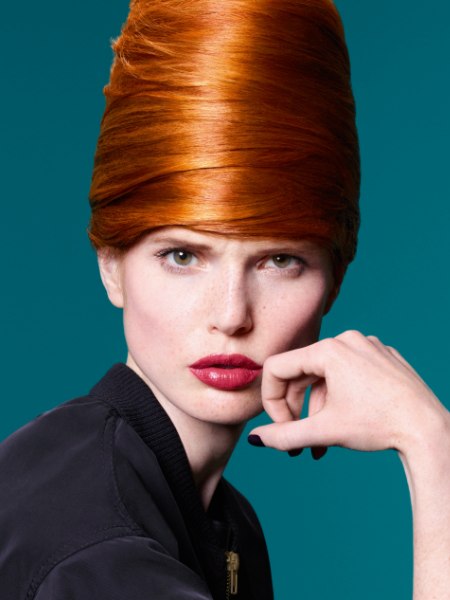 Here we have a very original style, created with the so-called Mexican technique, that we're seeing more and more in hairstyle glossy magazines. The hairstyle looks seriously impressive and like it could be tricky to create, yet it's probably one of the more easy creative up styles that's in vogue right now.

The model's hair is basically blow dried straight, and then back-combed and combed down with a boar-bristle brush to make the surface neat. The hair is then brushed to the side of the head, and wrapped around like one would a headscarf. The tips are pinned neatly "into" the top of the style, with the bobby pins carefully hidden so that the style looks like a turban of hair.

Pro tip: accentuate this chignon's vinyl shine by spraying Camille Albane Radiance Mist.

Hairstyles: Camille Albane
Photography: Nicolas Valois