Shine by Davines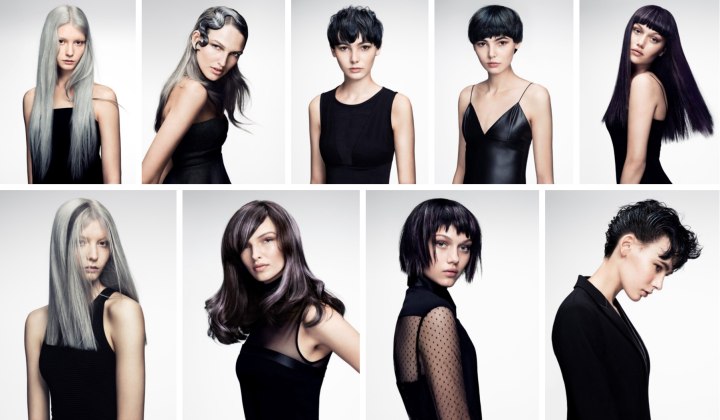 Davines puts the magic back into hair and that even with a color palette that is limited to gray, black and purple. The elegance of the color is only surpassed by the beauty of the hairstyles.

Five long looks and four shorties display the amazing craftsmanship of the house of Davines. Intriguing textures and shapes are composed with vision and creativity. Classic lines become avantgarde hairstyles.



Streaks of contrasting colors and a curve in just the perfect place, shimmer and shine all over. Davines takes hair to a new dimension and created styles ready for a new millennium.


Long Hair with Silver Lines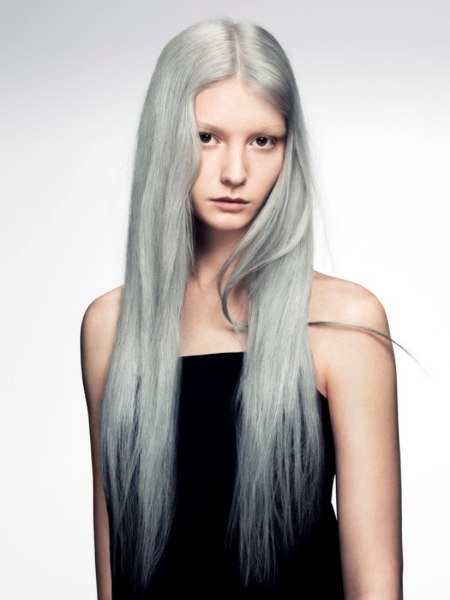 The power of a line is known in relation to sculptures and fine art paintings. Davines uses well defined lines to create beautiful tension and a masterful composition of movement and stillness in this intriguing long hairstyle.

It is parted in the center, but that does not make it even on both sides. Mystery and excitement comes from a small curve on the right leading the eye to the left side with a large multistrand wave of hair that floats above the sleek lengths and even curves around it in one long, determined strand.

The tips are feathery and light as a contrast to the dense body of hair above. The silvery gray appears in seamless shades of light and shadow.


Long Blunt Cut Hair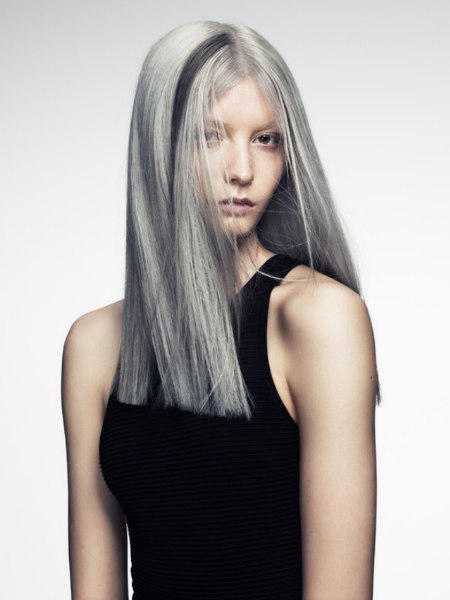 Contrasts tease the eye and give the all around even cut an asymmetrical appearance. All that is needed to achieve this superb effect is one wide black strand on the side. It stands out like a piece of onyx against polished silver.

The cutting line is as blunt as can be and part of the appealing geometry of this center parted look. All of the hair is sleek and shiny with a few loose strands releasing the strict approach to playfulness.


Liquid Steel Hair Color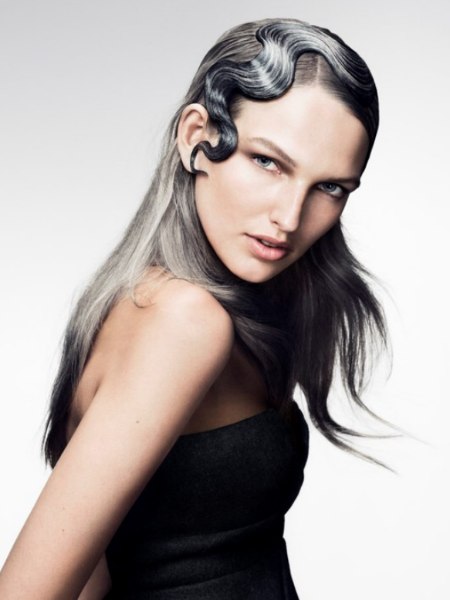 Feathery layers with a lose styling contrast a wave of hair that flows over her head snake like to a thin point just at her ear lobe. The molten steel appearance of this feature reminds of the slicked styles of the 1930s but with the high tech color it is way too sci-fi to be vintage.

Underneath this shimmering flow we can see just the beginning of a strict side part, located in the perfect golden ratio on her crown. Glamorous and bewitching with a high fashion vibe.


Simplicity Redefined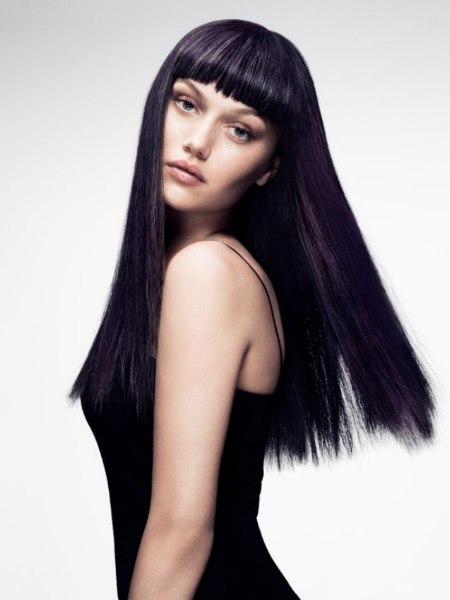 It is too long to be a bob, yet this beautiful look includes features of the beloved classic. It is the fringe and the sleek styling with an almost straight cutting line. Both edges are finely textured, which makes them softer and contrasting the heavy and dense body of hair.



All of this gorgeousness reaches the middle of her back and shimmers in a deep black color, which is brought to an intense glow with very fine streaks of a dark silver. Its geometry makes it classy and sophisticated, the details take it a step up to being delightfully extravagant.


Full Waves Metallic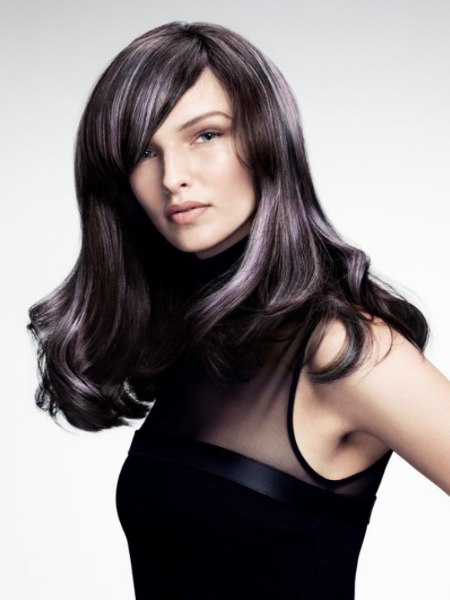 A hairstyle like out of a dream. Old Hollywood glam meets new millennium coloring. If you have long hair and want to show it off in all its fullness and swing, then this might be your new look!

A short and diagonal part sets an elegant tone right on her crown and the theme continues with much finesse for inches and inches all the way over her shoulders where the long, silky lengths curve into the most luscious waves.

Her black base hair color is invigorated by wide silver streaks that were given a light and transparent lavender iridescent whose intensity changes with the angle of the light.


Short and Choppy Hair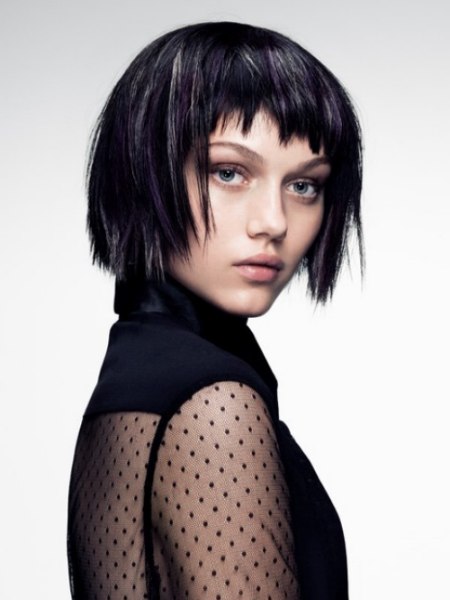 This modern bob presents itself with choppy cutting lines that provide an edgy and modern feel. A short and jagged fringe accentuates her bold brows and her eyes. The cut is chin long and the front edges are rounded for a soft touch.

With the minimal silver streaks on her black base color, her hair looks like a magical night sky illuminated by falling stars. Stylish and modern, but with the heart of a classic!


Rockabilly Wet Look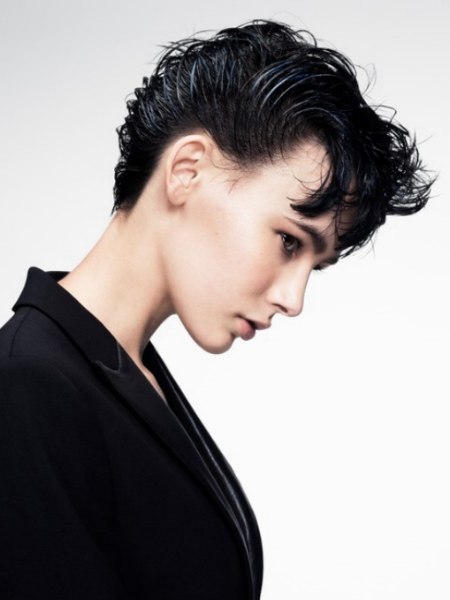 Put on your dancing shoes! This modern vintage creation wants to move. A very rockabilly design features a slender neck, combed back hair and a curly, vivacious quiff. The control and direction in the back progressively loosens towards the front, with the length of hair increasing at the same time.

A good amount of a wet look product is needed to give this short cut its texture and style. A wide toothed comb was used to bring the hair into place and to separate the strands so that the surface texture is this light and shows all of the traces of motion. The bangs however wisp and whirl in a rebellious, ruffled way.


Sleek Round Cut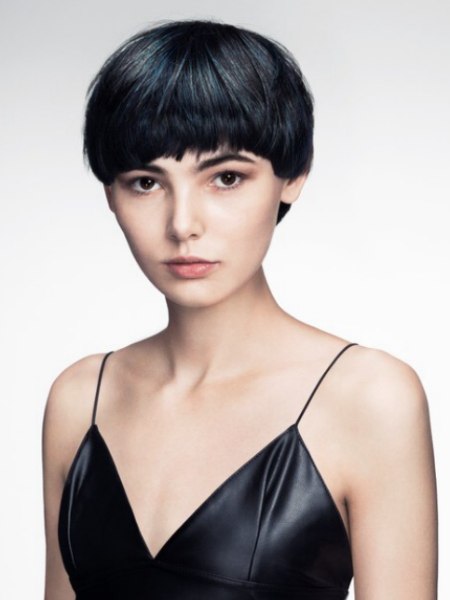 Round and round and round it goes. Sweet and short with a demure approach, but also with details that add small but intense accents. The fringe is the focus and it is cut in an S shaped line with a lower curve on one eyebrow, covering its corner and an opposite curve above the other eye, barely touching the brow.

The cutting line itself is textured with tiny mouse tooth texture that gives the whole look a stylish bite. The finest silver strands make the coal black hair shine and reflect all light in a most magical shimmer.


All Over the Top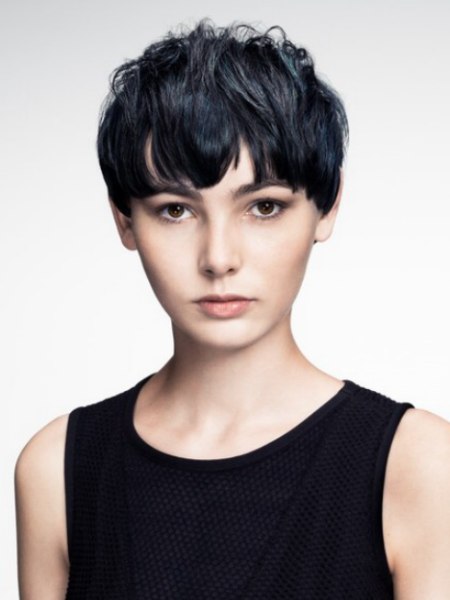 The perfect companion for a little black dress is an impeccable, stylish short haircut. With this refined little black do, happy hour will never be the same. The neck is cut close and graduated. A curved line widens the fringe from ear to ear and the fine texture softens the cutting line.

This basic round cut can be worn in many different ways, but it finds its most stunning version with the hair combed from the back to the front over her crown, the soft volume and gently separated strands for texture.

Artistic Director: Angelo Seminara for Davines
International Creative Color Ambassador: Edoardo Paludo
Make-up: Laura Dominique
Stylist: Ozzy Shah
Photographer: Andrew O'Toole