Hairstyles by Jean Claude Aubry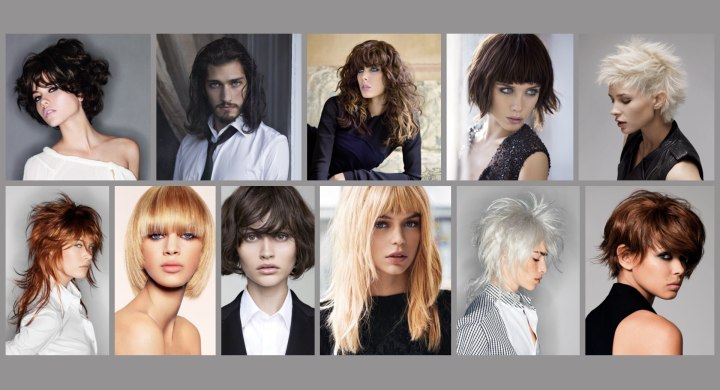 From the boardroom to the gala event Jean Claude Aubry makes sure that you hair is dressed in the most stunning and mesmerizing way. This overview over the Aubry signature style covers the entire range of moods and personalities.

Modest, calm, rebellious, glamorous and timelessly elegant. It is all there. Tomboys and divas are well represented just as the elfish fantasy beings and modern urban women. There are just as many colors as there are fantastic cuts. Some more natural than others and all are bold and memorable.


Classic Pixie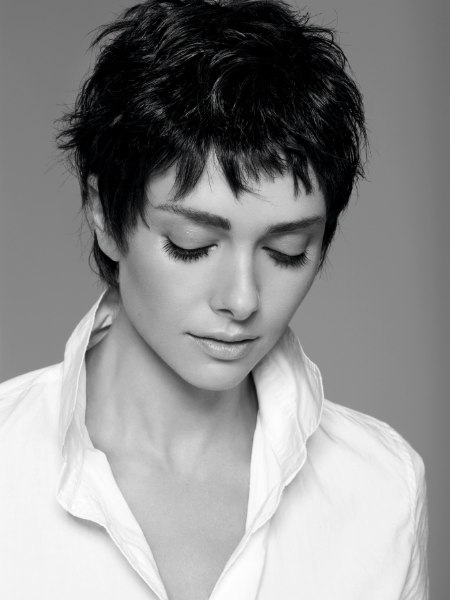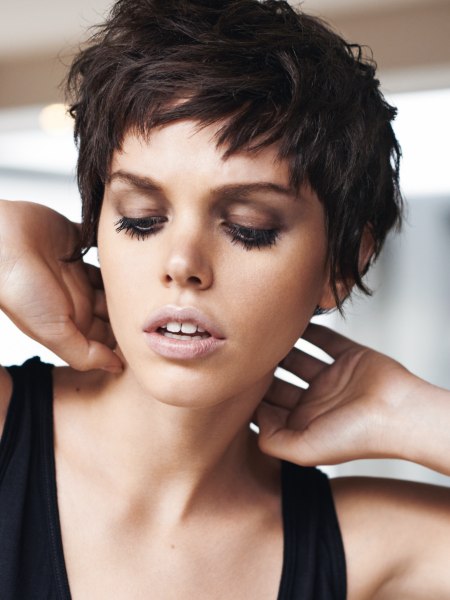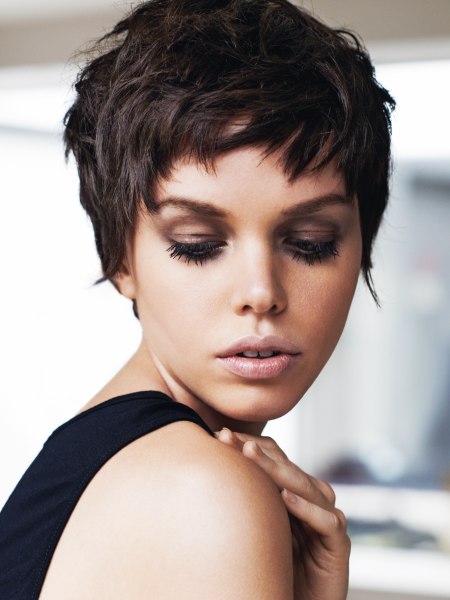 Some call it a comeback, but the pixie has never left the scene. It is just too beautiful. The iconic cut still soars in popularity because of its simplicity that is filled with intense allure, femininity, a strong vibe or freedom and far travels. It is a hairstyle that makes us dream and that will weather all the storms. Literally.

Styling is easy and should not be overdone. The cut perfectly blends the short cropped sides with the slightly longer top hair. Finger styled and scrunched with wax accents on individual strands it is classy with a sexy edge.


Short Motion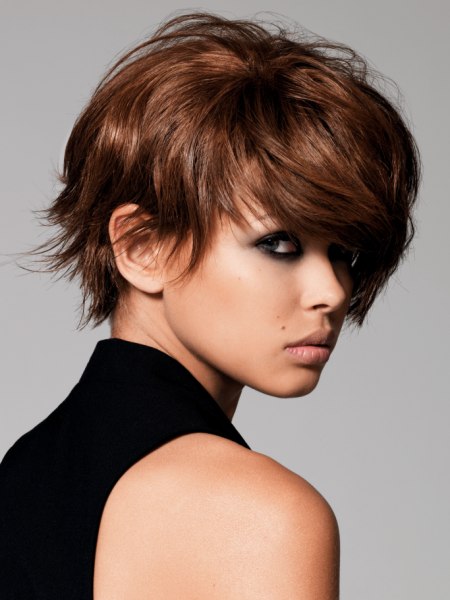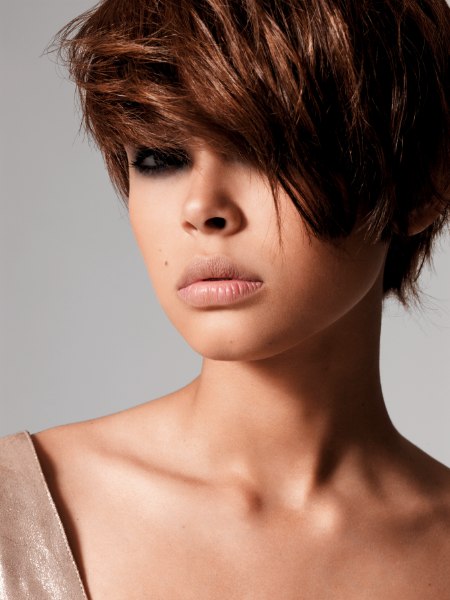 Strong texture makes the ends of these swirling layers transparent and soft. The cut brings out the natural movement of the hair and gives it much volume, while controlling weight and bulk. This way the adorable short cut is as light as a feather and filled with dynamic momentum.

There is no clear part, but more a single point on the side of the center of the crown, around which the hair pivots in an exuberant dance. Her hair color is a rich brown, perfect for her skin tone. Very elegant with low key make-up and simple lines in the clothing.


Cute Short Curls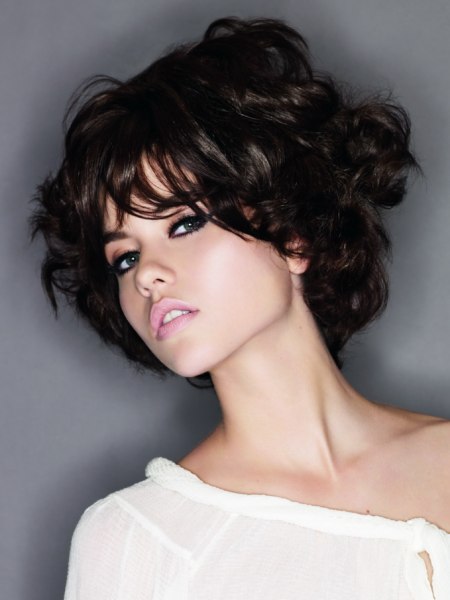 Short brunette curls in such abundance are among the most sexy things on this planet. Ever since Gina and Sophia heated up the silver screen, these types of hairstyles are the secret weapon next to black stilettos and the legendary 5 drops of Chanel.

The sizzling locks are well defined, but scrunched to a delightful morning after look. The fringe is disheveled and sleek. This style looks best with equally retro make-up consisting of strong eye-liner and a pale lip.


Ode to Blonde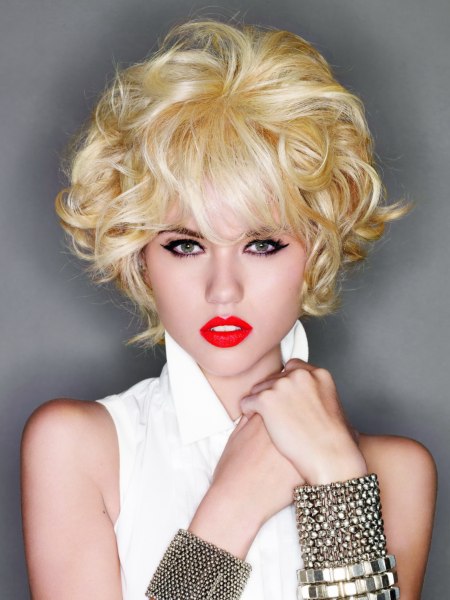 Large vintage curls make knees buckle and hearts melt. With a killer blonde do, bright red lips and statement bling on the arm, she is ready for her limo to take her anywhere. Her hair is layered with a smooth blend from the longer layers on top to the shorter sides. The shape generates the most volume at her eye level and becomes slender and form fitting at the neck.

An enormous boost in dimension is created by using two distinct shades of blonde, a cool white gold and a strong yellow gold twist and twirl around each other, but only the light color was used for the bangs, making them a stylish center piece.


Flying Colors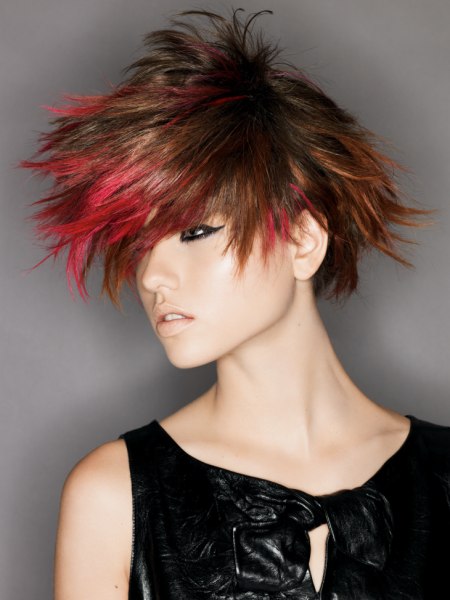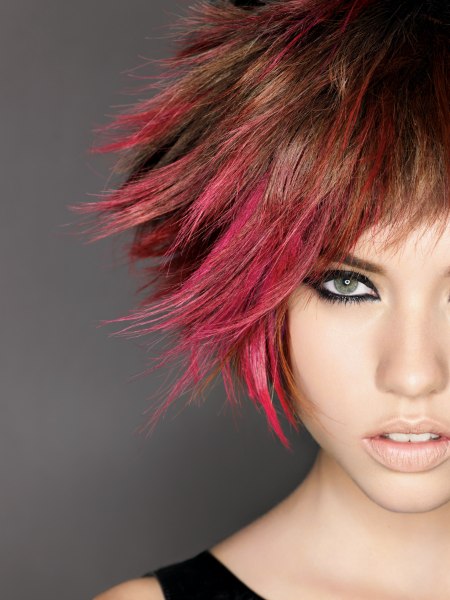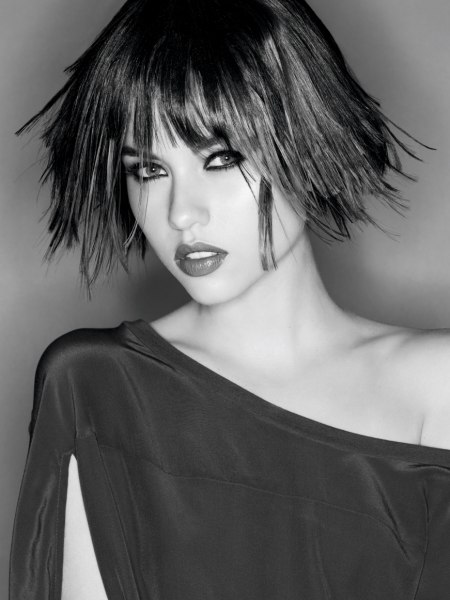 Keep it moving! Extremely textured layers are styled to move in high speed. The short cut is equipped with many desirable features and the shape is only one of them. The layered bob also features amazing touches of color.

With the base color being a natural brown, the red tips in front and hazel tips in the back stand out as a stunning contrast. Style it with individual tips spiked or keep it all smooth, there are many surprising styling options in this fun cut.


Textured Page Boy Cut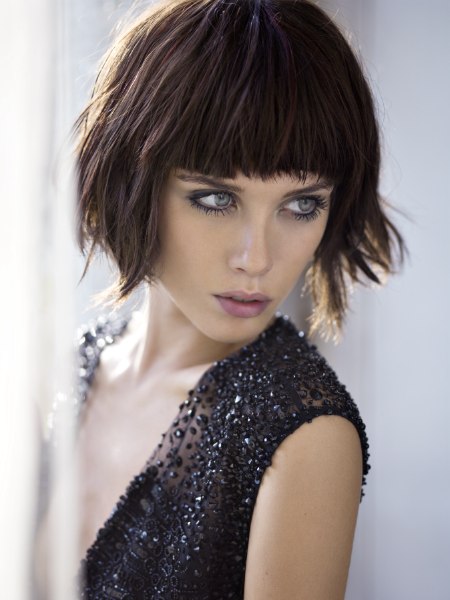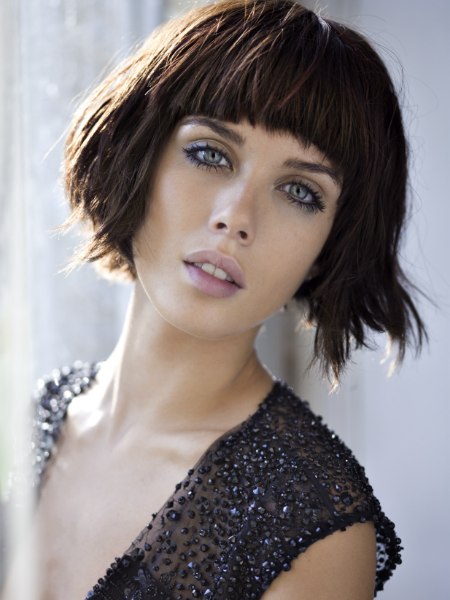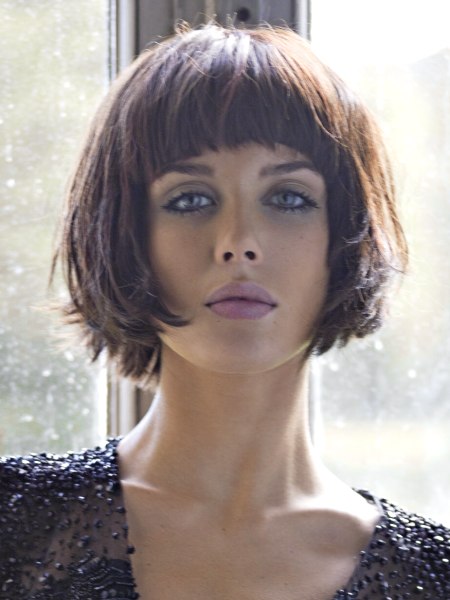 One of the great classics still makes a pretty entrance now in a sultry interpretation. A straight fringe and the lower perimeter are textured just enough to soften the edges. The real texture comes in with styling, where a beautifully messy surface is created.



New texturing powders, modeling crème for individual strands and your fingers are your best tools. The wild spirit of this geometric cut is barely tamed and it is a fine look to go with your evening wear. It is casual and sexy but has a formal back bone, what could be more intriguing?


Soft Bob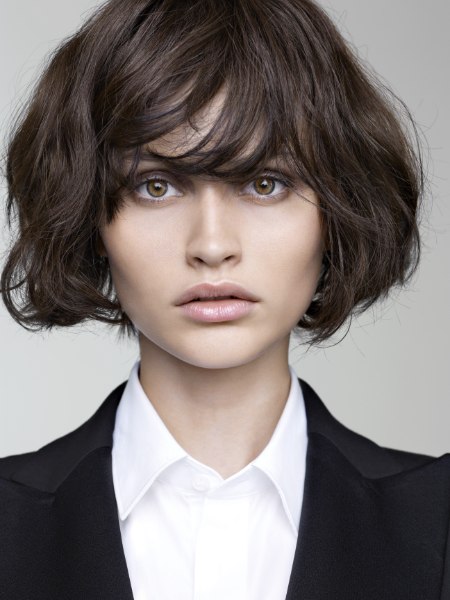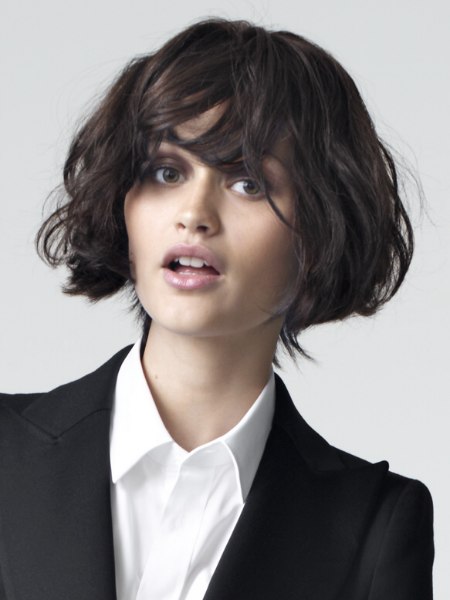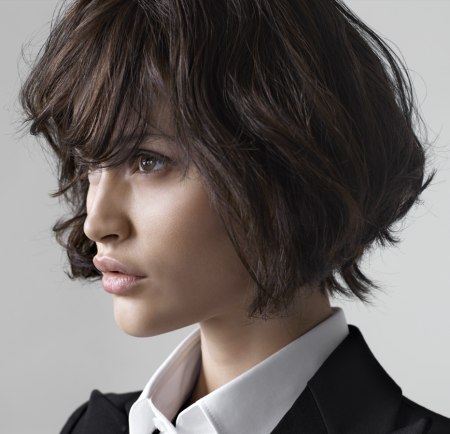 Look your best in any professional environment, but never lose your style. You don't have to sacrifice your own fashion sense when working to make an impact in corporate land. This short bob covers all bases and goes superbly well with a suit and shirt.

The messy styling makes it sexy and you can adjust it easily. Her hair color is a unobtrusive dark brown, strong enough to stand on its own.


Windy Feathers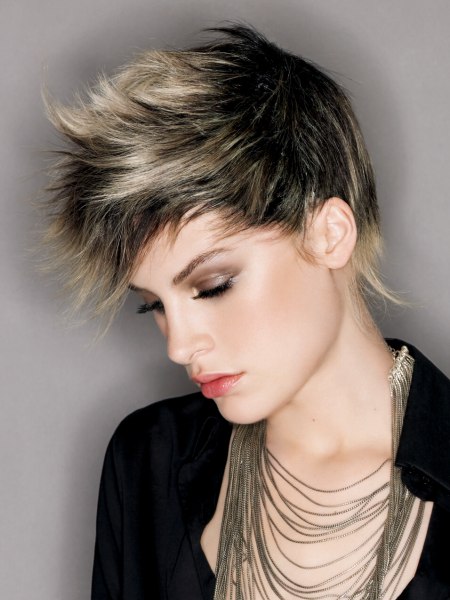 The forward jutting shape consists of a variety of different lengths of hair. And colors too! A short haircut with the utmost in texture also stuns with contrasting shades of light blonde and a cool, dark brown.

The lighter color sits in the tips which were styled to rise up high in a beautifully balanced curve with little soft spikes accompanying the momentum. A few more longer accent strands are in the nape.


Platinum Blonde Undercut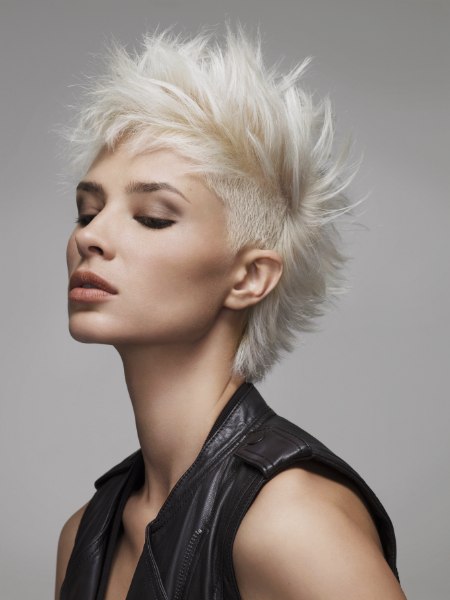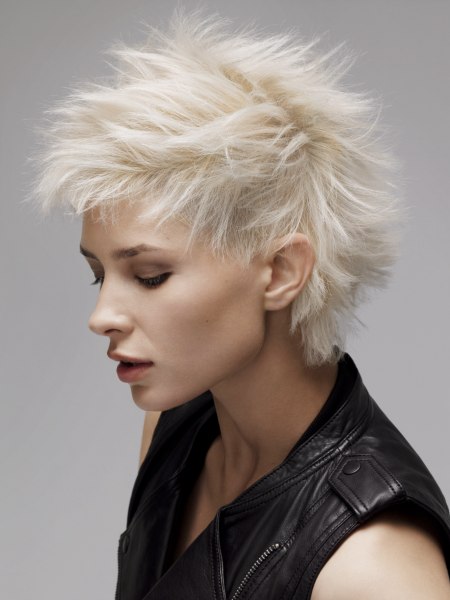 This one comes with attitude and ambition. A super spiky cut perpetuates the spirit of punchy revolution. More mainstream today than it was unconventional before, the layered spikes are a solid part of every fashion season. Empowered with an additional undercut and the striking platinum color this cut makes a statement.

The hair is cut in a curve from the nape to the short bangs. Feathered layering, texture in the tips and the very short clipped undercut just above her ear will make it be noticed. Use a non stilt gel or a matte modeling paste to spike the hair up without making it stiff. A little wax makes it easy to accentuate and sharpen the tips.


Colored Fancy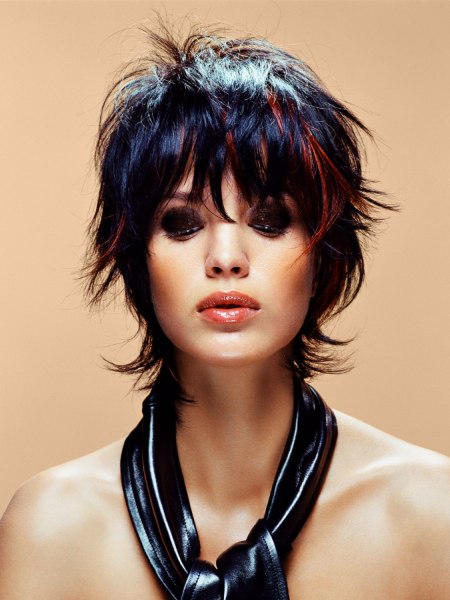 Exotic colors make a splash on this delightfully fuzzy cut. Soft strands flip up from the neck, the sides stand straight on top. The main body of hair is sleek and layered with medium volume and following the shape of her head in its thick and rounded flow.

Texture keeps the tips sharp and good styling products help with the incredible shine and to separate individual strands. Her stunning hair color is a combination of blue, black and a few, very thin and long accent strands in red.


It's all about Those Bangs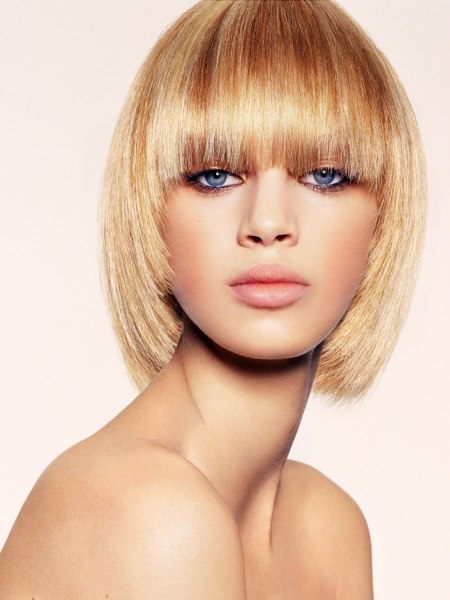 She's got the eyes and the bangs to make them stand out. If you want to draw more attention to your baby blues, lake greens or woodsy browns, use bangs cut as impeccable as these. The bob is an evergreen classic, ageless, timeless and always proper.

This version is styled with sleek simplicity that shows off the fine tuning of the cut with a tiny bit of tapering on the sides and the very fine texture in the bottom edge. The fringe is blunt and cut right at the upper edge of her eyes. The blonde hair color comes to life with plenty of high and low lights.


Asian A-Line Bob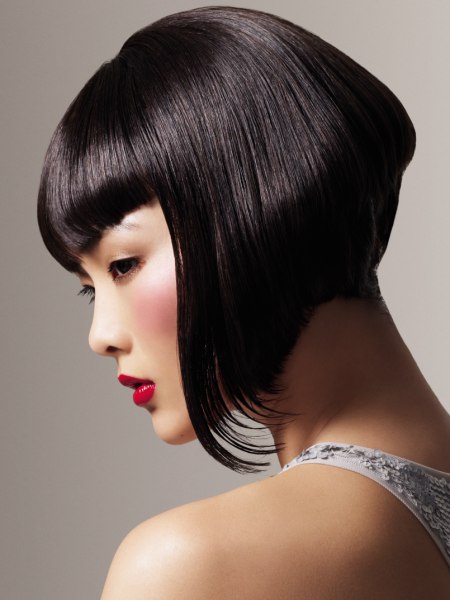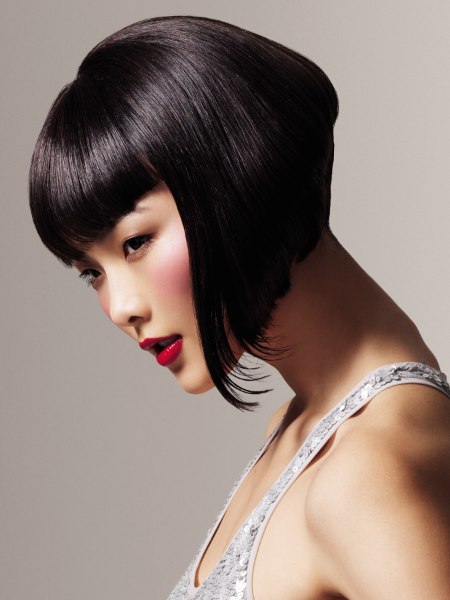 Every element in this A-line bob is composed with passion and sensitivity for the balance of line and space. The bangs are short, wide and straight, barely touching the eyebrows. The neck is graduated in a very steep angle. This lifts the main shape of the forward plunging bob above the base of her skull with the front falling lower than the chin.

The thickness of the body of hair finds its contrast in the fragile and curved nature of the most frontal strands and the dark brown hair color makes her skin look like fine porcelain.


Silver Shag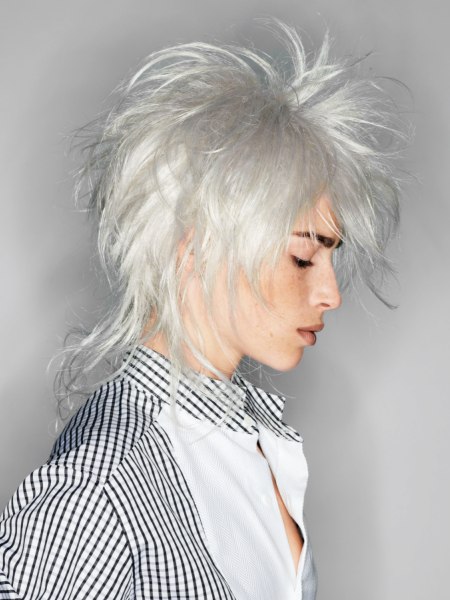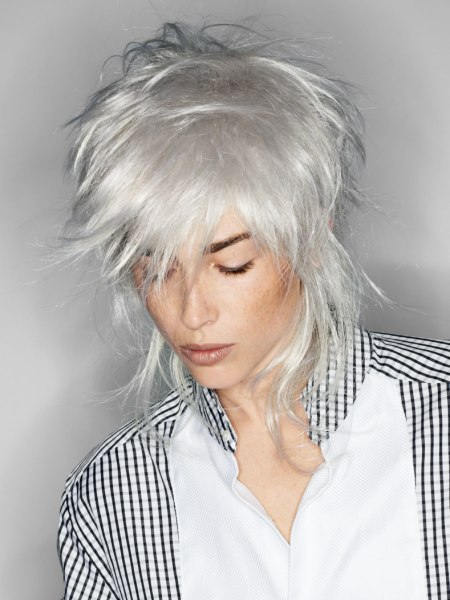 This shag is going to extremes. The shape is just as exaggerated as the color, which makes the iconic cut new and young again. Shorter layers in front of over the shoulder length in the back are textured to the max for this beautiful dance of curved strands.



If a dreamy 80s band and modern Manga procreated, this could be their beautiful child. A wild look, but filled with a new romantic aura and glistening in a cosmic, fairy tale color. It is bold as can be but soft and mysterious at the same time. Extra product in the roots will make the top hair stand up this vehemently.


Soft and Daring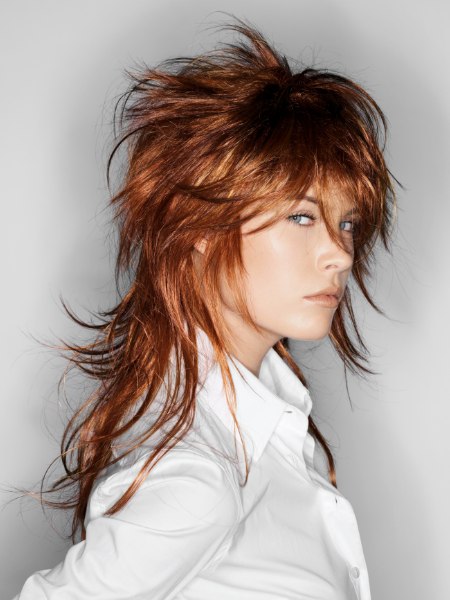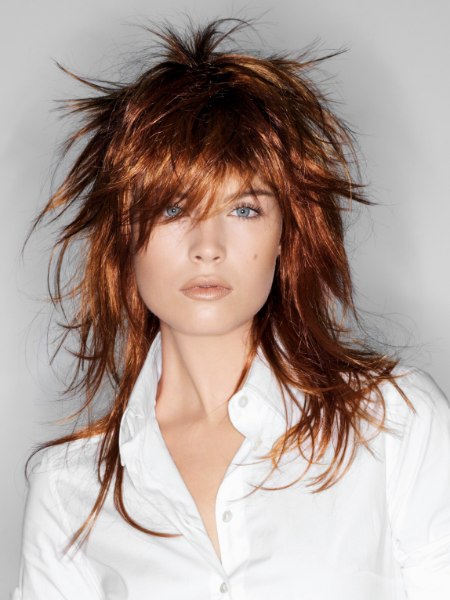 She is taking her shag to new lengths. Everything is a bit brighter, sharper and longer in this remake of a 70s and 80s classic. The layers are short, jagged and following their own tune on top and around the head. In the lengths all becomes softer and flowing.

The shortest spikes on top perhaps span a couple of inches, while the longest parts reach her shoulder blades in the back. This hairstyle is all about expression and having your own soundtrack. Even the fringe is disrupted with longer strands. A dark and very magnetic copper color looks natural, but is intense enough to make us forget all others.


Liquid Waves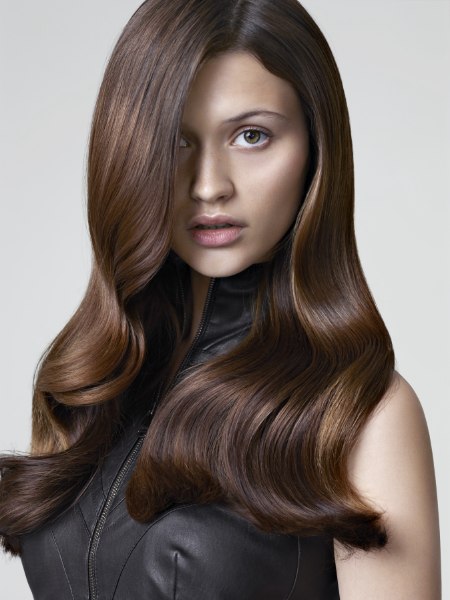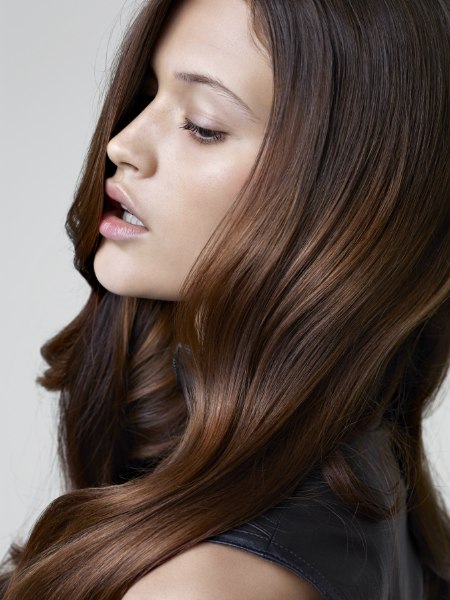 Her hair flows like a stream of hot cocoa or just molten chocolate ice cream. Thick and luscious with a silky texture and every single hair at its designated place. This cut exudes luxury and indulgence like no other. It is parted just enough off center to allow the wider side to fall over her face in a most beautiful and mysterious way.

Waves are large, languid and very well defined in their flawless path. Additional dimension enters in the form of darker and lighter sections in the coloring. The tones range from a dark espresso to a light toffee shade.


Flashback with Volume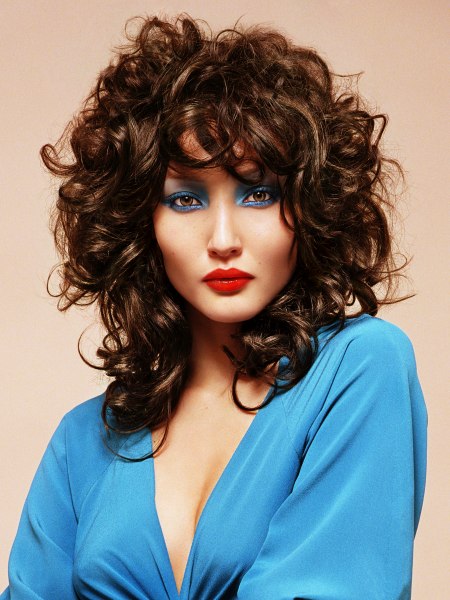 Perhaps your opinion about bright blue eye shadow has not changed, but that is no reason to not take a second look at the voluptuous nostalgia of the hairstyle. Large curls cut into many layers surround her face with 80s big style.

The curls are well developed but not in any specific order. Instead they are allowed to roam, bounce and frolic in any direction as long as they stay within the general shape which features shorter top hair and the most length around the lower perimeter just like in a shag cut.


Funky Waves with Contrast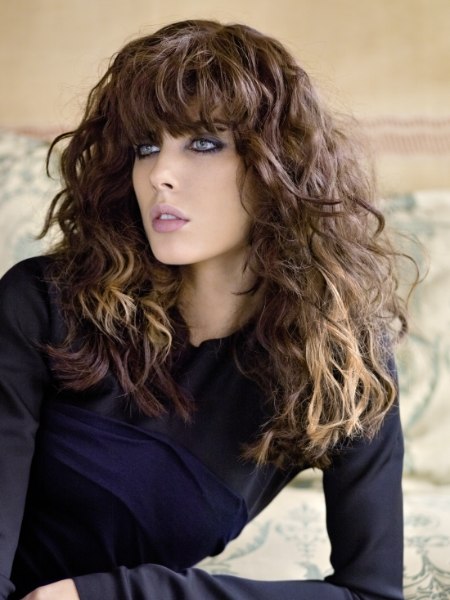 You won't get the blues if you have the funk. Give your long hair some electric waves and dance the night away. Her fabulous mane sets itself apart with the super thick bangs, the edgy shape of the disheveled waves, well placed layers and the color contrast of blonde on brown at half length in the front.

All of these details brought together is quite some finesse in hair design, but it all looks effortless and natural.


Extra Long Bob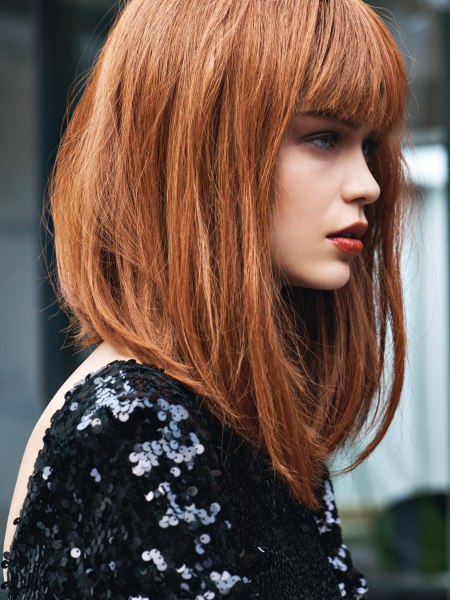 It does not get any more exciting than this. Inspiring red color meets genius cut and the outcome is a masterpiece of elegance with a cultivated edge. The plunging bob is longer than all of the rest in this family of styles, but it still is a bob and it has that famous back to front angle, that makes it so outstanding.

Low bangs and a disheveled styling give it a youthful feel and the hot red hair color makes the temperature rise wherever she goes.


Sweet and Blonde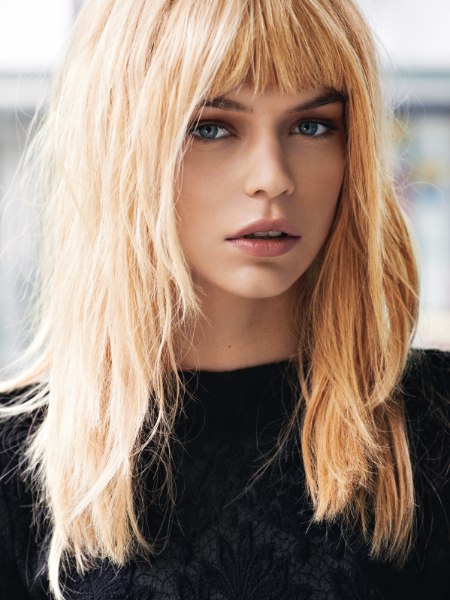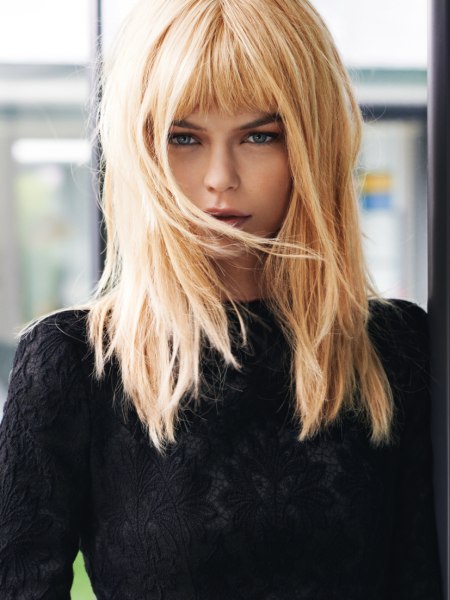 Simple long hair in a natural looking blonde color is always a safe bet. The wheat blonde cut boasts irregular layers with some frazzled edges, a jagged fringe and soft highlights. Styling brings out the texture with the help of some texturing powder and a styling crème for some of the tips in the bangs.


Long Hair and Beard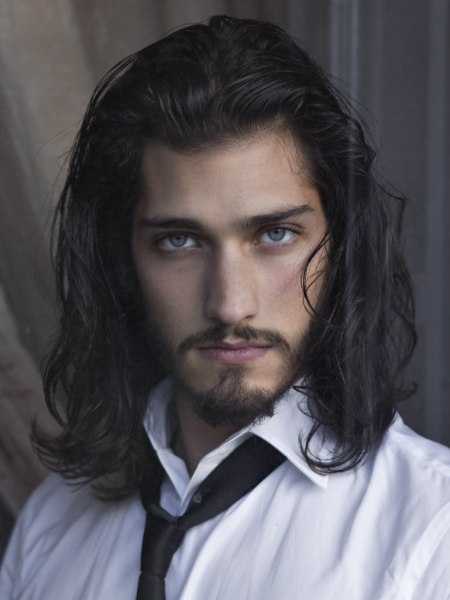 Beards have made it on to the international fashion runways and we could not be happier that the long hair, that we like so much on the big screen warrior heroes is becoming more and more mainstream on the heads of men in real life. Keep it growing, boys!

His beard is exceptionally well groomed and kept dainty with a narrow mustache and the well shaped goatee. The hair is cut at one length and the natural waves come out when scrunching the moist hair with mousse. The front is then simply flipped back and the tie loosened just a wee bit.

Hair: Jean Claude Aubry Community
Photography: Nicolas Buisson