VOG Coiffure - FW 14-15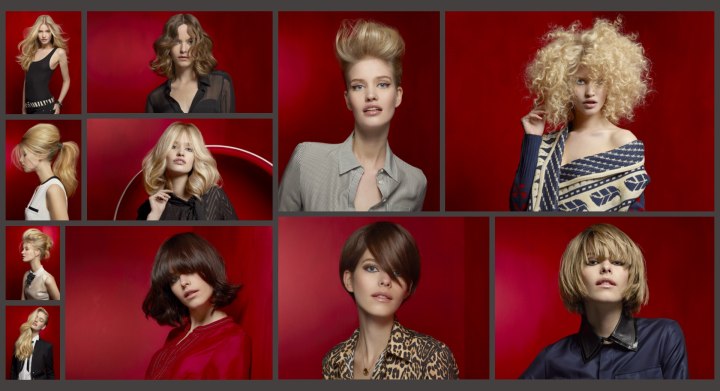 You have your new boots and a fabulous new coat. Shouldn't it be time for a new hairstyle as well? The colder season can get a wee bit dreary, but VOG Coiffure has the right medicine for the blues. It is blondes and browns.

Warm, rich colors cut and styled to the most luxurious looks. Long and medium long hair takes the stage, but the short cuts are filled with the same flowing energy and feeling of opulence as well. Wear your hair up or down, as long as it has a soft flow and personality.



There is not one mold, each hairstyle is as individual as the woman who wears it. Custom tailored to her wants and needs.


Longest Layers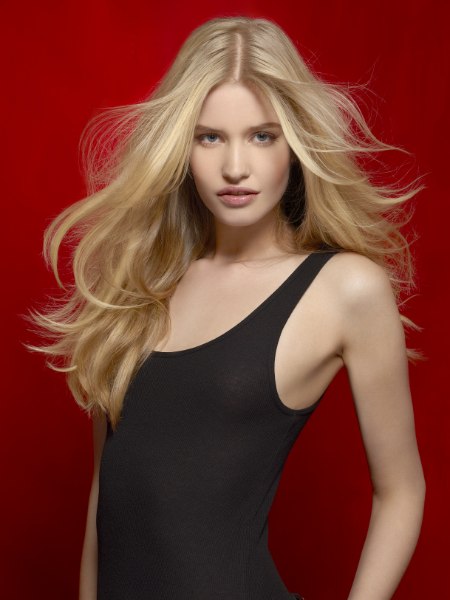 Even without the wind blowing into this long layered hairstyle, it still looks fantastic and has quite a bit of volume and movement all on its own. To embrace the new simplicity her hair was parted in the center and equally distributed.

The longest layers ever take care of a light and soft fall. Brushed well and curved generously in the ends, this hairstyle is a statement of pampered luxury, yet with a hint of adventure. Medium blonde reaches incredible dimension with the highlighted streaks around the front.


Different Shades of Blonde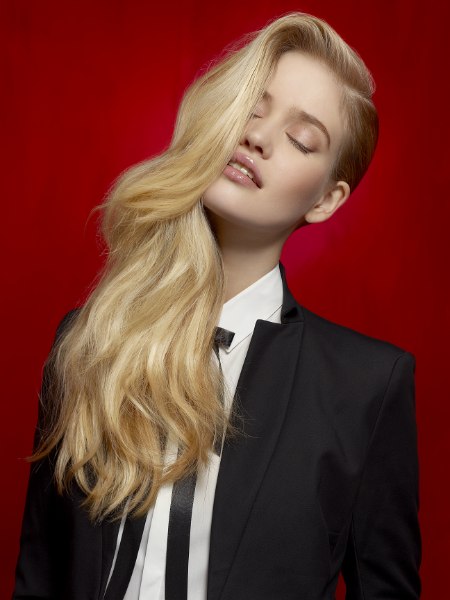 The combination of the very feminine hairstyle and a masculine outfit makes the cascade of blonde appear even more sexy than it already is. A luscious play of light enlivens every strand of this long and perfectly layered look.

The hair was parted on the side in a straight line. It was then taken around the head in a neat and tight fit. All of the different shades of blonde bring immense structure and depth to the sensual mane.


Messy Updo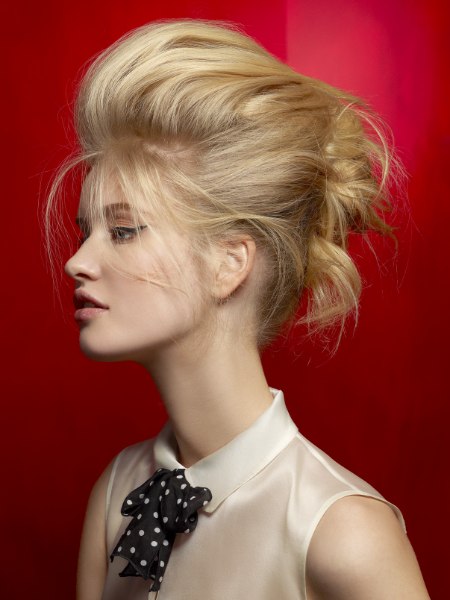 Messy elegance has its own magical attraction. Put together in a loose upstyle, her long tresses have a very bohemian quality with that seductive effortless appeal. Slightly darker and more ash blonde shades around the roots keep the hair color very natural and allow the wide highlights to shine even more.

The famous banana roll is the secret to this construction and much volume was worked into the front, while a thin veil of fine long strands plays around and over her face.


Long Bob in Waves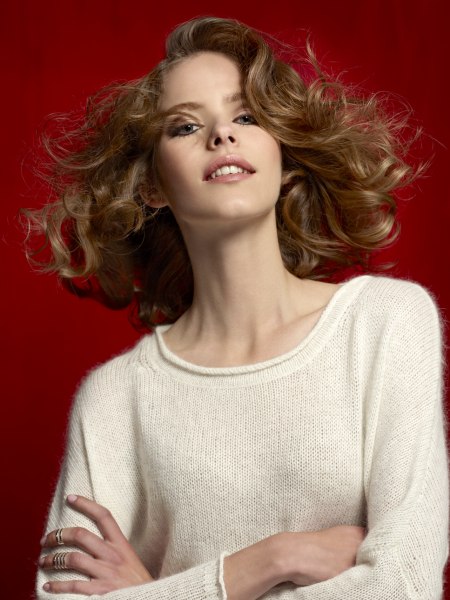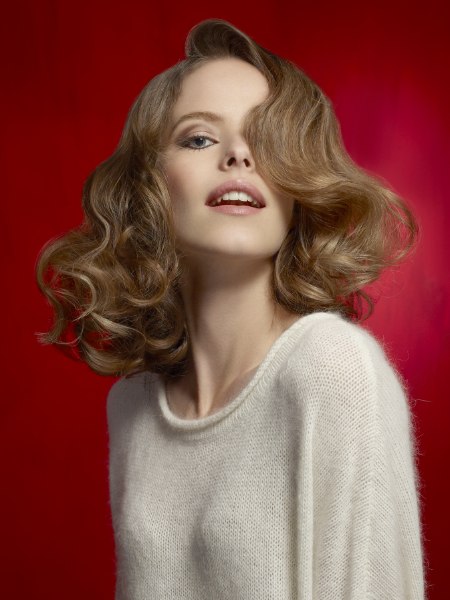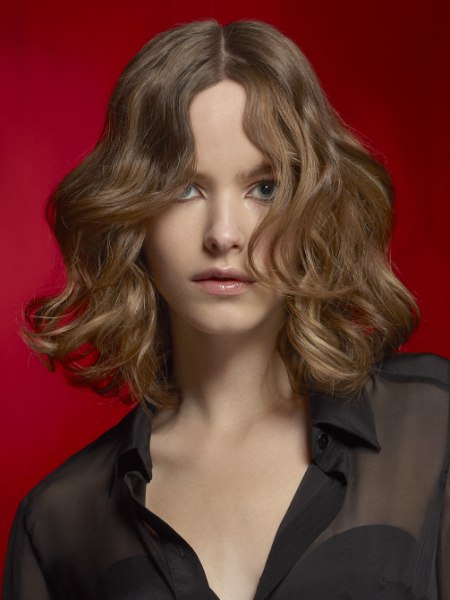 Hair that is cut at one main length needs a bit of movement to come to live. These super waves are more than enough to turn a simple cut into a dramatic and elegant look for the holidays or for a nostalgic ride in a horse drawn sleigh.

Leave your hat at home and don't hide your hair anymore. It is time to flow. A warm brown has some lighter spots to accentuate the shape of the waves. If you don't have a natural curl in your hair then a good set of rollers will help you out.


Chin Length Bob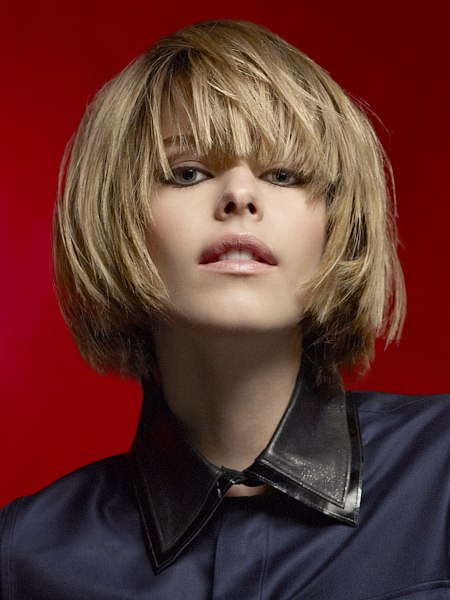 A chiseled look with blunt cutting lines, but a good deal of volume comes with a sexy flattering fringe and curved in sides. The chin length bob is wearable and chic with the perfect length for high collars, turtleneck, scarves or your favorite statement jewelry.



This little classic was restyled to fit in to the line of these sensual and contemporary looks. To get the volume pull the hair over a round brush while blow drying and then ruffle it up with your fingers.


Retro Ponytail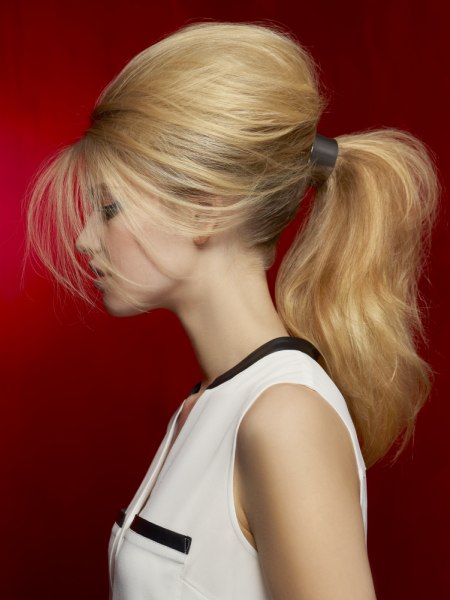 Stunning from the veil like fringe to the tip of the long ponytail, this is an easy and most impressive style to create on your own. The key is the volume, which is built up by teasing the hair strand by strand and then smoothing out the surface. All of the blonde goodness is then bound together by a modern clasp.

The high ponytail itself is also gently teased and scrunched with the hands to get this much movement and texture in it. The front is defined by fine, curved strands that were styled to a transparent veil.


Fake Pixie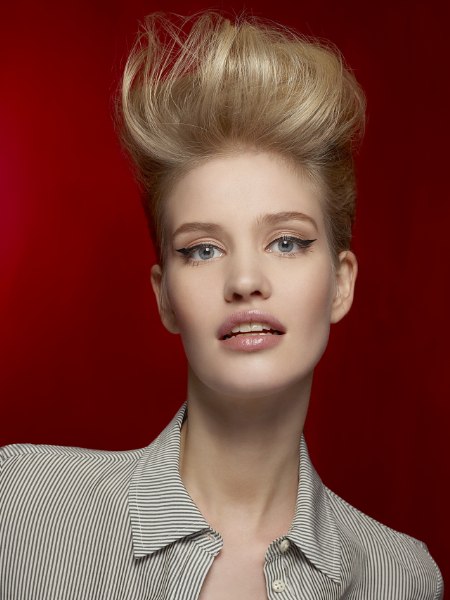 This may look like a short haircut that is combed back and teased for a glorious high fringe, but it is in fact a brilliantly constructed updo. The sides are tightly taken to the back and pinned in an undramatic way. You can chose your favorite banana roll or even a chignon.

What matters is the fringe in all of its exuberance. After shaping it with a hot tool to the curvy wonder that it is, it was teased from the back an then gently styled to its shape. Hairspray is a must.


Open Hair Style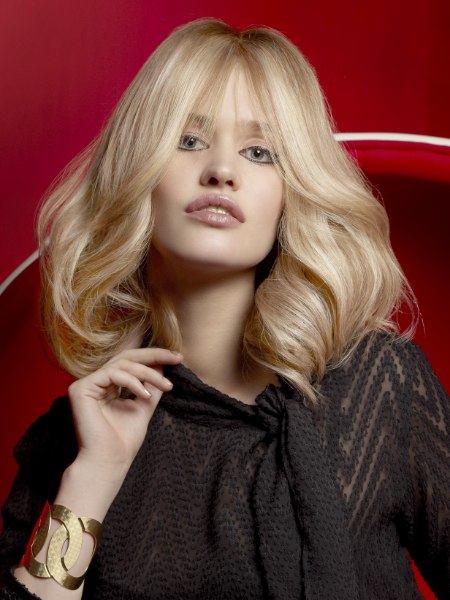 Smooth large waves frame her face in a soft volume. The top is parted in the middle and a long fringe is split just enough to give her free sight, with the exception of some thin silky strands.

All of the hair is brushed to this supple texture and a hot curling iron takes care of the beautiful large waves that intertwine and curve so stylishly. Her medium blonde hair color has wide highlights that especially accentuate the fringe in a very symmetric pattern.


Curly Explosion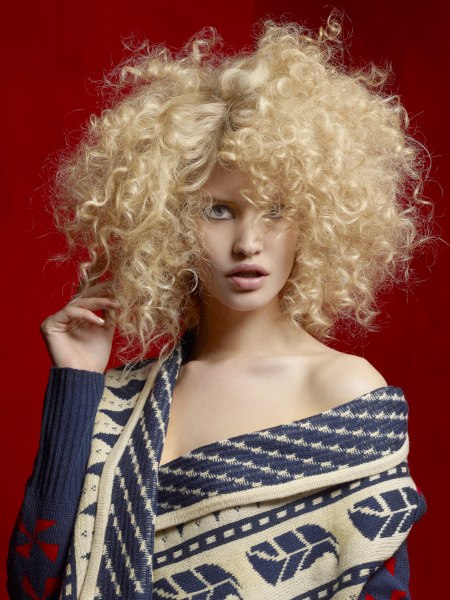 One of the happiest hairstyles of the season is this extravagant explosion of curls. Boundless beauty in fine ringlets and spirals that just does not want to be tamed. Many small curlers were used to bring this gorgeous texture about, which gives her this sexy and yet angelic look.

Just a small section along the side part is not curled all the way. Never touch this one with a brush! Fingers or special combs for curls are all that should be used to keep it fresh.


Medium Long Bob with Round Bangs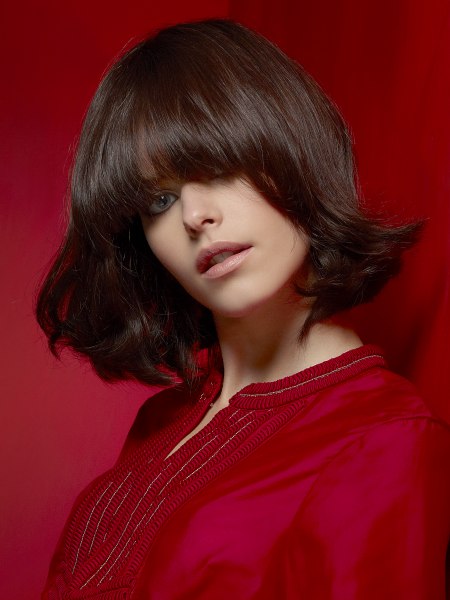 Some shapes survive many fashion seasons just because they work so well with many face shapes and have a timeless allure paired with ease of wear. This medium long bob with a thick fringe is definitely one of the All Stars in the hairstyle hall of fame.

The hair is cut at a length between the chin and the shoulders, the bangs are curved and just touching the top of her eyes. A round brush used with skill curves the bangs inward and adds the sassy flips that go in an out along the lower perimeter.


Sleek, Round and Short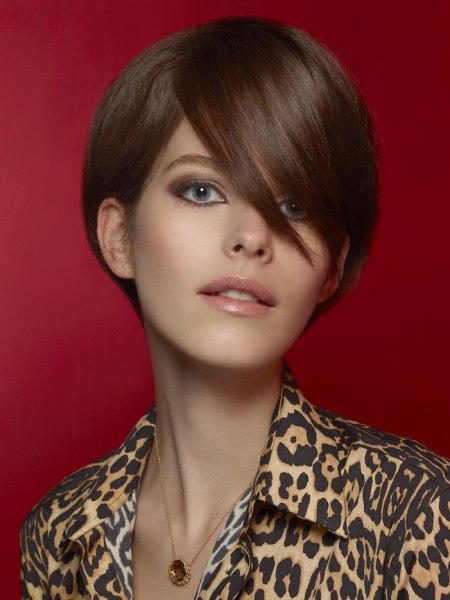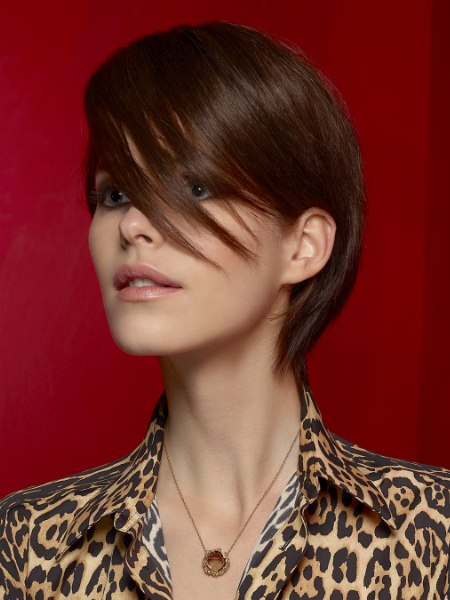 Keep things on the lighter side with an elegant short hairstyle. This rounded and very sleek example of exquisite cutting skills is tailored to fit the shape of her face and her head. It fits like a glove and the hair length is perfect to wear with collared button up blouses!

The stylish fringe is a true eye catcher as it falls in a neat diagonal line, but is split to open a small gap for her eye. The sharp point is a great contemporary accent.

Hair: VOG Coiffure
Artistic Director: Bruno Weppe
Make-up: Carole Lasnier
Photography: Vincent Alvarez