TOP-IN by LLONGUERAS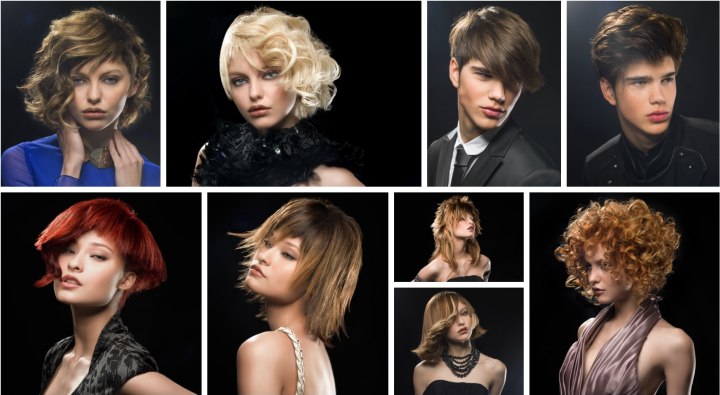 You never again have to sacrifice low maintenance and easy wear of a haircut for the sake of sophisticated style.

With his new fall / winter collection Lluis Llongueras presents a range of hairstyles that are elegant and feminine with much heat and chic that are all easy to take care of. Curls and straight hair often come in one style and each one of them gets its wonderful dimension through at least two tones of colors that are artfully applied.



Glamorous and attractive with styles for every personality from glamorous diva to wild child or romantic angel, this collection will suit every taste.


Multicolored Shag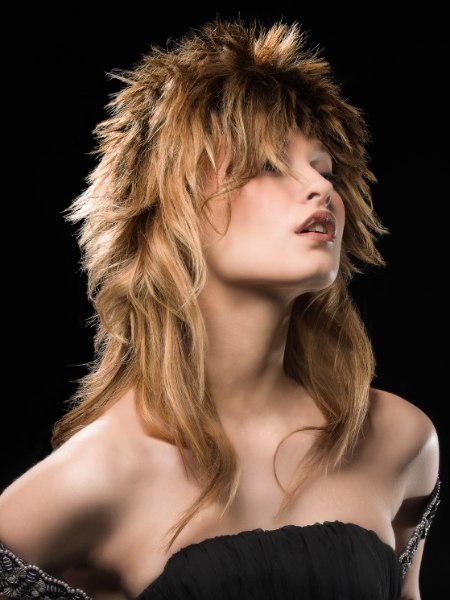 A mane fit for a lioness! Express your feline alter ego with this beautiful fuzzy and spiked shag cut. The volume and texture are not only flattering but also a lot of fun to style. Just wash, dry and ruffle it all up with a little product on your fingertips and let the world hear your roar.

A range of hair colors from blonde over copper to brown play right into the theme and add even more drama, a new dangerous energy and sparkles to this gorgeous look. Top layers are short enough to stand on their own and the lengths take a luxurious plunge over her shoulders.


Flips Deluxe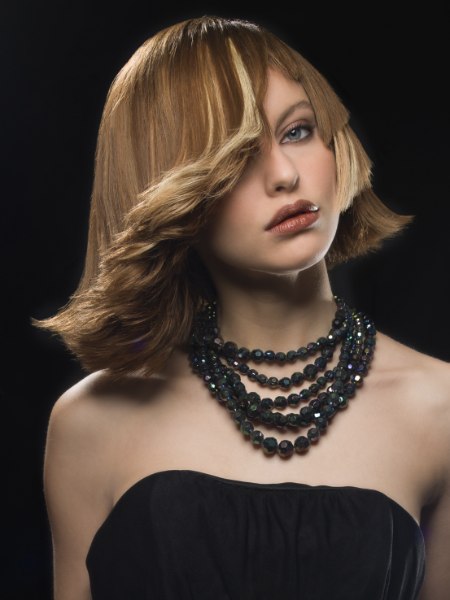 Welcome back to the 70s and the combination of straight hair and movement in the tips. This luxurious hairstyle not only has that, but also some very modern elements built into its asymmetrical design. Separated by a side part one side features a smooth tapered line that connects all around the head in a beautiful swing.

Ends are flipped out and are accentuated by blonde strands. On the opposite side triangular shapes are cut it along the edge, also enhanced with the use of a lighter color.


Feathered Ends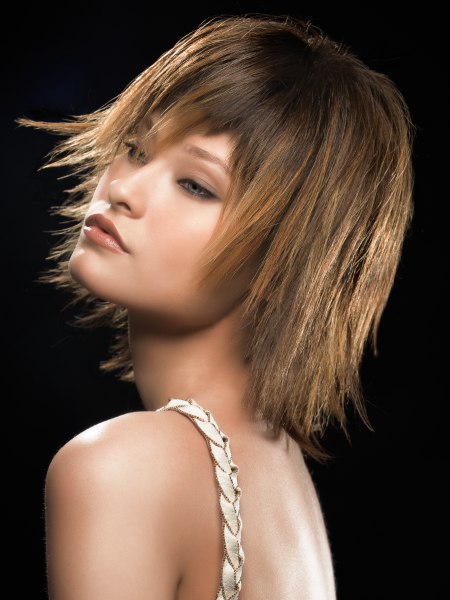 This is what can happen to a bob under the hands of a skilled stylist. The classic shape is still visible, but the ends are all textured with a point cut technique and a razor to make them very feathery soft.

A light shade of golden brown is irregularly applied to the dark brown base to mimic the movement of natural light on the hair. Her fringe is jagged and very sexy with its different lengths and a mix of density and fine strands.


Full Blast of Curls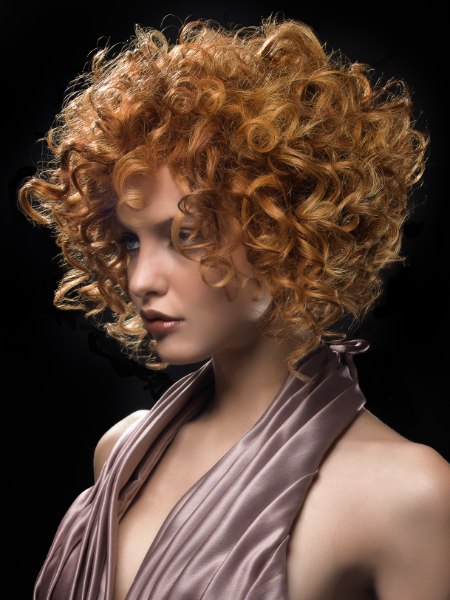 Opulence with a mane of copper curls. The new soft perms make it possible if you are not blessed with a natural curl in your hair. Layers keep the volume wide on top and narrower around the neck.

The curls are highly defined from root to tip. Pull them into your face for a very cupid look full of baroque romance. Her hair color, a dark copper, finds enlightenment and much definition with random accents in a deep gold nuance.


Hair with Different Lengths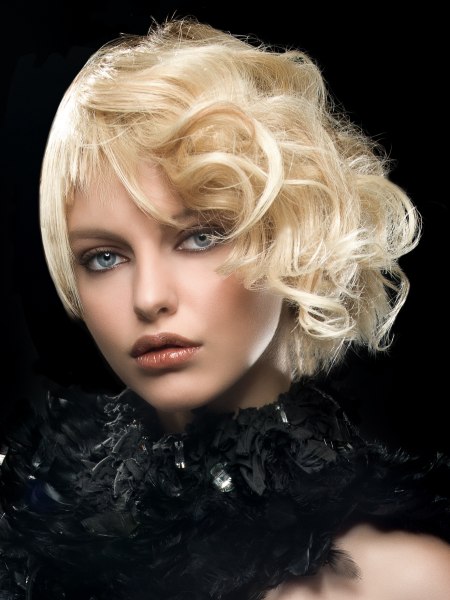 We all have different sides in our personalities and there is no reason why your hairstyle should not have the same! Surprise the world with two views of you. Asymmetry is pushing the conventional boundaries in this style with one curly and one straight and short side. Sleek and punky on one half, Marlene Dietrich on the other.



The curly mane is made to last with a new soft perm or with a curling iron. Varying lengths and a choppy half fringe keeps the other side modern. Her color is a wonderfully warm vanilla blonde with touches of platinum for the utmost in reflections.


Dark Blonde Harmony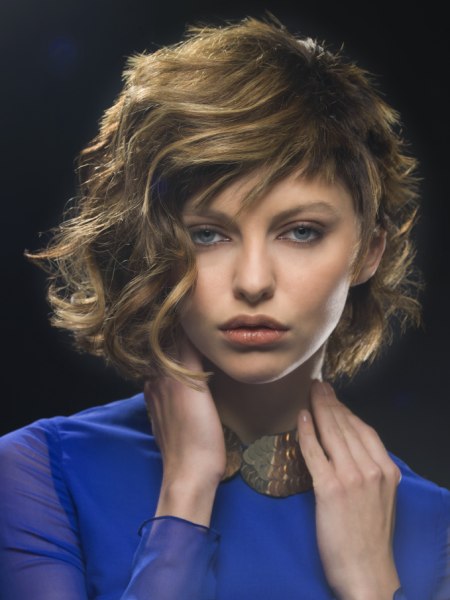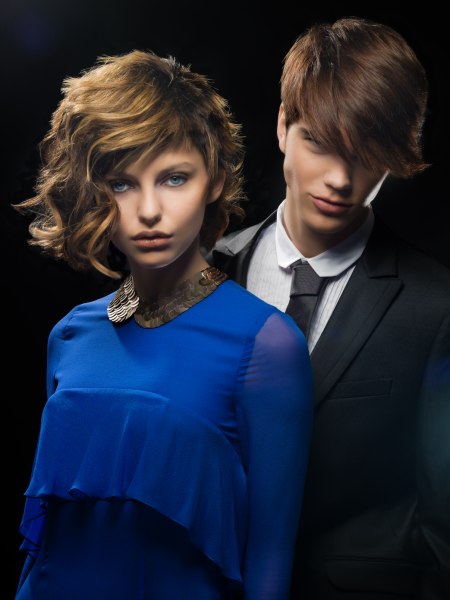 Short and long come together in a shape that perfectly fits her features and wraps her in contemporary edginess while maintaining a natural appeal. The shorter side of the side parted look is layered short, offering a cute fuzzy texture and lots of wispy tips. On the opposite side the hair is chin long and wavy.

In between we are bedazzled by the funky and fun disconnected fringe. A perfect harmony of refined elegance and a fun attitude. Her color keeps it all balanced and natural with a dark blonde hue and beige highlights.


Turn it Round and Round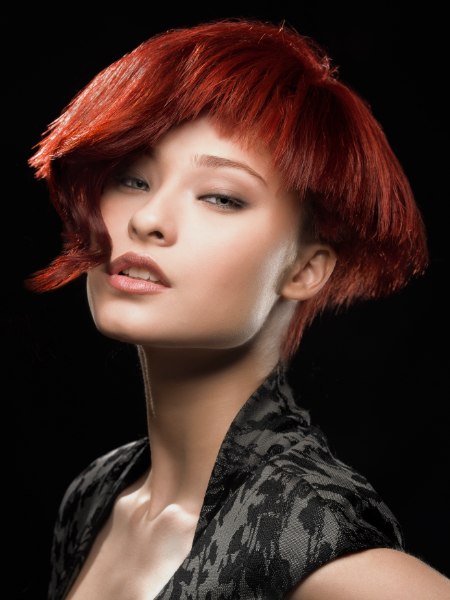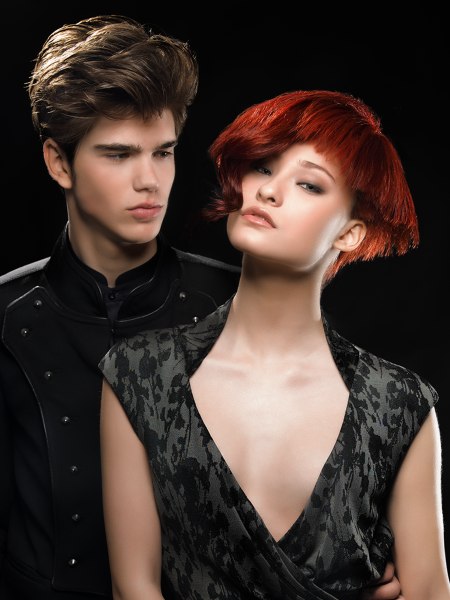 A truly pivotal success of modern hair design presents itself in a mushroom shape with an enhanced trapezoid silhouette. Tapered, sleek and wavy. It is all there. Together with the iridescent and so very luscious red hair color this is a style to be reckoned with.

The short fringe only reaches half of her forehead before it moves into an almost chin length fiery wave. All edges are textured for softness and with that strong hair color the make-up can hold back a bit.


Long Bangs for Men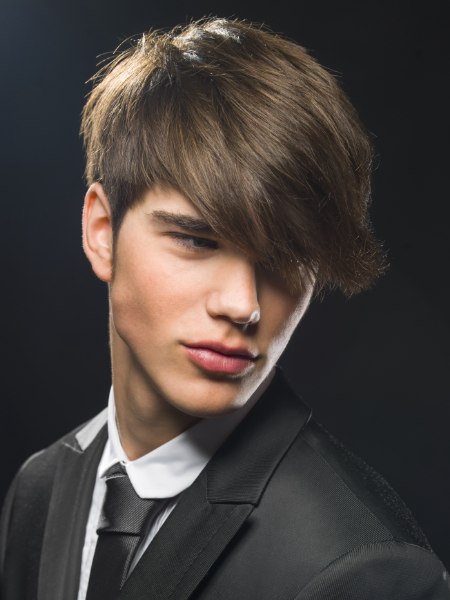 The size of the fringe seems to shrink the dainty sideburns even more. His smoothly layered hair is cut for asymmetrical styling with the bangs as the center of all attention. He can flip them to the side or wear them pulled into the face as seen here.

The back and the sides are clean cut and as neat as they can be. With a muted brown color his stylish look remains grounded and matches the color of his eyes.


Modern Rockabilly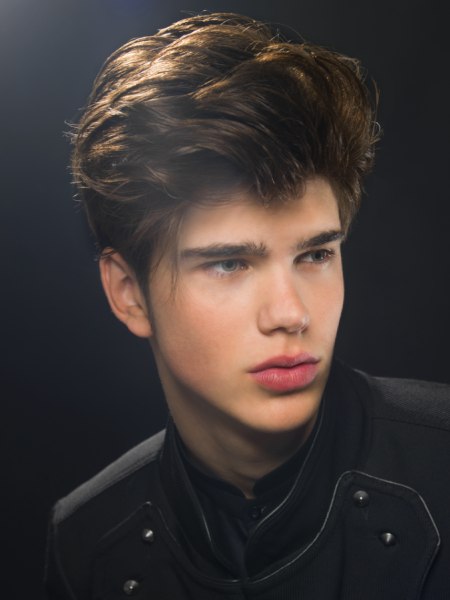 All soft and voluminous his quiff will stand out in the crowd. Paired with narrow sideburns it is the new vintage. Sides are slicked back with gel and a modeling crème will give definition to strands as well as provide enough hold for the smooth curls to remain as uplifted as they are. A random strand here and there adds a sexy undone touch to the look.

The secret to modern hairstyles is to play with strong style and the coincidental element. Effortless chic without being over styled.

Hairstyles: LLONGUERAS
Photography: David Arnal