"Romántica - Consciente" by Paul Gehring for ALCINA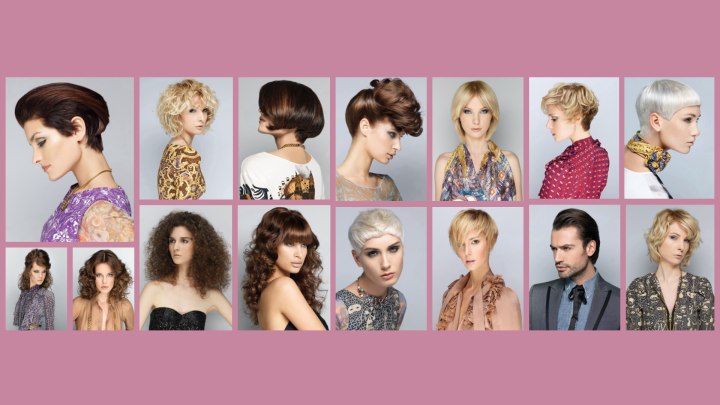 Innovation with a look back to favorite styles of past decades, this is Romántica, one of the great hairstyles collections by Paul Gehring. Inspiration always comes from something we know and it is the job of the artist to make us see the familiar in a new way, to redefine its boundaries and give it new life and a new expression.

Paul Gehring did just that with hairstyles that made women beautiful already in the 50s and 70s, but there is nothing vintage or dusty about this stunning and modern line. Feminine styles show their sexy side with great textures, feisty short cuts and romantic curly manes.



In this collection Paul Gehring explores the many moods of romance and we can all find our new favorite look among these great choices. Classy elegance or edgy futurism, which one was made for you?


Short and Precious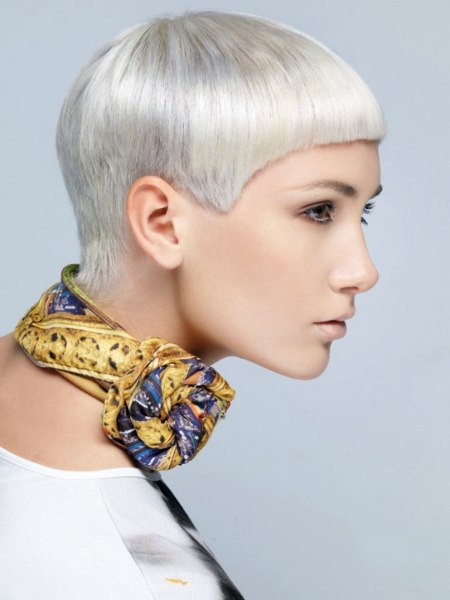 A well sculpted short cut features some classic elements like the graduated neck and the rounded back side, but there is also a strong contrast. It is in the bangs which have a very modern shape and length. The cutting line is straight with small curves on either side that shape the adorable triangular mini sideburns. All edges are cut with a wee bit of texture for more softness.

The ultramodern, futuristic silver and platinum hair color has some blonde and dark silver accents, which contribute to the extreme metallic appearance of her hair. Super cool in shape and color and then combined with a most classic of all scarves. Purity and perfection aimed at the senses.


Smooth and Textured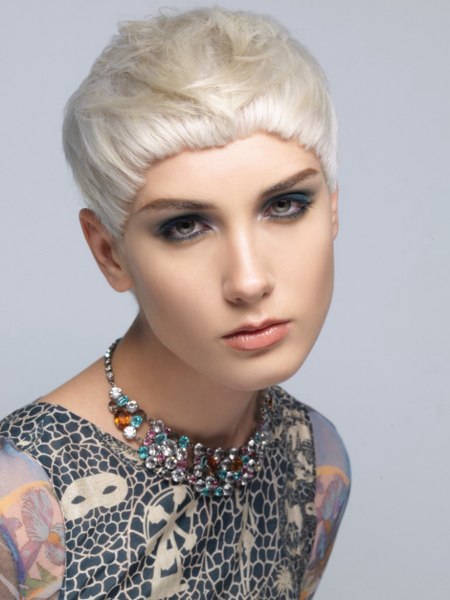 A bold mix of neat lines, smooth hair and a rougher textured section make this short hairstyle a showstopper. It works great with her features and with its short bangs it lets her eyes be the center of attention.

The most upper layer of hair was combed to the center with its peak right in the center of the fringe and much fuzzy, delightful texture within its petal shape. The bright platinum was warmed up just a few degrees with a wash of light blonde.


Natural Color for a Hip Cut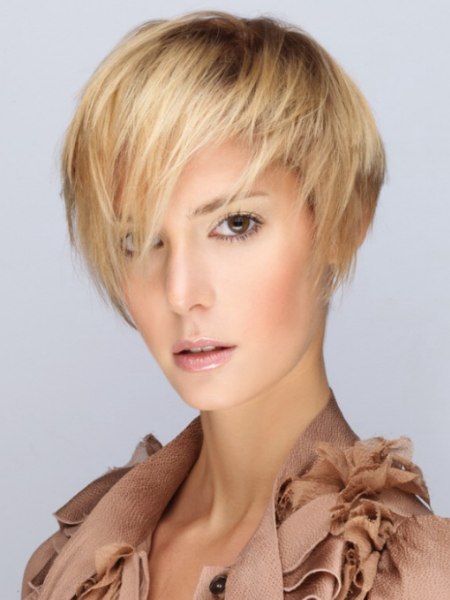 The main body of this haircut is dense, short and layered with a classic shape of short in the back and longer in front. The contemporary flavor comes with long textured strands, ever so light and playful, which jut out of the sidewards fringe and along the side. With that treatment the lines have become stylishly choppy and soft.

Her hair color is a beautiful, light filled mixture of various shades of blonde with dark blonde at the roots and a very light beige as accents in the tips and as fine streaks in between to give the impression of sun drenched hair.


Soft Short Waves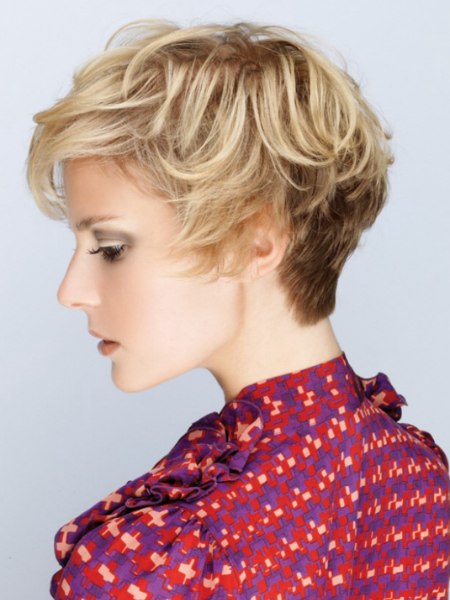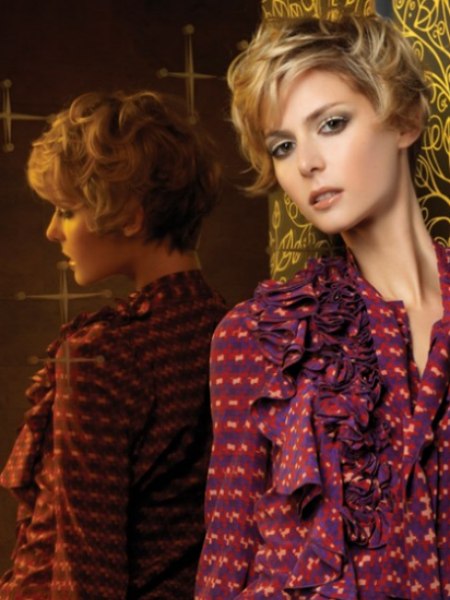 While the short cropped back comes with an androgynous touch, the rest of the hair is utterly feminine.



Casual soft waves don't need to be given direction to fall into a place where they look best and together with the dark and light shades of blonde, this pixie is so full of movement, it will make you want to dance.


Modern Vintage Bob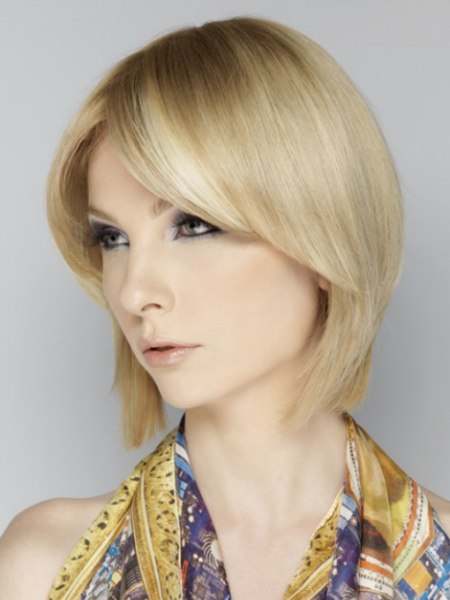 The 70s influence is obvious in this smooth hairstyle. Her round cut was layered in the lower perimeter to give the curve shape its distinction. The hair was parted in the center and swings over to each side in a long super smooth curve, which is accentuated by a wide highlight.

This platinum blonde flash stands out against a beige blonde background with soft dark blonde shadows. Straight hair shows the effect of stages of color especially well. Cuts like this one are always tailored to the face shape and are very flattering.


Medium Bob with Curls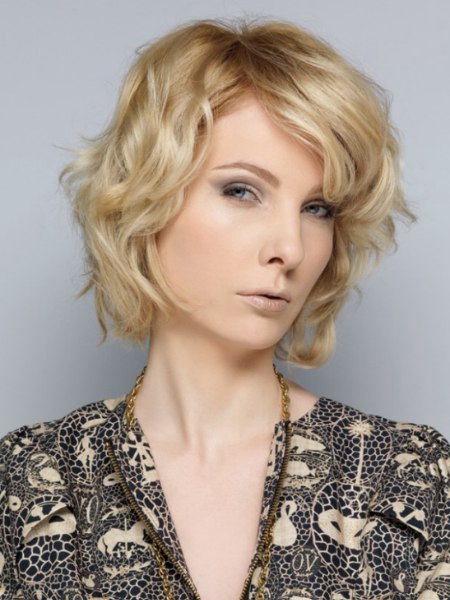 Curls don't have to be fully developed to be this sexy. Her hair is just a bit more than chin long and has some shape given by layers that are cut in. A side part allows the long bangs to be pushed over so nonchalantly and classy.


Angled bob with curls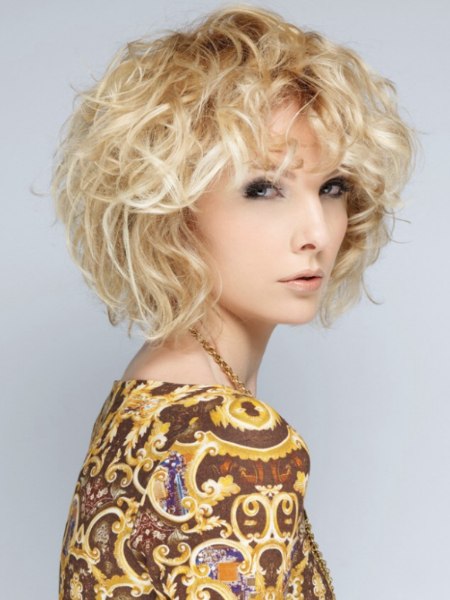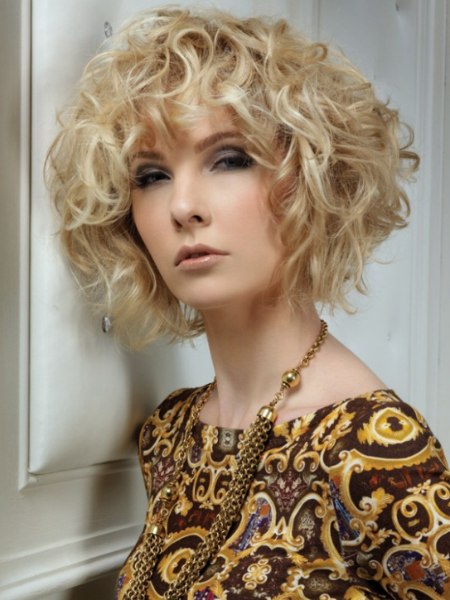 Great styling brings out the wild nature of these chin long curls. The effect is doubled by the blinding highlights that are strewn all over in thin strands.

This bob comes to life with the full blown volume and the refined shape is a result from a slight A-line cut with the finely layered back a little bit shorter than the front.

This is the fluffed up version of the previous look and a great hairstyle for fancy evenings out. It does not get any hotter than this!


Romantic Elegance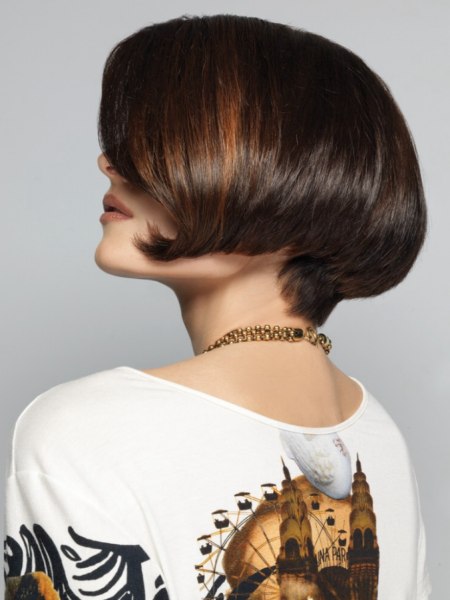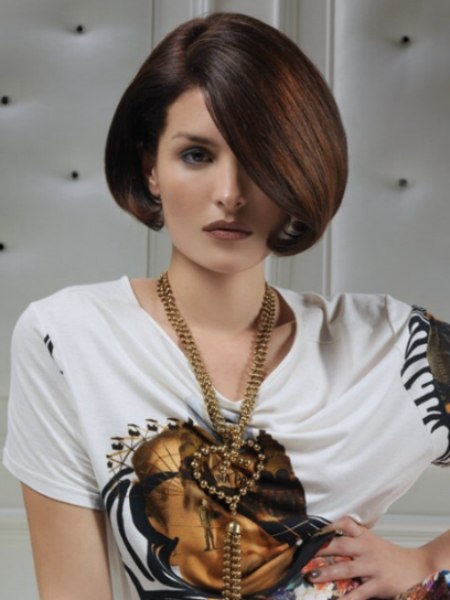 This noble style demonstrates how a classy and elegant short hair can be in a very contemporary shape. Except for the charming graduated nape the hair is all about full roundness, culminating in a flirtatious little curl on her cheek.

It takes a thick round brush to work all of that round volume into the hair together with a soft hot stream of air.



The details were worked with a hot iron. Her luminous hair color is a deep chestnut with a few accents in gold and a precious intense shine. Use a gloss spray to finish.


Back Styled Volume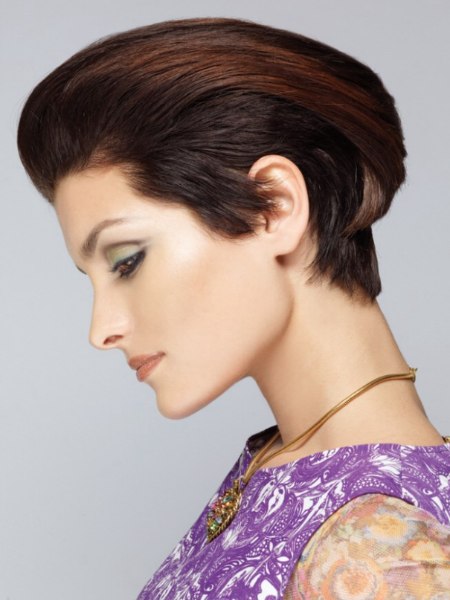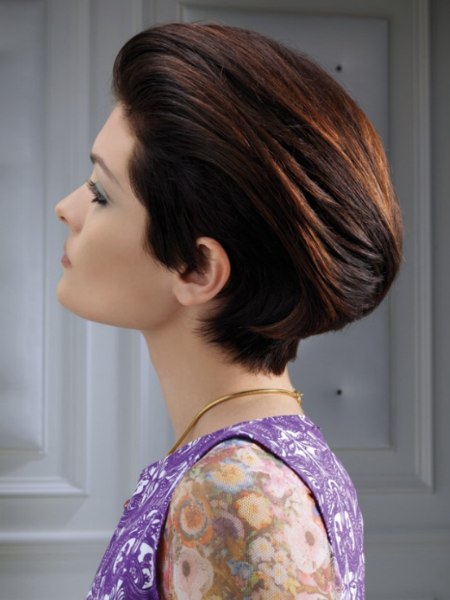 With all of the details it has, this style is still sensationally smooth and an alternate styling to the short hairstyle in the previous photo. Now the hair is taken to the back in one smooth flow, still keeping all of its volume and held together by a few layers of hairspray.

Out of the face new details emerge like the short sideburn accents from her temples to the ears. They show the same texture as the graduation in the back and all of the other hair is just sleek to perfection.


Vintage Americana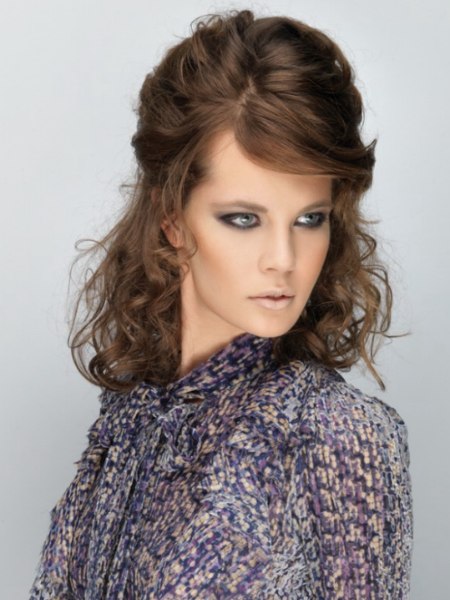 If hairstyles had matching shoes then this one would go just as well with a pair of cowgirl boots as it would with high heeled pumps. Ultra feminine, with a wholesome 1950s touch through its lifted root volume on top and the semi updo.

All hair above the ears was taken to the back and pinned while keeping it loose and flowy. The remaining lengths underwent some extra curling action with a hot iron and the long fringe is casually swiped to the side. Long lashes, smoky eyes and a pale lip color are the ideal accessories.


Center Part and Curls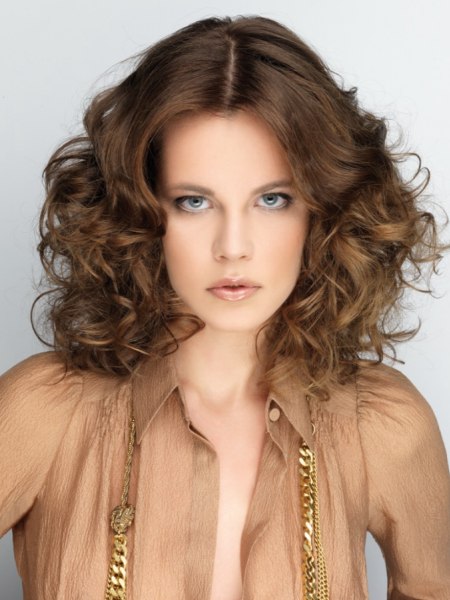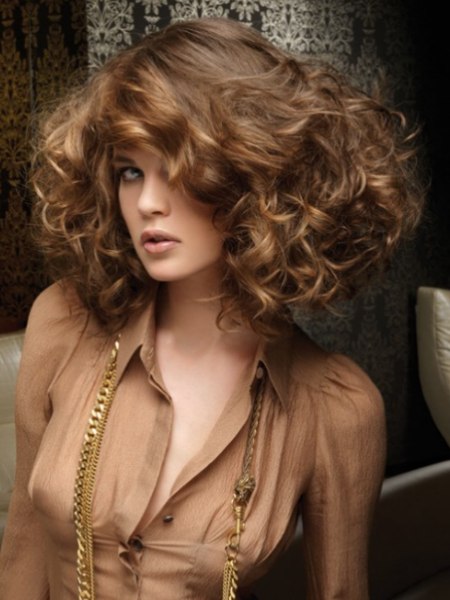 Shoulder long and gorgeous from root to tip. If you are a romantic spirit, then flaunt it with these flirty curls and lots of layers. The even balance resulting from the part in the center of her crown is countered by a semi wildness of the curls. A good mix of definition and ruffling assures an interesting texture and breathtaking volume.

With a natural brown as the hair color this style has a wholesome feel, but also much drama and the bonus is a lovely vintage lineage, innovated now with little tricks in highlights and styling.


Extra Long Luxury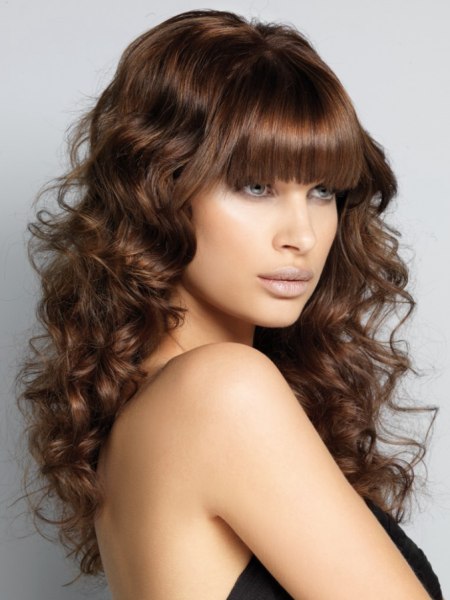 Yes, you deserve it. A beautiful hair color that makes your skin tone radiant and a hairstyle that underlines your fashion minded being. You need a few layers to make curls of such length bouncy and light.

Her hair reaches about midway to her shoulder blades and with at least a little natural curl styling this luxurious look is easy and all you need is a curling iron to give those locks their defined curvature.

In contrast to all of the movement in the long mane, the bangs are left sleek and classic with an eye-lash length and a nice rounded shape.


Curls Unleashed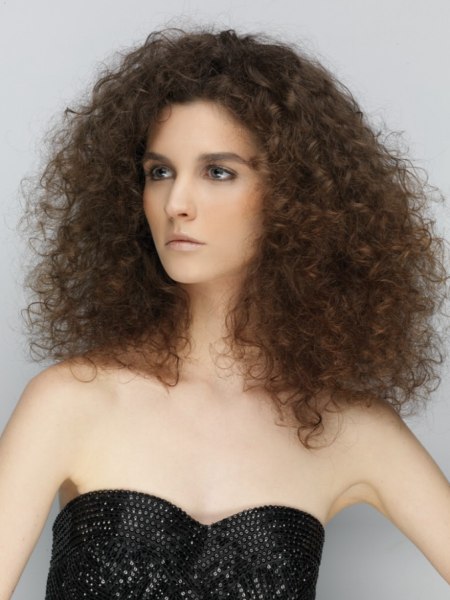 Never straighten your hair again! First it is bad for the hair and secondly what could be more sensational than a head full of exuberant curls? Indulge and flaunt this season. There is no reason to hold back and if you have it, you should show it.

To give all this abundance some shape the hair was layered with much finesse. It is parted a little on the side for a stylish shift of the weight. Now her face is framed with angelic texture and looks as if through a soft focus lens. This hairstyle is ageless and sings a song of freedom.


High Style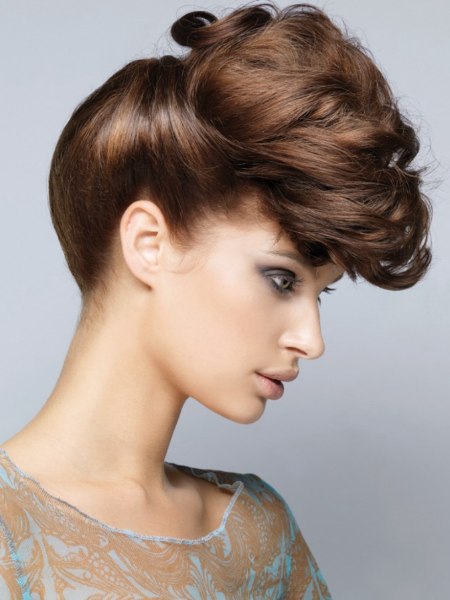 There is always a time and place to wear your hair up in such an elegant way. The weight is on the front of her crown with a marvelous bundle of curled hair arranged in a loose bun. The back is all smooth to show of the slender curve of her neck.

Ends are rolled in and pinned invisibly until they just out it this impressive cloud of sheer beauty. Individual strands were curled into shape with a hot iron and a fine mist of spray is the grandiose finish.


Styled Back for Him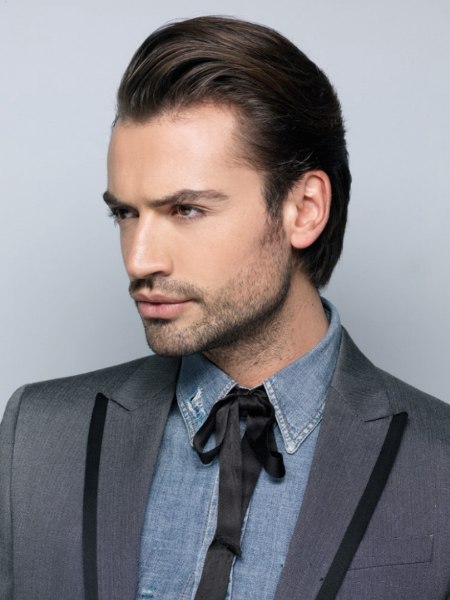 Longer hair looks very sexy on men, especially when it is styled back to a dangerously handsome look. A little wax can go a long way and with a fine comb the result is easy to achieve.

His back is still neat and short, just as the stubbles in his face and the manly sideburns. Seductive and dapper at the same time, this is a hairstyle that is timeless and never fails.

Hair: Paul Gehring for ALCINA
Make-up: Fabrizio Camponeschi & Fabio Lo Coco
Photography: Carlo Battillocchi