Minimal Touch
Paul Gehring for ALCINA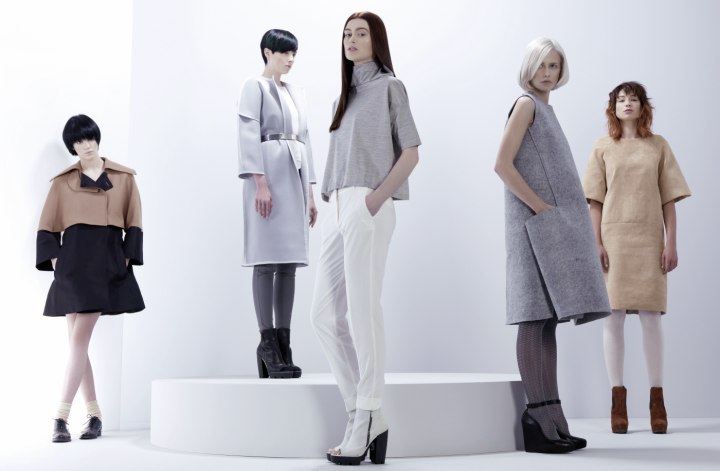 Sometimes less is more, even though we do like to indulge, there is a soothing and grounding quality to minimal frill and simplicity. Paul Gehring captures all of the wholesome goodness of reduced styles in a series of fabulous looks. Back to the roots and natural with soft flowing lines and dynamic motion.

All of Gehring's new hairstyles ooze feminine strength and confidence. The Minimal Touch collection is filled with concentrated style and maximum impact. Hair colors range from a deep black, mother of pearl and rich brown to a dipped copper hue. Special effects come as colorful splashes and strands, all sweetened up with high energy shine.


Versatile Shorty with Green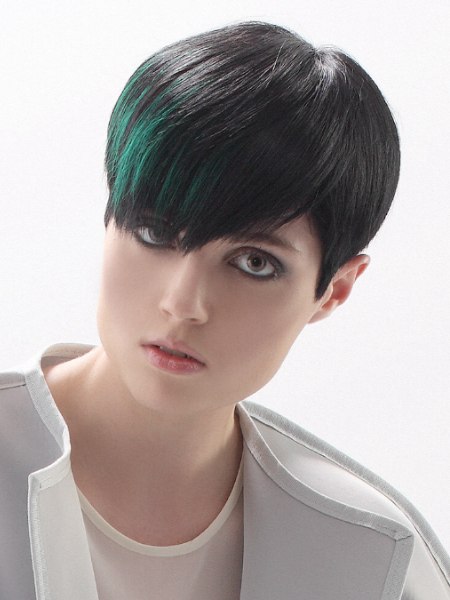 Short and diagonal is already super cute and fits the theme of minimalism, but a few streaks of color still do magic in the black hair. A dark, deep green peeks out on the side of the beautifully jagged bangs and brings a gem like glow to the creative hairstyle.

The short haircut itself is neutral and androgynous with a sleek styling that focuses all on the thick bangs which are combed into the face in a slight angle. The sides and the graduated back are snug and smooth. Check out the next couple of hairstyles which are based on the same cut, but styled in a different way.


Pixie with Sparks of Color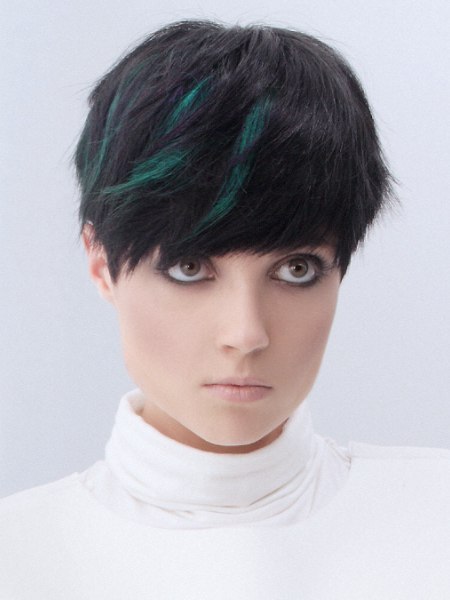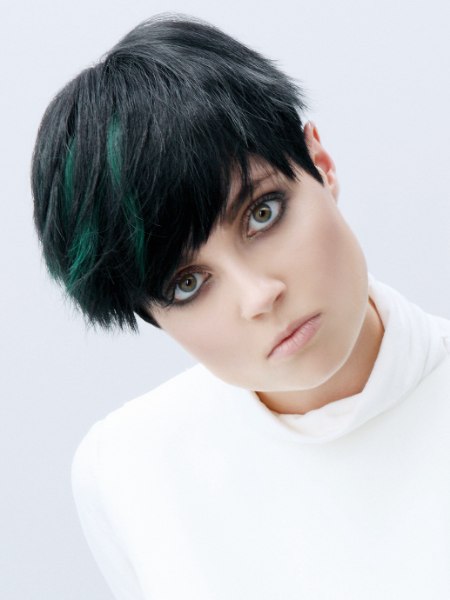 Much more texture gives this short haircut its rugged and rebellious energy. The green hair color splashes come out even stronger now and shed their magic light onto the raven black base color. All around the pixie cut still has a snug fit, but now the top hair is styled for expression.

The best way to do this is to use the fingers. Casual and a little wild. There is no distinct part in this version as the hair just flows around a central point on the back of the crown. With all this movement and character you better put on your seat belts! But there is more to come. Click on to the next look for yet another surprise.


Alternate Styling for Short Layers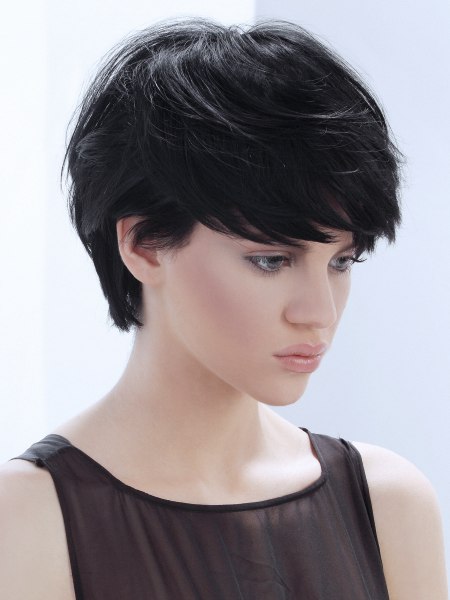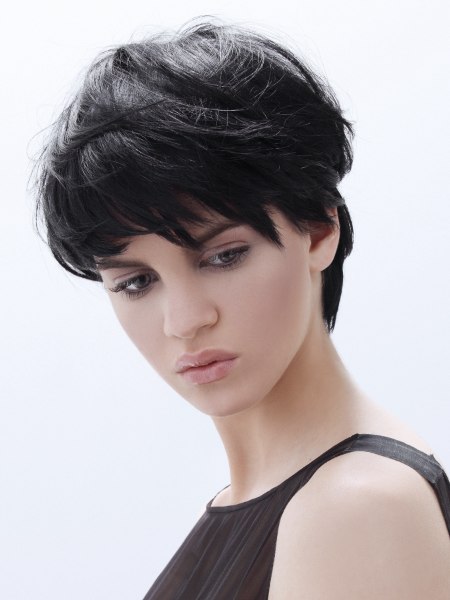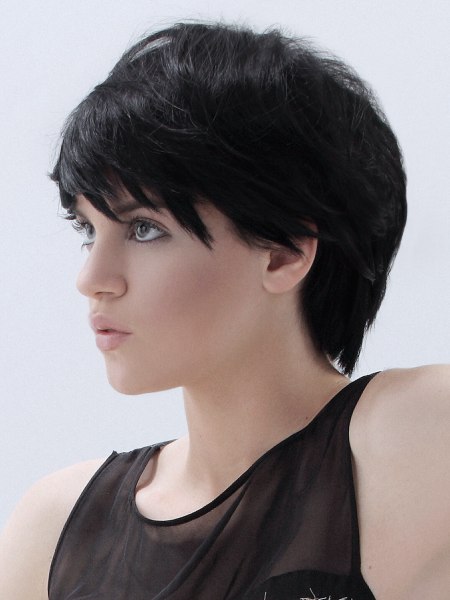 Ingenuity shows in the short cut and the many different ways it can be styled. Each version has a different energy and expresses a new side of the woman who wears this adorable short hairstyle. This windswept option is full with energizing momentum.

All of the top hair is arranged in a curved swing to one side. On the way it forms the thick strands of the jagged fringe. Layers become visible and build up to a contagious energy and thick volume. Use some mousse for the volume and modeling paste to accentuate individual sections and strands with your fingers.


Bowl Cut in Black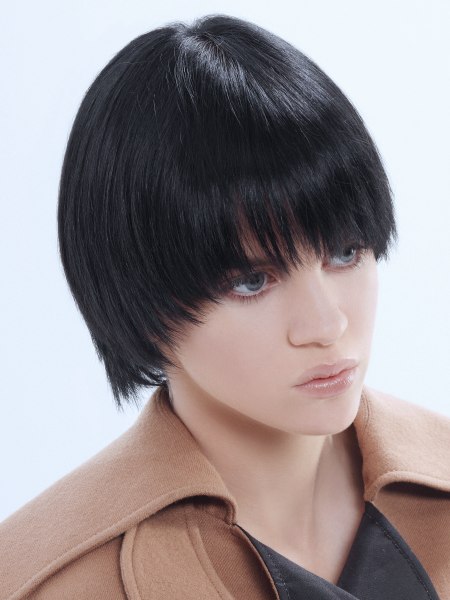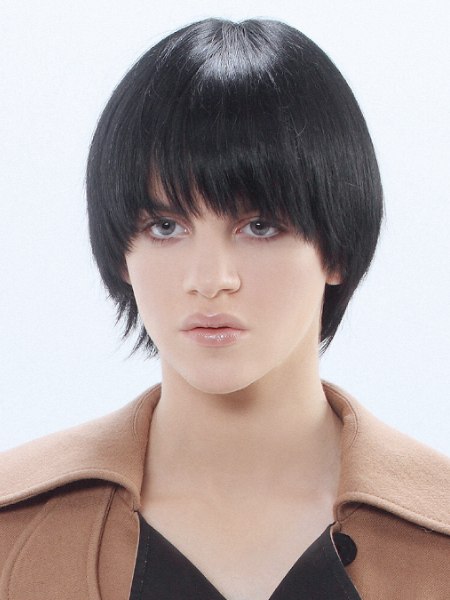 Never underestimate the power of the bowl cut. It is also known as mushroom cut or just as round cut. All describes perfectly what it looks like. A simple shape, round and smooth with no angles or corners. The all time favorite now comes with fine point cut texture in the tips which makes the edge much softer and feminine.

Playing more with the idea of simplicity and minimalism there are also no frills when it comes to the styling. A great short hairstyle to bring the attention to a pretty face. Of course much luxurious shine is a must and even that can come out of a handy bottle.


Blonde Bob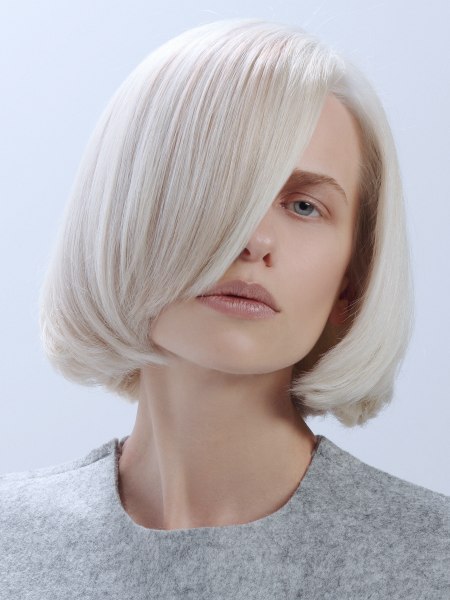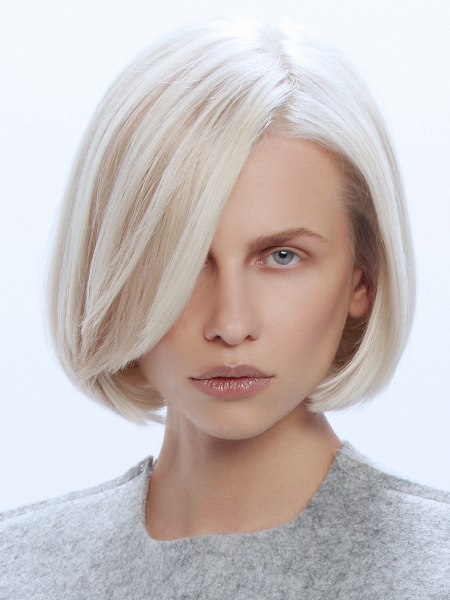 Simple elegance is always the most timeless fashion and never out of style. This beautiful bob may have minimal lines, but there is much going on and the details are highly refined. Check out the inward styling of the lower edge. This curve is perfectly executed and just wraps itself onto and around her features.



The same applies to the long side fringe. It can be worn halfway into the face or you can push it further out for more vision. Her hair color is a platinum blonde with a matte sheen.


Blonde Bob with Volume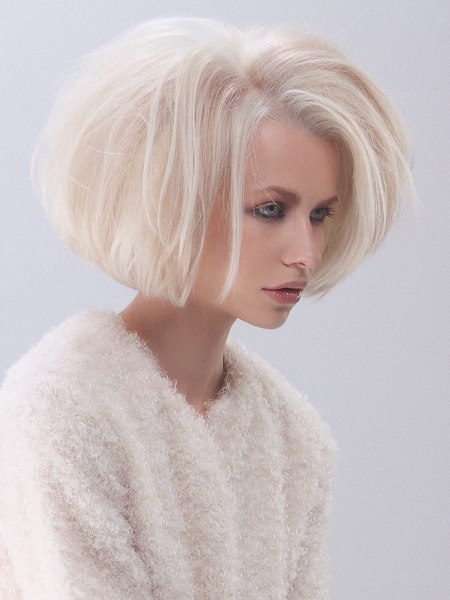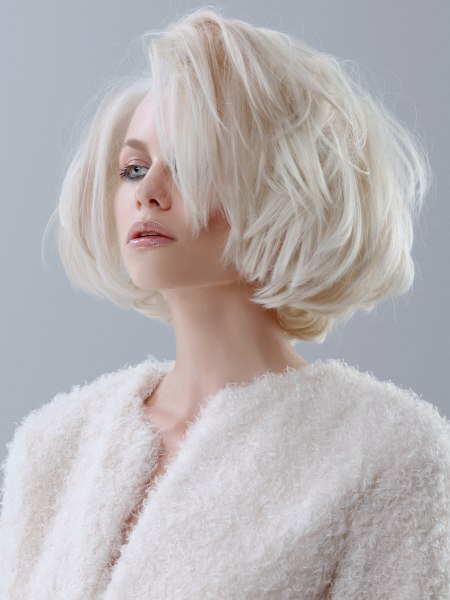 Did you know that a bob could be this sexy? Maybe this version will make this cut also your winter favorite. This bob still gets its elegant power through its simple lines and impeccable styling.

But now it comes with vavavoom volume. It will take a little effort, a blow dryer and a styling brush. Weightless and in a powdery snow color it will make you feel like floating on a cloud.


Hair Color Dip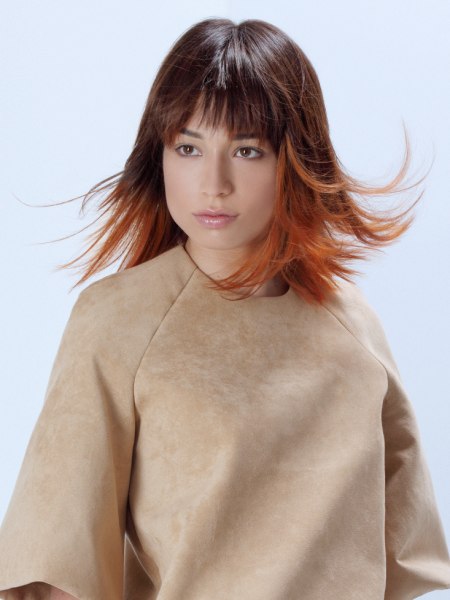 Layers make this shoulder long bob sway but it is the hair color that gives it that much spice. The brown hair seems to be dipped into a pot of fire and comes out with copper glowing edges that smoothly transition back into the earthy base color.

The cut celebrates texture but it is kept to basic lines. Feathery sides and a point textured fringe give it such wonderful softness.


Divinely Messy Hair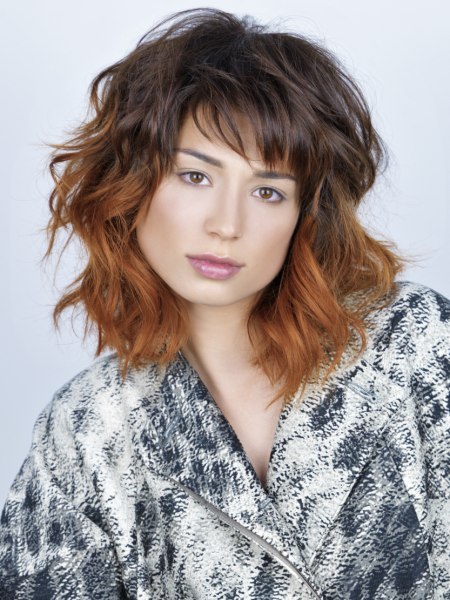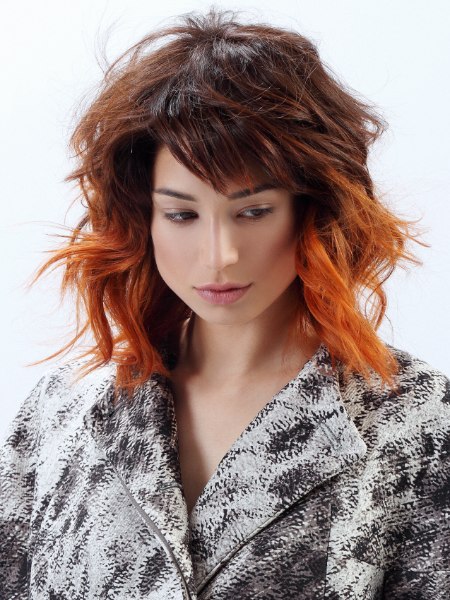 With this cut the step from soft texture to a gloriously tousled look only takes minutes. As basic as it is, the shoulder length bob is filled to the brim with mesmerizing character and life.

The color is applied in a tied dye method allowing the darker brown root color to permeate halfway through until it mingles with the red hot copper. Finger styling, a little teasing and a good ruffling create this effortless and yet intense texture. Go for the wild and create magic with your hair!


Sleek and Flawless Hair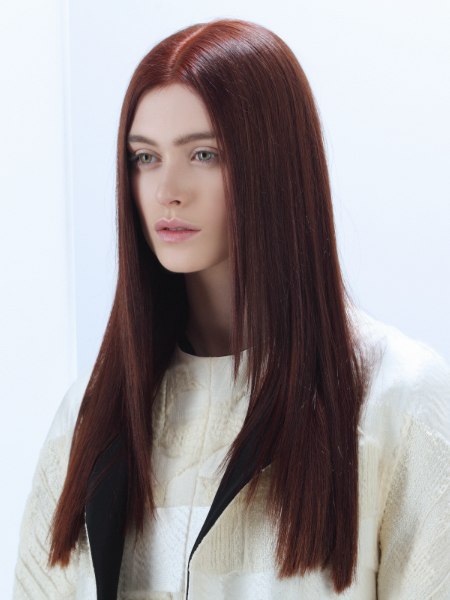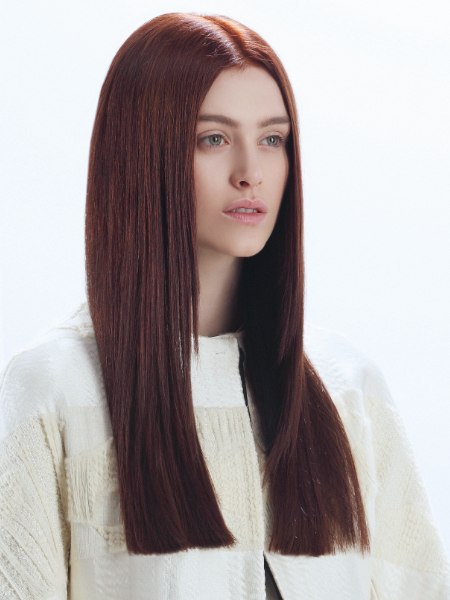 This long look is all about the hair, its shiny health, the beautiful sleek fall and the flawless color. Minimalism can be this exciting!

A center part lets the style stick to the motto of the collection and the asymmetrical razor cut tapered texture along the sides makes it irresistibly exciting in an under the skin going, unshakeable way. This is subtlety played out to the max with the most minimal elements.


Long and Sleek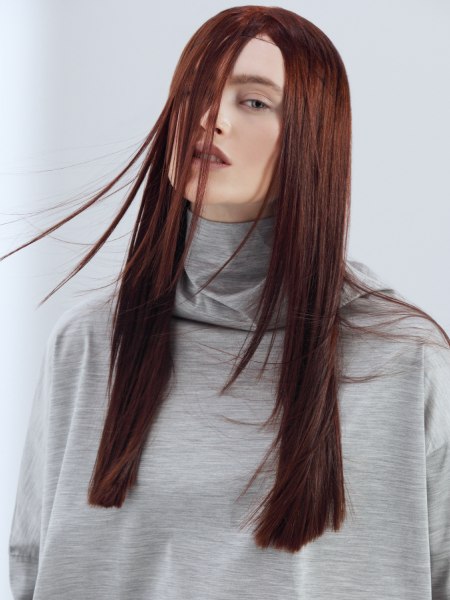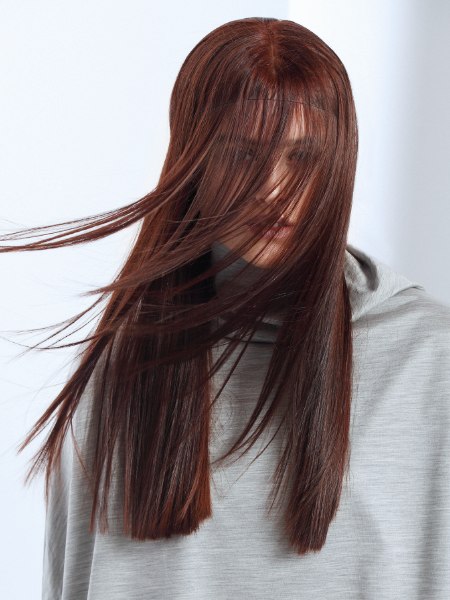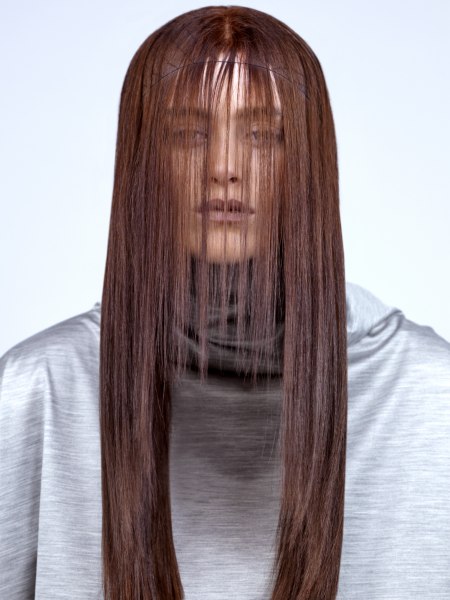 A simple move of the center part to the side and a bit more surface texture changes the expression of the very smooth long hairstyle in the last picture. This is the wilder twin sister at play now with a strong focus on displaying the angled layers on the sides of her haircut.

Modeling crème is a great product to use to accentuate tips and individual strands even in very long hair. The hair is styled over her face and some artistic disorder makes it very hip.

Hair: Paul Gehring for ALCINA
Make-up: Fabrizio Camponeschi
Photography: Carlo Battillocchi