Je Suis Moi by Camille Albane


Sometimes life is all about you. You create your own world and how you present yourself to the worlds of others. Your hairstyle is one of the first impressions that reflects your self image and how you want to be seen.

Camille Albane dedicated the latest Fall - Winter collection to the precious you. Express your personality with cuts and colors from this brilliant palette of styles. Flamboyant red or epic blondes and browns come in sleek and curly textures, in all lengths and moods that go from elegant and sexy to playful, casual and tomboyish. Find your inner tune and play it out loud!


Long and Soft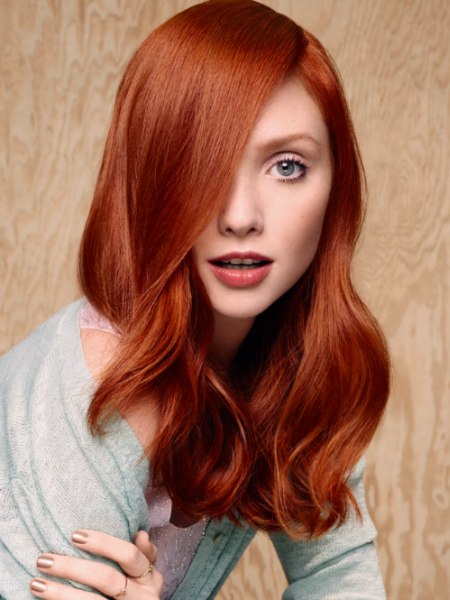 Joyful mystery in red. Embrace a new color this fall and best if it is such a brilliant, warm and sparkling red. A little asymmetry in the style ups the elegance level. The hair flows softly, in generous movement over half of her face and past her shoulders where the motion increases slightly.

Use a smoothing product to make the hair look this supple and shiny. Individual accents can be worked into the hair with a curling iron.


Center Part and Curls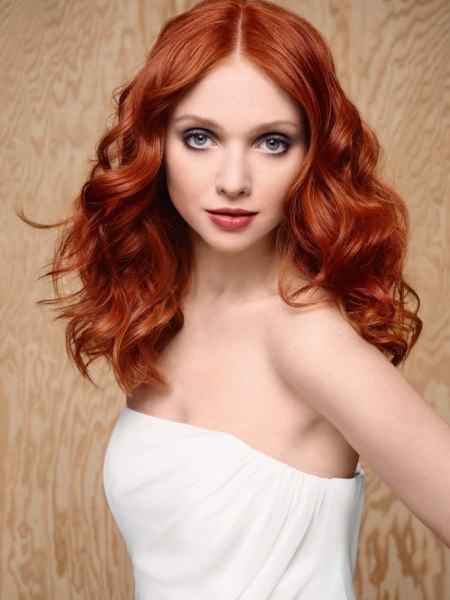 Romantic curls cascade down over her shoulder with balanced weight on both sides through a simple center part. A very natural look, yet it is full with glamour and the length, as luxurious it may be, is still manageable.

The styling is completed with a curling iron, individual strands are loosely separated and some ends wisp up playfully all around. The main attraction is however the hair color. A most flamboyant red lights the path to self expression and perhaps a new date.


On the Up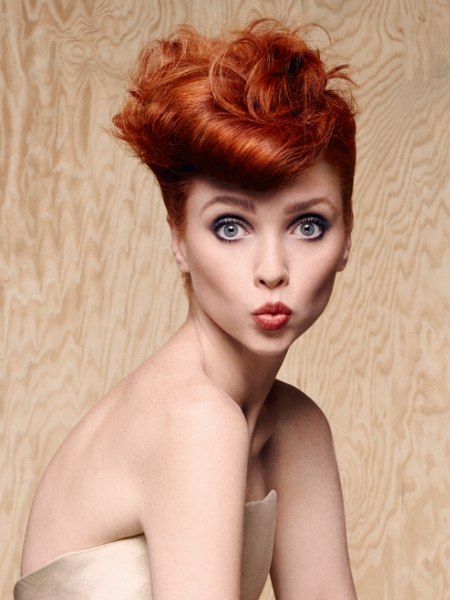 Upstyles are the star of every festivity, be it a small dinner party or the grand gala. Be ready for every occasion with this unique and thoroughly charming style. It has elements of a retro classic, but is arranged slightly askew to give it a modern dimension and to tease our perception.

More fun is another reason to shift the balance slightly to one side. The red hair was brought to the back with the sides all nice and tight. The long frontal section was shaped to a lovely barrel that is tugged in and has loose ends sprawling out from the center of the crown. A flattering style with much character.


Spirals of Love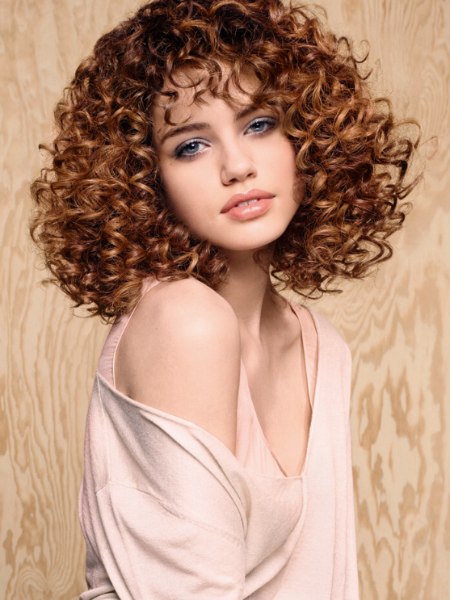 If you love curls than this is the style for you. It does not get much curlier. Long spirals twirl their happy ways all around her head, leaving just enough room for her face to shine and be enveloped in a radiant frame of golden brown locks.



A few strands make up the adorable fringe which provides a soft and joyful ingredient to this very feminine hair style. Natural curls are the ideal base for this look and with the help of rollers or a curling iron and some patience, the boundless beauty will spring right up.


Upstyled Curls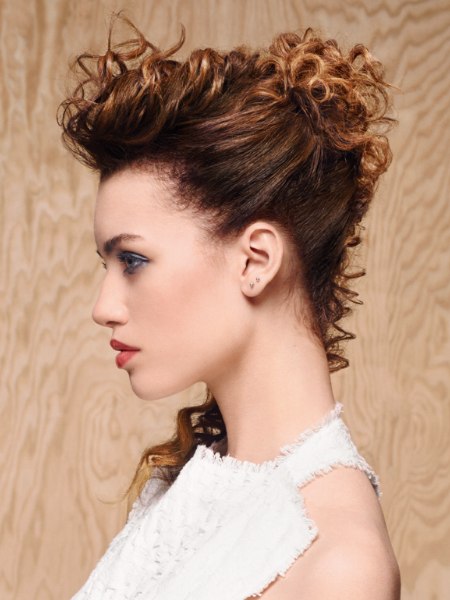 There are many reasons for upstyles and no matter which one is yours, it will always make you feel special and beautiful. Of course it is also a great way to show off your latest earrings. The intense curls from the previous picture were partially tamed to create the tight sitting and sleeker sides.

The hair was brought up to the back of the crown where it was shaped into a round bundle of luscious curliness. A couple of dreamy spirals escaped and now adorn her neck. The fringe was pulled up casually and features a soft texture with a bit less control than the rest of the style. Casual and still very elegant, perfect for the little black dress or your new cashmere sweater.


Short Curls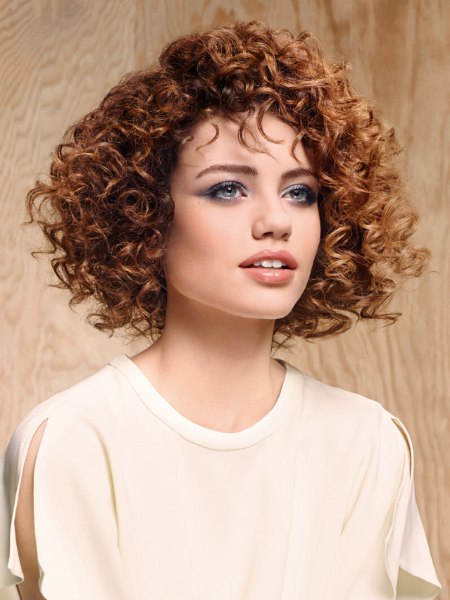 You like a little twist in your appearance? Go for the curls! They will instantly infuse a happy spirit into your style and into your step. Radically beautiful and playful with spirit and a personality that cannot be quite tamed.

And why should it be? Leave them open with a little side part and let the layers take care of the good shape. A neck length spirally bob with divine texture and volume spices up the short days and long nights of the colder season.


Curly Classic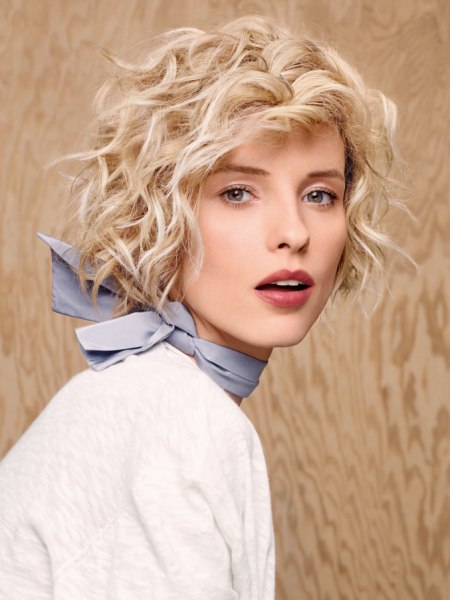 A timeless short bob shimmers in a pastel blonde with light and dark tones to keep it very natural like a field of wheat in late summer. Loose waves and curls are styled with the fingers for a deliberately, yet controlled messy look, which makes this hairstyle so very contemporary and utterly charming.

A great way to wear your hair if you like to keep it practical, but don't want to sacrifice anything in the style department.


Short and Textured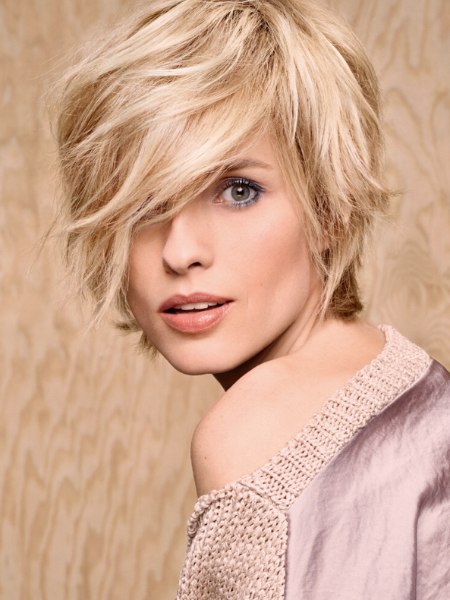 Another example of how intriguing this luminous wheat blonde can be. Light beige with some darker accents and no brassy overtones at all is a soft and flattering color that matches all lighter skin tones.

Her hair is layered and strongly textured inside out and top to tip. The focus point and strongest style element is the long fringe that can fall over the face or be pushed to the side, just as you feel. Short, casual and very sexy.


Deconstructed Round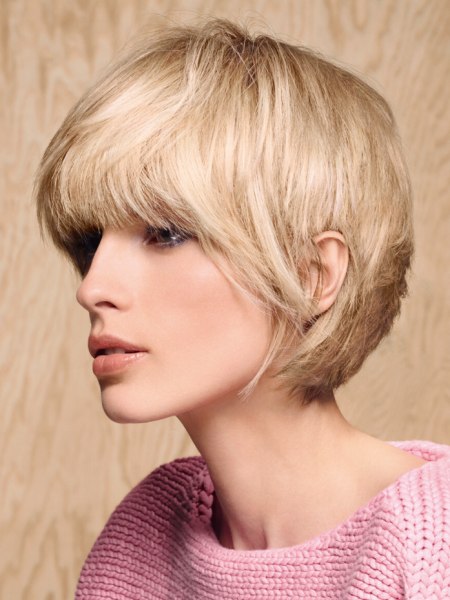 The famous short bowl cut, a.k.a mushroom cut or round cut has been taken apart and put together again with fresh inspiration. What is left of the classic ancestor is the round back and thick fringe together with the overall smooth line.

And this is where the new fun starts! A play with lengths results in longer strands that frame her face right before the ears and some that come down on the edge of the full fringe. Some movement on the surface drops the old stiffness and brings in new esprit!

Hair: Camille Albane
Photography: Nicolas Valois