Jack Holt - SS14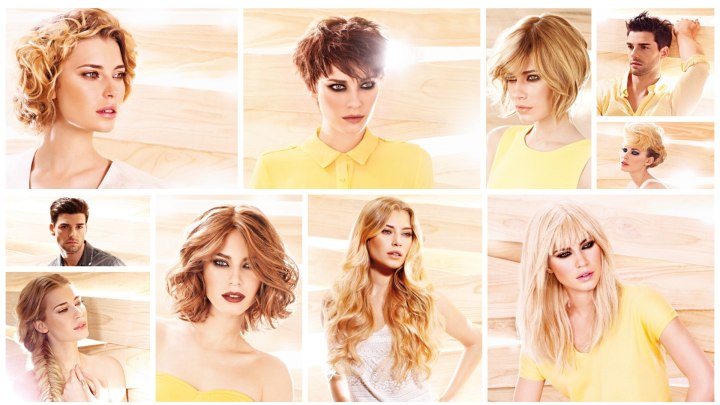 Go for the light! Jack Holt's new summer looks are drenched by the rays of the sun and seem to reflect the essence of summer with every single hair. Golden blondes, warm reds and copper sizzle with seduction and also warm your soul.

Flattering and with just the right amount of drama, these hairstyles are classics with a new twist and are made to be ahead of all trends for more than one season. The cuts are shaped to match the features of each woman and man. Long or short, Jack Holt puts personality into the hair and makes each style as unique as the person who wears it.

Click here to watch the video of this collection.


Luxurious Long Blonde Locks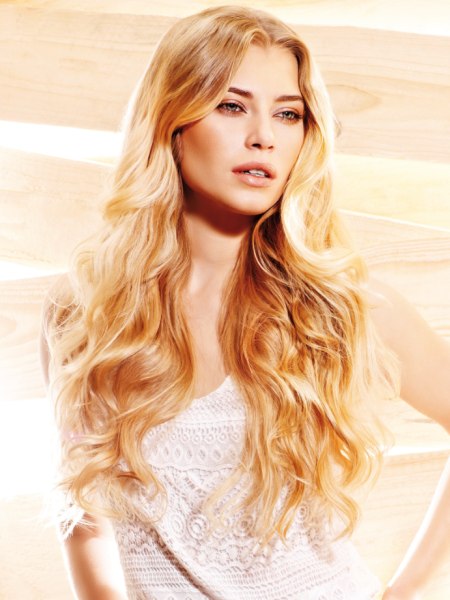 Her hair makes her look as if she was dipped in liquid gold. This luxurious mane is all about showcasing the beauty of hair. And there is much of it. Almost at waist length, the cascade of layered sunshine falls in a natural wave pattern.

All that is needed is a good brush, a little smoothing lotion and perhaps a curling iron to accentuate the ends as much and where you want to. It is the quintessential mermaid look with a simple part in the center. The color is a few tones lighter on the outer layer and in the tips, making the color look very natural and like fresh from days on the beach.


Fishtail Braid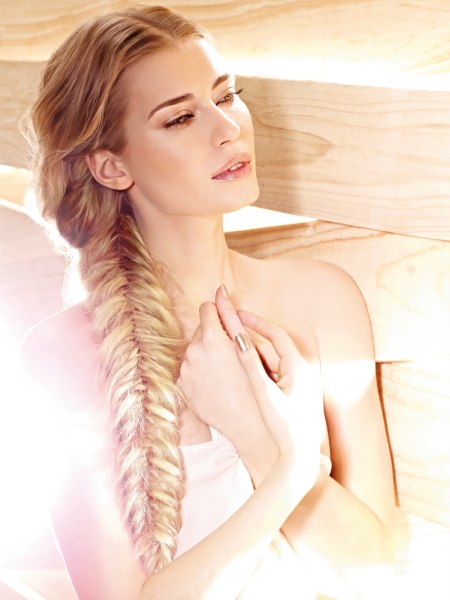 A lustrous, long and perfectly crafted fishtail braid falls over her shoulder and she does not even have to sing her siren song to lure them all in. The braid is deliberately rough with some ends sticking out and the top hair is casually disheveled, but taken all out of the face.

This is a great look to protect the hair in the sun and water and once opened the hair will fall in the most beautiful waves for an elegant and ravishing evening style. It takes a little effort, especially with hair this long, but it is well worth it.


Long and Open with Bangs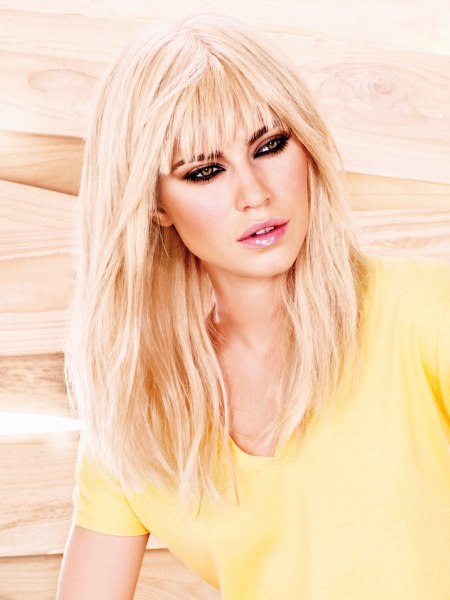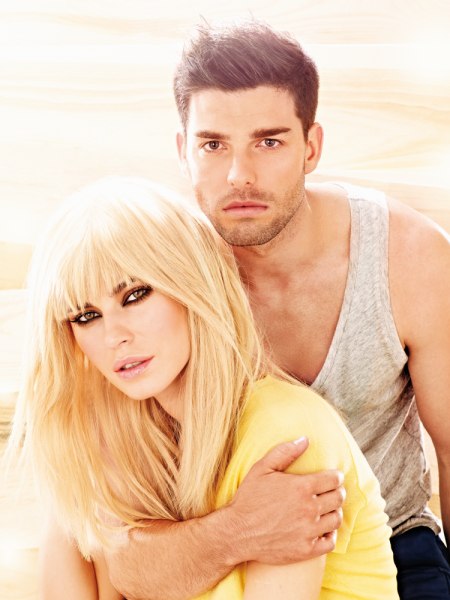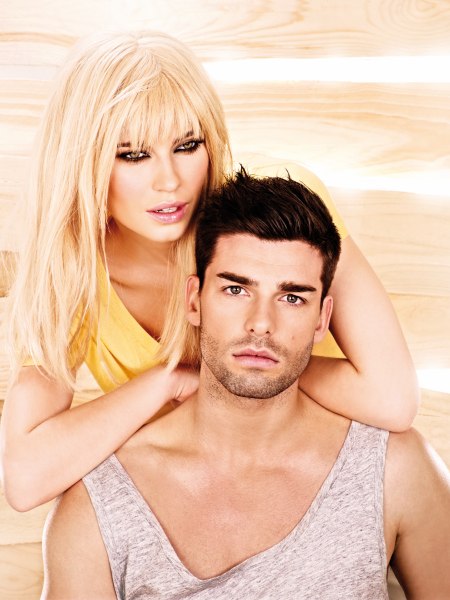 Bangs are charming and bring attention to the eyes, while taking years, if not decades, off your age. This Brigitte Bardot style comes with long layers and much strong texture in the tips to add more the relaxed and casual elegance that it expresses so effortlessly.

The hair color is a very light wheat beige blonde that seems to glow from the inside. A perfect match with her skin tone and the ideal backdrop for expressive eyes with pronounced lashes and smoky eyeliner all around.


Wavy Bob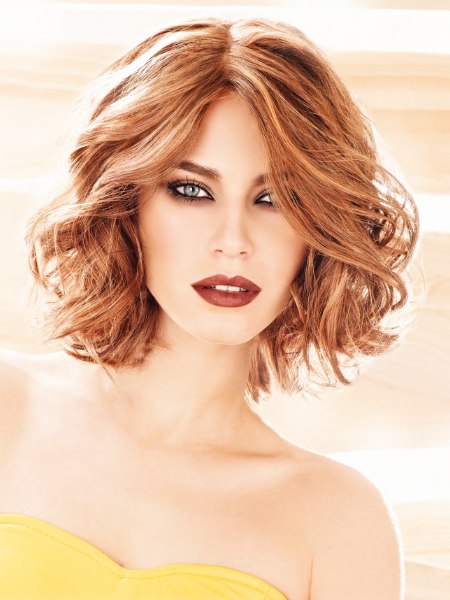 The full volume of this medium long bob is stunning enough, but in combination with this hair color the style just turns ravishing. With the part just a wee bit off center, the hair falls almost evenly to both sides, but with a little more excitement than a mere center part would give.

The layers show around the bottom where they are cut in an angle to help the abundant curls to bounce up and around. Large waves frame the face in their highlighted glory. Warm blonde streaks bring life to the copper base color.


Short Hair with Movement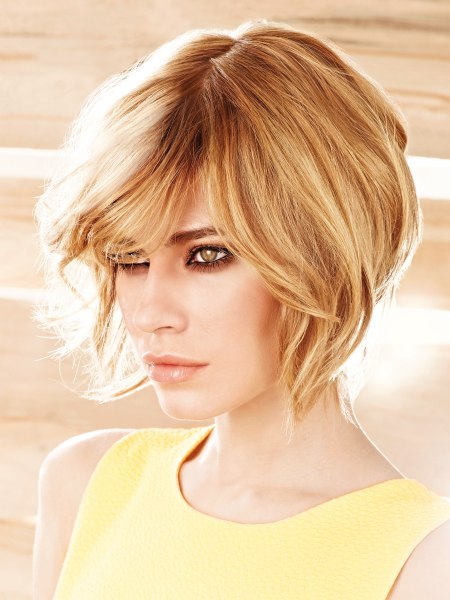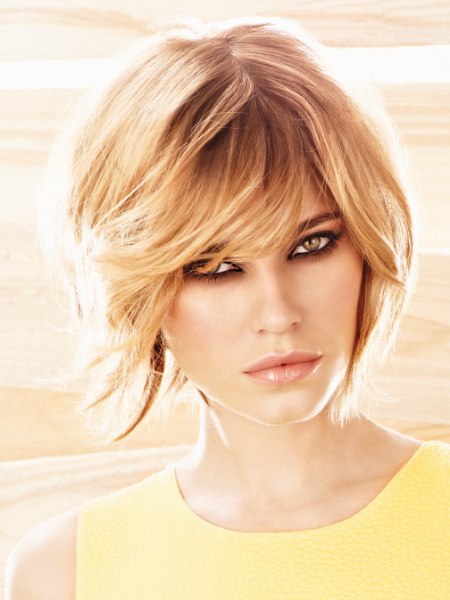 This short bob looks as if it just jumped out of a book of poetry. Who knew that an A-line bob could be so romantic.



The secret is all of the movement that was brought into the hair. A thick round brush to blow dry the hair over brings takes the volume to its highest potential and a curling iron helps with the details around the face. Several shades of blonde give it a sun drenched and naturally highlighted look.


Light Meets Dark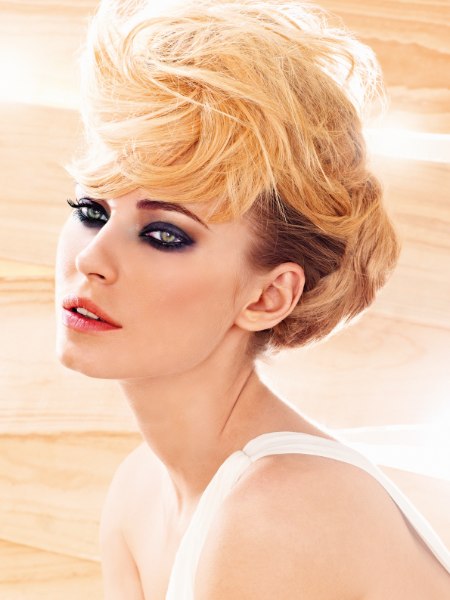 It is not an undercut that you are looking at. The lower hair was dyed brown to contrast the tumultuous blonde hair that swirls around on top. The upper layers in the back are also light. The visual effect of this dark and light hair color combination is very dimensional and modern.

With its short sides and long top hair, this cut was created to move. Style it with a round brush and the fingers.


Short and Messy Waves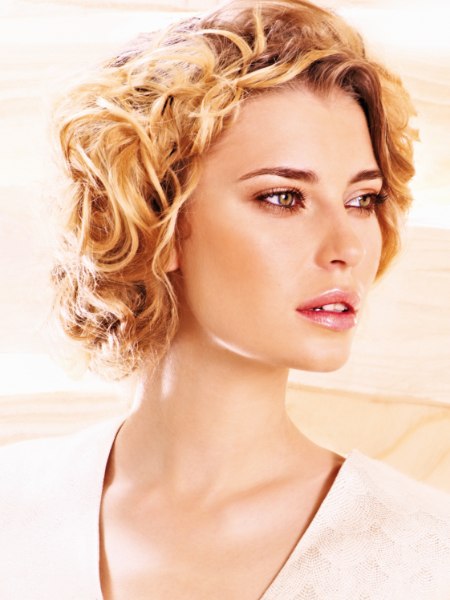 A great hairstyle from the done and undone department made for a long and hot summer. The wavy and curly bob is slightly layered and shows a darker tone of color underneath and around the roots for a natural sun bleached appearance.

It was styled all off the face and with a little styling lotion the definition of the waves becomes very distinct and almost has a wet hair effect. It is casually styled with the fingers.


Easy Short Hairstyle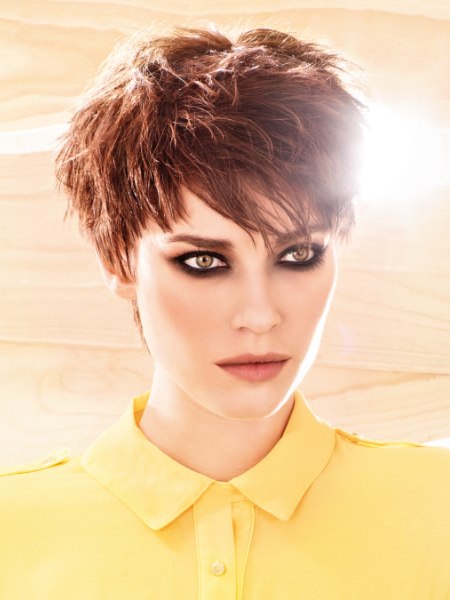 Show some attitude this summer and wear one of the sexy new short cuts. This layered little do comes to life with tons of texture for a real raspy and very chic look. It gets even more punch with the brown red hair color, a perfect complement for her green eyes.

The long fringe was styled diagonally and has a couple of strands that fall over her left eye. Sides are short and also styled into the face. Easy to wear and easy to style - what are you waiting for?


Men's Cut with Volume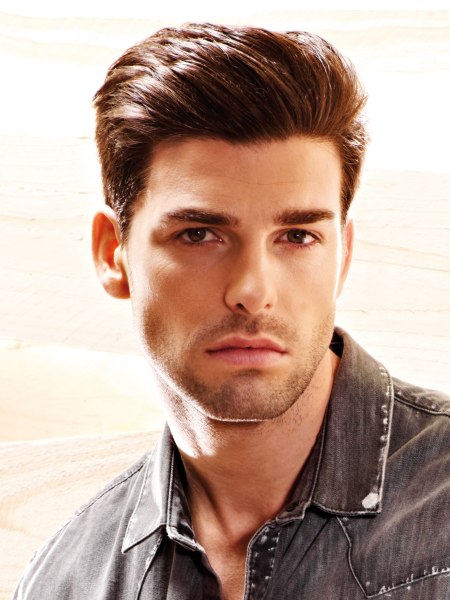 Guys of fashion still keep their hair short on the sides and longer on top for a multitude of styling options. He can wear it neat and polished as seen here or with some added product for a wilder look.

It takes a blow dryer and a styling brush to get the top volume up this high. The hair was then smoothed out and with a bit of modeling paste it will keep its shape way into the night.


Spikes of Gel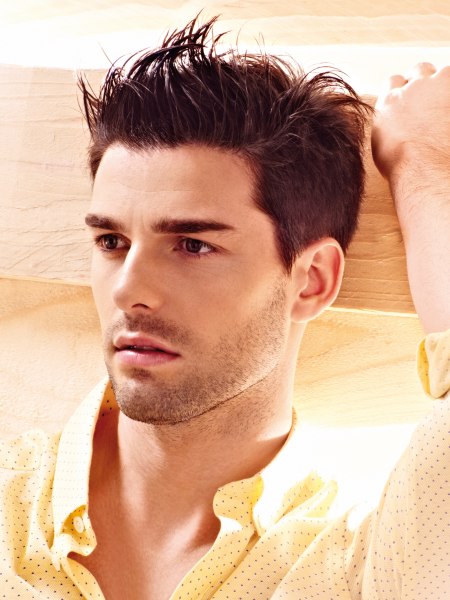 A little gel and up the hair goes! A great and adventurous alternative to the neat and smooth fashion hairstyles. The gel was only applied into the hair at the very top to stand it up and to give it the wet look texture. The sides are velvety smooth and ultra short with a clean outline.

Not feeling like shaving for a day or two has become a fashion statement and increases his rugged charm by points.

Hairstyles: Jack Holt
Photography: ©Laurence Laborie