"Escale à Paris" by Samuel Rocher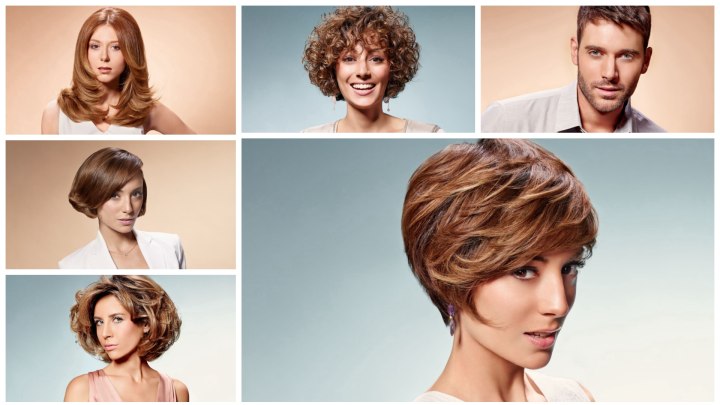 Samuel Rocher invites you to take a break and indulge in a stopover in Paris (Escale à Paris), the city of lights. His summer hairstyles reflect the spirit of this magical place with their timeless chic and the beautiful elegance of the light filled colors.

Styles for women are feminine with that little extra that makes people stop and look, yet always with a natural and effortless feel. No strict lines and edgy designs, all is flowing, full of movement and volume. Men wear their hair in traditional short cuts, which all have a little modern twist.



If you can't make it this year to visit the city by the river Seine, you can still look as if you did! Click here to watch the video of this collection.


Avenue Foch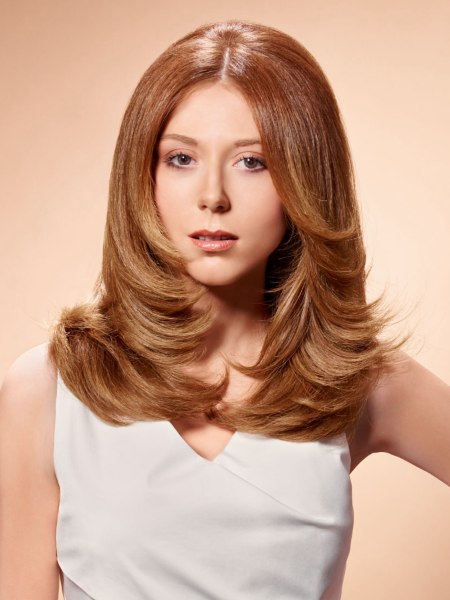 One of the most prestigious addresses in the world, Avenue Foch stands for palatial real estate and all of the splendor a historic city can have. Share the luxury with a suiting hairstyle! Understatement with refined lines is the key. Supple, healthy long hair was cut with a tapered line to frame the face. The shortest part touches the chin.

These wispy curves are created with a round brush and a curling iron to move towards her face and on the other side partially away from it. The lower ends are nestled over her shoulders in a dramatic flow. The back of the crown is slightly lifted for another very refined and subtle touch.


Opera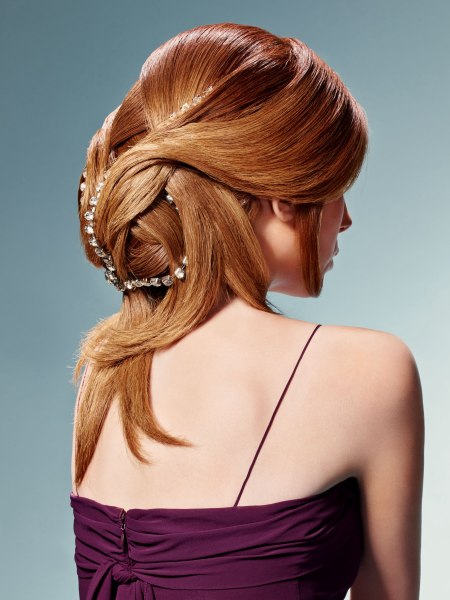 The Paris Opera is the place to go all out with luxurious robes and outstanding hairstyles. This amazing draped upstyle is embellished with a chain of bling, rhinestones will do instead of diamonds. The chain is interwoven in the intricate weaving and overlapping of the wide strands which were individually smoothed and draped.

The ends fall out loosely over her back and on the side of her face. A masterpiece of styling, this one will make you shine at any festive event. How about a wedding?


Rivoli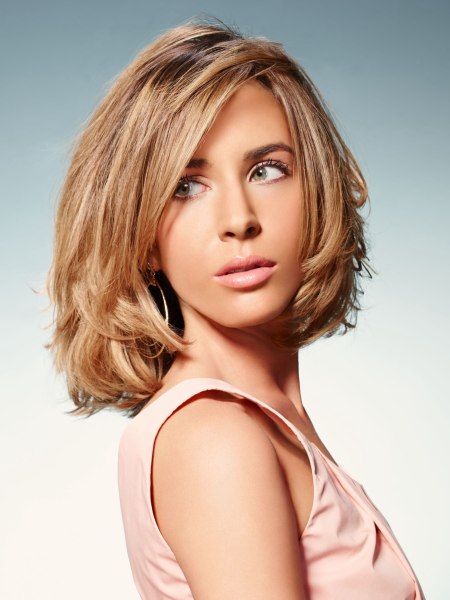 Just down from the Opera and close to the Louvre is the Rue de Rivoli with its amazing shops and exquisite boutiques. Indulge in your shopping passion in an easy to wear and stylish look that will keep its shape all day.

The long layers are parted on the side and reach her shoulders in a slightly disheveled, sleek and voluminous creation, which is casual but also has a strong hint of refined style. Her medium blonde color perfectly matches her skin tone and comes with gentle highlights for a pampered and posh appearance.


Place des Vosges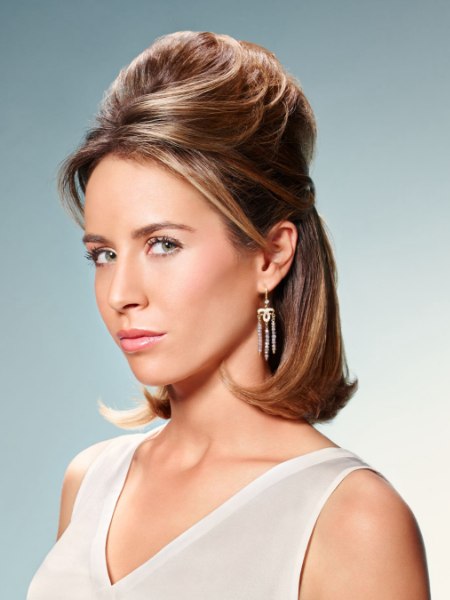 Visit the famous historic square with its park and many sights and look the part. Elegant and festive, but not overdone, this semi updo stuns with its high volume in the back of the crown and the charming strands that are cradling the face.



The upper half of the hair was teased and then brought together in the back and pinned. The lengths fall sleek and shiny with curved out edges for just another element of feminine allure. The fine highlights in her dark blonde hair compete with the luster of her chandelier earrings.


Place de la Madeleine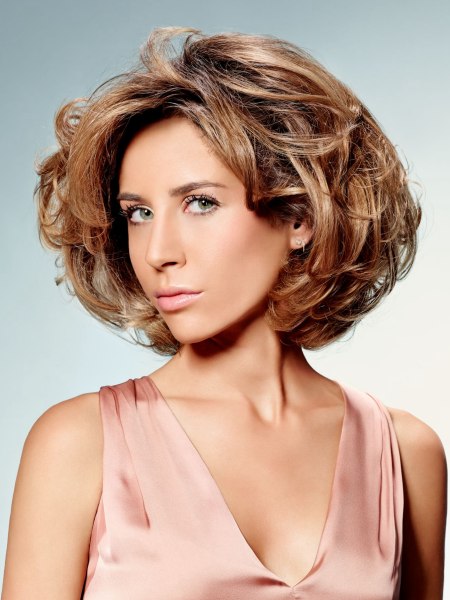 Named after the famous Greek temple style church at its center, the Place is ringed by fine food shops. Enjoy your Parisian lunch in style with a voluminous short and layered hairstyle, that is just as extravagant as a French dessert. This modern diva look has it all, the movement and the body.

Layer after layer was rolled over large curlers and then gently arranged to create this tempestuous volume, all coming together in a well designed round shape, that reminds of iconic stars from the glamorous times of cinema.


Place Vendôme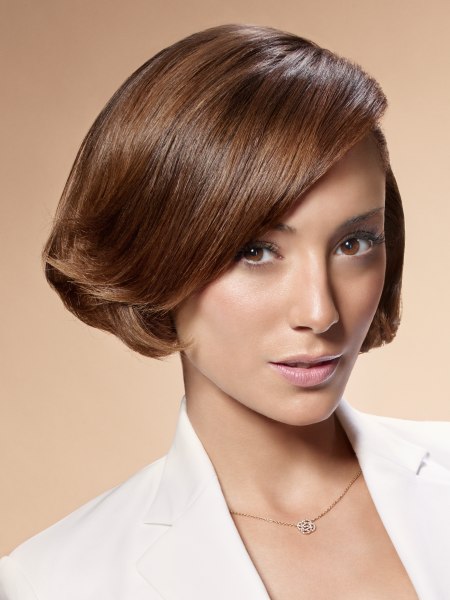 Home to the famous Hotel Ritz and marvelous architecture the Place Vendôme is still a center of style. Blend it with this very Parisian short haircut, simple and extraordinarily elegant. The hair reaches the corner of her jaw and is cut sleek except for the last couple of inches, where a light layering assures the shape.

A wide fringe was swept over to one side and gently curved back in the tips, the ends are neatly curled inward for an exceptional fit. Light brown with some shadows and gentle highlights provide eye candy.


Avenue Montagne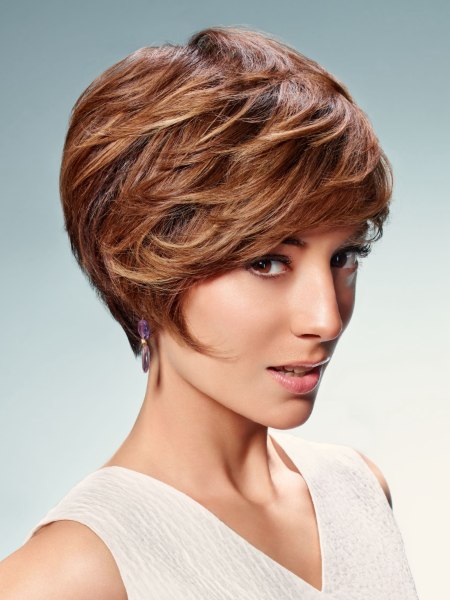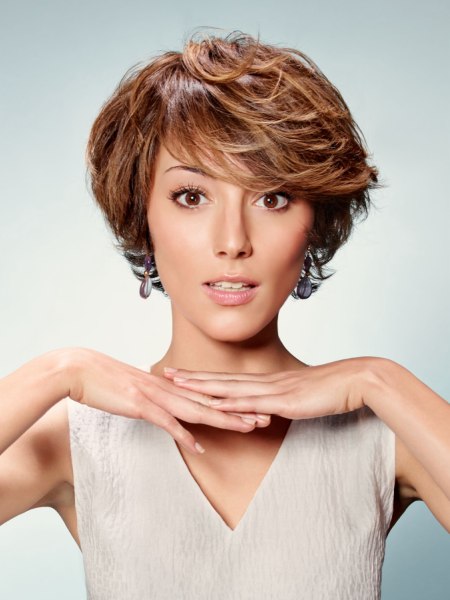 Major fashion houses have made this prestigious avenue their home. Visit Valentino, Dior, Wendi, Chanel and Louis Vuitton and flaunt your adorable new short hairstyle. This very "oohlala" coif comes to life with many layers and a perfectly tuned shape that fits her features and face shape.

A narrow neck and much volume on top create a teardrop shape that is especially suited for women with a small face. Don't forget the sexy curl that reaches into the face. The fringe floats to the side and you can have it to the left or the right. Adjust the volume to your needs.


St Germain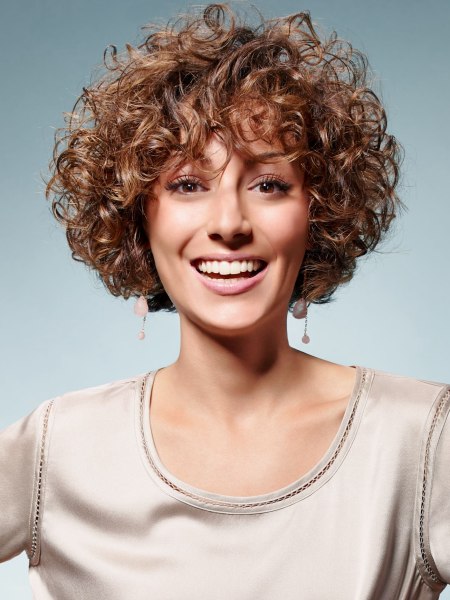 Throw yourself into the nightlife and the bustling art scene of St. Germain and follow the footsteps of Sartre and Simone de Beauvoir. A head full of happy and undisciplined curls is just the right look to get your own existentialist flavor.

The beauty is in its simplicity with a harmonious round shape and hundreds of defined small curls that playfully surround her face and fall into the face with the light bangs. A good layered cut and not touching a brush are the key. Use a very wide toothed comb and your fingers to adjust the shape of this fresh and free short hairstyle.


Palais Royal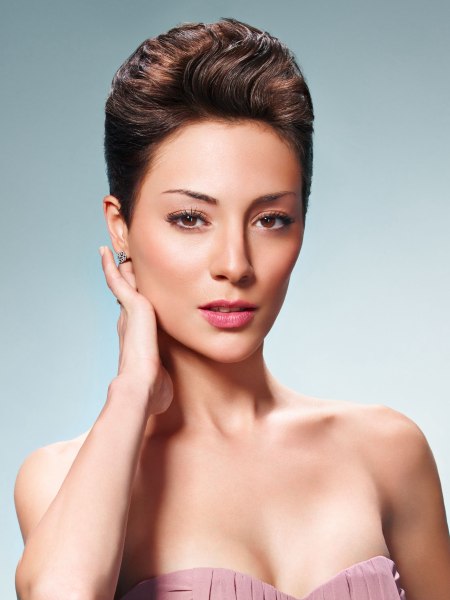 Stroll through tangible history and show your best side with this elegant short hairstyle. All the hair is styled out of the face and almost appears like a classic upstyle from the front, however the hair in the back is short. This effect comes from the smooth styling of the hair, which is longer on top and decreases in length down the sides.



A good gel or a non greasy pomade or wax can be used to achieve this great effect. A lithe volume in the roots makes it so elegant.


Place de la Bastille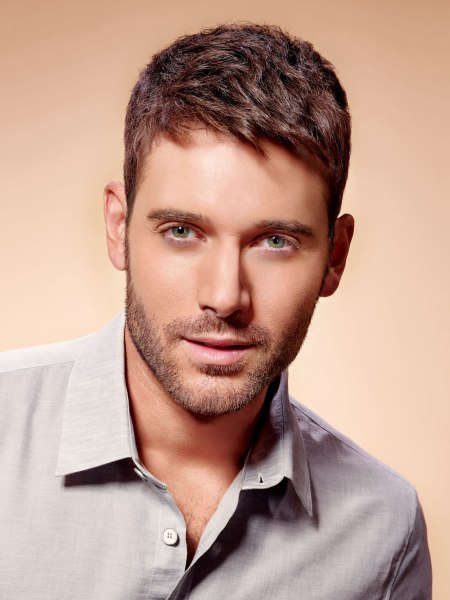 The old prison La Bastille does not stand anymore and in its place there is a row of cafes and nightclubs. Just the right place for him to show off his dapper new hairstyle. It is short all over and layered for good fit.

The top hair is just long enough to add some movement into it and to style it diagonally forward as seen here. With some extra product he can transform this cut easily into a more spiky look as well. A short and well groomed beard gives him a handsome debonaire appearance.


Luxembourg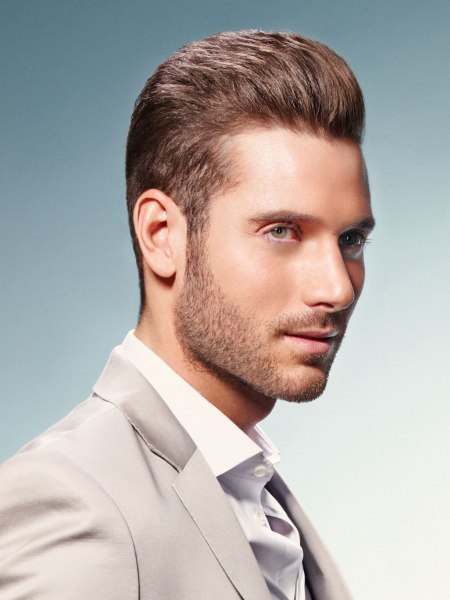 The Luxembourg garden and palace are brimming with history and so is his hairstyle. It is a classic men's cut with a neat and practical short length all around, except for on top, where some volume and the backward styling give the hair such character.

This look goes with a suit, but also with a more casual outfit. It goes especially well with his short facial hair, just a few days of growth controlled by a clean outline.


Saint Louis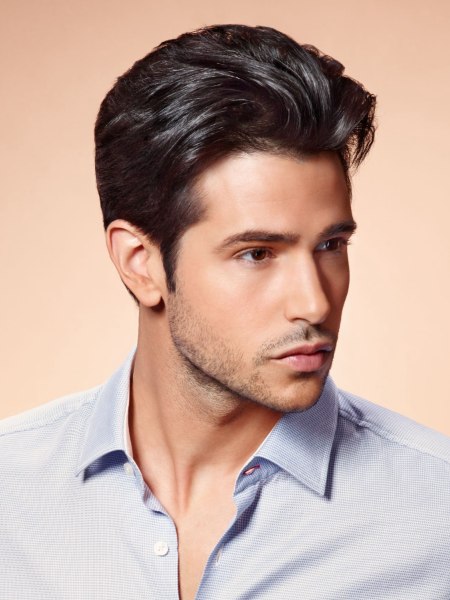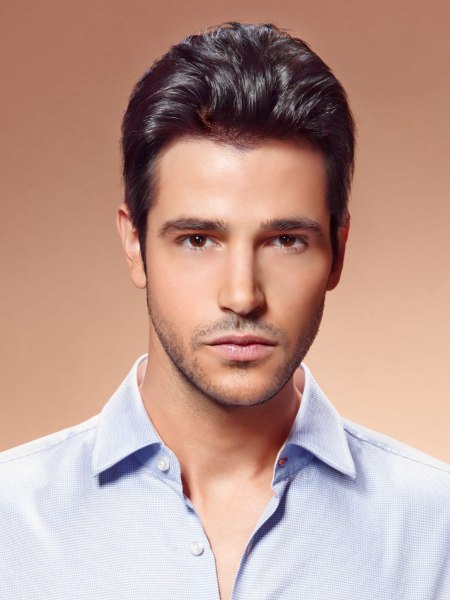 He may not be a saint, but does not have to be prowl through the narrow one way streets of the Ile St. Louis, one of two islands in the Seine. His hair has a bit more length than the two previous cuts for men and is ever more alluring and seductive.

Nothing beats a swept back fringe with some rebellious hairs that just want to fall into the face. The sides and neck are short and show a flawless line. Mesdames and Mesdemoiselles, watch out for that one!

Hair: Samuel Rocher - Paris
Photography: Pedro Pacheco