"Angels" by Paul Gehring for ALCINA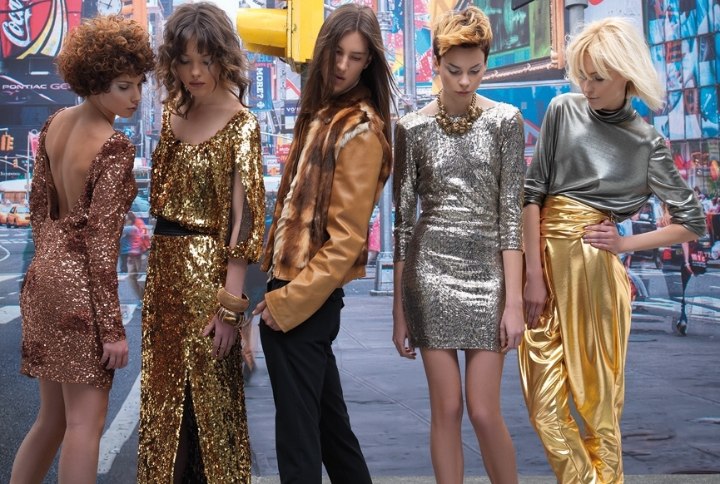 Even if you don't have any wings, you can unfold your angelic self with one of the inspired new hairstyles by Paul Gehring for Alcina. The soft looks have a deeply poetic nature that is created with much imagination, not to forget the celestial shimmer of the colors. Short, medium and long looks for women and long flowing hair for men come sleek or with curly textures.

Become a warrior against dullness and refuse to succumb to mediocrity and the hardships of life. A fabulous hairstyle is tangible luxury that everyone can afford. The secret is to have it tailored to your personality, shape and lifestyle. The Angels Collection reflects the international runway trends for the finest of materials put together in utter luxury with a retro feel and a forward looking approach.

Click here to watch the video of this collection.


Blonde Bob with Bangs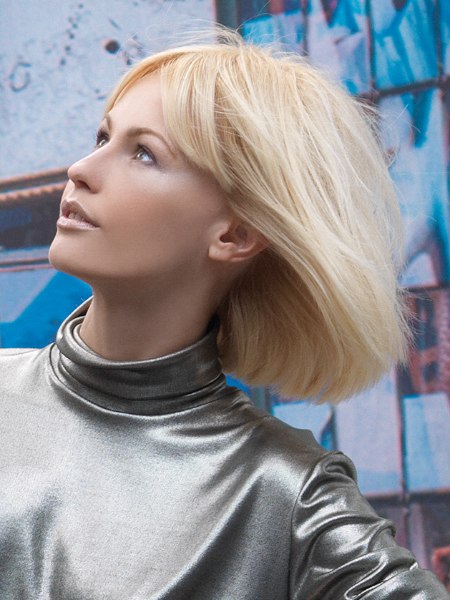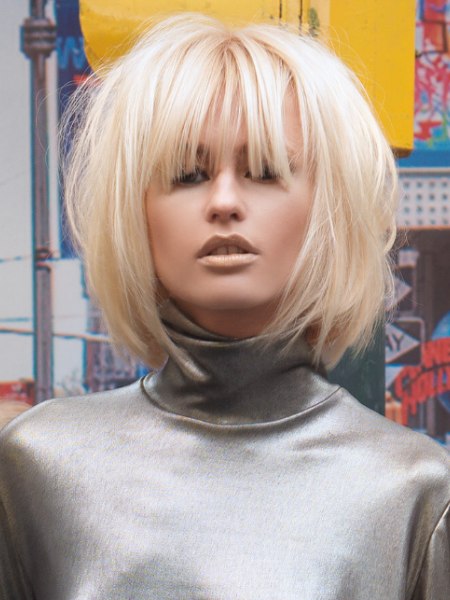 One of the most versatile and beautiful hairstyles of the season is once again a bob. This soft blonde creation comes with an extra long fringe, slightly parted in the center and softened at the cutting line, it provides a beautiful emphasis to her eyes, whose color is also reflected in her flowing shiny rollneck top. An ingenious integration of hairstyle and outfit.

The bob has the perfect length to show off the soft shiny turtleneck but of course also looks amazing with bare shoulders. It has soft volume and is curved in under the chin, following the shape of her head. This length between short and long is the most elegant and versatile with a high dose of timeless chic, but always looks very contemporary.


Soft Curls with Bangs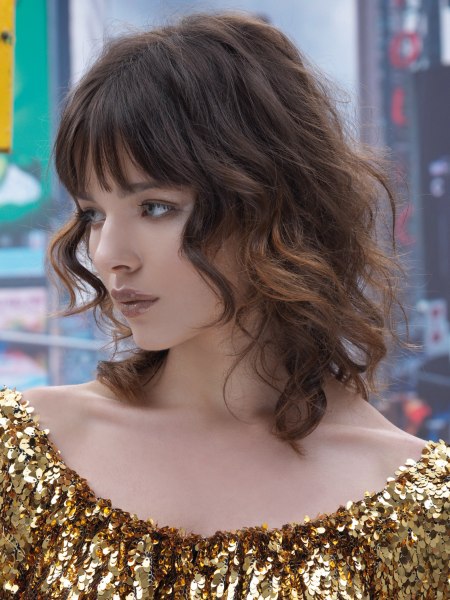 Straight and brow length bangs are combined with an abundance of soft long curls for a modern and yet very romantic look. The festive and glamorous nature of the hair is enhanced by the beautiful addition of lighter strands along the side.

The light chestnut hair color gives a precious gleam to the dark brown base color and works so well with the bright golden sequins of her dress. Even without the grand gala gown, this hairstyle is all about luxury.


Angelic Updo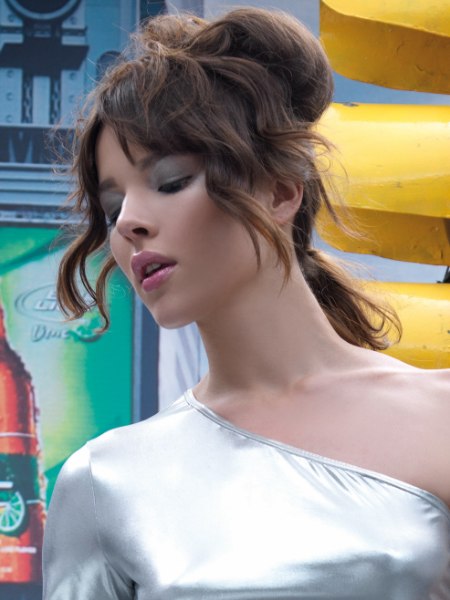 This hairstyle makes you ask - where is the harp - as it oozes poetry and romance with the memory of great fashions from the past centuries but the modern shape of the straight and center parted bangs makes it very current.

Her long curls are piled up in the back center of her head and ends are left to run loose where ever their nature pulls them. Well, a little help was given with a curling iron and hairspray. The perfect look to make a statement at festive events.


Cherub's Curls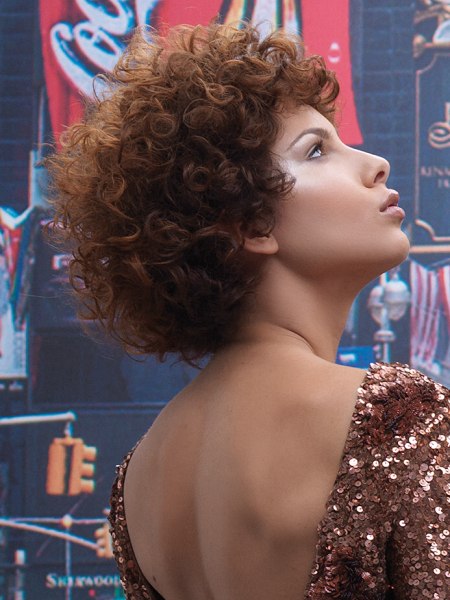 The layers are going from very short in the neck to longer on top and create this beautiful round shape with most of the mass above her ears. A halo of hair for natural curls or perms. The fringe was cut short to allow the face to unfold all of its beauty.

The curls seem to have a live of their own as they go against any inertia and seem to reach up to heaven. This lifting effect becomes even stronger with the use of lighter tones of hair color on the top and a stronger shadow along the roots.


Punk Inspired Pixie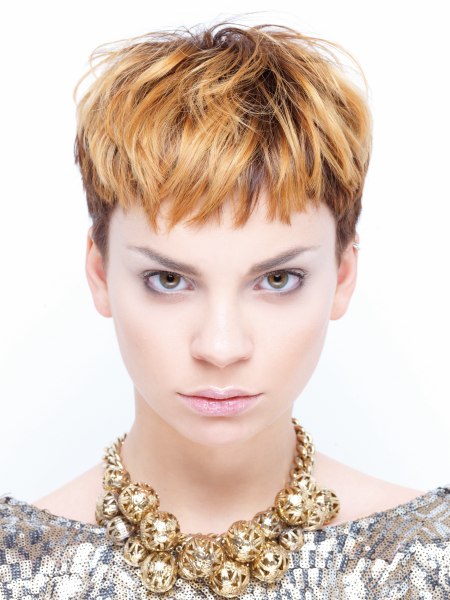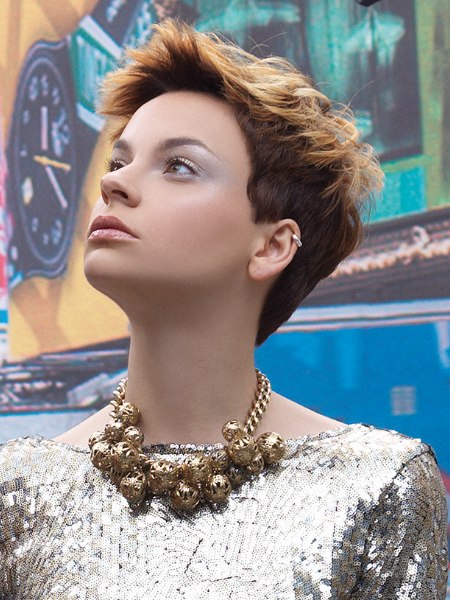 A punk inspired pixiecut with an angelic texture and coloring for the lovers of short hair. Sides and neck are clipped to a minimum and with their dark brown color they form a great canvas and base for the blonde, golden and copper shimmering top hair, which is much longer and can be styled in many different ways.

Here it is directed towards the face in a loose pattern. It covers but does not hide the raspy short undercut of a fringe with longer and textured strands.


Long Hair for Men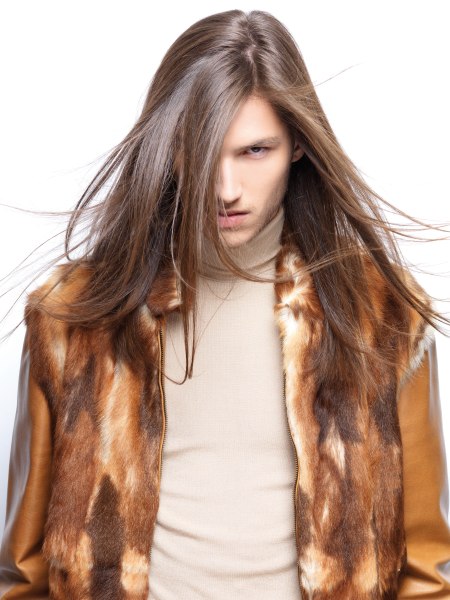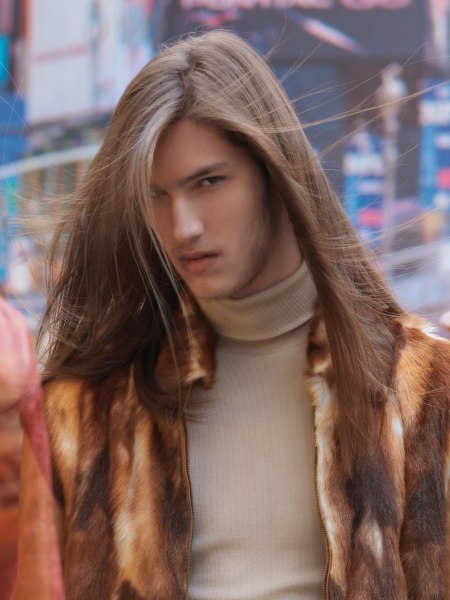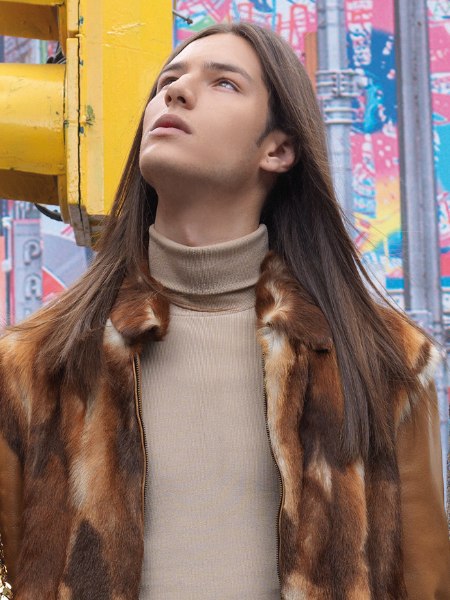 There was a time when long hair for men was a standard. And these times might just come back. It is just too beautiful to not become one of fashion's hottest trends. The key for long hair to look this great is healthy hair, a little styling and lots of shine.

His hair is super straight, reaches about mid back and is parted on the side with a little kink in the part to add a touch of rugged and masculine. A hot iron helps to pull it this straight and shine serum helps with the seductive shimmer. Leather and fur in their utter luxury are a must have combination for this kind of fairy tale mane.


Updo for Guys


What to do with the long hair when it is in the way of a cool designer jacket collar? Up with it! Upstyles are just as suitable for men as they are for women. Just forgo long curly tendrils on the side and instead show off your sideburns.

His long hair was separated in a horizontal line at the midpoint between ears and crown. Both sections were taken to the back where they were twisted and twirled and pinned down in a not too polished pattern. Sides are tighter than the top with a little of frontal volume.

Hair: Paul Gehring for ALCINA
Make-up: Fabrizio Camponeschi
Photography: Carlo Ballocchi