Révélation by Bruno Melgani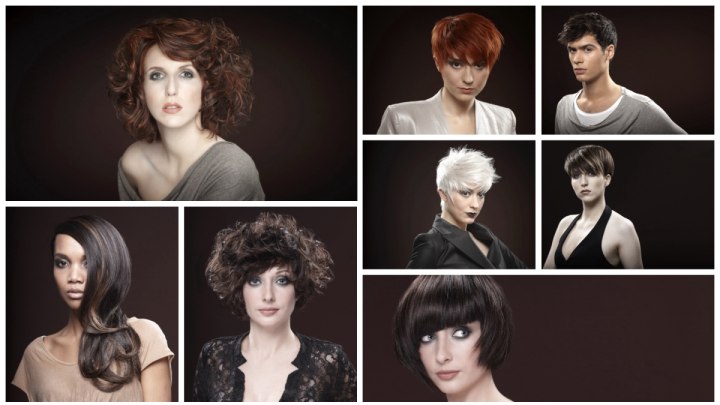 Scroll down for more photos ↓

Feminine hairstyles can have many shapes and most of all many lengths. Bruno Melgani brings softness back to hair, even in short and spiky looks. The collection is called Révélation and rightfully so. Each one of them reveals not only the true beauty of the woman who wears it, but also shows us amazing techniques to make the most of our hair.

Curly, classy, short and sassy or bohemian and wild boy looks come in natural hair colors with soft cocoa tones, warm browns and reds. Of course a supercool blonde has to be a part of this party too. And the best news is that you don't even have to speak French to look like you just got back from a visit to Paris!


Short and Spicy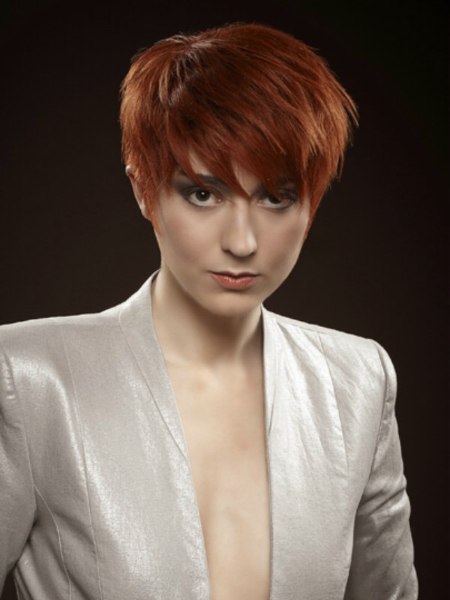 A dynamic short hairstyle with plenty of texture, great movement and a flamboyant color. A haircut with a longer neck and a charming little flip.

The main body of hair is layered and textured throughout and then styled from the back forward. It is this diagonal movement and the seemingly random spikes in the fringe that give this fun haircut its edge.

Much volume was generated right on the crown, by pulling the hair away with a paddle brush when drying it. Some mousse keeps the lift up and helps with the definition of the textured strands.


Sassy with Broad Highlights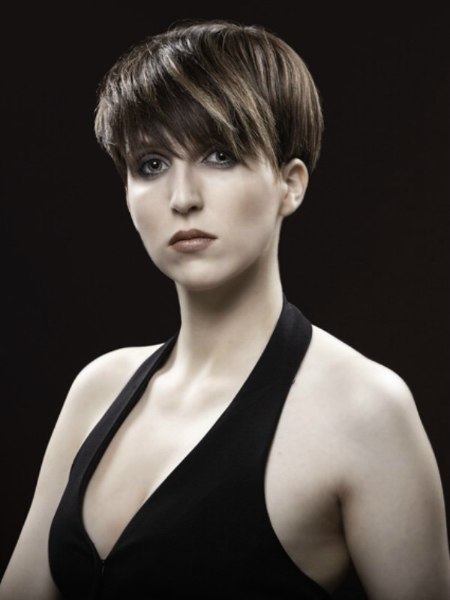 Moving away to softer colors, this short hairstyle is similar in its cut but takes on a whole new flavor with the cooler tones of its colors. The diagonal movement is brought out with a few wide streaks in a muted dark blonde, a color that also adds luster along the sides but in much smaller strands.

The base color is a very elegant cool brown, reminiscent of older photographs. This is a great cut to hide a trendy undercut on one or both sides.


Bob with Asymmetry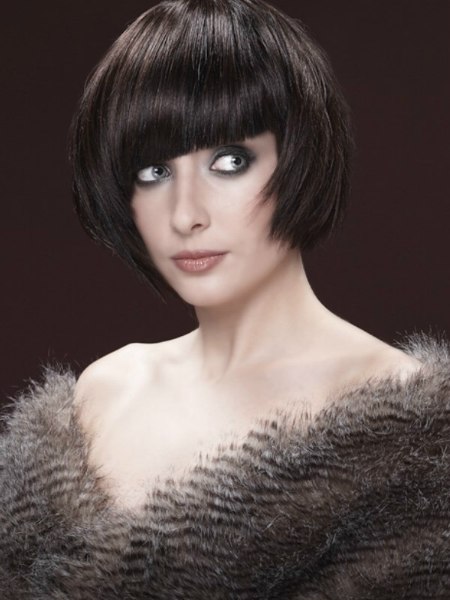 What a little shift of lines can do! Take a round bob and add some angles, out comes a sexy look with that special something that makes heads turn and itself unforgettable. The fringe is tilted, and one side is about an inch longer than the other.

All throughout are well placed layers to boost volume and to create the irresistible rounded shape. Her hair color is equally alluring in its dark truffle tone that boasts the shine of satin.


Big Curl Volume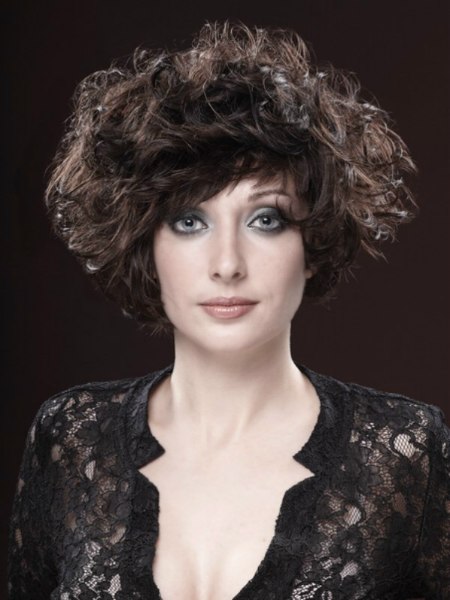 Nothing says glamour like a head full of big curls. This ultimate volume shows a perfect ratio of definition and disheveled curls. It is sexier this way. A diagonal shift in the bangs drives up the sizzle even more and just adds a nice element of movement to the look.

All of the texture that frames the face is extremely flattering and has a softening effect on the features. This short hairstyle, as elegant as it may look, can handle it to have fingers run through it!


High Ends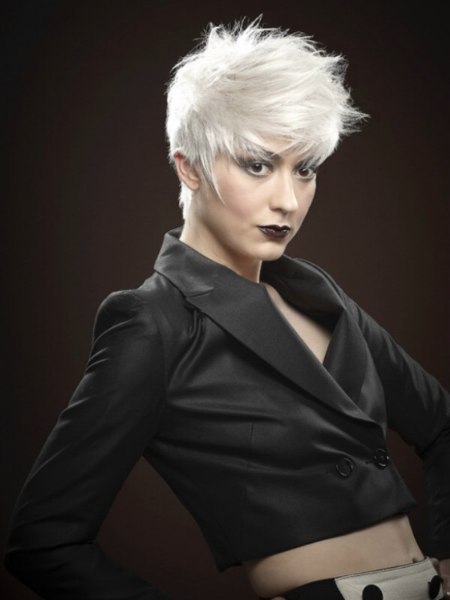 Determined lines give this short haircut character. The massive movement of the hair is even stronger through the different lengths that are incorporated, the layers and the heavy texturizing that leaves no tip untouched. The hair was brought forward and up at the same time with emphasis on keeping the ends high and pointy.

A section of spiky textured hair comes in the forehead from both sides. This look is powerful and elegant and looks great with the trendy blazers and shoulder pads. The hair color sparkles like slivers of white diamonds.


Volume with Multiple Colors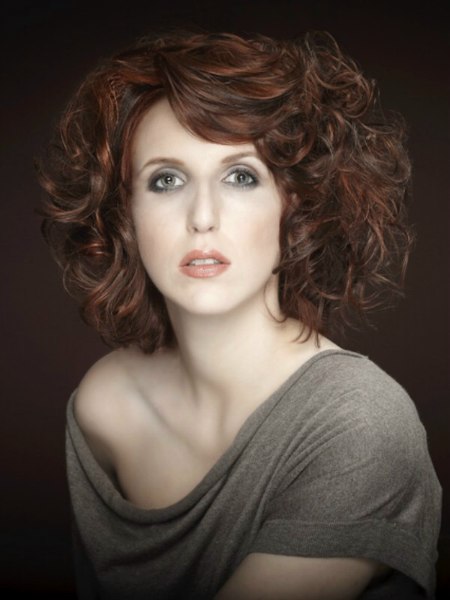 Go a little big bigger than you first thought you wanted. You deserve to be the most beautiful you with the most voluminous and breathtaking hair that you can have.

Her medium long curly hair has layers all over, which distribute the weight and also allow the curls to spring up as bouncy as they do while coming together to such a great and balanced shape. It is parted on the side, an easy way to create asymmetry. The subtle effects of the blended brown tones, cool and warm shades, is very elegant and unique.


Arabesque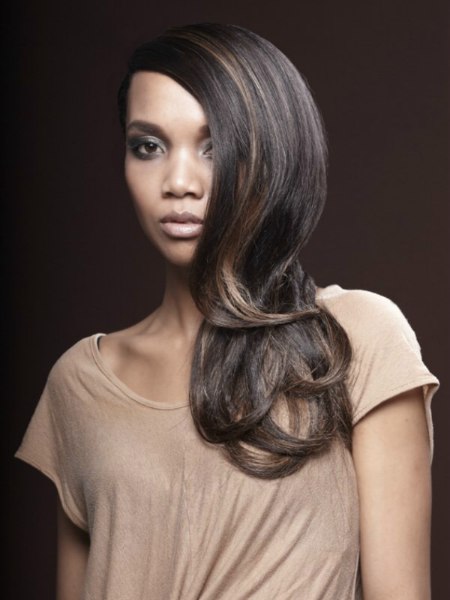 It does not take much to create drama in hair. The subtler the better and the old rule of less being more is once again confirmed by these asymmetrical, large curls. The hair was brought to one side and smoothly slung over one shoulder.



A few long layers are curled in the lowest part and now form this beautiful and effortless looking pattern. There is a natural feel to this long hairstyle but also so much sophistication. A few highlighted color effects illuminate this already perfect vision.


Flexible Haircut for Men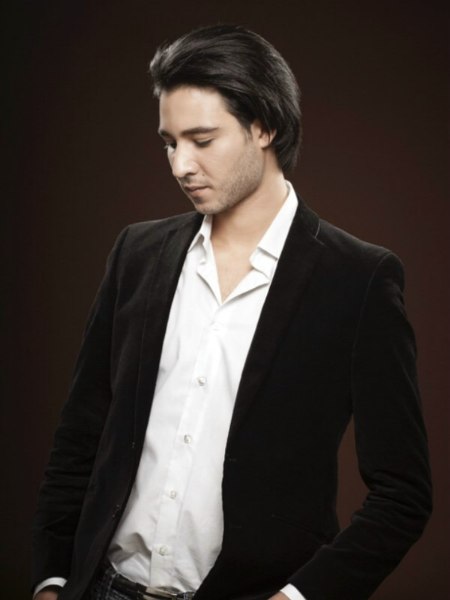 Haircuts for men have more length again and with that he is able to adjust his look to all of the facets of his lifestyle. With this back styling the hair looks bohemian in its length but clean and neat with the refined outline.

Nothing is left to coincidence and even his fresh stubbles play into the casual but dapper idea. The different lengths inside of the cut and the texture is not visible with this smooth styling. But check out the next hairstyle and find out for yourself what a mere change of direction can do.


Bringing it to the Front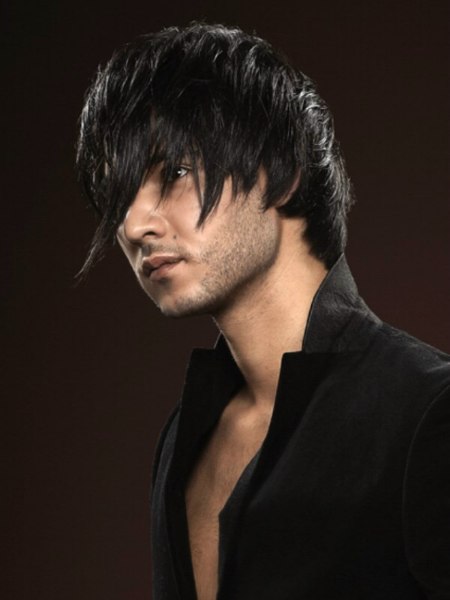 One day he feels nice, but nothing can stop him from feeling a bit naughty the next. His haircut can go through all of those moods and attitudes with him and can be adjusted every day anew.

A little bit of styling lotion, gel, pomade or a serum were worked into his hair, which was then brought forward with special attention to individual tips that are now more pointed and emphasized.

The longest strands fall into his face and over his eyes for an especially passionate and wild look. Of course this goes great with black silk or leather and an upturned collar.


Wavy Volume for Him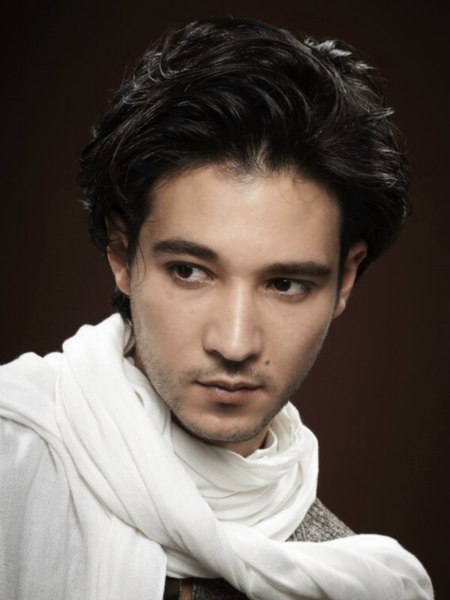 Having wavy hair this soave does not make him a softy. But it does add a romantic touch to his appearance and can help break the ice really quick.

The long and textured layers are now full of lightness and volume and the light natural wave is enhanced by scrunching the hair with the hands and massaging special wave products into it. The new wave enhancers allow nature to come out fully and gives it hold, without being sticky. A nice shine is a very welcome side effect.


Modern Men's Cut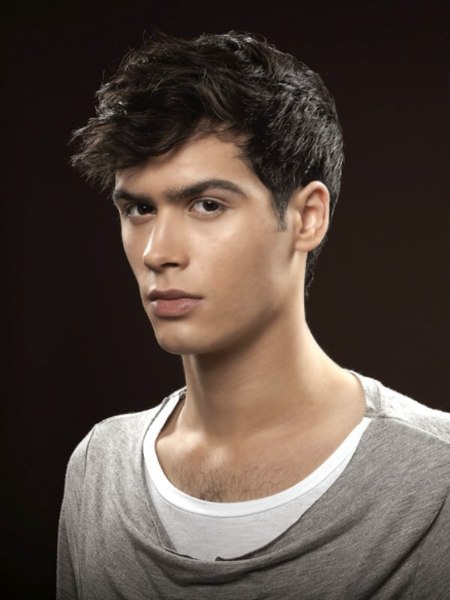 The shorter the back, the longer the fringe can be. And that combination puts his new haircut right on the top of the trend. A close-cropped head all around is literally crowned with longer locks that gradually develop out of the shorter section.

The fringe is light and wavy, making his hair a bit more playful and touchable. The hair color is a natural dark brown that corresponds very well with the color of his eyes.


False Mohawk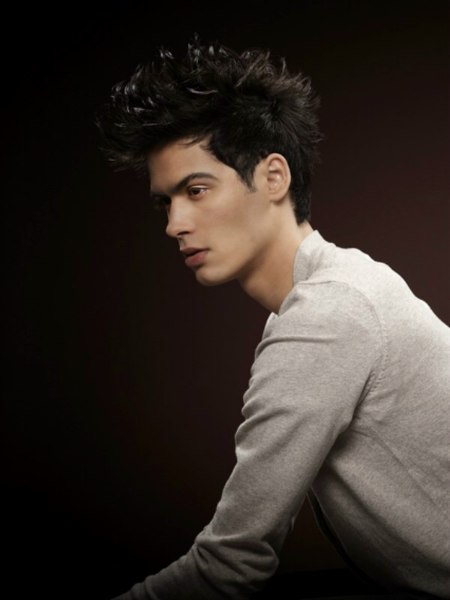 The gradual lengthening from the very short back into the fringe of the look before makes even more sense now, seeing what great shape reveals itself when the hair is lifted up. With the sides that are, of course, still short and the long top hair, the true nature of this cut reveals itself.

A faux Mohawk is a fun way to express oneself and to show an adventurous and playful side. And if he gets tired of it, he can push it all down again in no time.

Hair: Bruno Melgani

See also: Short hairstyles | Medium hairstyles | Long hairstyles | Men's hairstyles