FabriKa by Loft Parrucchieri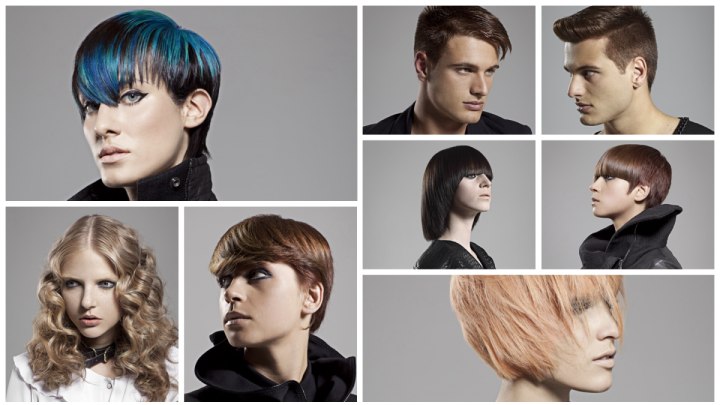 Scroll down for more photos ↓

Creative attention to lines, patterns and color combination takes hairstyling into art. The designers at Loft Parrucchieri did not let anything hold them back when they created this latest stunning hairstyles collection.

A new approach to traditional lines makes fringes long and up styles bigger, it gives curls new shapes and takes geometry to new sharpness. But most of all it sprinkles a lot of Italian "gioia di vivere" (lust for life) over everything.



Hair color contrasts make for some bold statements, but there are also just the perfect looks for the more romantically minded among us. It does not matter how extravagant you want to be, these looks will fulfill even your wildest wishes.


Masculine Cut for Stylish Women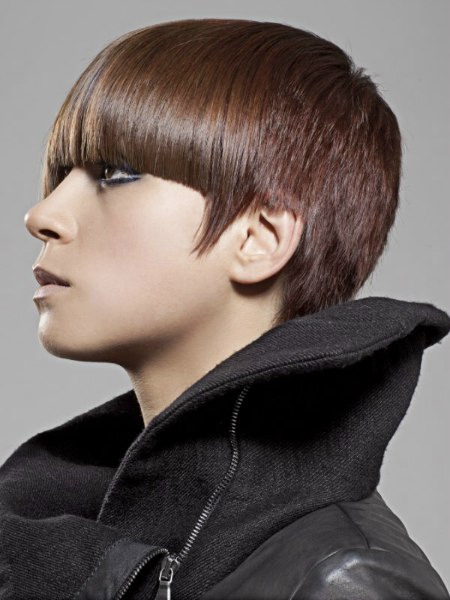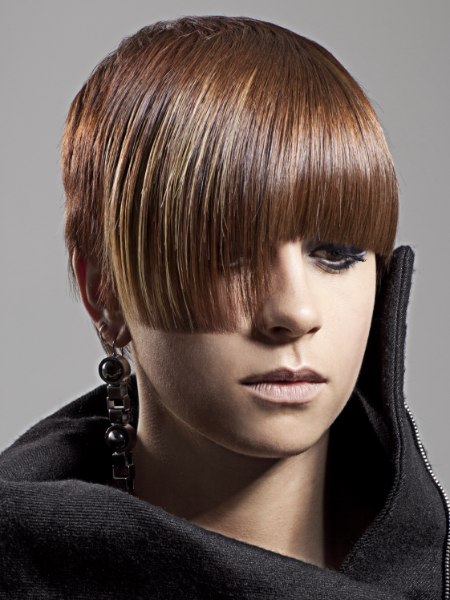 Opposites attract. This is also true for haircuts and contrasting textures all in one style. This well balanced and refined short haircut generates a lot of excitement with the long, straight and extremely sleek bangs which are set at eye level and span from one pointy sideburn to the other. From here on the hair is cropped very short from nape to top.

Sleek and velvety soft textures are now next to each other, shaped with a neat outline. Her beautiful brown hair color is so shiny it seems iridescent and the different textures of the hair reflect the light and therefore the color in a different way.


Flipping Bangs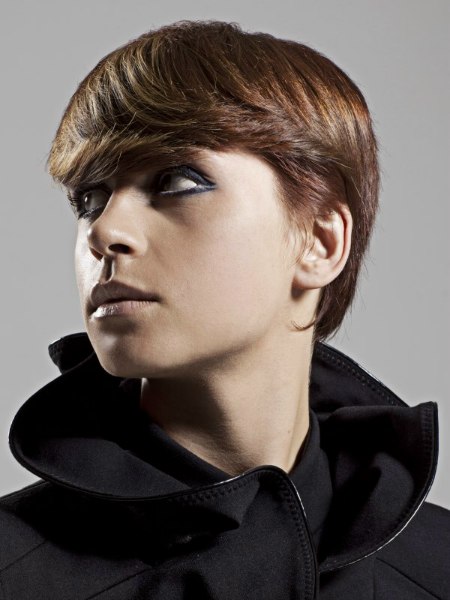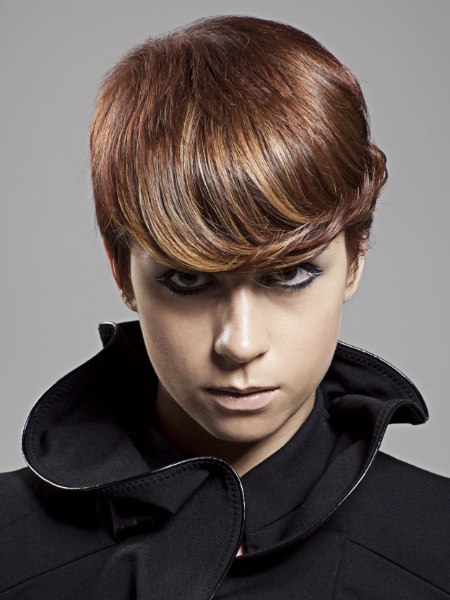 Short hairstyles put much focus on the bangs again this season. This not only makes the looks more feminine but also makes room for several cool variations in styling. A very cute way to bring attention to your eyes and movement into your hair is this pretty flip in the very ends of the sleek tresses.

A feathery surge runs all along to the fringe and then around the ear, where it fizzles out in a cute and thin curl. The back hair is shorter than the top, and the silhouette is round and neat. Shine spray makes a great finish.


Spikes and Stripes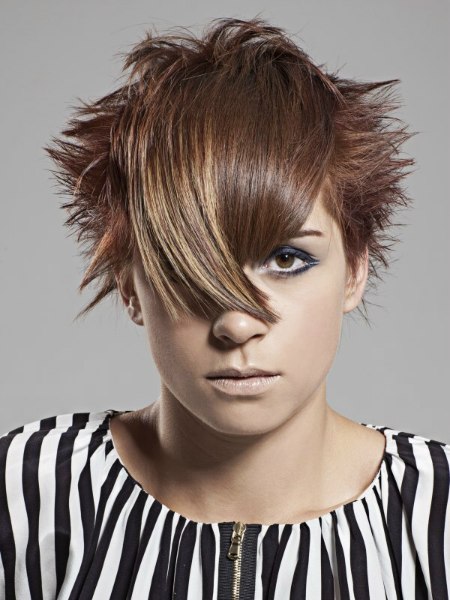 This short hairstyle is a serious cross-over! Spikes cover the back half of her head, and the front is dominated by a most unique fringe. It is made of two sections of different length that overlap on the center.

One section reaches just below her eyes and the other almost the tip of her nose. Highlights and lowlights intensify the effect. The texture of these stylish bangs is sleek and there is only minimal texture in the tips.


Sculpted Bob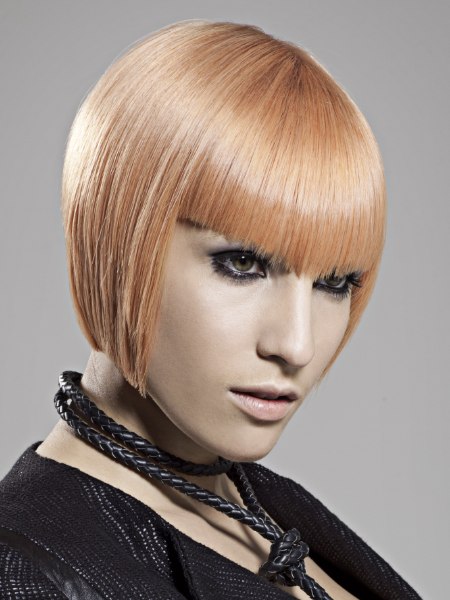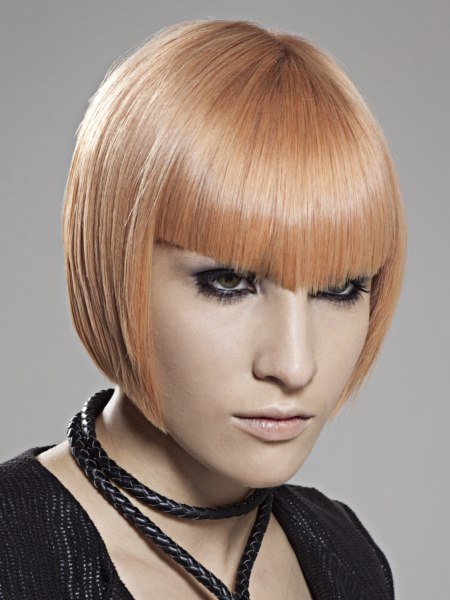 Geometry meets the high art of cutting hair. The result is nothing less than stunning. If you are ready to show your powerful side opt for a modern classic like this bob. The lines are determined and strong, the medium blonde colors softens the appearance, but just a wee bit. The charisma and strength of this angled cut and its sleek styling are unsurpassed.

The fringe is cut with an extra visual treat: It dips down in the center at the base of the nose, ever so slightly. The length of the side is tailored to fit with her jawline, and the back has almost invisible layers to make it smooth itself on to the shape of her head.


Wild Bob


Explore the possibilities! What is sleek and full of fine-tuned geometry one moment can turn into a wickedly gorgeous wild look the next. The sculpted bob gets a new attitude with a new direction of the hair. This was combed frontwards and from one side to the other.

Now feathery tips fall into the face and a variety of directions and movement keeps the surface interesting. The back of the head is still very round and the gentle layering comes in very handily with its texture and varying lengths.


Blue Hair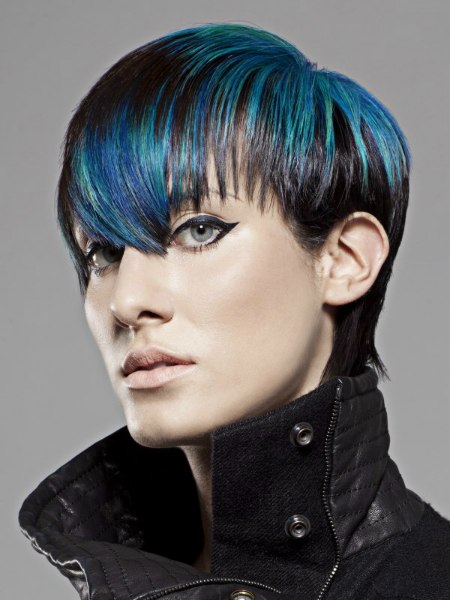 Who knew that bright, electric blue hair color could look so hot? Painted onto the hair and applied in layers with a distinct emphasis on the fringe and the crown, the black looks blacker and the blue just pops out.

The shape of the short hair is almost secondary with all of this drama, but it does have a lot of exciting features as well. The top is shaped to remind of the once again trendy mushroom cuts, but all of the roundness is disrupted by a long angular fringe and a long neckline adds another surprise (once her collar is down).


Blue is Forever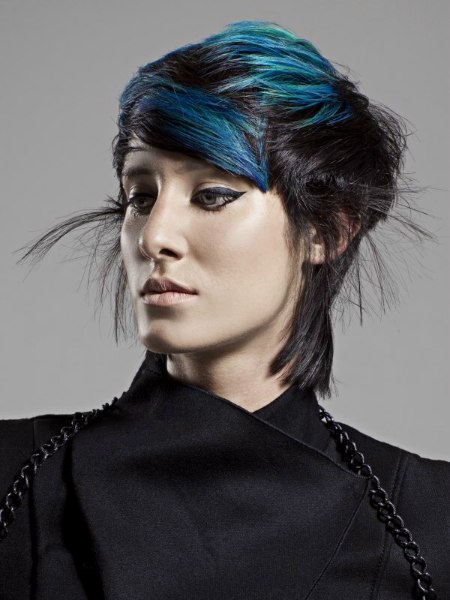 To make a really lasting impression, try a strong contrast of color like this electric blue with a kiss of teal on black hair. You can start to try this look on first with a temporary hair color, but you will like it so much that the brighter and deeper permanent dye will follow.

Now with her collar down the previous short haircut reveals its long neckline, that stands in stylish contrast to the layered sides and the rounded top. A new direction of styling plays with the color and creates an ever new pattern of blue magic.


Long Back-angled Bob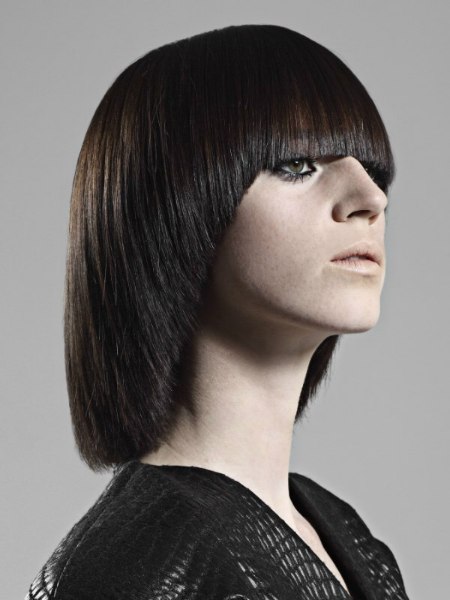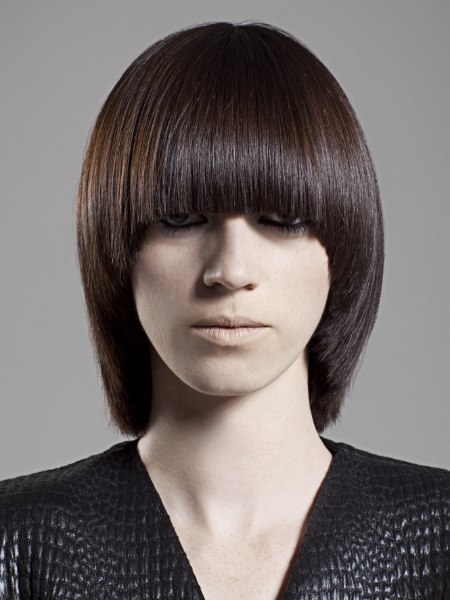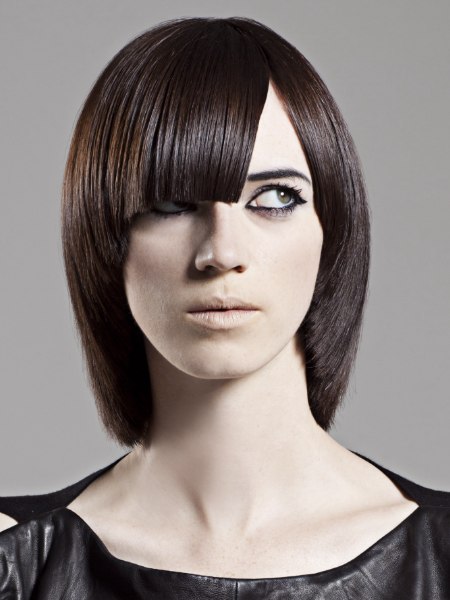 Luxury and extravagance sometimes come with a lot of understatement. The back-angled bob cut has all of that and a bit more. It is a great example for exquisite cutting technique and skill to shape hair to fall this perfectly.

When the cut is right, the need for a long styling with much heat or products magically fades to a minimum, because the hair just knows where is perfect place is. Here it is straight with a smoothly beveled edge that reaches all around, from one angled side to the other with the exception of a blunt and straight, long fringe. Elegance for the 21st century.


Romantic Curls with a Touch of Goth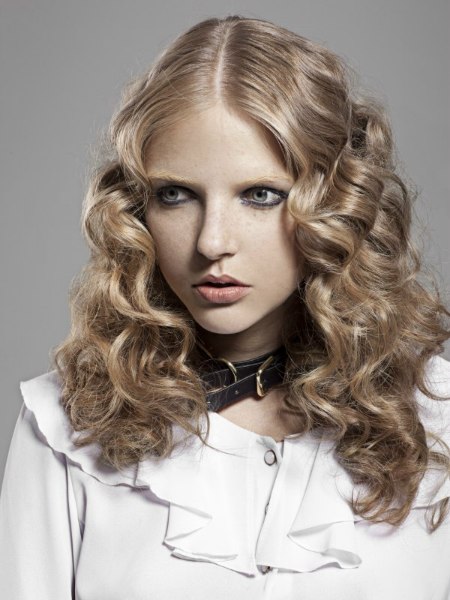 Even romantic curls like this golden cascade of gorgeousness can have an edge, as is proven here by the creative hands and minds at Loft Parrucchieri. It all depends on the styling and of course on the make-up and the accessories.

With smokey eyes, a touch of gold in the eyebrows and a leather band around her neck, the sugarcoating is off of the golden lock and a stylish and dreamy goth and vintage feel is conveyed. The hair is simply parted in the center and reminds of some similar but slightly shorter styles, that we saw on Madonna.


Semi Updo with Curls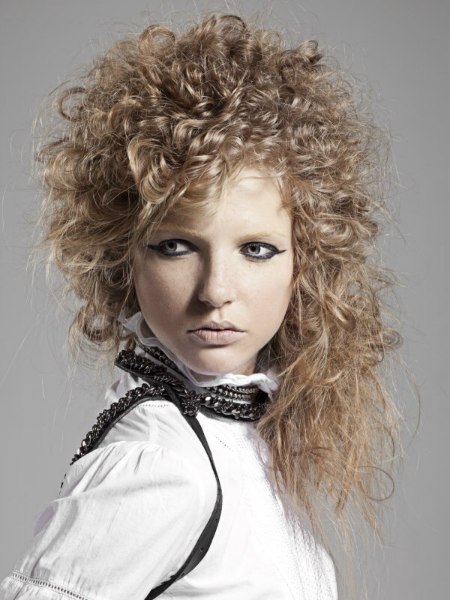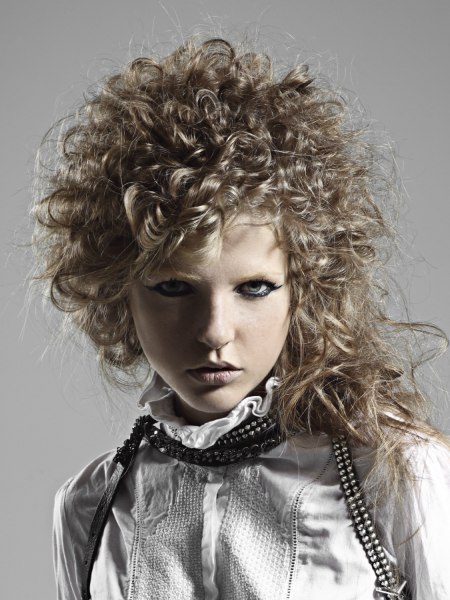 Less romantic but with even more attitude are the small curls in all of this crazy volume. Some well defined, some deconstructed on the lower lengths, these curls rock. The silhouette is classic and round. Then there are the surprises.

Subtle variations in texture produce patterns that bring so much charisma with them, to make it have a haunting effect. It just gets under your skin, and you wonder what makes you feel so tingly all of a sudden.


Crimped for Maximum Style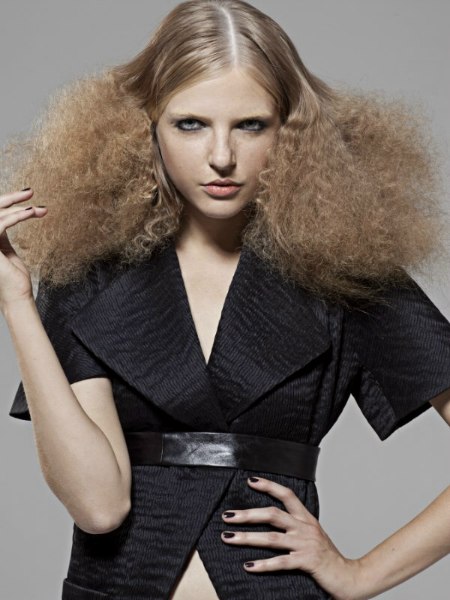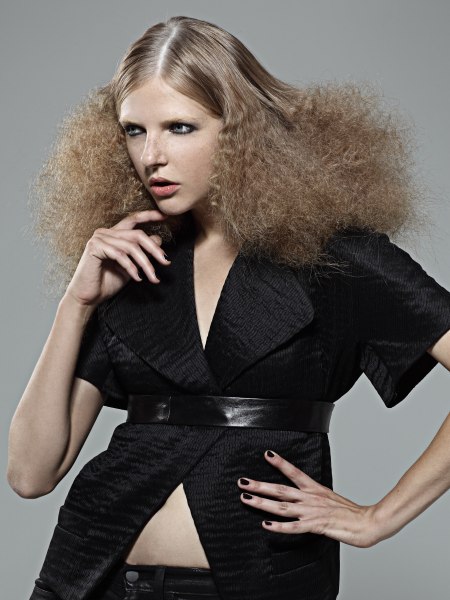 Wear your crepe de chine with a puffy crimped hairdo for the greatest fashion impact. Sleek beginning on the crown turns into an explosion of tiny waves at about eye level. What is tamed in the roots and along the crown now looses all of its good behavior and just opens up to a plume of an irresistible attack to your senses.

The contrast of textures builds tension and visual interest with a strong haute couture flair. A few strands have a more distinct wave pattern and stand out from the cotton candy volume just along the sides of her face.


Futuristic Crimps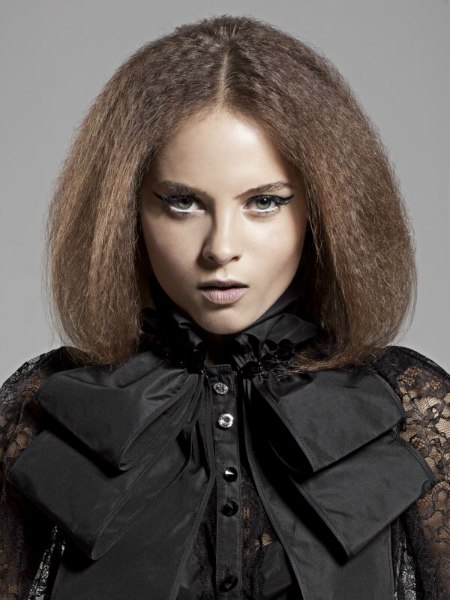 A bob gets ready to go back to the future. Retro ideas mixed with a visionary texture lead the path to a cosmic hair experience. Her dramatic blouse may betray a bit of a Goth spirit, but the hair with all of its complexity that is expressed in such a simplistic and refined way, is timeless and does not fit any label.

A center part lays the base for the even symmetry, and the fine crimps remind of tiny ripples in a clear stream. If you are very silent for a moment, you may even hear them!


Cone - Hive Rippled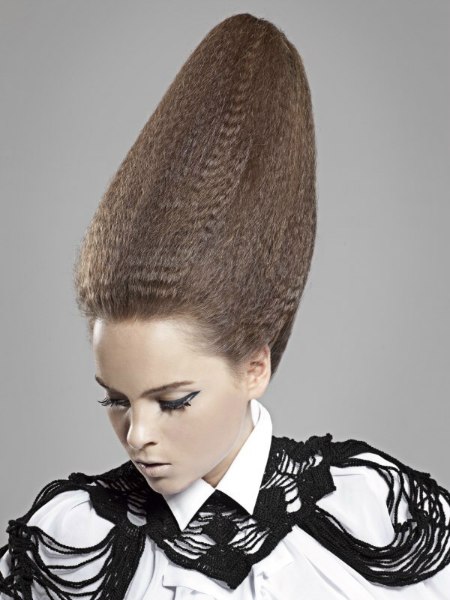 Mix a conehead with a beehive style and add some of the most gorgeous texture to it and out comes this unusual, beautiful and sky-high creation. It seems to defy all powers of nature and we do not know how comfortable it is to wear, but it sure looks amazing!

The entire length of hair is sent skyward and held in its alien shape by either magic or an invisible secret contraption on the inside together with an even more top-secret formula of product. This is one hairstyle to not try to recreate on your own, but to see your stylist about. Stand out of the crowd, literally!


Naughty and Nice Hairdo for Him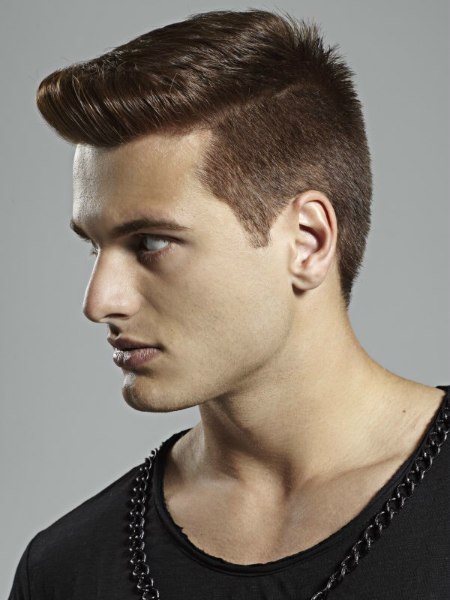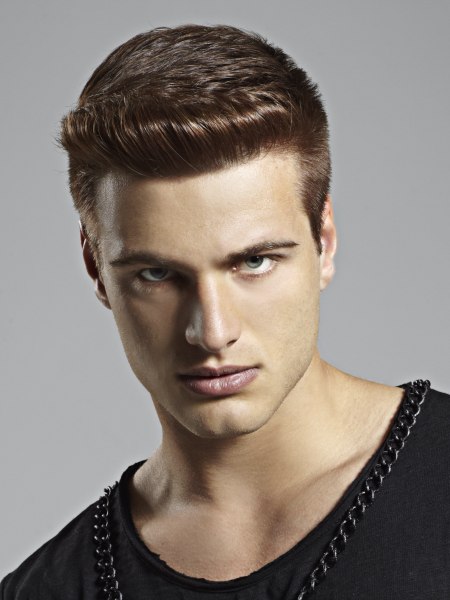 It is all in the texture. Some smooth and sleek, some stubbly short. The new haircuts for men not only span decades in their expression and elements, but also lifestyles. Here you find a rockabilly quiff combined with a military buzz cut and the result is extraordinary.

Manly and playful, dapper and dangerous... he's got it all.


Soldier of Style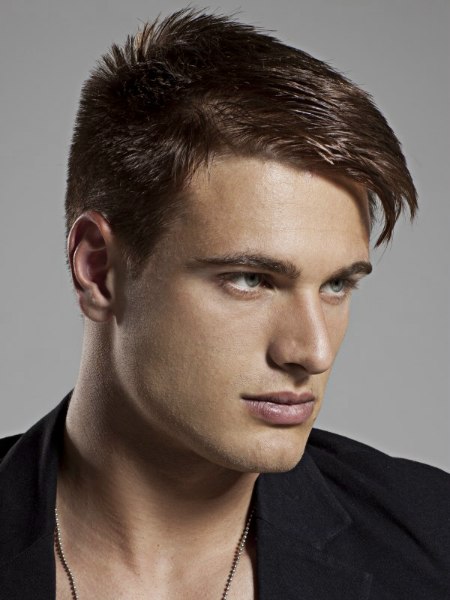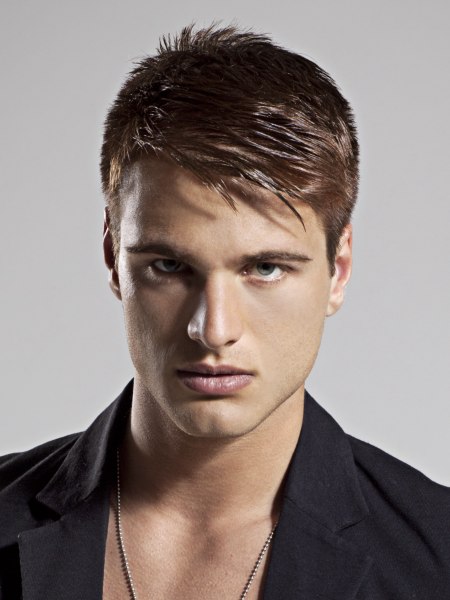 A little touch of a military regulation cut mixed in with modern men's style makes for an explosive haircut. The gradual lengthening takes the buzz out of its limits and not only takes it to a longer fringe and top section but also into the front ranks of fashion hungry men.

This look exudes charm, taste and it is sexy beyond anything. A little gel adds texture and makes it all sparkle. If he feels like it, he can play with the styling and one example is coming up. Just click on the next picture and see for yourself!


Spiked Hairstyle for Men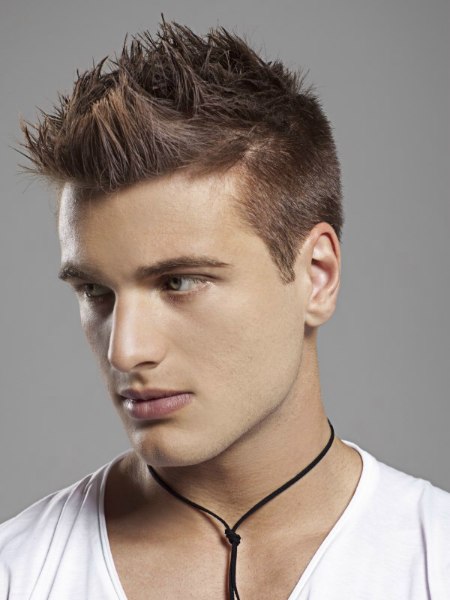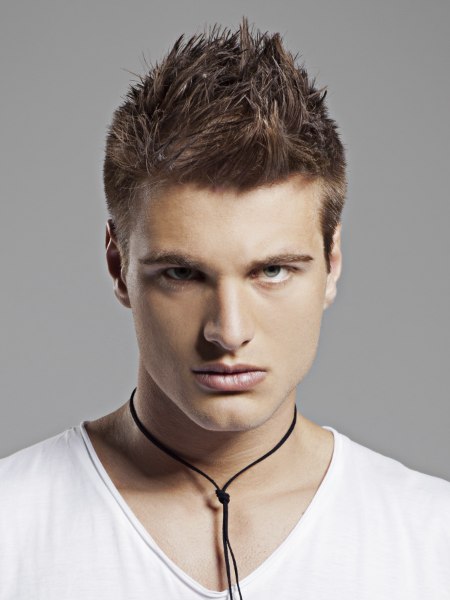 While you spike up your soda or ginger ale, you might add some action to you hair as well and raise those textured strands up from their slumber. A little styling gel or lotion and a combination of combing and finger styling take care of the metamorphosis that turns the well cut previous hairstyle into this fun and seductive look for men.

Wear it at the club or the beach bar, even on your casual office days and you will be way ahead of the rest of the gang with all of that style.

Hair: Matteo Susini@loft parrucchieri
Make-up: Lorenzo Zavatta
Products: Framesi S.p.a.
Photography: Fulvio Maiani

See also: Short hairstyles | Medium hairstyles | Long hairstyles | Men's hairstyles