Aura by Ad Peters Haircompany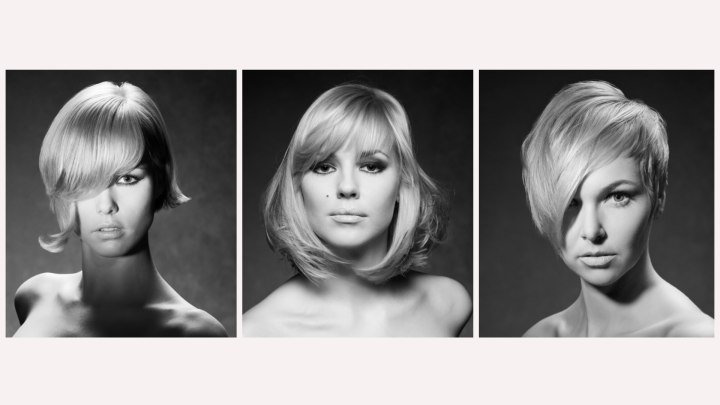 Scroll down for more photos ↓

Aura is a glow or radiance that emanates from within a living creature. To some it is a mystical force that draws and channels energy through and around them, while for others it is a less-definable quality - the radiant glow of true beauty.

For Ad Peters Hair Company, Aura is more like the latter. It is a glow that comes from complementing the natural beauty and energy in a woman's face.



In the Aura Collection of short and medium length hairstyles, Ad and Jane Peters have brought us three distinct looks in golden blonde shades that display radiant patterns of light. Each style is a tribute to elements of asymmetry and smooth sweeping styling techniques. Other elements include geometric silhouettes and carefully balanced texturing.


Veiled Side of the Face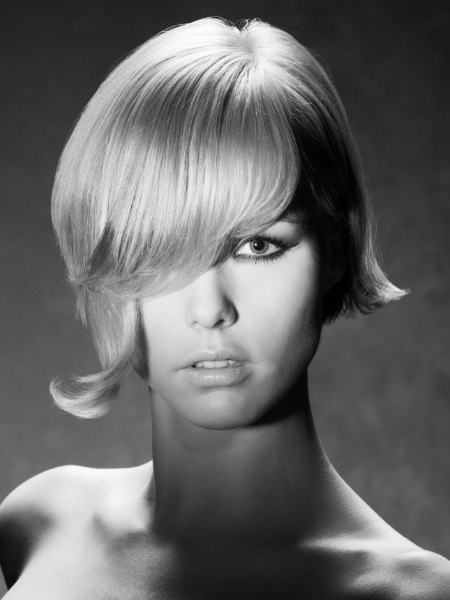 The corn-silk strands shimmer with healthy vibrancy in this deeply textured asymmetrical short bob. The fringe area is curved downward to veil the right side of the face and carefully feathered with a razor tool to create a gentle upturn in the ends of the hair.

The right side tapers to a point below the chin and is styled to form a petal shape that turns outward from the face. This is echoed in a shorter length by the left side of the style.

Styling involves a smooth blow-out with a round brush to create softly feathering bends in the hair while maintaining the satiny-smooth finish. The hairstyle may not be suited to an ultra-conservative corporate environment, but can be adapted to a more modest look as well as being dressed up to suit even the most dramatic gala event.


Framed Chin and Jaw Line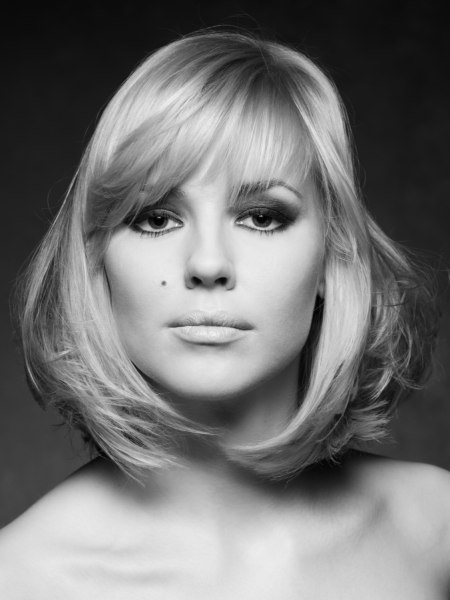 This long bob features an angled fringe as its asymmetrical element. The ends of the bob are softened with a beveling technique, as are the ends of the fringe as well. Styling involves a blow-out technique with the neck and nape section being directed in a forward curve to frame the chin and jaw line.

The forward sides create a beautiful C-shape that focuses attention on the face and helps to reinforce the beatific countenance there.

This medium length hairstyle is by far the most conservative of the looks seen in the Aura collection, but its appeal is not diminished by this fact. There is sufficient length to accomplish most traditional up-style looks and the asymmetrical fringe provides a marked focal point for the styling, whether as shown or adapted for any other occasion.


Pixie Cut and Forelock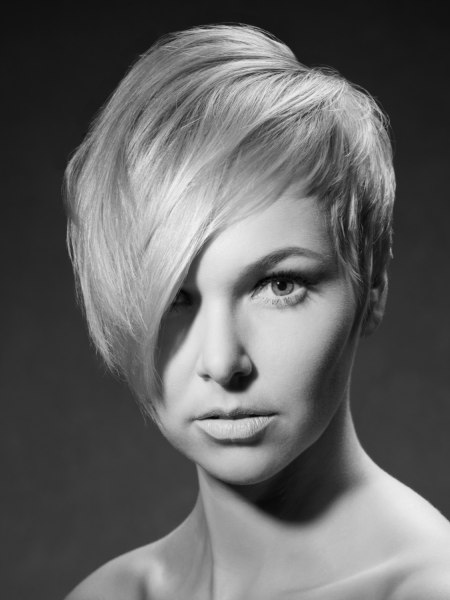 Here we find a gamine pixie cut with an asymmetrically styled forelock. The sides, crown and nape areas are contour-cut to cling to the scalp and create a sculpted cap of golden hair. The shorter lengths are likely textured with a point-cutting technique to create a more feathered look, while the forelock is softened with a razor-tool to create the wispy effect seen here.

A blow-out is the primary styling technique with the forelock kept somewhat damp and malleable to prevent fluffiness. The addition of smoothing serum to the fingertips can then be used to rake through the hair and create defined strands and control fly-away strands.

In spite of the short length, the hairstyle is versatile and can be dressed into a chic pompadour for an androgynous Greta Garbo look, or the sleek sweep of the 1920s flapper complete with pin-curl accents.

Hairstyles: Ad & Jane Peters
Styling: Jane Peters
Make-up: Mettina Jager
Photography: Govert de Roos

See also: Short hairstyles | Medium hairstyles