Sephora by Sanrizz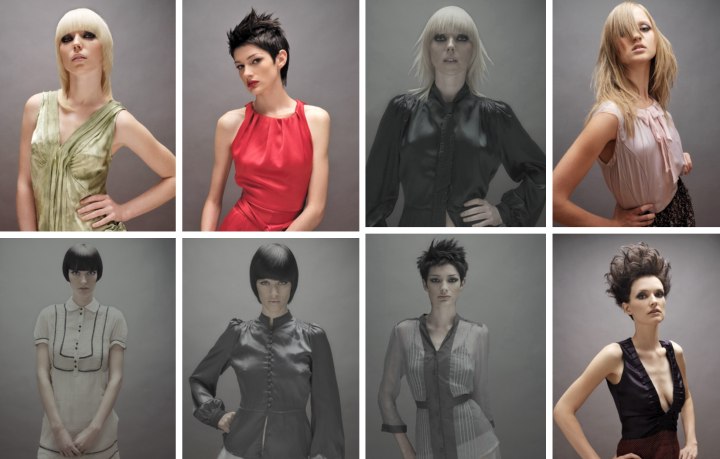 Scroll down for more photos ↓

Sephora - the ancient Hebrew word for bird - is the name of this new hairstyles collection by Sanrizz International. You are invited to spread your wings and fly high on the wind of fashion and style - right to your favorite hair salon.

Meticulously coiffeured styles, showing of the experience and excellent craftsmanship transfer plain hair into statements of fashion and art.



With Sephora, Sanrizz International reinvents the classic styles of past decades and ads their own very unique touch of urban glamour and sensual elegance to them.


Bob with Long Spikes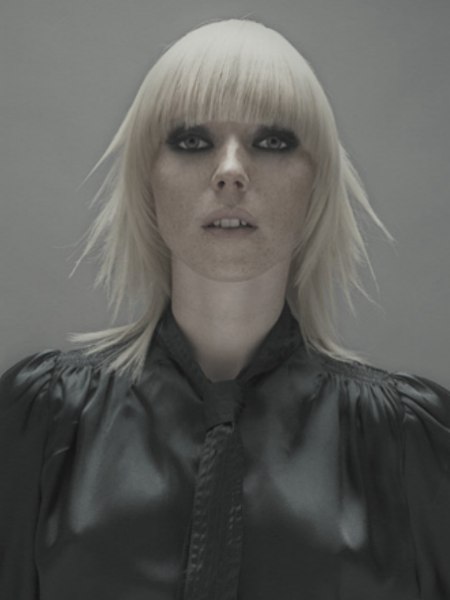 Show your edgy side and don't settle for anything less than spectacular. A perfectly cut round bob is delightfully thrown off its classy ways by long spikes that are styled off to the sides. For this the top layer of the hair is kept longer, down to the shoulders and razor cut to smooth the edges. Looks great with bright colors like this icy platinum.


Curtain of Silk Hair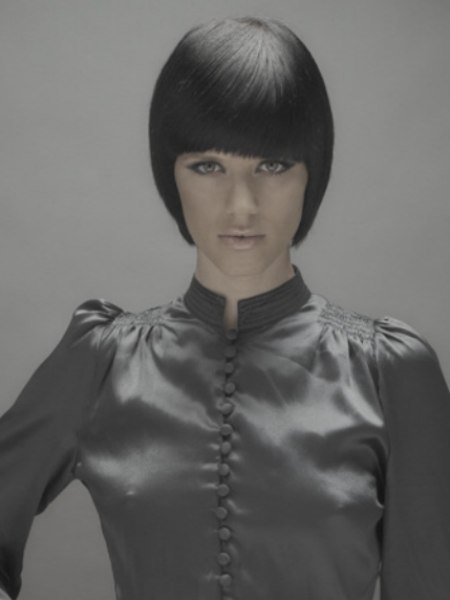 With a perfect hairstyle it does not matter what you wear. All eyes will surely be on this short precision cut helmet shaped style that frames the face in exact lines. The hair is centered on the crown and cut in an oval shape from there. It flows like a soft curtain of silk, straight and shiny in warm ebony.


Sexy Short Haircut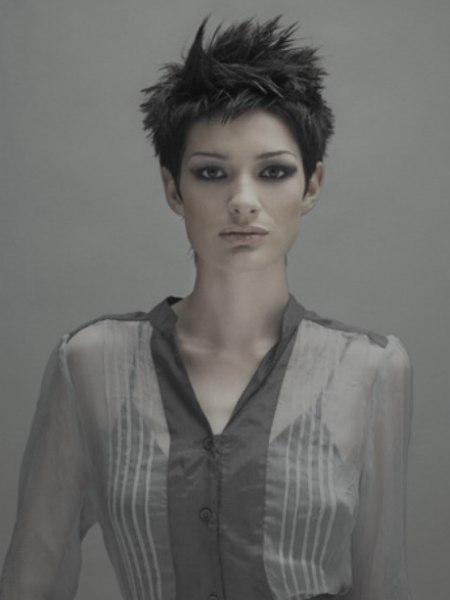 Very short hair can be really sexy when it is cut and styled this way. The layers are choppy and rough and at the same time a neat line is kept around the face. The hair appears full, thick and touchable.

Who does not want to run their fingers through this? And that is exactly what you do to style the hair with some mousse and wax.


Cheekbone Length Bob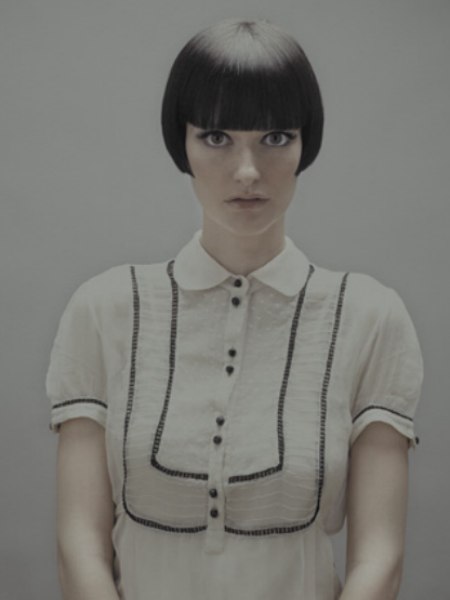 French maid or schoolgirl? How about avant-garde retro-chic? This haircut shows how simple lines together with simple yet intense color can be on top of the list of extravagant looks.

A cheekbone length bob is precisely cut to form exact and blunt lines around the face. The hair is styled as straight as can be and the shine comes out best with a dark base color.


Strong Short Haircut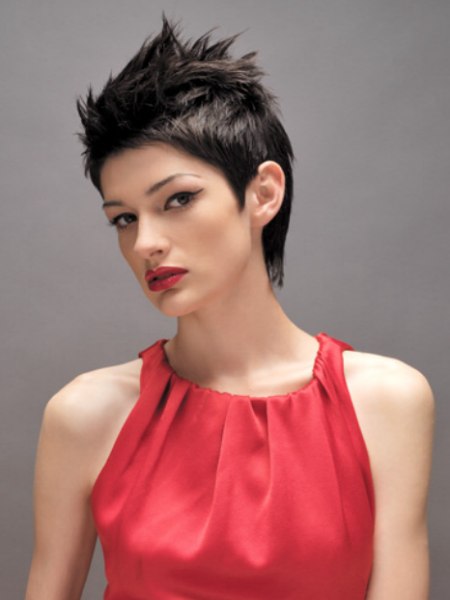 Short cuts stand out like a force of nature. Surprising, strong and irresistible. This pixie cut gets its new and fresh touch with the ultra short bangs and longer choppy sections on top that are styled to spike up in one windswept direction. Indicated sideburns create a feisty boyish touch and this is counterbalanced with intense make-up.


Glam Party Hairstyle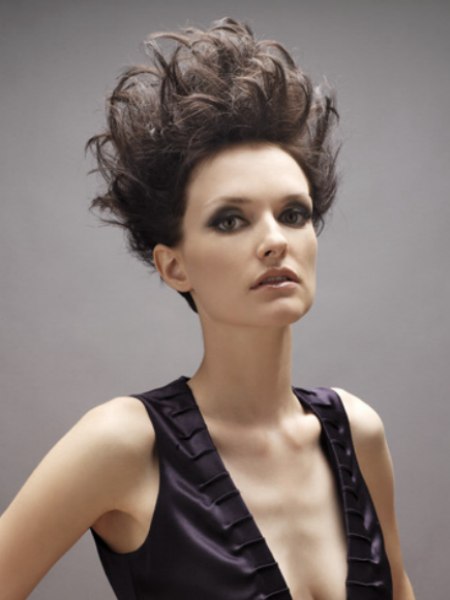 Turn your daytime bob into a glam party style fit for a queen of the night. It'll take some teasing and spraying, pulling and spiking - and some more spray to keep it all together. The base cut is a short bob.


Nose-Length Bangs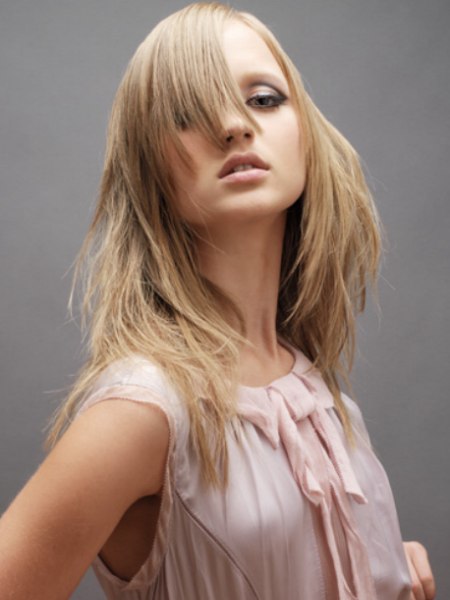 Nature's child with attitude. The haircut is long and tapered on the sides with nose-length bangs and a side partition that creates a high forehead. The section in front of the ears is styled straight and sleek, the rest of the hair is up for play.

For this look the hair was heavily teased with a wide comb and then sprayed to hold. A wheaty ash blonde goes along well with this hairstyle.


Oval Haircut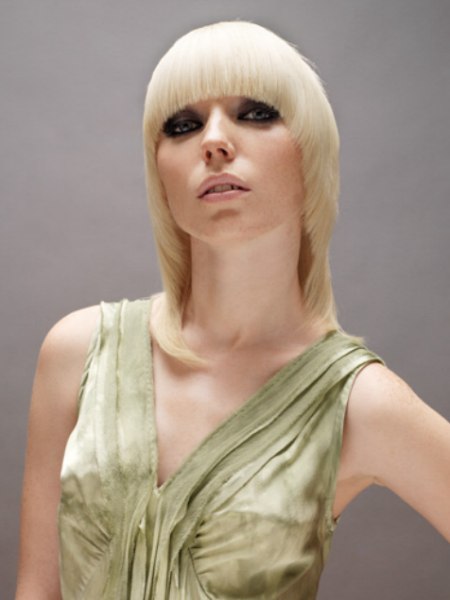 No compromises were made here. Neither with the cut nor with the color. Artfully engineered and executed with precision and very sharp scissors! Every hair sits in its place and frames the face in a perfect oval. Such a clear shape deserves a pure color like this light blonde.

Hair: Sanrizz Artistic Team
Make-up: Ginni Bogado
Styling: Donnie Diamond
Photography: Roberto Aguilar

See also: Short hairstyles | Medium hairstyles | Long hairstyles