Zenith by Tracey Hughes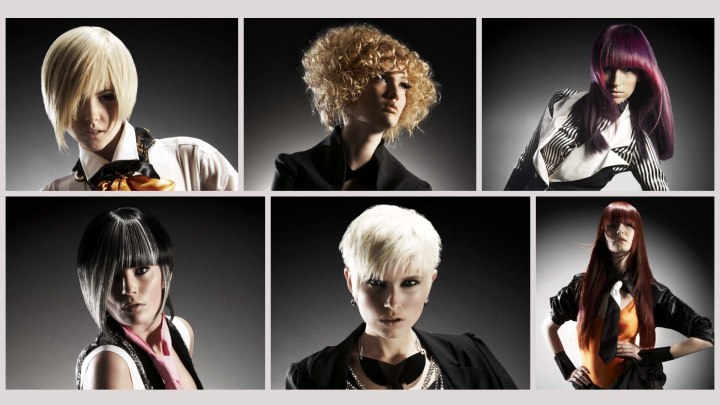 Scroll down for more photos ↓

This collection shows the return of geometric lines and classic yet modernized bobs with an emphasis on sleek glossy shine. Simple shapes with longer, rounded bangs are given strength with bolder hair colors.

These clean strong shapes work as accents for the harmonious color mood with hair color trends shifting away from cheerful contrasting tones into a more subdued color palette.



Summer is about going lighter and fresher with your hair colors. Blonde will be the most predominant hair color, however we will see the inspiration deriving from the colors of nature with blonde tones of soft corals and pearls, amber and desert golds.

Brunettes will be tones of earthy sandy browns, rustic copper browns and cool jade browns while redheads will be intense garnets, sunset reds and rustic coppers. Darker tones will be ink blacks and navy blues with intense iridescent violets and purples.

Curls are moving into being a much tighter curl away from the soft looser curls of previous seasons. They are sexy and worn big, with pride. This season encourages women to find their own personal expression by taking inspiration from the world around them yet recognizing their own individuality.

Zenith by Tracey Hughes spotlights astonishing hair creations where graphic shapes are complemented by bold yet beautiful color tones. This inspiration is derived from the confidence of modern women today, who are at the pinnacle of their independence. A unique fusion of fashion inspired by the power dressing of the late 80s/early 90s is combined with the glamour from cabaret stage musicals.

Clean strong shapes work as accents for this season's harmonious color mood. Zenith encourages women to find their own personal expression and to shine in the pinnacle of individualistic hair fashion.


Rounded Bob with Smooth Layers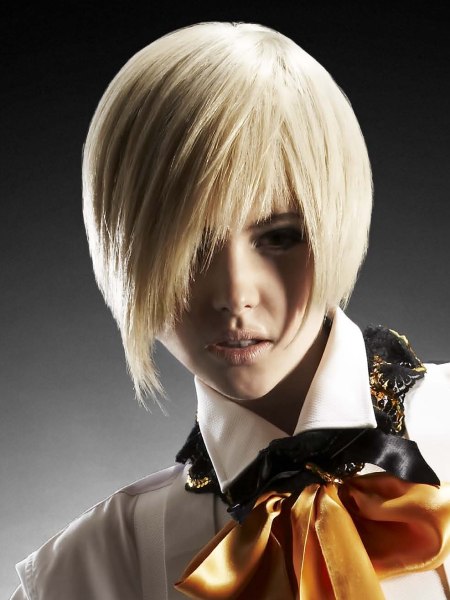 Smooth and soft characterizes this geometric style from Tracey Hughes. The pale blonde hair is cut into a rounded bob with smooth, razored layers. The cut features a narrow, asymmetrical fringe area, and the edges are heavily textured to soften the look.

The hair is styled smooth with a blow-dryer and brush, treated with product to give a touch of definition.


Long Blunt Cut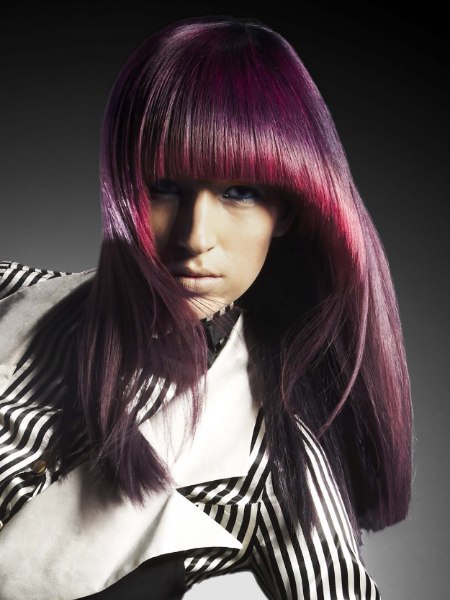 Here's another smooth, sleek look that is enhanced by a bold splash of violet color. The cut is a long blunt cut with a wide curved fringe and smooth razor-cut blending. The outline of the style is meant to be a clean, hard edge for a clearly defined perimeter.

The hair is styled smooth with a blow-dryer and brush and flat-ironed smooth with protectors and shine enhancers for the glassy finish.


Platinum Blonde Pixie Cut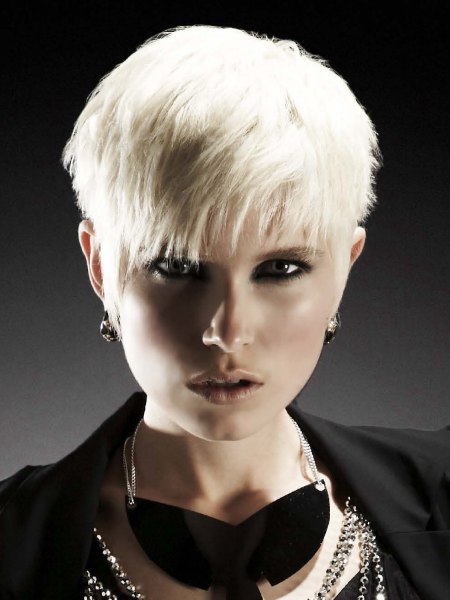 This platinum-toned super-short hairstyle is a modern version of the pixie cut. The classic, gamine look is updated with lots of razor-cut texture and clean lines in the angled fringe and steep wedges at the sideburns.

The hair is styled with blow-dryer and brush, and textured with product to give definition and malleability to the style.


Super-Long Sleek Hair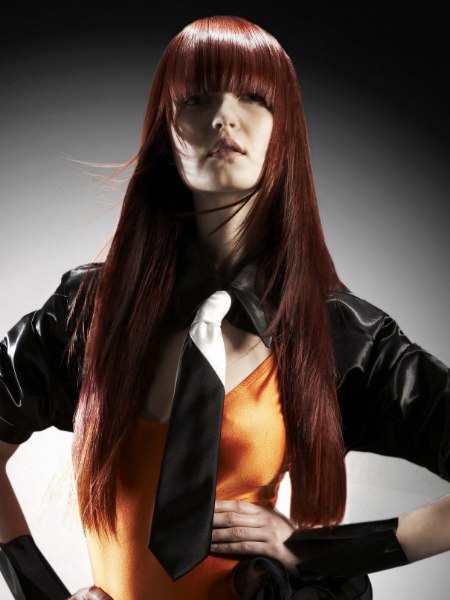 This super-long blunt cut features a cleanly outlined fringe and forward layering at the front edge of the hair. The layers that frame the face are softened with a razor tool, and the whole style is enhanced by the rich, warm auburn color.

The hair is styled using a flat-brush and blow-dryer and is ironed to a glossy finish for a truly sleek look.


Mass of Golden Coils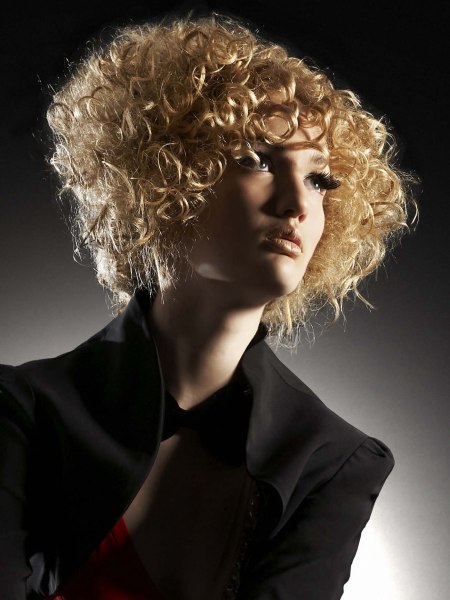 This is a high-volume style. The layered cut is styled into a mass of golden coils and arranged into a wedge shape. The finished look is achieved (based on the assumption that the curl is natural) by gentle scrunching while drying with a diffused dryer followed by the addition of a touch of product to add definition and hold.

A curling iron can be used to direct curls or add definition in areas as desired for the aesthetic effect you want.


Daring Asymmetrical Hairstyle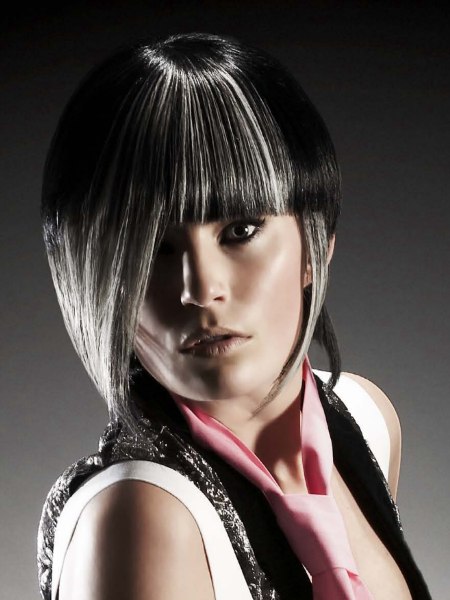 This dramatic, asymmetrical style is bold and daring. The sharp contrasting highlights in the sleek, straight hair design accentuate the clean lines. The half-fringe is sharply defined with an angled edge and deep sideburns.

The hair is styled smooth by blow-drying with a paddle brush and ironing with protectants and gloss enhancers for the glossy sheen.

Hair: Tracey Hughes - Mieke Hairdressing Australia
color: Tracey Hughes
Photography: Marija Ikovic
Make-Up: BennJae
Stylist: Cassandra Scott-Finn
Products: Wella Professional

See also: Short hairstyles | Long hairstyles