Thermal Protectant Spray for Hair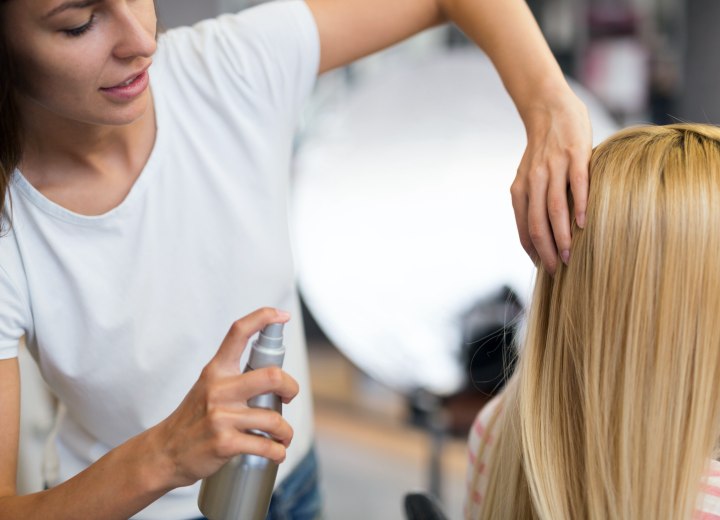 Q: What is the best thermal protectant spray I can use when I straighten my hair with a flat iron? I love straightening my hair, but I don't want to ruin it!



A: There are literally so many products out there on the market for thermal styling protection that I can't possibly list them all with any real level of detail. But, you know what? That's fine, because in essence, they're all the same.

Of course there are differences between any two given brands, but they all strive for a common goal: to protect the hair from potential damage due to heat styling. The key is to find one that gives you results you like within your budget.

I've never been one who believed that only those who could afford to spend truckloads of money could have healthy, shiny, beautiful hair. The trick is to try products you can afford and use the ones you like best. You can usually find most products available in Travel Size packages to allow you to try them out without making an investment of more than $2-3.00.

To give you an example: A quick search for "Thermal Styling Products" resulted in more than 2,500 products (sizes and brands, etc.) with prices ranging from $9.99 (U.S. dollars) to $37.99 (U.S. dollars). [These figures are based on a 33-ounce (1-liter) package.] The range in price for an 8-10 ounce package of product was $4.99 to $25.99 (U.S. dollars). Common sense tells us that with so many products on the market, there can't be any one that's THAT much better, or the others wouldn't survive the competition. The key is choosing the one that gives you results you like, at a price you can afford.

For my own clients I use different products based on the client's need. One client has normal, thick hair that she likes to blow-dry straight daily, and she doesn't want to spend a lot of money on her hair care products. For her, I use John Frieda Frizz-Ease Thermal Protection serum, which helps her keep from dry-roasting her hair (along with teaching her not to over-do it with the blow-dryer). Another client is a real "salon product" fan, and has heat damaged hair. For her, I pick up Redken Real Control Thermal Resist.

You can find a product that will meet your needs and fit within your budget, but you have to look for them. Just remember, that it doesn't have to cost a fortune to look like a million bucks.

©Hairfinder.com
Photo: Nd3000/Shutterstock

See also:

Flat iron styling

Heat styling basics

How badly will straightening damage my hair?

What should I do to prevent curling iron and flat iron damage?