The Pros and Cons of a Pixie
Q: My hair is shoulder length, and I'm considering getting a pixie. This would be a huge change. I'm 40 years old and I never had short hair. A pixie looks practical, but I'm afraid that it will make me look older. What are the pros and cons of a pixie cut?

A pixie haircut is very much on trend right now and lots of stars, young and old are chopping their strands off and opting for the short hairstyle. Pamela Anderson, Michelle Williams, and Anne Hatheway are all on the hot pixie haircut list.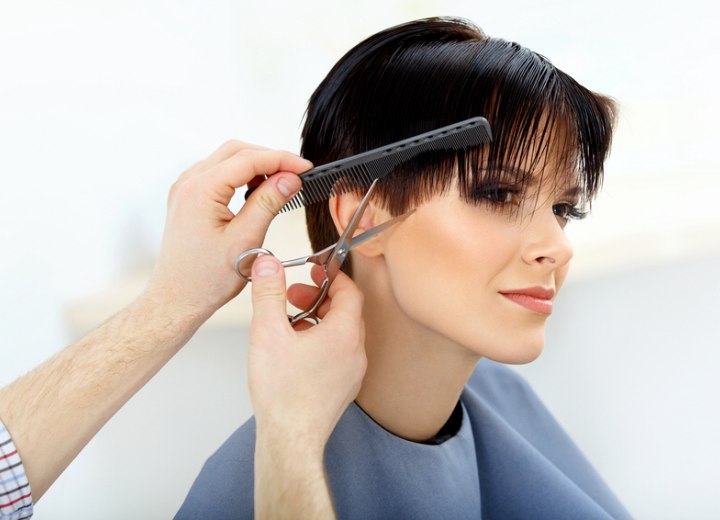 Let's break down why this super cute hairstyle is a great option. Short hair is very easy to style day to day. Short strands dry quickly and only take a few seconds to style with some pomade. Pixie hairstyles are ideal for small, round or heart shaped faces.

There are a lot of subtle variations of a pixie haircut. Have your stylist cut in layers and texture for a more funky style. Leave the layers longer for a more sleek result. Try to find a photo of the length and style that suits you best.

One of the downsides of a pixie is that the short hairstyle grows out quickly. The shape can become outgrown in just a couple of weeks so more trips to the salon are necessary to keep it fresh. If you color or highlight your hair you must keep up with those appointments more frequently as well. Stick straight hair is not the best type of texture for a pixie. Subtle curl or wave is the best type of hair to have.

The fun thing about hair is expressing yourself and trying new things. Be courageous and take the plunge! You may not love it but you'll be left wondering. The good news is that hair grows about half an inch a month.

©Hairfinder.com


Related posts:

Photos of pixies

Choosing the right pixie cut

Transitioning to a pixie cut

Look younger with short hair