Hairstyles for a Big Face
Q: What are good hairstyles for a big face? My head is round and big and I want it to look smaller. Should I keep my hair long or cut it short?

A: I get this question a LOT and it's hard to make people really understand that there is no "one perfect look" for those who have a big face. Even people who have large heads/faces have varied features and these features can call for different styling elements. What looks great for one person may not work for someone else even if the dimensions of the skulls are identical.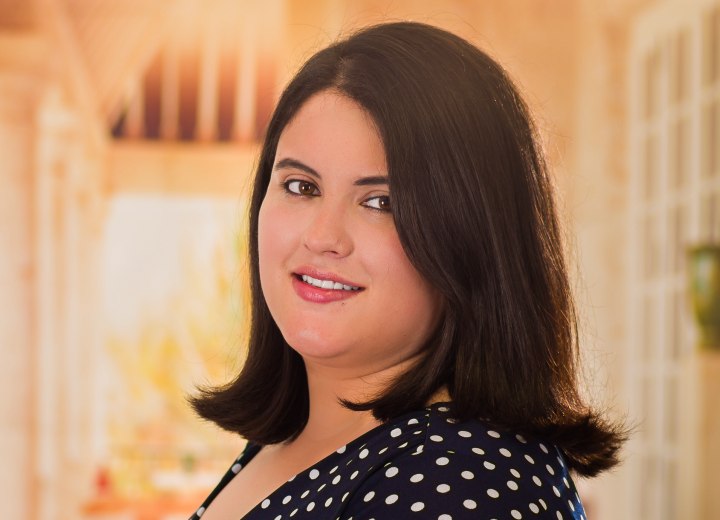 The key to any good hairstyle is proportion. This is especially true if you want to make a larger head look "normal-sized". If you have a large-framed body to go along with the larger head, then cutting your hair short is just going to make your head and body look larger.

Yet, if your head appears large in relation to the proportions of your body, then a hairstyle that is low in volume and is styled to lie close to the scalp and face can make your head appear more properly proportioned. An example of a bad choice is a petite, slender woman whose head is larger than normal opts to have her hair styled in a high-volume curly style and ends up looking like a lollipop or a paper cone of cotton candy. Likewise, a full-figured woman with a large head in proportion to the rest of her body who opts for a close-cropped hairstyle can end up looking like a monk wearing a skull cap.

Talk to your stylist about your concerns, and discuss the options that he or she feels will help you look your best. Or, if you want a second opinion, talk about the options with a friend who will tell you the truth.

However, I always recommend the stylist because he/she is trained and knows that you need to hear the truth, because if they let you look less than your best, and someone says something disparaging, they hurt your feelings and their own reputation. Vidal Sasoon said it best in his ad years ago "If you don't look good, we don't look good."

©Hairfinder.com


Related posts:

What is a slimming haircut?

Hairstyles for the heavy-set woman

What are good hairstyles for big girls?

How the right haircut can make heavy women look slimmer