Slimming Haircut
Q: What is a slimming haircut? I'm overweight with a round face and my hair is straight and just over shoulder length. A friend told me that I could look slimmer with the right haircut. Should I cut my hair short or grow it even longer for a slimming effect?

A: Okay. The basic rules of creating a hairstyle for a round face (or heavy-set face) are all about creating vertical emphasis to convert the "round" to "oval". This means that the hair should have volume in the top section and possibly length at the bottom, but have minimal (or at least significantly less) volume at the sides of the head.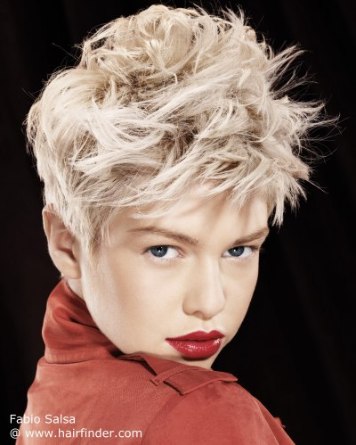 Click to enlarge

This could mean a short hairstyle with volume along the top of the head, and tapered layering along the sides (perhaps with elongated perimeter lengths). It could also mean a layered style with the top layers puffed up and a gentle inward bend along the sides and bottom to help the hair lie closer to the head and face. Or, it could be a more classic shag style with high-volume at the top, and feathered layers that gently flick outward along the sides.

The specific styles can vary as much as your stylist's creativity allows. Just remember that you want to avoid elements of the styling that create horizontal emphasis and you should be just fine.

©Hairfinder.com


Related posts:

Slimming hairstyles

Hairstyles for the heavy-set woman

What should I look for in a hairstyle to make my face look less fat?

How can I get my hair cut to make my face look thinner?