Jenny McCarthy's Bob


Q: What type of face shape(s) work best with Jenny McCarthy's new, cute bob cut? Can it help to soften a strong jaw line?



A: Actually, Jenny McCarthy's sleek bob is intended to draw attention TO her jaw line, rather than de-emphasize it.

The angled cutting line of the bob (shorter at the back of the head and lengthening as you approach the face) along with the smooth styling help to emphasize a vertical line, while the curves of hair that frame the face de-emphasize the wider forehead and bring focus to Ms. McCarthy's chin, making it appear more prominent.

As you can see in other photos of Ms. McCarthy, she has a naturally broad forehead, with rounded cheeks and wide eyes and her lower face tapers to a sharper chin. This creates an inverted triangle effect which the new bob cut balances by creating a "point up triangle" effect using the lines of the cut/style.

To soften a strong jaw line, you want to use a hairstyle that doesn't draw focus to the area. A neck-to-shoulder-length cut with razored ends and some layering to create a soft look that has extra volume in the upper portions would be good to balance a strong jaw, provided there are not other factors that would preclude this style from suitability.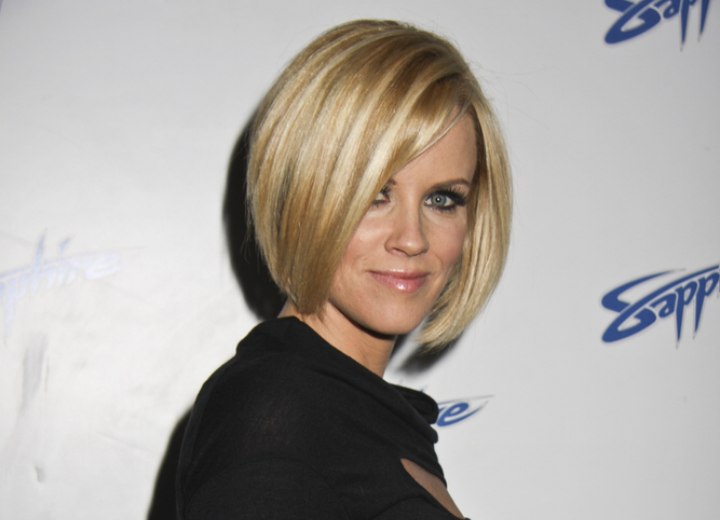 You may want to talk to your stylist about alternatives for you if you are having trouble with your jaw line appearing too prominent.

©Hairfinder.com
Photos by PR Photos

See also:

Jenny McCarthy hairstyles

Bobs with an angled cutting line

What do razored edges look like?

Hairstyles to de-emphasize a sloping chin