Shimmery Hair
Q: I want to know: what is the best way to get truly shimmery hair? I want the kind of hair that I see on celebrities like Missy Peregrym.

A: That shimmery glow and shine you see is a sign of healthy hair. In order to get the radiant shimmer you desire, your best bet is to take the best care of your hair that you can possibly take. Shampoo when needed using a gentle cleansing shampoo. Condition the hair every day. Avoid alcohol-based products and heat styling when possible. Protect the hair carefully when you do use a heat-styling product.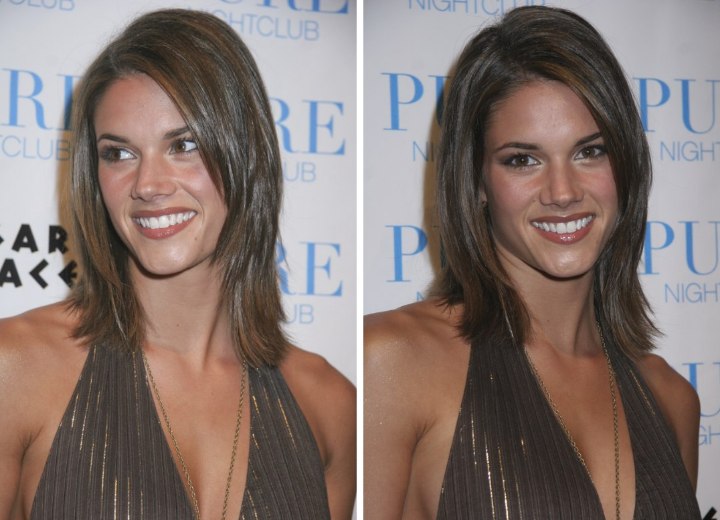 Click to enlarge

After you've done your best to make sure you're hair stays healthy, you can enhance the shimmer and shine of your hair by using smoothing serums and glossing sprays. These glossing sprays are light, fruit-oil sprays that are designed to add shine to the hair. Just be careful not to over-use the product. Even though it is lightweight, too much of the shine spray will leave your hair looking oily.

Some folks have trouble getting that truly "shimmery" look because their hair is chemically processed or has been lightened and/or colored in harsher processes. Fortunately, there are formulated products that work like traditional haircolor, but are in fact, colorless gloss agents. These can be added to haircolor formulas to increase the shine of the color you are using, or can be used alone to give dull natural color a boost and some much desired shimmer and gloss.

I would recommend that you talk to your stylist if your hair doesn't have the kind of shimmer you want, and ask him/her about the reasons for the lack of luster. You may need to start an intense repair regimen, or it may be that you can get a cleargloss treatment for your hair and get the shimmery hair you desire.

©Hairfinder.com


Related posts:

Hair care tips

How to get shiny hair

How to get glossy pin straight hair

Is alcohol bad for your hair?