Hairs Sticking Out
Q: Whenever I put my hair up after an hour or so I have all these little hairs sticking out everywhere. No one else's hair seems to do this. I don't understand how I have all these little hairs because I don't have layers, just side bangs, and half of this short hair is on the opposite side of my side bangs. I know that I also have these retarded sideburns growing in (not like attached to my head like a boy's, but hair growing out of right near my ears) and I think those are some of the hairs that stick out when my hair is up.

They are always frizzing and everywhere and when my hair is down they ruin it because they're just 'ugh!' What can I do about them and the problem of my hair sticking out everywhere when it's up? How do you cure frizzy hair? I've tried shampoos, conditioners, and anti-frizz serum.

A: It sounds like the problem you are facing is due to some hairs that are shorter than the rest, as opposed to "frizz". These shorter hairs could be the natural result of the hairs' growth cycles. There are likely to be any number of individual hairs that are shorter than the average length of your hair (particularly when the hair is cut to one length). They could also be the result of breakage caused by styling damage. Whatever the cause, the problem is common.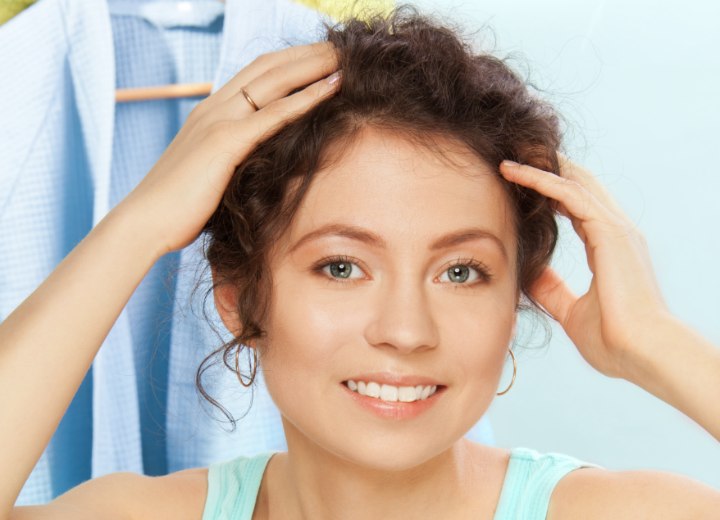 One thing you need make sure of is that you are properly treating your hair. Using a protein rich shampoo and conditioner, or an "anti-frizz" or "smoothing" shampoo and conditioner formula is a good way to help give your hair the smooth cuticle and healthy condition you need to minimize problems such as frizz and damage from breakage.

Once you know you are keeping your hair as healthy as possible, you have to address the specific issues you face and work to get the style you desire. For example, when planning to wear your hair up, and starting from freshly washed hair, apply styling product to your towel-dried hair, and only dry your hair to the point of being mostly dry (still slightly damp). Then put your hair up in a twist, bun, or ponytail as desired. Use a fine-tooth comb at an angle or the edge of a bristle brush to smooth the hairs, and mist the hair with hairspray and gently pat the hair to smooth any stray hairs.

You may want to keep a small can or bottle of hairspray in your purse to "touch-up" your style during the day. In some cases, when you use a strong-hold styling gel, you can simply mist the hair lightly with leave-in conditioner and pat down stray hairs to restore the smooth look of your style. A lot of fly-away hairs result from the hair drying out as the day progresses, especially if the hair is already dry and in need of added moisturizing.

As for the suitable products to resolve your hair issues, that's largely a matter of personal preference, since most product manufacturers offer a variety of formulas for all hair types. However, I have many clients who have really enjoyed the results they have achieved from using SunSilk's new product line.

©Hairfinder.com

Related posts:

How to tame frizzy hair

How can I tell if the short hair I see is new growing hair or broken hair?

Is hair easier to style washed or unwashed?

Photos of up styles