Styling Method for a Flip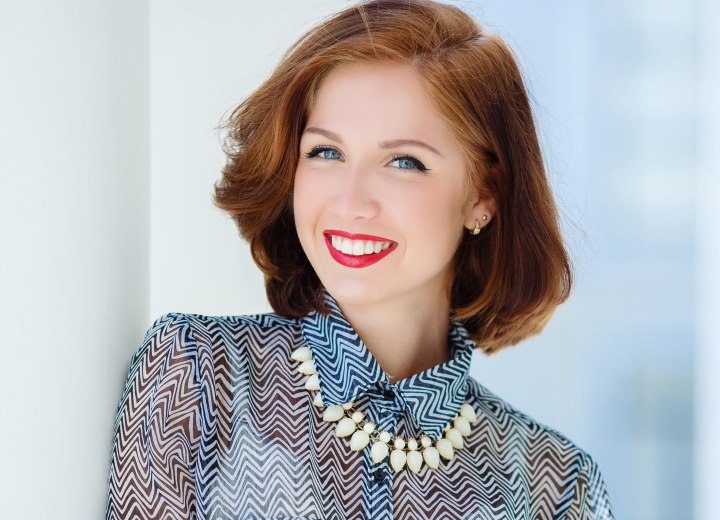 Q: I sure hope you can help me because my stylist does not seem able to. I recently got my hair cut from mid back into a just the above the shoulders full flip with side swept bangs. I love the cut. My problem is that the flip will only stay flipped until I walk out of the salon. I have thick naturally wavy red hair.

What can I do so that my hair will hold the curl for an entire day? I have tried using hot rollers and or a curling iron and some spray, but nothing seems to work. Please help if you can.



A: Have you tried using a styling gel on your hair, before you blow dry it? You can apply styling gel to towel-dried hair along with your leave-in conditioner and smoothing serums, and comb it through the hair to make sure it is evenly distributed. Then blow-dry the hair and style the hair as usual.

You can use a round brush while blow-drying to begin the "flip" shape, and use a misting of hairspray (allowed to dry) before using a curling iron to set a harder curl in the flip. After the flip has been created and the styling finished, mist the hair with spray to set the style.

The addition of the styling gel into the hair should add some texture and help your style last longer.

If even this doesn't seem to give results that last long enough, you might consider using very large sponge rollers to wrap the ends of the hair at night before bed. You can dampen the ends of the hair before wrapping them on the sponge rollers, and use a styling gel or setting lotion.

In the morning, when the hair is again dry, use a blow-dryer with a diffuser attachment and heat the hair around the rollers and allow it to re-cool before taking the rollers out. Often, this will provide you with even longer lasting curls.

Hopefully, with a little experimentation, you will find a styling method that will give you the results you want.

©Hairfinder.com
Photo: HTeam/Shutterstock

See also:

Roller styling techniques

How to blow dry hair

How can I give my hair flipped out ends?